Artlab 2020-2021
Fall 2020
We Were, And Then We Weren't.
I-dentify.
http://store.tongue.beautiful.goods.temporary.feet.web
Sepideh Tajalizadeh Dashti: To Be Me
Everyone Here Has Something in Common
...And on That Day, I Went for a Walk
Transitions: A virtual exhibition for SA 2652A Intro to Digital Photography


Winter 2020
Distance makes the heart grow weak
Symphony of Lights: An Exploration of Stained-Glass Windows in St. John the Evangelist Anglican Church, London, ON
AJE19: close for comfort

We Were, and Then We Weren't 

Artlab Gallery

Monday, September 14 - September 24, 2020

Tia Bates, Sam Erdelyi, Ashley Staines, Helia Trinh, Sam Wagter


Leaping from the walls and breaching our space

Filling the room

Every nook, cranny, and cavity

Becoming

Twisting and pulling itself into allegories

A dual entity.

 

It became us, and we became it

We were, and then we weren't.

 

Light is intrinsically connected to darkness. Neither can be understood without experiencing the other. "We Were, and Then We Weren't" uses painting, sculpture, video, installation and mixed media works to represent tangible and intangible allegories for the interactions between aura, memory and light. It draws attention to the relationships of these elements, questioning their ephemerality.

Representing modes of human perception through metaphor, whether visual, profound, or metaphysical, these works create an intertwining web of thought-forms. This web begins to dissolve the physical space into a philosophical one. The immersive presence of light moves outward from the surface of the work, seeping into the material world and representing the aura as a physical space.


I-dentify.

Cohen Commons Gallery

Monday, September 14 - September 24, 2020

Peter Dickson, Rachel Elias, Aisha Hassen, Jimin Lee


The individual within society – a dynamic that presents "other," "othering," and "otherness."

Pulling from their personal identities and life experiences, four artists question the reality of the self and come to terms with what has marked each of themselves as "other." Specifically, they address the implications of being biracial, multicultural, and multilingual in a world that affirms the self to be a single entity belonging to a single group, to a single race, to a single culture, to a single language. Their explorations reveal the complexity involved in one's relationship with society.

Including drawing, painting, sculpture, video, and installation works, I-dentify. serves to remind us of the agency we have in defining and redefining our "self," in understanding where we've come from, what we've been through, and how we, in turn, identify.

 
Midway through September, certain locations and services on Western's campus were forced to close to the public in the efforts of community health and safety. Among these spaces was the Artlab Gallery, which had just opened the exhibition We Were, And Then We Weren't by fourth-year BFA Practicum Students. In this digital publication, exhibiting student and Artlab Intern Sam Wagter recounts the group's collective challenges during the COVID pandemic: creating work through the summer at a distance, organizing a public exhibition, and then having that exhibition unexpectedly shutter to the public. Wagter also offers useful strategies for cultivating creativity in our present crisis.

<- back to top
---
http://store.tongue.beautiful.goods.temporary.feet.web
Monday, October 5 - 15, 2020
Anahí González, Rebecca Sutherland, Declan Hoy, Tommy Bourque, Faith Patrick
An exhibition of works by the Department's second-year MFA candidates, featuring photography, sculpture, video, and installation pieces.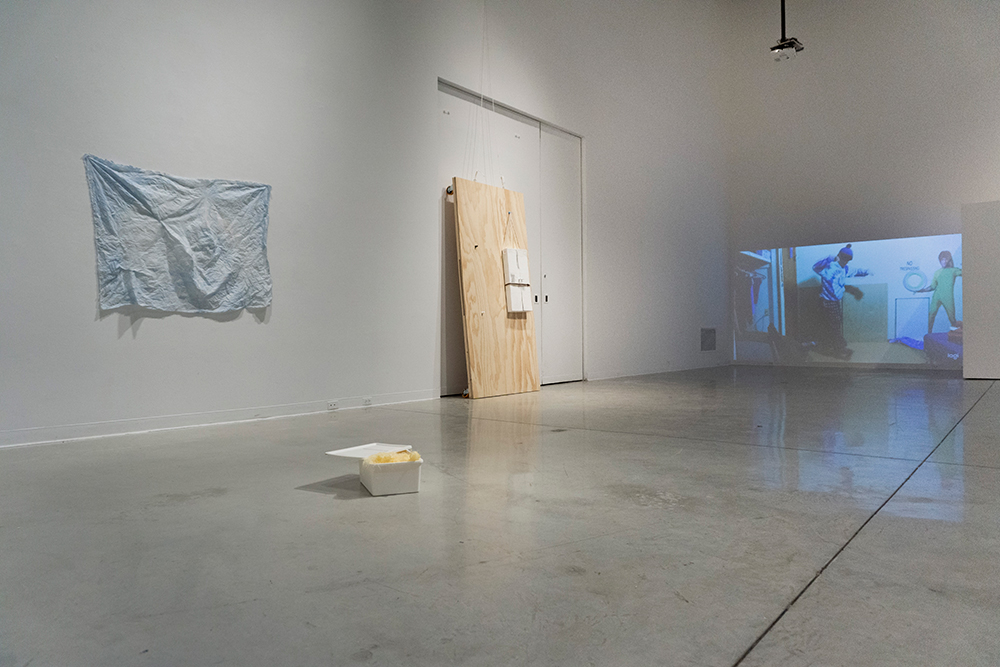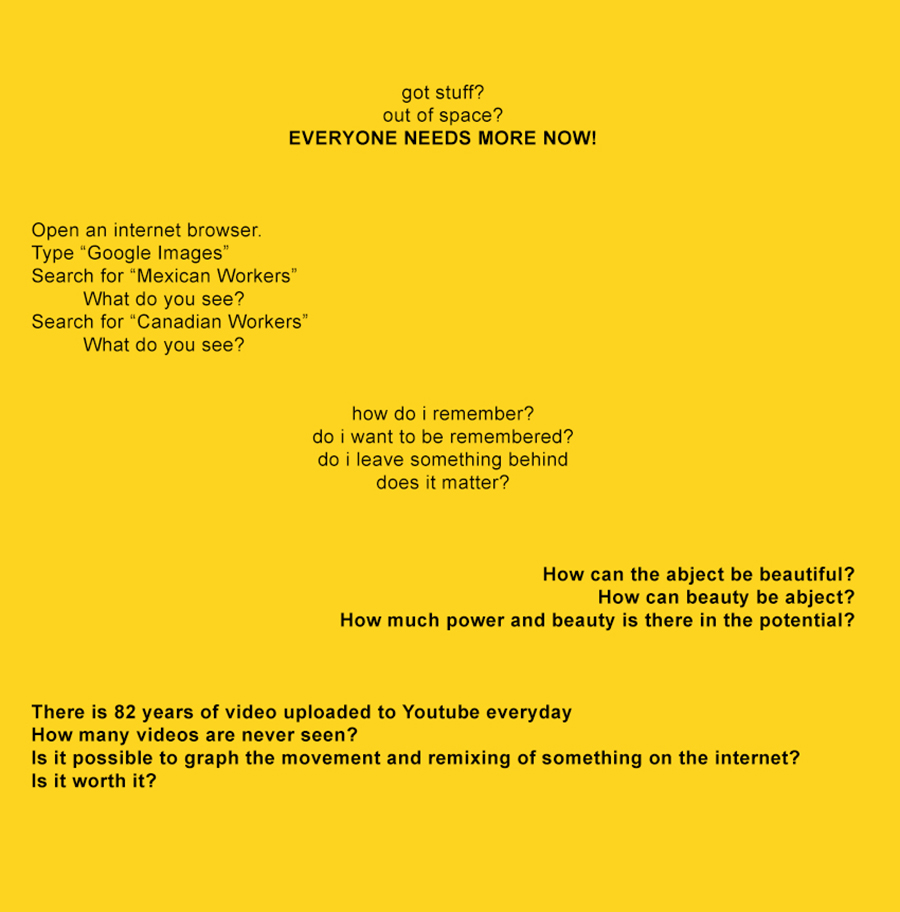 ---
Sepideh Tajalizadeh Dashti: To Be Me

Monday, October 26 - November 12, 2020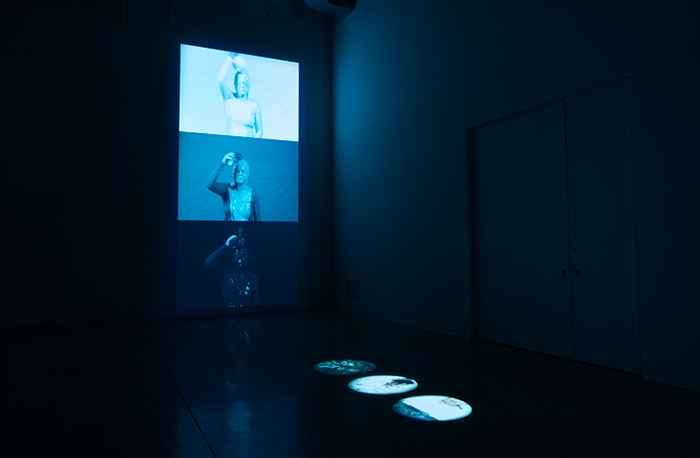 "Out beyond ideas of wrongdoing and rightdoing there is a field. I will meet you there." —Rumi
There is something inside each one of us that, sometimes, is impossible to explain and define in precise words. However, this ambiguous something exists and acts. Sepideh Tajalizadeh Dashti, an Iranian woman who grew to adulthood in Iran and who now resides between Canada and the United States, has experienced deep feelings of ambiguity in her encounters with different cultural and social expectations. 
Not all diasporas are the same. Not all female experiences of oppression are the same. Dashti's experience as an Iranian diasporic woman is fragmented along ethnic, religious, social, political, and class lines. These fragments pose challenges to her attempts to bind with others and find solidarity based in multiculturalism and ethnicity. Dashti establishes her body as an integral material in her art practices to make the explanation of her experiences and challenges possible. She seeks to claim her body across multiple media of performance, video, and installation. Dashti focuses on traumas that underscore both personal experience and engagement with larger sociopolitical structures of the phallocentric systems that exist in both her homeland and her host countries.
Representation is a crucial location of the struggle for any exploited and oppressed bodies asserting subjectivity. Dashti insists on reminding us to work against the silence and erasure of traumatic experience. "To Be Me" features contemporary representations of Dashti's Iranian and immigrant identity formation. Works within this MFA thesis exhibition relay the immense struggles of living between places and cultures. Dashti explores her identity in the hope of calling oppressive authorities into question. Perhaps there is not much hope for a bright future where differences are recognized without eliminating the voices of others. But striving to make this future fosters hope-—both to endure and to continue.
Video walkthrough of "To Be Me"
---
Everyone Here Has Something in Common

November 23 - December 3, 2020 in the Artlab Gallery

Image courtesy of Megan Goddard.

Installation art is an artistic genre that challenges the boundaries of traditional art. The history of installation art dates back to the 1960's to early 1970's, in which it provoked a reversal to the modernist sculpture's relationship with the pedestal. The pedestal disconnected the sculpture from the space or stated its indifference to it, allowing the work to possess independence from its environment. On the contrary, installation art is directed by the space in which it is constructed. Although installation may involve elements of architecture, sculpture, painting, video, photography and performance, it aspired to challenge the limitations of these art forms as well as their institutional settings. Moreover, installation art was an attempt to resist the trend of circulating art as a commodity, something that is transportable and exchangeable.
In this project, students from SA 2643: Introduction to Sculpture and Installation explore ideas of "where are you coming from?" with a focus on "your culture." Here, "culture" is interpreted both as culture in everyday life, as well as more specific historical and ethnic cultural backgrounds. Students explore cultural connections, exchanges, and crossings by using readymades and found objects to create collaborative installations. They are directed to incorporate ornaments, as ornate artefacts have circulated amongst various cultures and have been adapted/hybridized within new cultural contexts throughout history.
Course Instructor: Soheila K. Esfahani
Teaching Assistant: Rebecca Sutherland

Shannon Boast, Charlotte Cao, Cauchi Rayne, Maggie Charbonneau, Julia Fawcett, Chloe Gatti, Megan Goddard, Emma Hennessy, Chelsea Hitchen, Josette Joseph, Lauryn Kell, Madison Kelly, Wesley Macpherson, Emma McInnes, Darcy McVicar, Linjing Qian, Aly Rana, Lara Stamenkovic, Laryssa Stoetzer, Hailey Watson, JoAnna Weil, Ava Wright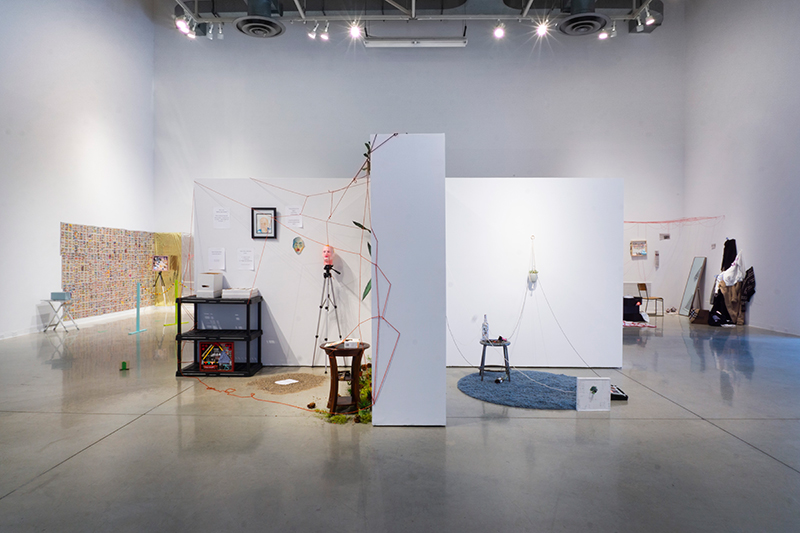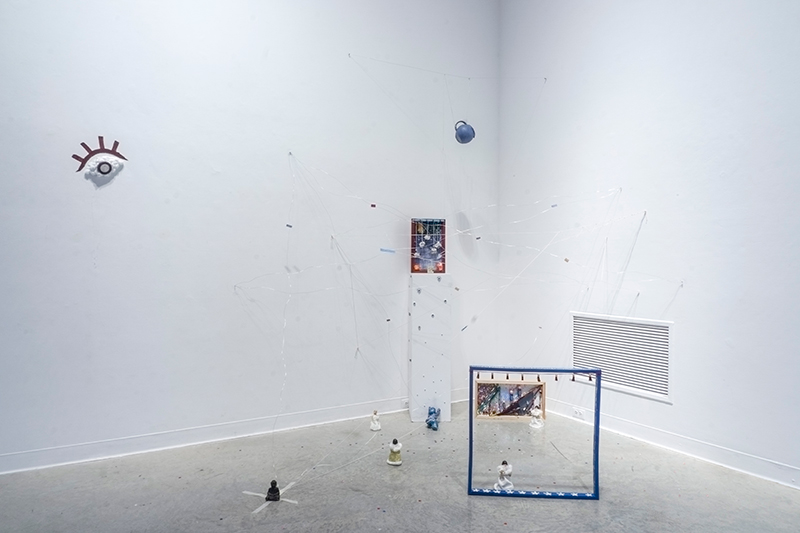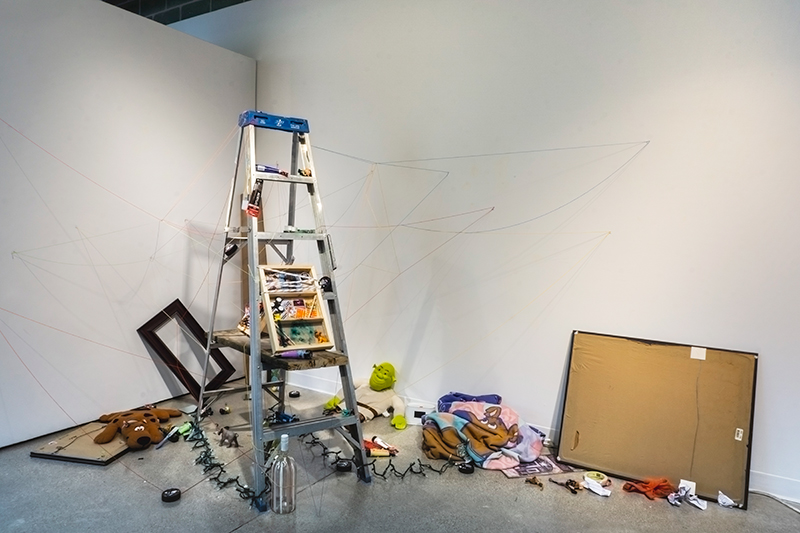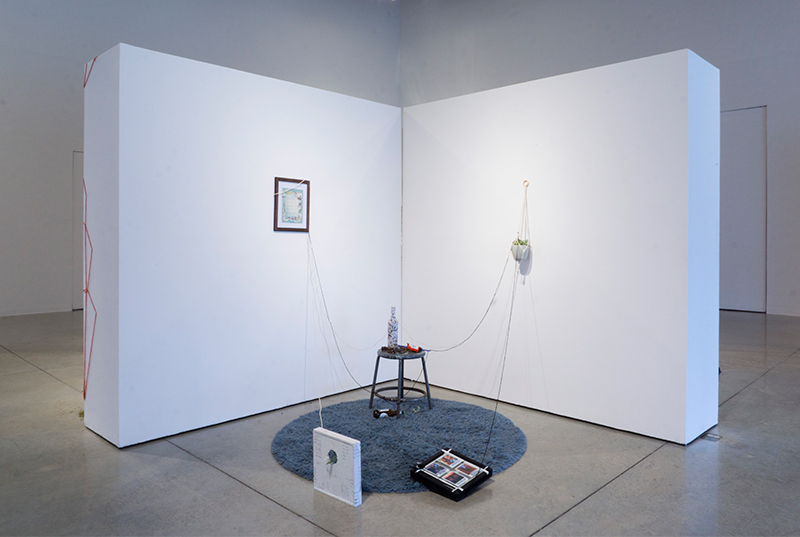 ---
...And on That Day, I Went for a Walk
A Virtual Exhibition by students in SA 2602A: Studio Seminar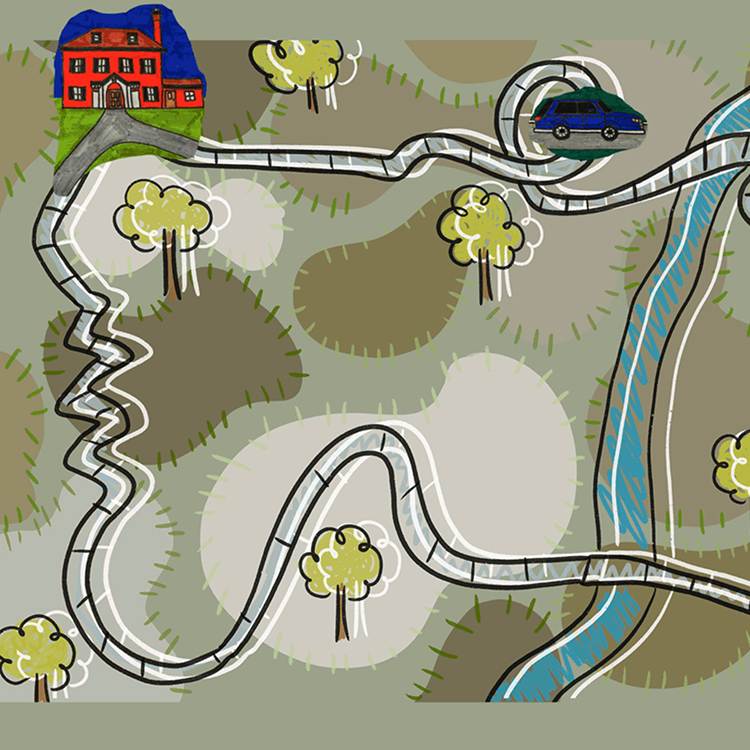 Image from "This is a Dérive," courtesy of Makenzie Marie Ermel, Megan Lynn Goddard, Clementine Leong, and Noelle Mahoney

Diverted from destinations we went for a walk. Stirred by Ólafur's Eliason's Institute of Spatial Experiments, walking alongside the ghosts of Guy Dubord and the Situationists, we set out to explore thinking doing, to let slip the screens of charts and maps, and seek the open. Some ventured in groups, some alone; some during day, some during night; some guided by curiosity, some by the deflecting directives of Dérive apps uploaded to smartphones. We brought back personal notation of our encounters to share in small groups before individually fashioning artworks in response. The pieces presented here comprise a final rounding— a yield of three collaborative digital works formed from intersecting paths.

Interactive pdf of the exhibition (best viewed on a standard monitor), or view all three works below.
Course Instructor: David Merritt

The Universal Taco
Caroline Bridget Kathleen O'Regan, Hailey Watson, Abbygale Shelley and Tyme Thompson

A video that gives insight to the absent-minded individual as they scroll through the different social settings and interactions with others across multiple social media apps during a philosophy lecture.

This is a Dérive 
Megan Goddard, Clementine Leong, Noelle Mahoney and Mackenzie Ermel
How does one create the feeling of a walk in a digital setting? This web page is built to reflect those feelings. Created from multiple experiences, this web page shows important images from these walks, as well as audio that can be interacted with.

A Little Spot in my Mind
Holly Granken, Lara Stamenkovic, Karlee Pattenden, Liv Pattison, and Isabella Springett

So much has changed in the last year that

a

llows us to do things from home- working, going to school,

a

nd going to

a

rt galleries!  Join us on

a

mini tour of our mini galleries each inspired by different things in different places,

a

ll from the comfort

a

nd safety of your own home.  


Transitions.
A virtual exhibition for SA 2652A Intro to Digital Photography
On January 1st, 2020, we transitioned into a new decade and a new era. Eleven months later, we know this was just the beginning of the transition society would experience in 2020.

In this virtual exhibition, students from SA 2652A: Introduction to Digital Photography explore ideas of transition and what they mean for our past, present, and future. Their works collectively examine thinking paths about transitions related to various themes: cultural, social, environmental, political, and technological.

Course Instructor: Jennifer Martin
Teaching Assistant and Curator: Anahí González

Skye MacKenzie Gibson, Yuqing Chen, Lilianna Thornton-Nickerson, Nicole Traher, Brooklyn Lorraine, Maya Fernandez, Justin Mulder, Yi Zhou, Ava Gossen, Liuyi Cheng, Isabella Elisa Springett, Lauryn Kell, Leo Rao, Michael James Harrison, Man Nga Ting, Runjia Huang, SiHyun Vision Kim, Wasef Al Shaikh Yasin, Victoria Khounbourinh, Hongji Weng, Lan Wei, Angie Allen-Demaria, Yumeng Chen, Jennifer Guo, Sofia Bernyck
<- back to top
---
Distance makes the heart grow weak

January 15 - 28, 2021 in the Artlab Gallery and virtually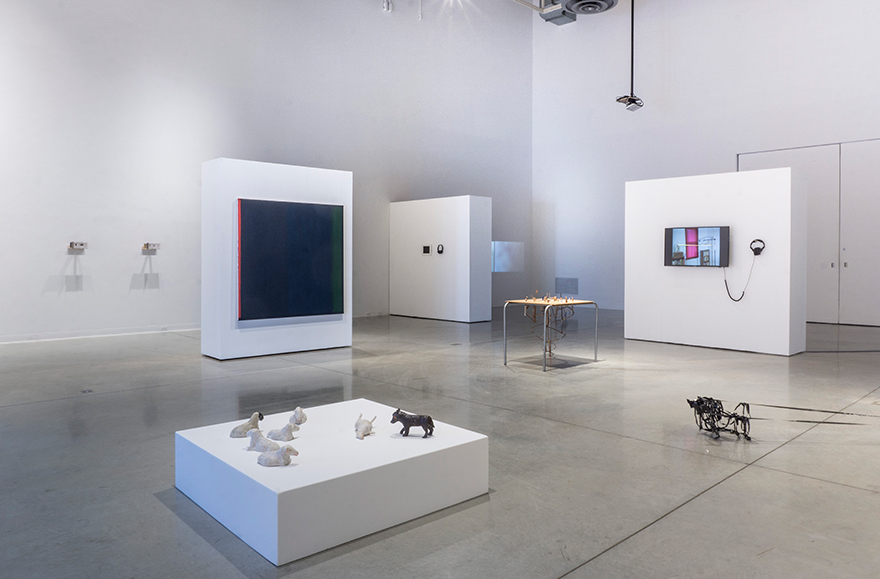 Ioana Dragomir, Philip Gurrey, Geordie Shepherd, Jérôme Conquy w/ Kevin Heslop and others, Jennifer Martin, David Merritt, Sasha Opeiko with Martin Stevens, Dong-Kyoon Nam.


Every few years, the Artlab Gallery at Western University hosts a Faculty and Staff exhibition. These exhibitions are important opportunities for fostering a sense of community in the Visual Arts Department: students are able to see their instructors and mentors at work, and colleagues have a chance to share in each other's research. 2020 was a year like no other, and so the Artlab is leaning into the present with a collective address to this moment of separate togetherness. "Distance makes the heart grow weak" invites faculty, staff and graduate students to speak to how they've been experiencing the last year. It prompts participants to explore and express how isolation has shifted our focus, our research and art practices, as well as our forms of connecting with one another. The exhibition is also an opportunity for participating artists and researchers to show flexibility (and inherently, optimism) despite the high strangeness we're all currently experiencing. In this time of shared solitude—unable to walk down halls, knock on studio or office doors, and enjoy quick hellos and impromptu conversations—we'll quote Chris Kraus (quoting Søren Kierkegaard): "art involves reaching through some distance."

Organized by Dickson Bou and Ruth Skinner.

Participants: Cody Barteet; Sarah Bassnett; Dickson Bou with Charlie Egleston & Peter Lebel; Matt W. Brown; Andreas Buchwaldt; Brianne Casey; Jérôme Conquy with Kevin Heslop, Sachiko Murakami, Sile Englert & Ruth Douthwright; Ioana Dragomir; Meghan Edmiston; Soheila Esfahani; Sky Glabush; Anahí González; Philip Gurrey; John Hatch; Tricia Johnson; Iraboty Kazi; Shelley Kopp; Anna Madelska; Patrick Mahon; Jennifer Martin; Linda Meloche; David Merritt; Ana Moyer; Dong-Kyoon Nam; Kim Neudorf; Katie Oates; Sasha Opeiko with Martin Stevens; Michelle Paterok; Kirsty Robertson; Geordie Shepherd; Andrew Silk; Ashley Snook; Christine Sprengler; Michelle Wilson with Bridget Koza,Sophie Wu, & Azadeh Odlins; Jessica Woodward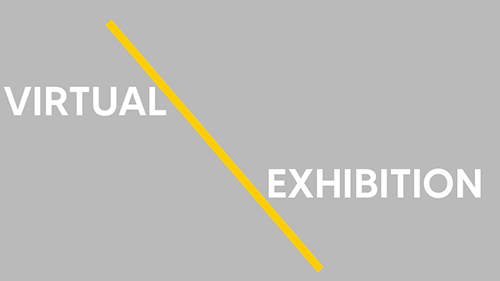 Access the virtual exhibition component of Distance makes the heart go weak for artists' statements, artists' videos, research publications, exhibition documentation, and video features. [external site]
Distance makes the heart grow weak
Digital catalogue by Shelley Kopp, 2021

The theme for the Artlab's exhibition, Distance makes the heart grow weak, really speaks to the peculiar spirit of our time. As we approach nearly a year of life spent in a pandemic, we wonder what others are doing to survive and thrive when we no longer see each other. This collection of art, photos, poems, and reflections, sent in from staff, students, and faculty, resembles an old-fashioned yearbook: it contains moments and thoughts unique to a particular period. It has a trace of the serendipity of shared exchanges in a workday - something missing now, but profoundly welcomed in this catalogue.

Contributors: Cody Barteet, Sarah Bassnett, Meghan Edmiston, Anahí González, Philip Gurrey, John Hatch, Tricia Johnson, Ira Kazi, Anna Madelska, Patrick Mahon, Jennifer Martin, Linda Meloche, Ana Moyer, Dong-Kyoon Nam, Katie Oates, Sasha Opeiko, Michelle Paterok, Kirsty Robertson, Geordie Shepherd, Ashley Snook, Christine Sprengler, Michelle Wilson, Jessica Woodward

Video walkthrough of the exhibition (4:41)
---
Symphony of Lights: An Exploration of Stained-Glass Windows in St. John the Evangelist Anglican Church, London, ON

February 8th - 19th, 2021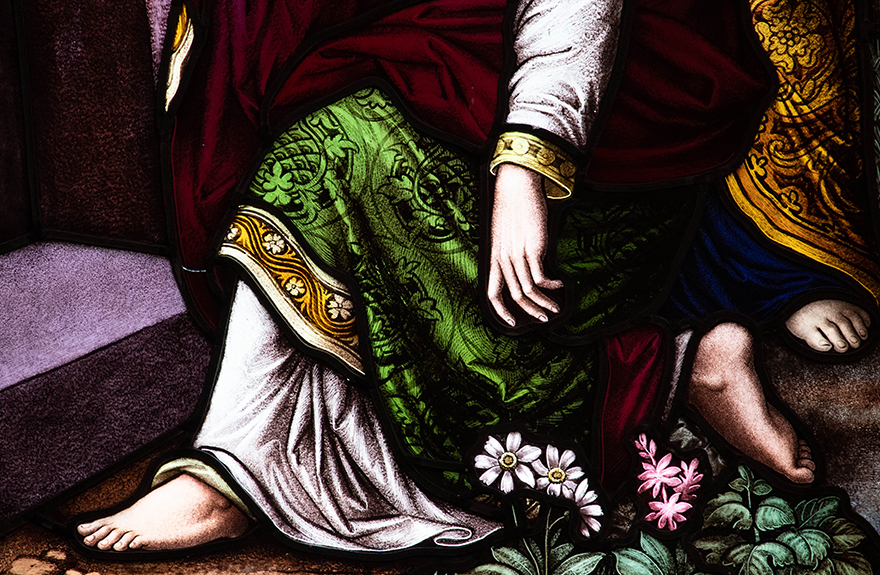 Image courtesy of Anahí González
Artist: Anahí González
Curators: Iraboty Kazi and Anahí González
Editor: Dr. C. Cody Barteet


"Give light, and the darkness will disappear of itself." - Desiderius Erasmus
This exhibition explores the visual and aural sensations of being inside St. John the Evangelist Anglican Church in London, Ontario. The parish community was founded in 1864. The present Gothic-inspired church (at the corners of Wellington and St. James Streets) was begun in 1888 and has remained an important feature in London's Old North community for well over a century. Now part of the Bishop Helmuth Heritage District the church and its facilities are a hub of activity for the community.
The videos and photographs taken by artist Anahí González during visits to the church inspired our explorations of the stained-glass windows in relation to art and local history. Stained-glass windows that adorn the neo-Gothic building connect the church's ambiance to medieval practices, reinforcing a line of contact from ancient history to our own. At the same time, the dynamic shifting of light based on the hour of the day is a reminder of the ephemeral beauty of our daily lives. We also explore the play between light, sound, and their effects on the visitor with recordings of bells and organ music played in St. John the Evangelist church.
Symphony of Lights focuses primarily on four fascinating ecclesiastical windows created by London- and Toronto-based artists and workshops: Meikle Stained Glass Studio, Sunrise Studios, Yvonne Williams, and Robert McCausland Limited. Combining modern technology with historical windows allows for exploration of the varying styles, techniques, colours, artist signatures, and details that would otherwise be overlooked.
This exhibition is a part of Dr. Cody Barteet's research program: Preserving the Cultural and Artistic Heritage of St. John the Evangelist, London, Ontario as a Model for the Anglican Diocese of Huron, a project funded by the University of Western Ontario.
---
AJE19: close for comfort


March 5 - 18, 2021
Artlab Gallery & Chohen Commons

How to talk (or not talk) about that one thing we all have in common;
or, pocket questions to use with others after one year in isolation.
Sidle up to another person and begin small talk:
Ahem.
What have we been up to?
How do we answer that?
How do we make a joke?
How do we share a groan?
What do we look like?
How do we listen?
How do we sound?
Have we watched that yet?
What's that smell?
Are we talking about the same thing?
Why are you looking at me like that?
Why am I looking at you like that?
Why is this so hard?
How is this so easy?
Wanna meet up later?

The Annual Juried Exhibition returns for its 19th consecutive year as one of the most highly anticipated undergraduate exhibitions in the Visual Arts Department. This event supports the production of new work made in a variety of media, including painting, sculpture, digital media, photography, installation, sound, and performance. Artworks were selected by a professional jury who consider originality, creativity, and process. AJE 19: close for comfort represents a diverse selection of work from all levels of undergraduate study in the Department. Despite our unusual (shared) circumstances, we received a significant number of submissions for this year's exhibition. These works speak directly and indirectly to living, thinking, feeling, and working one's way through a thing. With this in mind, the organizers have paired works together, closely, to jump-start some conversations.


Shane Ackerley, Zaynab Almayahi, Tia Bates, Laura Butler
Maggie Charbonneau , Abraham Chavez, Meagan Dennis
, Krista Ewer Vantol, Stephanie Fattori, Julia Fawcett, Julie Fishbaum, Cosette Gelinas, Aisha Hassen, Skyler Hayes, Kaitlyn Hwang, Crystal Lam, Rowan McCready, Melanie Pare, Elizabeth Prebushewski
, Bridget Puhacz, Shelby Sammut, Chloe Serenko, Abbygale Shelley, Ashley Staines, Aidan Takeda-Curran, Megan Man Nga Ting, Lucy Villeneuve, Sam Wagter, Abby Walters, Jade Williamson 

Jurors: Teresa Carlesimo (Forest City Gallery), Anna Madelska (Faculty member), Shannon Taylor-Jones (Satellite Project Space), Dickson Bou and Ruth Skinner (Artlab Gallery)

Image: Chloe Serenko, Low Battery (digital video).
 
Virtual walk-through of the exhibition, narrated by Gallery Manager Ruth Skinner.

Download the Gallery Map, with list of works and artists' statements, here.