artLAB 2022-2023

Winter 2023
artLAB Gallery: AJE 21
artLAB Gallery: Connections
Cohen Commons: Logo Life
artLAB Gallery: In Our Space, In Our Time
Cohen Commons: Reflecting on Religious Imagery
EVENT: QALEIDOSCOPE: QUEER FILM AND PERFORMANCE ON TOUR / Jessica Karuhanga

Fall 2022
artLAB Gallery: Death is not the End : la Muerte es el Comienzo
Cohen Commons: Curating Waste Ist das Kunst oder kann das weg?
artLAB Gallery: Artist Material Fund
Cohen Commons: Objectlings, Wildings, Thinglings
Event: Western Performs!
artLAB Gallery: Thresholds and Inventories
Cohen Commons: Refuse Refuse
artLAB Gallery: Through Our Lens
Cohen Commons: RiverFest 2022
---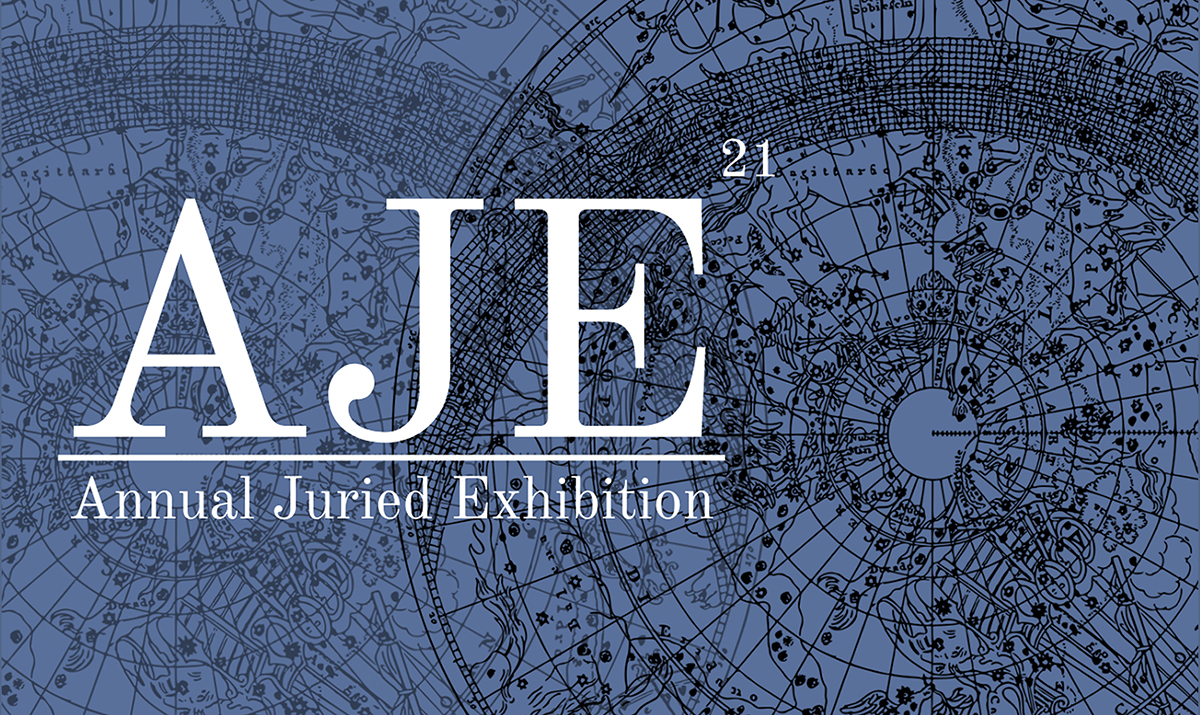 Annual Juried Exhibition: March 2 – 16, 2023
Opening: Thursday, March 2 from 6–8PM

People's Choice voting: 6:00-6:45pm
AJE Award Announcements: 7:00pm
Celebrating twenty-one years the "Annual Juried Exhibition" continues to be one of the Department of Visual Arts most highly anticipated undergraduate exhibitions. This diverse show supports the production of new work made in a variety of mediums including painting, sculpture, print, video, and photography. Exhibited works were selected by a professional jury who consider creativity, concept, materiality and technique. This year's show is indicative of the resilience and dedication our students continue to demonstrate.
Featuring work by: Tammy Abela, Bridget Beardwood, Laila Bloomstone, John Cocker, Giulia Commisso, Stefania Dragalin, Kate Dunn, Sebastian Evans, Cheyne Ferguson, Megan Goddard, Morea Haloftis, Katelyn Halter, Emma Hardy, Emily Kings, Bridget Koza, Victoria Kyriakides, Myles Lynch, Darcy McVicar, Grace Maier, Amy Murray, Venus Nwaokoro, Dhra Patel, Olivia Pattison, Bridget Puhacz, Michaela Purcell, Hilary Rutherford, Chloe Serenko, Abbygale Shelley, Marissa Slack, Maggie Shook, Madison Teeter,  Timothy Wiebe, Sophie Zhang
Jury Members: Anna Madelska (Faculty), Jessica Karuhanga (Faculty), Dickson Bou (Artlab Gallery Preparator) Liza Eurich (Artlab Gallery Manager), by proxy Teresa Carlesimo (FCG Director)
---
Connections
artLAB
February 2 - 16, 2023
Reception: Thursday, February 2 from 5-7PM
Tianle Chen, Giulia Commisso, Cheyne Mackenzie Ferguson, Sydney Foster, Leland Harris, Michael Harrison, Dhra Patel, Olivia Rae Spence, Natasha Tacconelli, Man Nga Ting, Jennifer Wang
Professor: Soheila K. Esfahani
Woodshop Technician: Andrew Silk
Connections is a series of collaborative installations in response to our connection to Mother Earth, our homes, spaces within ourselves, liminal spaces using only recycled and found materials. This project has been created using mainly materials from Artist Material Fund under the guidance of Kelly Greene (Indigenous Artist in Residence at the Visual Arts department). A vital concept of this project is to reflect on the fact that we are all part of this Earth and are extremely dependent on her since everything that surrounds us is provided by her. With the current overpopulation by humans on our planet, we've consumed and produced excesses. Thus, these installations aim to convey attentive perspectives by reusing some over-produced materials that would otherwise fill landfills.
---
Logo Life
A Third Year Print Media Project 
Cohen Commons
February 2 - 16, 2023
Reception: Thursday, February 2 from 5-7PM
Hannah Boyer, Susy Castillo, Kate Dunn, Sebastian Evans, Carrie Kieswetter, Jacqueline Lian,Megan Muir, Ulana Mysakowec, Caroline O'Regan, Bridget Puhacz, Michaela Purcell, Aly Rana, Grace Song, Laryssa Stietzer, Emily-Lloy Sutherland-Sebo, Abigail Walters, Sophie Wu
Professor: Patrick Mahon
Printmaking Technician: Jessica Woodward
Signs, signs, everywhere, signs – and brands. The visual field of contemporary life is covered over with the marks of capitalism. Yet each of us may at some point adopt such tags and symbols as "our own." In this project, the Third Year Print Media class has put away the press in favour of a garden roller for printing and employed found cardboard to fashion their plates. The forms they have printed are of their own creative making: personal signs. These marks will soon appear on printed t-shirts the class is producing with the help of Rezonance Printing, in late February of this year. In the meantime, we invite you to enjoy "Logo Life." We're not trying to sell you anything. 
---
In Our Space, In Our Time
Shane Ackerley, Taylor Horner, Siena Idoine, Bella Kerfers, Megan Lee, Jalyn Liang, and Sawyer Shin
artLAB
January 12 - 26, 2023
Reception: Thursday, January 12 from 5-7PM
In Our Space, In Our Time showcases the media-art explorations of Shane Ackerley, Taylor Horner, Siena Idoine, Bella Kerfers, Megan Lee, Jalyn Liang, and Sawyer Shin. Utilizing sound, video, and installation the artists invite viewers to explore and question how we, as individuals and collectively, relate to one another; to art and the spaces where we view it; to the pressures of student life; to place and technology; and to our modes of self-soothing, joy, and escape.
Documentation by Dickson Bou.
---
Reflecting on Religious Imagery Through Documentation and Quotidian Objects
Cody Barteet, Katie Oates, and Tanner Layton
Cohen Commons
January 12 - 26, 2023
Reception: Thursday, January 12 from 5-7PM
This exhibition reframes our experience of religious sites in Southwestern Ontario. We capture not the sacred, but rather the ordinary. Through these visions of decay, graffiti, and quotidian objects and images, we reimagine and reconsider how religious imagery is encountered. Our documentation explores the doorway between inclusion and exclusion, enchantment and disenchantment, and that which is concealed behind locked doors.  
 Documentation by Dickson Bou.
---
EVENT
QALEIDOSCOPE – QUEER FILM AND PERFORMANCE ON TOUR 2023
LONDON  • MONTREAL • ST. JOHN'S • WINNIPEG • SASKATOON • VICTORIA
QALEIDOSCOPE will feature Queer and QTBIPOC films and performance that explore, question and play with identity to propose and investigate diverse ways of looking at sexuality, gender and race.
As the titles suggests, QALEIDOSCOPE – will be a well-textured assemblage of images, ideas, and realities that collide in fantastical, personal, and playful ways to produce an ever-changing, multi-faceted queer film and performance art viewing experience.
For more information - please visit www.queercitycinema.ca
Jessica Karuhanga
Artist talk and Performance


Friday, January 13, 2023 at 7PM




Digital Creativity Lab room 137E, JLVAC




Presented in partnership with QCC and LOMAA
ground and cover me engages with the physical and figurative contours of the institutional space. Karuhanga enacts gradual movements that are intuitive and deliberate responses to the walls, windows and ground. This piece is a choreographic rupture to institutional spaces that otherwise insist upon our disappearance. 
Jessica Karuhanga is a first-generation Canadian artist of British-Ugandan heritage whose work addresses issues of cultural politics of identity and Black diasporic concerns through lens-based technologies, writing, drawing and performances. Through her practice she explores individual and collective concerns of Black subjectivity: illness, rage, grief, desire and longing within the context of Black embodiment.
She was the 2020 - 2021 recipient of Concordia University's SpokenWeb Artist/Curator In Residence Fellowship. Karuhanga has presented her work at the Robert McLaughlin Gallery (2021), SummerWorks Lab (Toronto, 2020), The Bentway (Toronto, 2019), Nuit Blanche (Toronto, 2018), Onsite Gallery (Toronto, 2018) and Goldsmiths University (London, UK, 2017). Karuhanga's writing has been published by C Magazine, BlackFlash, Susan Hobbs Gallery and Fonderie Darling.
She has been featured in AGO's Artist Spotlight, i-D, DAZED, Visual Aids, Border Crossings, Exclaim!, Toronto Star, CBC Arts, esse, filthy dreams, Globe and Mail and Canadian Art. She earned her BFA from Western University and MFA from University of Victoria. She is an Assistant Professor at Western University.
https://www.jessicakaruhanga.net/ 
---
artLAB Gallery
Death is not the End : la Muerte es el Comienzo
November 24 – December 8
RECEPTION: THURSDAY, NOVEMBER 24 / 5-7PM
"The word "Death" is not pronounced in New York, in Paris, in London, because it burns the lips. The Mexican in contrast, is familiar with death, jokes about it, caresses it; it is one of his favorite toys and most steadfast love." 
                               — Octavio Paz (1914-1998), The Labyrinth of Solitude, 1950.


 Death is not the End : la Muerte es el Comienzo explores death through the lens of Mexican art, and encourages viewers to think of death in a new light. The exhibition is inspired by Mexican artistic techniques, and is comprised of various mediums. The artworks provide unique, individual perspectives on death, and bring death to life.
 Professor Alena Robin's class Death in Mexican Art: From Ancient Time to Today surveys various concepts of death and surrounding ideologies in Mexican cultures. A unique course which promotes cross-disciplinary collaboration, this culminating exhibition is the result of the combined efforts of the class' studio, art history, and museum & curatorial students.
Documentation by Dickson Bou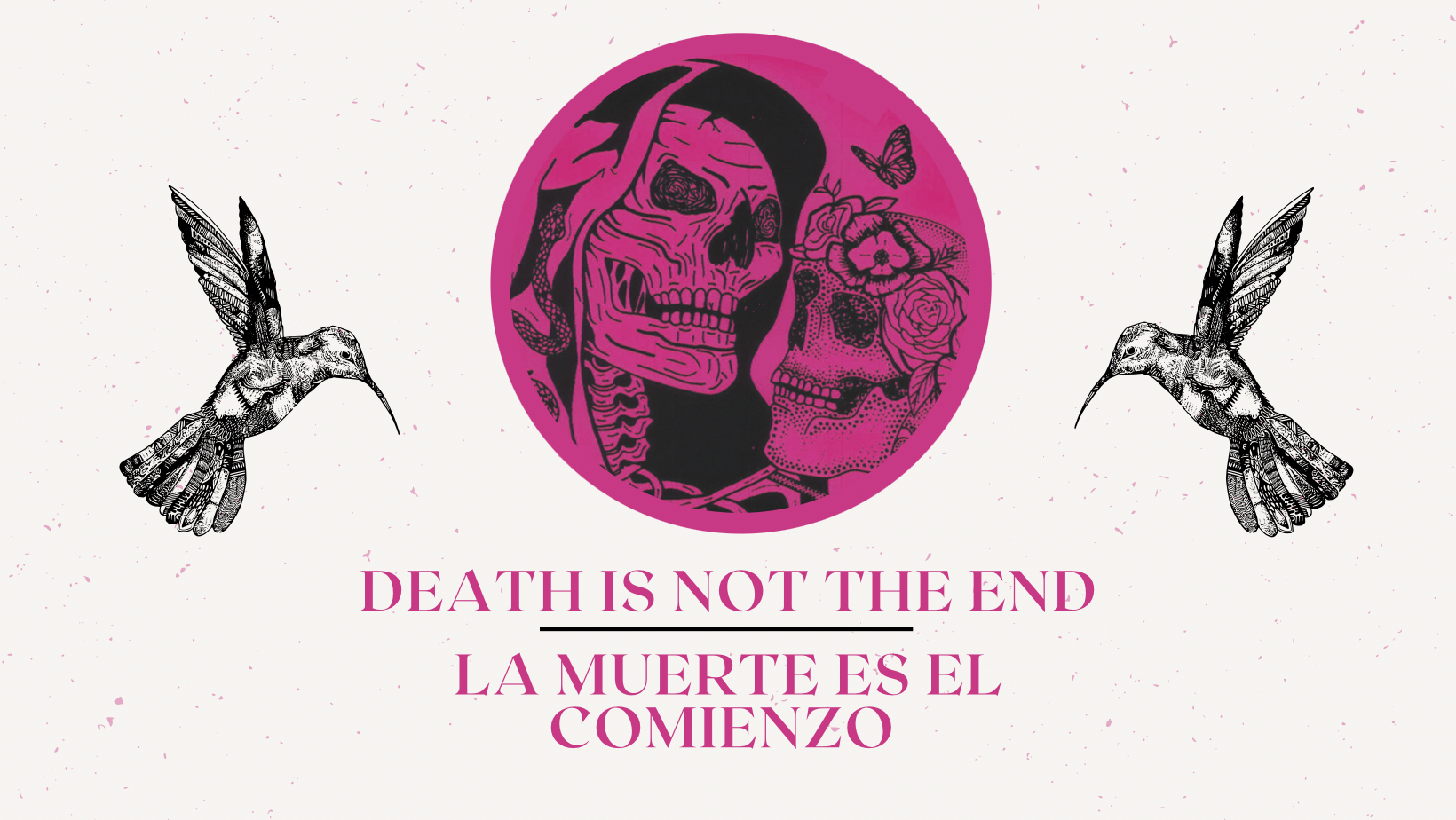 ---
Cohen Commons
Curating Waste
Ist das Kunst oder kann das weg? 
A collaborative exhibition by Friederike Landau-Donnelly and Kirsty Robertson
November 24 – December 8
RECEPTION: THURSDAY, NOVEMBER 24 / 5-7PM
What is waste? This trans-Atlantic encounter between two researchers represents an ongoing conversation about the boundaries between art and waste, a conversation that has seeped into various forms: collections, texts, poems, sound, films, and materials recycled from previous exhibitions.
In dialogue with concepts such as hydrofeminism and environmental (in)justice, the exhibited works trace our expeditions to different bodies of waters, including Deshkan Ziibing, the Rhine, and the Dutch Waal, as well as Lake Huron and the Atlantic Ocean. The individual pieces trace the disturbing presence of human-made plastics at beaches, showcasing materializations of an anthropogenic imprint in so-called "Neptune Balls" (entanglements of human-produced plastic threads and dune grasses). While the collaboration is ongoing, this assembly of texts, sounds, and matter together problematize the persistent politics of waste deeply embedded in both Canadian and Dutch lands.
Funding provided by the Western-Radboud Collaboration Fund and the Centre for Sustainable Curating.

Documentation by Dickson Bou
neptune ball collected on the petro-circuit fieldtrip, October 2022, photo credit: Bruno Sinder
---
artLAB Gallery
ARTIST MATERIAL FUND
October 27 – November 20
RECEPTION: THURSDAY, OCTOBER 27 / 5-7PM
Come get some FREE building materials, tools, and art supplies at AMF at artLAB Gallery.
Founded in 2014, the AMF is a service that relocates material and diminishes waste produced in the art industry, while providing resources for artistic production. Rooted in cooperation and mutual aid, the program supports and promotes the sharing of under-used goods to realize their full, potential value, builds more efficient studios. It's a platform that operates outside of the capitalist, consumerist model, and strives to create one viable alternative to the common issue of fiscal precarity and ecological irresponsibility. As an economically and environmentally responsible redistribution centre, the service gives raw workable material another life by collecting materials from cultural institutions across Southwestern Ontario, making them free and available to artists and individuals in the community.
The rules are simple:
First-come, first-served.
There is no limit to what you can take. 
Take only what you need. 
It is pick up only.
We do not accept unsolicited drop offs.
We do not deliver.

You don't need to be an artist to collect material.
We've got lots to go around.
A community engagement project by Suzanne Carte, the AMF is supported by the Art Gallery of Burlington (AGB). This edition of the AMF was curated by students in MCS4691 Waste Stream/Waste Dream.
 Documentation by Dickson Bou.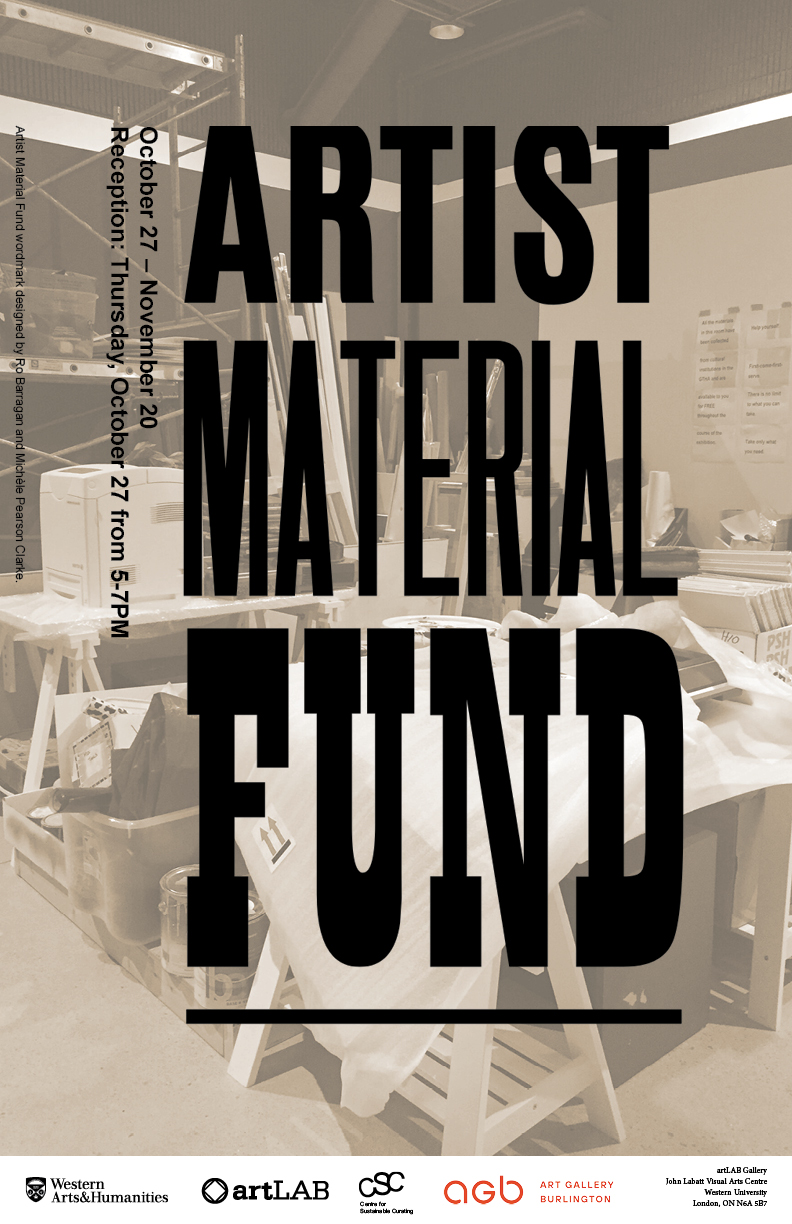 Image credit: Artist Material Fund wordmark designed by Ro Barragan and Michèle Pearson Clarke.
---
Cohen Commons
Objectlings, Wildings, Thinglings
SA3611: Drawing
October 27 - November 17
RECEPTION: THURSDAY, OCTOBER 27 / 5-7PM
---

WESTERN PERFORMS!
WEDNESDAY, OCTOBER 19 / 12:30-1:30PM
Join us in the artLAB Gallery on Wednesday, October 19 at 12:30PM for Western Performs! featuring University Singers and Les Choristes with Drs. Mark Ramsay and Tracy Wong.


Silence – Nancy Telfer
Dawn – Emily Parker
Rise up, My Love, My Fair One – Healey Willan
Antara – Tracy Wong
Mata Del Anima Sola – Antonio Estevez
Meditation (Whatever Happens) – Joshua Shank


This event is presented in partnership with the Don Wright Faculty of Music and SASAH.
Documentation by Dickson Bou
---
artLAB Gallery
THRESHOLDS AND INVENTORIES
MFA SEMINAR
October 6 - 20
RECEPTION: FRIDAY, OCTOBER 7 / 5-7PM
Thresholds and Inventories immerses viewers into the intersection of diverse practices by second-year MFA candidates Masha Kouznetsova, Rylee Rumble, Alyssa Sweeney, and Sam Wagter. Comprised of various mediums, this exhibition acts as a threshold for discussion, inviting viewers to investigate their own personal inventories⁠—bodily phenomena, memories, experiences, environments, and identities.
Masha Kouznetsova records her immediate environment and transitions between places using pinhole photography, mark-making, found and handmade objects, and audio tapes. Through these recording processes, she explores her relationship to migration, time, place and no-placeness, distance, and wayfinding. The Fall MFA Exhibition features Masha's studies for an installation that meditates on palindromes, continuity, silence, and search.
Rylee Rumble is a painter specializing in abstract expressionism, focusing on exploring and archiving her experiences with mental health through colour. Working closely with personal items she sees and uses in her daily life, the work shown in this exhibition is a physical archive for these items, as one day, they will no longer exist. 
Alyssa Sweeney's work focuses on night photography looking at themes of psychogeography. Engaging with the experiences within the city, thinking about the forgotten, discarded, and marginalized aspects of the urban environment. 
Sam Wagter is a multimedia artist working in video, animation, digital renders/ images, and glitch. Her practice navigates the undefined space between binaries, rooted in 'glitch' as defined by Legacy Russell's Glitch Feminism. She invites others to explore queerness and identity in the unexpected errors and glitches through computers, body, and virtual spaces.
Documentation by Dickson Bou.
---
Cohen Commons
Refuse Refuse
SA1601: Foundations of Visual Arts
October 6 - 20
RECEPTION: FRIDAY, OCTOBER 7 / 5-7PM
Join us in the Cohen Commons on Friday, October 7 from 5-7PM for the opening reception of Refuse Refuse, which features drawings by students in SA1601: Foundations of Visual Arts, instructed by Professor Tricia Johnson and Teaching Assistants Andreas Buchwaldt, Sasha Opeiko, Kyoon Nam, Sam Wagter, Alyssa Sweeney, Phil Gurrey, Masha Kouznetsova and Rylee Rumble.
Ephemeral and immediate in effect, the medium of drawing--in particular precise contour lines, is used here to explore our fraught relationship with refuse. The result, a large cross section of works that reflect careful studies of leaf and garbage bags from the perspective of 209 different first-year students. With an emphasis on observing proportion and folds, these formal studies give way to thoughts on cycles, temporality and sustainability.
Documentation by Dickson Bou.
---
Artlab Gallery


THROUGH OUR LENS
Olivia Pattison, Abbygale Shelley, Isabella Springett
September 15 – 29
RECEPTION: THURSDAY, SEPTEMBER 15 / 5-7PM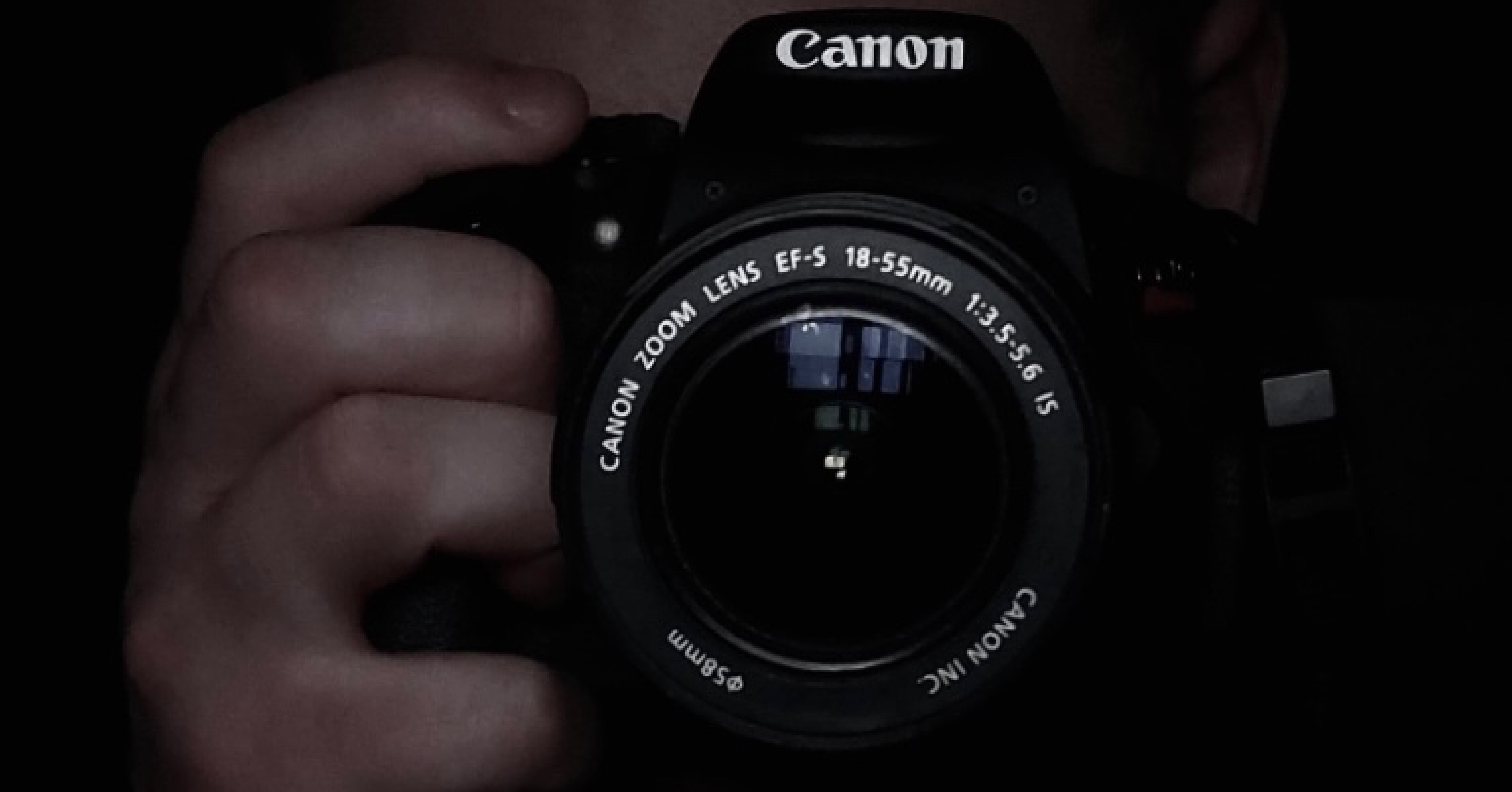 Through Our Lens features work by fourth year students Olivia Pattison, Abbygale Shelley, and Isabella Springett. Of this exhibition they state: "that the work reflects our initial response to the pandemic, and is based on both our individual and shared experiences, drawing from personal documentation/archives. The COVID-19 lockdown was a universal experience that drastically changed the way we lived our lives. Everyone has their own perspective regarding the last two years—this is ours."
---
Cohen Commons
RiverFest 2022 
Western Sustainability
September 15 – 29
Keynote Speaker Wahsayzee Deleary: THURSDAY, SEPTEMBER 27 / 2:30-4:30PM
Join us for the Riverfest Closing Ceremony on Tuesday, September 27 from 2:30 - 4:00pm in John Labatt Visual Arts Centre.
The ceremony will feature the Riverfest Art Exhibit in Cohen Commons with a Ribbon Grid and photography submissions crowdsourced from the campus community, along with a visual arts student project inspired by the prompt Wish on Water under the guidance of Professor Soheila Kolahdouz Esfahani.
Guests will be invited to enjoy the art exhibit, connect with Riverfest organizers and participants across campus, while enjoying refreshments from Great Hall Catering.
A keynote presentation will be delivered by Wahsayzee Deleary. Wahsayzee is an Anishinabekwe from Oneida Nation of the Thames and Deskaan Ziibii (Chippewa of the Thames First Nation) as well as Kitigan zibi Anishinanbeg First Nation. Wahsayzee's lineage on her fathers side is Pottawatomi, Ojibway, and Otomi. From her mothers lineage she is Algonquin, and French/German. Wahsayzee is Midewewin, and a member of the Three Fires Midewewin Lodge. She is Loon Clan, and is a mother and grandmother. She has been advocating for water and teaching about Anshinabe knowledge and lifeways for a majority of her life. She believes that this knowledge must be passed into the future and is a part of her life's purpose to do that work. Wahsayzee has spent over 20 years in the fields of education and health and has begun a new career path in the area of child welfare.
Register:  http://www.events.westernu.ca/events/western-sustainability/2022-09/riverfest-closing-ceremony.html
Event Programme
2:30 - Arrival, art exhibit, refreshments served

2:45 - Opening remarks

3:00 - Keynote presentation, Wahsayzee Deleary

3:30 - Concluding remarks

3:45 - Networking, art exhibit, refreshments served

4:00 - Conclude

From Professor Soheila Esfahani: The installation Wish on Water: Deshkan Ziibiing is a collaborative project by students in Intro to Sculpture and Installation course, which focuses on cultural practices around water. It draws on the tradition of wishing on water in various cultures around the world from wishing wells to tossing coins in the water features of shopping malls. The installation is a gesture towards connecting with the Deshkan Ziibiing in multiple ways: as a body of water on campus, a site of transformation, and a place of cultural practice.   
Western Sustainability's call to participate: We encourage you to send us your photos of the river to add to our gallery display from Sept. 15-29. Following the prompt River Through Your Eye, all submissions will be entered in a draw to win a sustainability prize pack! Email photos to sustainability@uwo.ca, with your name for the photo credit, and a photo title if you have one. Images will be on rotating display in the Cohen Commons. 
In the press: First-ever Riverfest reconnects campus community with the Deshkan Ziibiing, written by Cynthia Yi. Western News, September 07, 2022. View the article here
RiverFest features a series of monthlong events organized by Western Sustainability.