Artlab 2021-2022
Summer 2022
Artlab Gallery: Credulous Escapism
Artlab Gallery: Brazil/Canadá

Spring 2022
Cohen Commons Gallery: Liminal Spaces
Artlab Gallery: Continuing Accountability
Cohen Commons Gallery: My Newly Formed Title
Artlab and Cohen Commons Gallery: 20th Annual Juried Exhibition
Artlab Gallery: Sometimes in the Night, the Fox Slips By
Cohen Commons:...and this book is a straight line in space

Fall 2021
Artlab Gallery: I left parts of myself everywhere
Cohen Commons: The Lesser Known Point C
Artlab Gallery: Photos in the Attic
Cohen Commons: Eden
Event: 

The Apocalypse In Your Bedroom
Artlab Gallery: Untitled (open gallery)
Cohen Commons Gallery: Hello to Printing 

---
Brazil/Canadá
Curated by Bruno Sinder, PhD candidate
Artlab Gallery
August 05 - 25, 2022
Opening Reception: Thursday, August 11 from 5:00 -7:00pm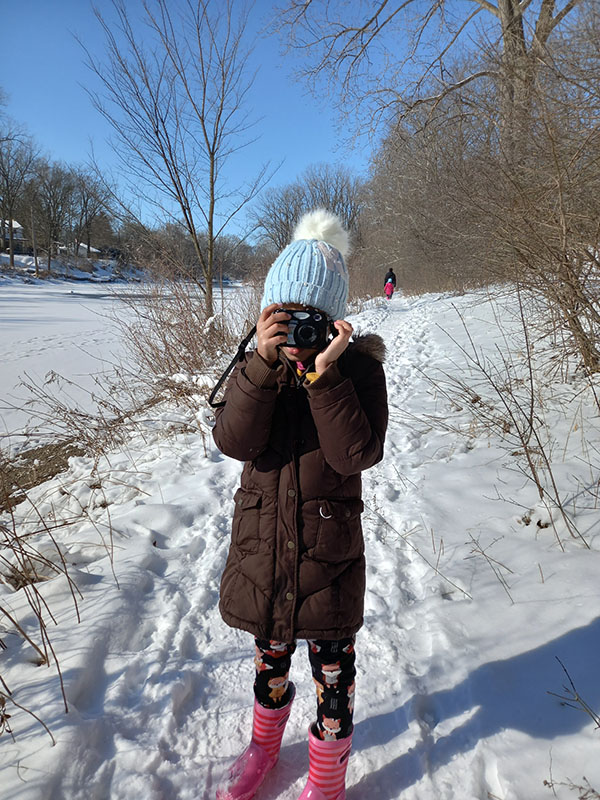 About the exhibition Sinder writes:
"Featuring over 100 family photographs of Brazilian immigrants to Canada Brazil/Canadá invites viewers to reflect on the role personal photography plays in the process of migration. Also present in the exhibition are quotes from my conversations with the participants, where we talked about their journeys and the stories behind the photographs submitted. While the traditional print family album might be seen as an object left behind in the transition from analog to digital photography, family photography is more popular and prevalent than ever. Where do these photographs circulate and, most importantly, what do they do? Can they help us navigate the difficulties and complexities of migrating to a new country?
In this exhibition, I invites you to circulate alongside the images through three of the spaces these photographs operate in: the gallery walls, the digital world, and the home. Wander the gallery, navigate the database, and sit down with the physical albums."
---
Credulous Escapism 
Brianne Casey, MFA candidate, thesis exhibition
Artlab Gallery
July 07 - July 28, 2022
Opening Reception: Thursday, July 14 from 6:30-8:30pm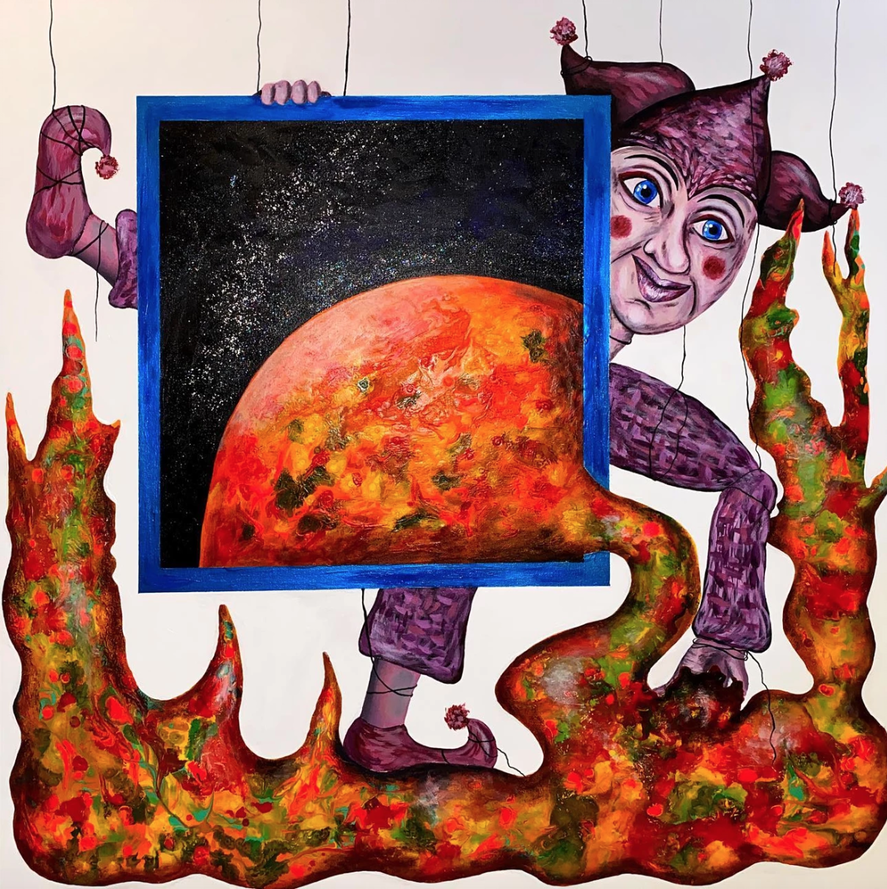 Credulous describes the readiness to believe in anything even with the uncertainty of its validity. Viewers are welcomed into this space of possibilities, where they can escape from the realities of the world. The exhibition Credulous Escapism reflects on a whimsical moment in life, while acknowledging that childhood wonderment inevitably comes to a looming end. With this in mind, Casey created paintings and installations that engage with neo-surrealistic influences -- further attempting to reveal our subconscious relationship to the mysterious and nostalgic world of toys.
In my own experience toys are a continuous source of inspiration, particularly, a royal purple bear given to me by my Papa, (Leonard Johnson) when I was six years old. The bear contributed to my colour scheme in several visual works. This colour and the matching colour scheme have been prevalent in my work for several years. Observing and contemplating my work the royal purple aesthetic was realized by chance, when I glanced at the bear in my studio; an object that has been a constant part of my studio as a continued reminder of my Papa. The familial and intellectual impact of the teddy bear inspired my fascination with how toys have the potential to influence us subconsciously throughout our lives.

---
Liminal Spaces
May 10 -24, 2022
Cohen Commons Gallery
Liminal Spaces features work done by Professor Geordie Shepherd's SA 3611: Advanced Drawing course. Running until May 24, the show includes eerie and insightful renderings that ruminate on liminality -- a threshold, a boundary, a possibility. 

Rachel Edward, Kristin Bartsch, Chen Yuqing, Siena Idoine, Meagan Dennis, Emma McInnes, Makenzie Ermel, He Huang, Yuan Yishan, Leo Rao, Hailey Watson, Noelle Mahoney, Myles Lynch, and Julia Fawcett.


---
Continuing Accountability
Kelly Greene
April 21 - May 17, 2022
Artlab Gallery
The Artlab Gallery is pleased to present an exhibition titled "Continuing Accountability" by current Indigenous Artist-In-Residence Kelly Greene. Presented in partnership with the Office of Indigenous Initiatives and the Department of Arts and Humanities, this exhibit brings together work completed by Greene over the course of her nearly thirty year artistic career. 
ARTIST STATEMENT:
This exhibit is a continuation of my exhibit "Accountability" that was briefly on display at McIntosh Gallery for a week in March, 2020 before everything shut down. But "Accountability" has another meaning besides referring to the previous exhibit, as this word was and is the premise for both shows, since it encompasses the concepts of the artworks.
Some topics include alternative viewpoints of historic occurrences once viewed as celebratory by most, though now wondering when history books will be changed. And since recent revelations have been made of resulting conditions from enforced ownership, we may question how reparation can be made.
Yet despite it all, somehow Indigenous cultures, traditions, and languages are still alive. Although they've struggled to remain alive, the onus to pass knowledge from one generation to the next is imperative so nothing more will be lost.
Moreover, it is the responsibility all humans must now offer to care for our Earth, our Mother, who has endured much devastation especially during the past century after the industrial revolution and the rise of technological advancements. We are now in a position to make drastic changes to ensure that the future may somehow be free from the current conditions we're experiencing, resulting from us making strides without heed of repercussions.
My hope is we'll be able to outrun the machine we've created.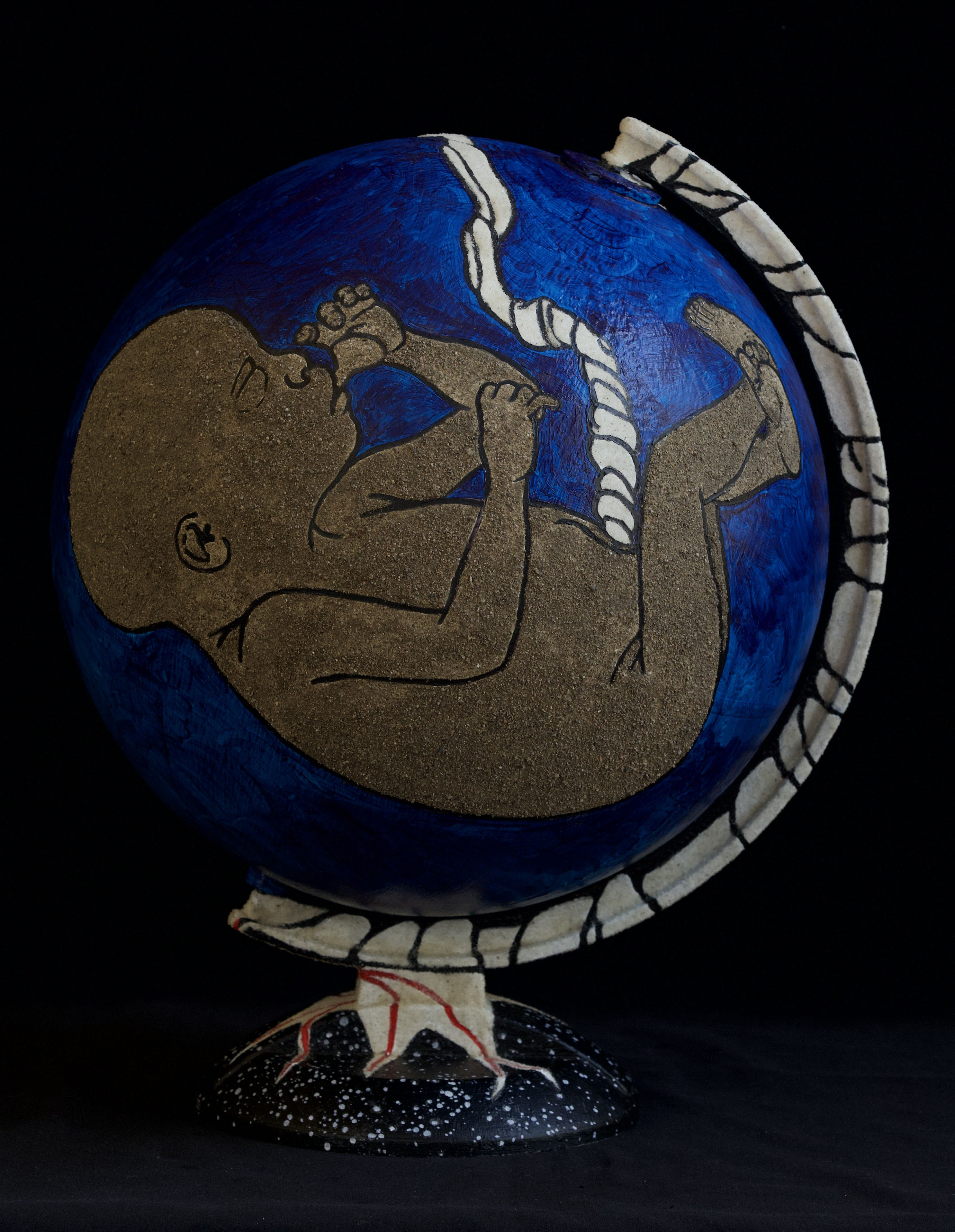 Humanity's Vast Responsibility, 2009, Mixed Media
Photo credit: Richard Lawler
Kelly Greene is a multi-media artist whose work includes painting, sculpture, installation, and photography. She is of Mohawk-Oneida-Sicilian ancestry, a member of the Six Nations of the Grand River Reserve, and a descendant of the Turtle Clan.
Greene has lived in London, Ontario since 1989 where she obtained a BFA from the University of Western Ontario. She began her visual art studies at the University of New Mexico in Albuquerque, where she moved with her family when she was a child. 
She has exhibited in Canada and the United States for over thirty years in solo and group exhibits, primarily at the Woodland Cultural Centre in Brantford, Ontario but also Banff, Alberta; Vancouver, B.C.; Montreal, Quebec; Ottawa, Thunder Bay, Toronto, and London, Ontario; Santa Fe, New Mexico, and Howes Cave, New York. Her work is in numerous public and private collections, and in 2012 and 2015 she was commissioned to complete two permanent outdoor installations at the Woodland Cultural Centre. She has been awarded grants from the Canada Council for the Arts and the Ontario Arts Council and was most recently awarded the first Indigenous Artist in Residence at Western University in 2021.
Her art focuses primarily on environmental and political topics, as well as revealing stereotypes that are still prevalent towards Indigenous cultures, using ironic humour when possible. Recognizing the impact colonization has had on our Earth and the First People who have always lived on the land now known as Canada, Greene specifically refers to the Haldimand Treaty granted to the people of Six Nations, as well as the Mohawk Institute Residential School, or "Mush Hole", where her beautiful Grandma attended in the 1920's. Another concern is Colony Collapse Disorder, or the current plight of bees vanishing due to pesticides and monoculture. The ever-alarming condition of our planet has inspired Greene to create works that represent our Mother Earth as human, appealing to our species' egocentricity, hoping empathy will be instilled and respect given so future generations will continue to be revived and thrive.


Reviewed by Madeline Lennon:
https://centred.ca/continuing-accountability/


Walkthrough Filmed and Edited by Gregory De Souza.

---

My Newly Formed Title
April 21 - May 17, 2022
Cohen Commons Gallery

Anahi Gonzalez Teran. Ashar Mobeen, Samantha Nicole Wagter, Rylee Rumble, Alyssa Sweeney

My Newly Formed Title is an exhibition in response to topics discussed in Professor Soheila Esfahani's graduate seminar "Where is diaspora?" This exhibition investigates diasporic cultural production, cross-cultural issues, cultural translation, and the question of "Where are you from?"   
"we are made of starstuff 
our bodies flutter through the cosmos   
on an endless journey   
neither here nor there   
from where do we come  
somewhere   
where do we go   
nowhere" 
poem by Ashar Mobeen 

---
Eagle Flight Singers
Thursday, April 7 at 6PM
Artlab Gallery, JLVAC
The Artlab Gallery is pleased to present a performance by Eagle Flight Singers led by Gordon Sands. Organized by Kelly Greene, current Indigenous Artist-In-Residence in the Department of Visual Art, this Pow Wow Song and Dance Presentation, will feature powerful music and beautiful regalia worn by amazing dancers. This event is held in partnership with the Office of Indigenous Initiatives and the Department of Arts and Humanities.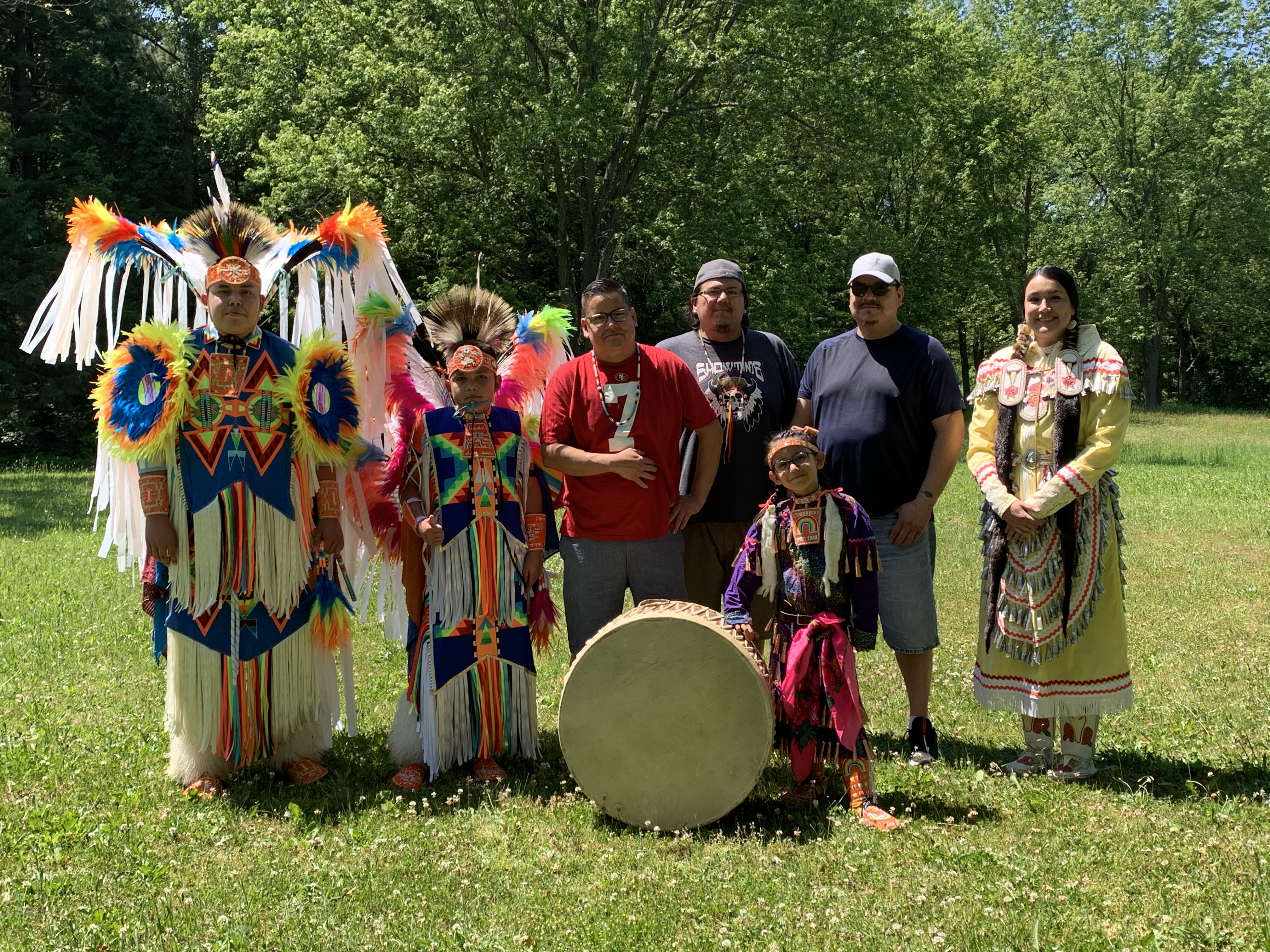 "Eagle Flight" is a First Nation song and dance troupe, based out of London, On.  The group specializes in what is known as "Pow-wow" singing and dancing, delivered with a live pulse-pounding experience.  Originating in the area of the western States and Provinces, the group showcases these dance styles complete with origin stories and song explanations. Eagle Flight's approach is educational in nature, giving the viewer an authentic and relatable experience. Over the course of two decades, "Eagle Flight" has performed for many professional organizations and institutions. The group is comprised of friends and family and is of Cree/Ojibway, and Haudenosaunee descent.
---
ante meridiem
March 21 - April 1, 2022
Artlab Gallery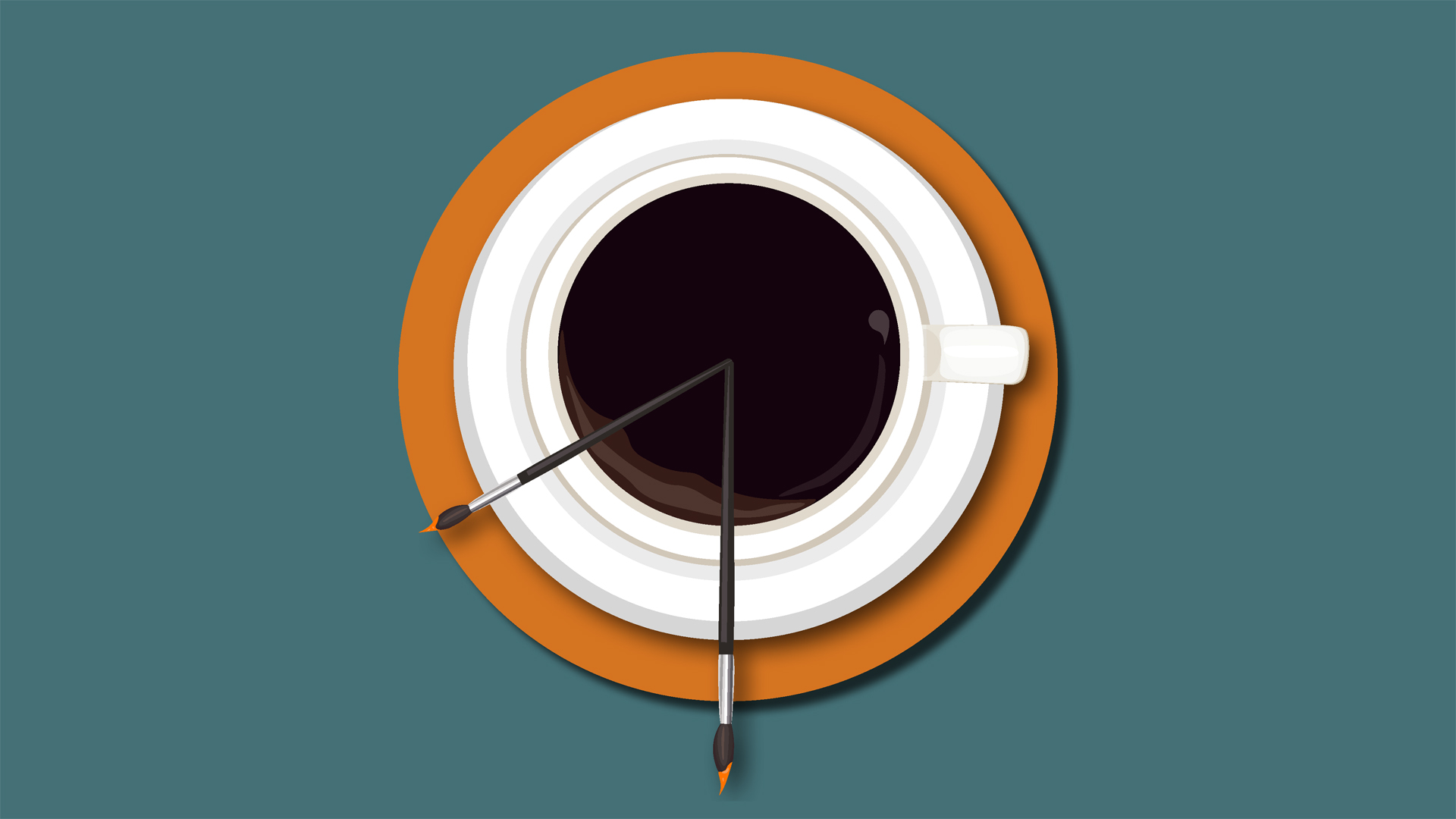 Practicum Students: Rain Bloodworth, Aidan Curran, Tara Drabick, Julie Fishbaum, Sara Fraser, Cosette Gelinas, Morea Haloftis, Jared Hendricks-Polack, Wesley Macpherson, Rowan McCready, Conor McLaughlin, Delaney Philip, Shelby Sammut, Sydney Scanga, Meaghan Smith

The Artlab Gallery is pleased to present "ante meridiem" an exhibition of work by practicum students in the Department of Visual Arts. This exhibition features a diverse section of media and approaches to the field of contemporary art, and represents the culmination of four years of study. While subject matters are diverse, the immaterial and collective nature of time often filters into their overarching thought processes and representations.

Gallery Floorplan: PDF

Digital Walkthrough filmed and Edited by Gregory De Souza.
Aeterna Glamour
VASA
March 17 - April 1, 2022
Cohen Commons Gallery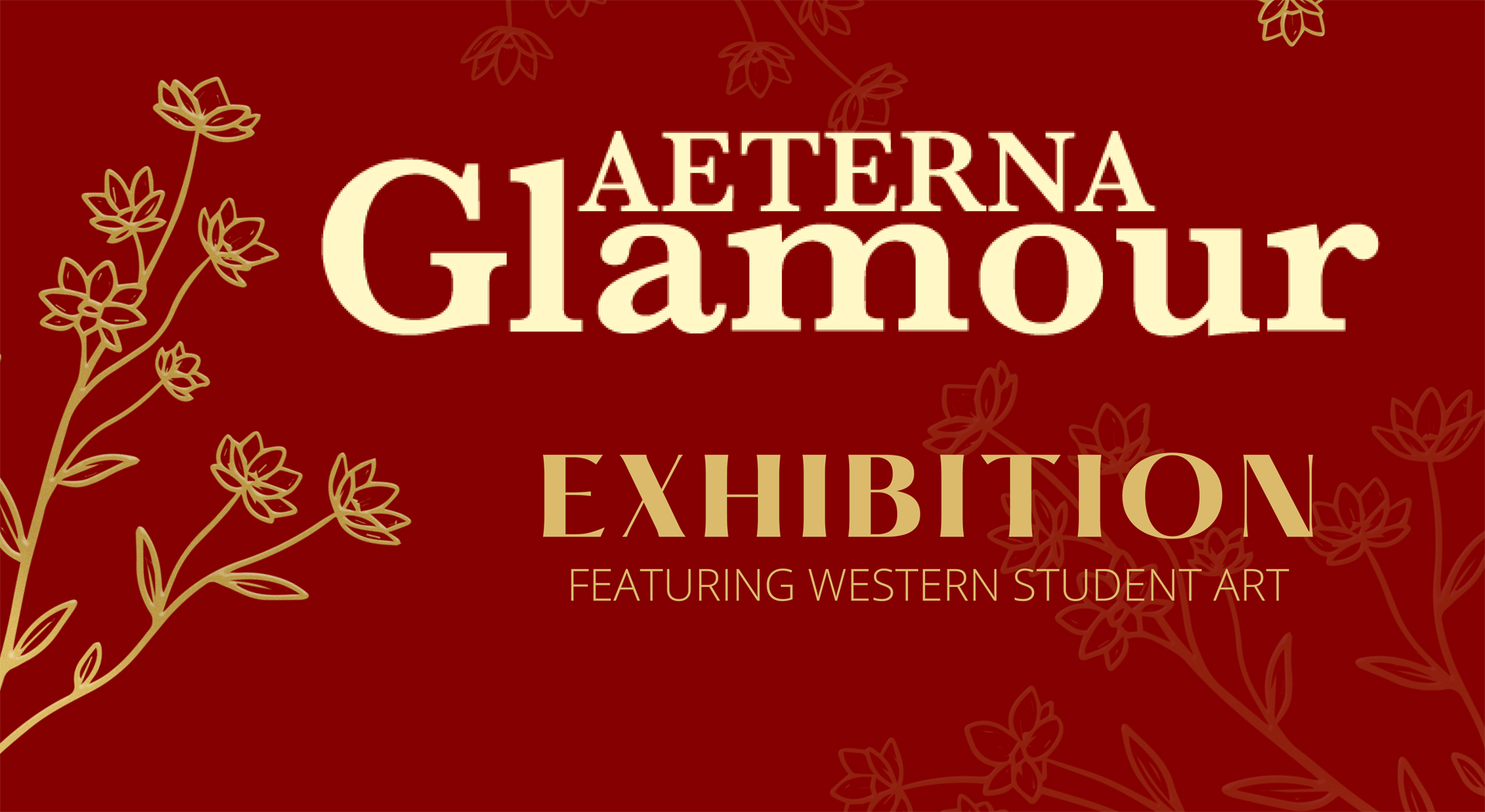 This VASA sponsored exhibition is curated by Sydney McArthur, with help from Ana Moyer, Billie Hafeez, Sarah Fletcher, Liza Eurich, and Dickson Bou
Rain Bloodworth, Chloe Serenko, Emma Lee, Hilary Rutherford, Cosette Gelinas, Sawyer Shin,Venus Chidimma  Nwaokoro, Jacqueline Lian, Bridget Koza, Isabella Springett, Delaney Philip, Aidan Takeda-Curran, Stephanie Fattori, Emma Semple.
Expressing this year's theme of VASA's annual publication, Aeterna, Western student artists have used their artwork to question and define what it means to be glamorous. For the first time ever, the Visual Arts Supporters' Association has organized an exhibition to accompany its second volume of Aeterna, with the theme Glamour. VASA is dedicated to enhancing the studies of visual arts students, and furthering our art-based community for Western students.
This year's Gallery Coordinator, Sydney McArthur, has chosen an eclectic group of works by a diverse group of artists. With bright hues and , submissions received for the exhibition are an outstanding portrayal of talent in the visual art department and beyond. More than a dozen works will be exhibited in the Cohen Commons between March 17th and April 1st. The final exhibit day will correspond with the launch of this year's Aeterna publication.

Gallery Floorplan: PDF 


---
20th Annual Juried Exhibition
February 10 - March 3, 2022
Artlab and Cohen Commons Gallery
VASA People's Choice Award: VOTING Thursday, February 10 - Wednesday, February 16 
Come by the Artlab Gallery to vote for your favorite work! Ask one of the gallery attendants at the front reception desk for instructions any time during gallery hours: M-F 12-5PM.
Virtual Awards Ceremony: Thursday, February 17 at 6PM
Register for the webinar:
https://westernuniversity.zoom.us/webinar/register/WN_FBMUfRFXTXCsyrVFuu4GZg
Celebrating its 20
th
year, the Annual Juried Exhibition continues to be one of the Department of Visual Arts most highly anticipated undergraduate exhibitions. This diverse show supports the production of new work made in a variety of mediums including painting, sculpture, print, video, and photography. Exhibited works were selected by a professional jury who consider creativity, concept, materiality and technique. This year's show is indicative of the resilience and dedication our students continue to demonstrate.
Rain Bloodworth, Michaela Purcell, Hilary Rutherford, Julia Fawcett, Cosette Gelinas, Timothy Wiebe, Jacqueline Lebiadowski, Saskia Orr, Darcy Howe, Abbygale Shelley, Man Nga Ting, Megan Goddard, Hannah Verster, Delaney Philip, Jacqueline Lian, Maggie Charbonneau, Bridget Koza, Isabella Bruni, Rowan McCready, Aidan Takeda-Curran, Xiaoyi Cao, Shane Ackerley, Shelby Sammut, Sebastian Evans, Meg Smith, Yuqing Chen and He Huang
Jury Members: Anna Madelska (Faculty), Teresa Carlesimo (FCG Director), Marla Botterill (Fanshawe Faculty), Dickson Bou (Artlab Gallery Preparator) Liza Eurich (Artlab Gallery Manager)

If you missed the AJE virtual awards ceremony, find out who the winners are HERE!
AJE Gallery Walkthrough Filmed and Edited by Gregory De Souza.

---
Sometimes in the night, the fox slips by
January 7 - February 3, 2022
Artlab Gallery
Anahí González, Philip Gurrey, Dong-Kyoon Nam, Sasha Opeiko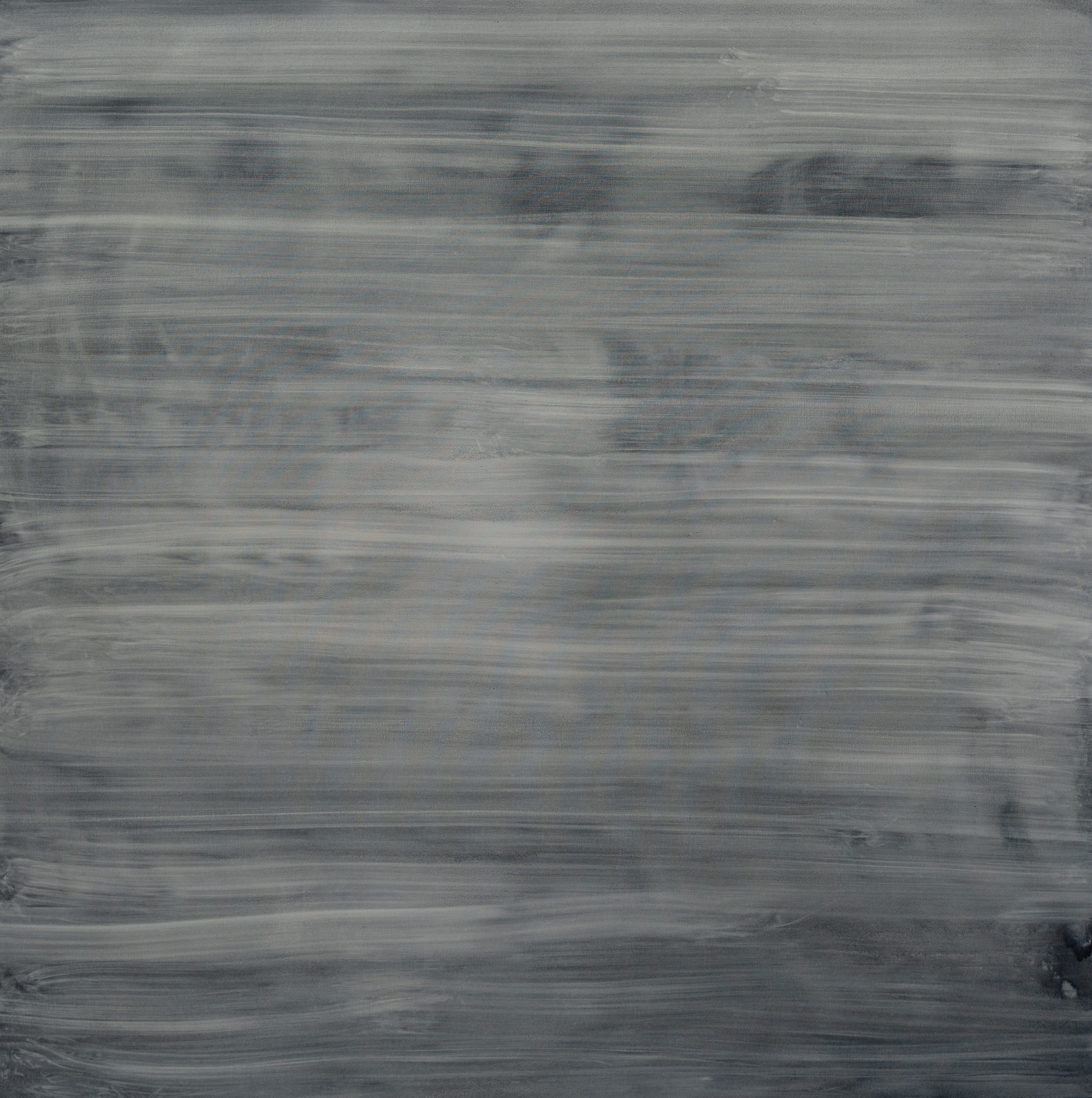 Philip Gurrey, This Time // That Time (TBD), 2021, oil on canvas with found object, 150 x 150 cms.
Studio PhD candidates from the Department of Visual Arts present Sometimes in the night, the fox slips by, a group exhibition of recent work by Anahí González, Philip Gurrey, Dong-Kyoon Nam and Sasha Opeiko. The show gathers a broad spectrum of investigations sharing a common interest in the relationship between poetic and theoretical potential in making. Some orient themselves toward the political, looking at labour issues both in Canada and abroad. Others probe the language of modernism with strategies centered on improvisation and decay. Others still, use a posthumanist perspective to deconstruct notions of the readymade or to renegotiate representations of melancholy. In concert they are the fox of John Burnside's poem, deftly weaving a path through fence and thicket.

List of Works
Digital Feature: Exhibition Walkthrough
Filmed and edited by Gregory De Souza

Anahí González

Bueno, Bonito y Barato, is deeply involved in exploring the Mexican cues portrayed in visual culture, evoking quiet tensions of nationalism and labour representation. By bringing this approach of Mexican labour visual representation on a mobile wood billboard together and allowing them to interact within the gallery, the work engages with concepts of temporality, mobility, the USMCA and institutionalism. 
Dong-Kyoon Nam

Praxis of New Assemblage
My work focuses on reconstructing ordinary objects encountered in daily life into 'animate things': things understood as dynamic, temporal, yet precarious assemblages animated in a relational field that encompasses humans/nonhumans and organic/inorganic matter.
The method of assemblage I use is not based on the sculptural representation of an assumed and pre-existing whole, rather it refers to a process wherein a visualization of the potential movement of things, and the relationships between their parts, rhythms, affects, and intensities are privileged.
My studio process is semi-impromptu, a horizontal attunement with things, entangled in chance and necessity. My bodily sensibility starts from meticulous attention to fleeting, small occurrences that would otherwise remain unacknowledged.
re | cycling
On a mechanical level, these works reclaim parts of digital home appliances that usually remain invisible, and in so doing, momentarily stabilize the rapid cycle of production, consumption, and disposal. Installed on the wall by adhering them at right angles on a canvas panel, each singular assemblage stands alone and simultaneously exists in relation, signaling both continuity and discontinuity in turn. The works are abstract, like drawings of fluid lines and fragmented outlines, yet still concrete and sensorial. They take the form of artificial assemblages made of e-waste that paradoxically imply ecological precarity and complexity.

Sasha Opeiko

In Something like Fan Object Objects the banal object of study is a used domestic desk fan with a missing safety grill. It was found as a discarded, unwanted item sold in a thrift store. Damaged and disentangled from its previous function, the object is melancholically symptomatic and its image is mediated into multiple manifestations of loss and disintegration. The fan was visualized through faulty 3D scanning, rendered into a rotating 360° animation, and exported as 1400 individual frames, which were fed into a machine learning algorithm that produces new images based on the data it received. The fan itself is rendered useless, its melancholic image diffracted into 10,000 iterations of manufactured glitch. They are presented in video not so much as an animation, but a kind of factual flickering of machine-produced visual data. The nonhuman gaze of image data processing unravels a gapped 3-D representation into a myriad of fractured views, flatly glitching in a dark melancholic refusal to be coherent.
#melancholy began with a collection of screenshots of Instagram posts that were coming up under #melancholy. The screenshots are samples of the prevalence of sublime, mostly Nordic landscapes that the general population locates as representative of melancholy, branding it into named images for dissemination. Working with 460 screenshots, an AI algorithm on Runway ML was used to produce new images based on what it learned from the collection of screenshots. The AI model generates "#melancholy" Instagram landscape images and has the capacity to produce a video of these generated images morphing into one another. The images are disintegrated but new reintegrated versions of what a nonhuman gaze recognizes to be a #melancholy landscape image.
In Forged Afterimage Compression six rotating 3D scans are presented as a result of a remediation process that started with 3D scans of provisiona, transitory physical constructions of found objects and images. This first set of 3D scans, already full of gaps and distorted by the nature of the scanning app Trnio, was made into rotating animations that were then 3D scanned again off of a laptop screen. The outcome is a kind of forged afterimage, compressed into a digital skin or something like a distorted geological compound, resulting from the app's inability to fully comprehend a 3D representation on a flat screen. These are remnants forged from remnants.
---
"...and this book is a straight line in space"
January 7 - February 3, 2022
Cohen Commons Gallery
Helen Abbot, Masha Kouznetsova, Suarjan Prasai, Matthew Samuelson, Sean Sokolov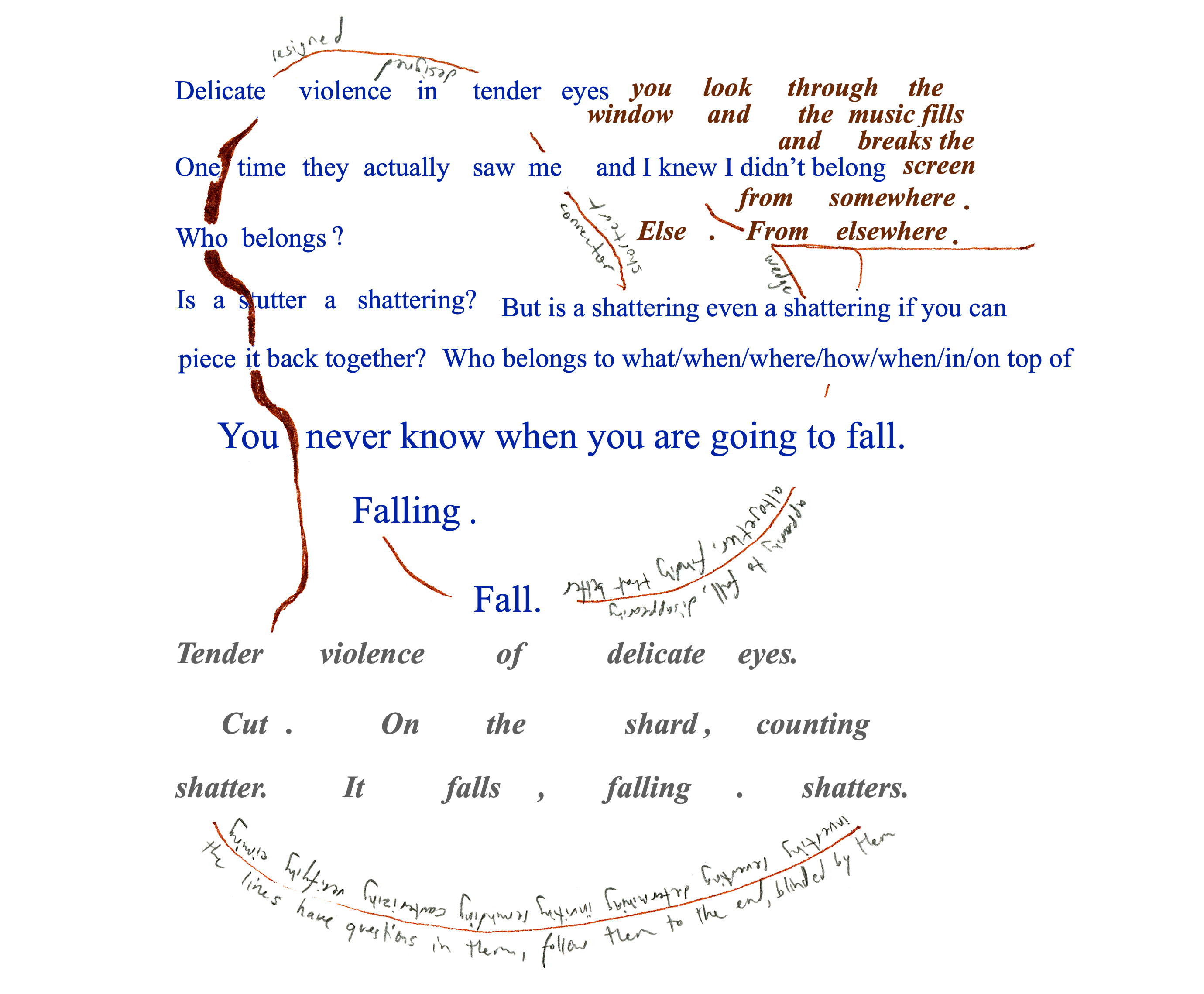 "...and this book is a straight line in space" grapples with the difficulty involved in expressing the inexpressible. Expressing the inexpressible can take multiple forms, such as: writing about and/or towards ephemerality; making visible the un-said/un-word; articulating what is hard to define; complicating the boundaries of comprehensibility, etc.
The often inaccessible and elusive dimensions of the inexpressible are not merely a result of its very nature.  Sociocultural factors can also inform, control and define what is deemed expressible/legible, and what is inexpressible/illegible. Tensions abound in attempts to access, grapple with and convey inexpressibles as well as how inexpressibles are defined and by whom. 
 The installation assumes the form of an open book.  It is open because of its visual display and interactive components. The content is not rigidly bound/fixed; it is punctuated with moments of collaboration in which the viewer can take specific pieces off the wall and make their own book. Through this process, authorship is dislodged and distributed. Moving through the installation, the viewer is invited to construct their own booklet.

---

I left parts of myself everywhere
Eeva Siivonen
Artlab Gallery
November 25 - December 09
I left parts of myself everywhere* transforms the gallery into a moving image environment. The interconnected installations speak to the experience of dislocation and fractured relationship to body, language, and place. They trace the deep yet precarious connections that emerge between human and nonhuman bodies and ecosystems; connections that are constantly both found and severed. The exhibition maps an experiential space that is both permeated with vitality and haunted by personal and ecological loss.

Eeva Siivonen's experimental moving image practice engages with strategies of documentary, essay, and found footage film practices. She employs these strategies to construct affective and immersive moving image installations and single-channel works. Her practice describes subjective experience in ways that resist separation between self and other, interior and exterior, human and nonhuman, and living and nonliving. The ethos of her practice is to create space for empathy by embracing the impossibility of gaining knowledge of ourselves and others, and our place in the world.


Eeva Siivonen is originally from Helsinki, Finland. She has received MFA degrees in Video Art from Syracuse University and Documentary Film from Aalto University in Helsinki. She exhibits her work internationally at film festivals and gallery exhibitions. Most recently, her work has been screened at San Francisco Cinematheque's Crossroads festival, DOBRA International Festival of Experimental Cinema in Rio de Janeiro, and Transient Visions Festival of Moving Image in Johnson City, NY. She has also received multiple international residency fellowships and recently spent two months in the Sangre de Cristo Mountains as an artist-in-residence at the Helene Wurlitzer Foundation in Taos, New Mexico.


*The exhibition title is borrowed from the poem "St. Thomas Aquinas" by Serbian American poet Charles Simic.


---

The Lesser Known Point C
Megan Goddard, Shelby Sammut, Wesley Macpherson, and Jared Hendricks-Polack
Cohen Commons Gallery
November 25 - December 09
The Cohen Commons Gallery is please to present, "The Lesser Known Point C" a group exhibition by Megan Goddard, Shelby Sammut, Wesley Macpherson, and Jared Hendricks-Polack.


"The Lesser Known Point C" is an exhibition that simulates a journey type experience, chronicling the strange ways in which life can be represented in art. This exhibition tries to make sense of this strangely unique year that we have all lived through, with normal life and reality having been altered to fit our new circumstances.


This exhibition concerns itself with the idea of distortion, the human attempt to ground oneself, and all of the feelings that can result in between. The entire show is meant to give the viewer a feeling of the surreal. As one walks through, the pieces shift from representational and grounded to something more strange and distorted. The middle wall is our self-titled "Point C," the transitional point that connects the weird with the known.


These "transitional pieces" work as a natural bridge, representing the combining of different life experiences- each artist is a unique individual, and their art reflects as much. The pandemic has altered people's perceptions of reality in some ways, and our exhibition hopes to subtly highlight those changes. This show hopes to highlight that through art we can try to make sense of the times we are living in, in a way that can be more light-hearted than reality itself.
Photos In The Attic
Sarah Fraser, Rowan Mccready, and Aidan Takeda-Curran
Artlab Gallery
October 28 - November 18
In Photos in the Attic we consider the attic's role of nostalgia in the passage of time. The show begins with a collaborative textile work that examines youth and personal identities. The works are provisional in their completeness; allowing the viewer to insert their own thoughts into the space. By working with a vast array of mediums such as paint, textiles, sculpture, and printmaking; we play with the idea of the attic as a central hub for all memories and past versions of ourselves. A museum of personal artifacts. We explore impermanence and the idea of aging. The shapes that this can take and how objects are impacted. Ways in which identities are shaped by memories of the past; looking at how time can impact everything around us. We focus on the effects of time in identity and memory, and the viewer is taken on a journey of forced reflection.


Poster designed by Artlab Gallery intern Charlotte Cao. 
---
EDEN

Delaney Philip, Julie Fishbuam, Moe Haloftis and Cosette Gelinas
Cohen Commons Gallery
October 28 - November 18
Our exhibition Eden conveys messages about identity, self-discovery, acceptance and reflection. The story of Eden is well known, which allows viewers to resonate with our works and correlate Eve as the fundamental character and identity of women. Since biblical times, women have been associated with inadequacy; Eve's sin portrays a presumed weakness inherited by women. Eden alludes to themes of human progression, sexuality, and temptations as we explore the challenges women face growing up in a world where our bodies are constantly sexualized and critiqued. Our exhibition reflects themes of femininity as we begin to understand our identities as women and experience growth in our separate gardens of Eden.

Poster designed by Artlab Gallery intern Charlotte Cao
---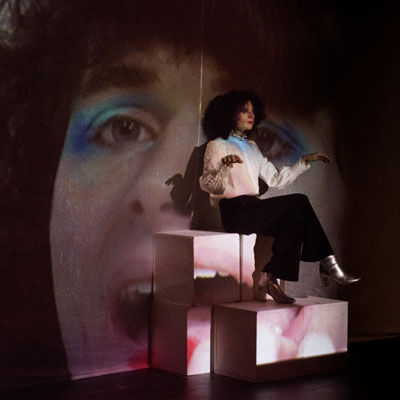 EVENT:
Online viewing of "The Apocalypse In Your Bedroom" The Movie
Sunday October 24 - Sunday October 31, 2021
Access Vimeo link at https://vimeo.com/lomaa or http://www.lomaa.ca
Accessibility Note: Closed Captioning Available
Virtual Artist Talk
Saturday October 30, 2021 at 3:00pm EST
Pre-registration required and Zoom link provided through Eventbrite confirmation 
https://www.eventbrite.com/e/queer-frontiers-james-knott-artist-talk-tickets-190519026537
Accessibility Note: ASL Interpretation and Zoom Captions available 
"The Apocalypse In Your Bedroom" The Movie, Video, 1h 03m, 2020
This film adaptation of the award-winning, self-mythologized facade of a rock show incorporates life-sized video projection, original music, gestural choreography and on-the-go stage props to coalesce into a black-box style theatrical spectacle meets dirty diary, exploring the elusive and dichotomous nature of queer identity. With a reliance on the grimy mustard-coloured lights and sequins of 70s glam rock aesthetics, the protagonist travels the mental collapse of a dark night of the soul, searching for purpose in a world that doesn't care to be purposeful. Themes include rejection, broken promises, wishes on a star, deals with the devil and packing up to leave with no intention of return… leaving behind the ghost of glitter's past.
James Knott is an emerging, Toronto-based artist, having received a Bachelors of Fine Arts in Integrated Media from OCAD University . Their performance-based practice combines theatre, video, and audio art to create immersive and emotionally resonant experiences for the viewer. Explored themes include: paradoxical and queer identity, inner dialogue, mental illness, and camp theatrics. A recent alumni of The Roundtable Residency, they've exhibited/performed at Xpace Cultural Centre, Feminist Art Conference, The Artist Project Contemporary Art Fair, the 7a*11d International Festival of Performance Art, the Art Gallery of Hamilton, and the AGO's First Thursdays.
LOMAA's Queer Frontiers critically reflects on Canada's 50th anniversary celebration of the purported "decriminalization" of homosexuality in the country. Serving as a counter to the state revelries, LOMAA will host 8 artists, artist duos, or curators who have established practices post-legislation and remain on the frontiers of Canadian queer media. This project centres queer narratives and praxis as a means to interrogate historical representation and continue fortifying queer futures within this country.
For more background information please visit: https://anti-69.ca/
Located in John Labatt Visual Arts Centre at Western University, the Artlab Gallery is a vital part of the Department of Visual Arts. The Gallery is focused on projects that involve and respond to social and cultural issues, primarily supporting the research and practice of students and faculty. Each year approximately 14 projects and events are presented, exploring conceptual and experimental production that includes a wide range of mediums.
https://www.uwo.ca/visarts/artlab/
London Ontario Media Arts Association (LOMAA) is a regional, emerging non-profit, artist-run organization focused on the exhibition of alternative and experimental time-based and media art. With an emphasis on progressive contemporary Canadian practices, LOMAA supports the presentation of local, national, and international artists in the areas of moving images, performance, new media, and sound art.
https://www.lomaa.ca
LOMAA would like to thank Canada Council for the Arts, Ontario Arts Council and London Arts Council for their support of this program and their continued backing, as well as our partner Artlab Gallery. 


---

Untitled (moving objects) 
ARYEN HOEKSTRA
Artlab Gallery
October 8 - October 21, 2021 

Walter Benjamin's 1929 essay Surrealism: The Last Snapshot of the European Intelligentsia suggests that a central feature of Surrealist work was the perceptual experience he named 'profane illumination.' Benjamin describes the process by which, sometimes but not always drug induced, a person might be distracted into perceiving the most ordinary, overlooked objects of everyday reality as uncanny, supernatural, and irrational. According to Benjamin, Surrealism's ability to disorient and estrange through this 'profane illumination' made it a potentially revolutionary operation. A few years later in his Artwork essay Benjamin identifies an analogous trait in the the work of Dadaist painters and poets, writing that "their poems are 'word salad' containing obscenities and every imaginable waste product of language. The same is true of their paintings, on which they mounted buttons and tickets. What they intended and achieved was a relentless destruction of the aura of their creations, which they branded as reproductions with the very means of production." While the latter essay suggests that it is the reproducibility of buttons and tickets that destroys this aura I prefer to think that Benjamin was simply too sober in his appraisal of these works, leaving himself perceptually untuned to the profane character immanent to their everyday objectness. 
The separation of the sacred from the profane is one art's most strictly maintained divisions, extending even to the architectural standard now ubiquitous in nearly all contemporary art galleries. This is described in detail in Olav Velthius' Talking Prices, a comparative analysis of the business practices and pricing logic of art dealers in Amsterdam and New York in the early 2000's.
In some cases, the back is sealed off hermetically, suggesting that the exhibition space is all there is to the gallery. Other gallery owners allow the public at least a partial view of the back space through open doors or glass windows. In small galleries … the back space may be limited to a single room or even a niche of the gallery space, where a small number of artworks are stored and a desk space is located for the owner and her assistant. In the largest New York Galleries … the back of the gallery consists of several corridors and spaces with unique functions. These spaces may include the following: offices for the directors or dealers and, in some cases, their personal assistants; a private viewing room, furnished with comfortable seats, where potential buyers can look in full comfort at a small number of works they are interested in; a stock room, where (part of) the inventory of the gallery is stored — the everyday territory of the art handler, who is responsible for the shipping and installation of artworks. A general office room may have a large table where staff meetings take place, and where deals may be negotiated and arranged between the dealer and a collector, away from the works of art.
Velthius describes this as a Durkhemian separation that functions to remove any trace of commerce (ie. the profane) from the sacred space of the exhibition. The need for this is made clear by the Italian philosopher Giorgio Agamben in his essay In Praise of Profanation, in which he recalls the legal definition of the profane in Ancient Rome.
The Roman jurists knew perfectly well what it meant to "profane." Sacred or religious were the things that in some way belonged to the gods. As such, they were removed from the free use and commerce of men; they could be neither sold nor held in lien, neither given for usufruct nor burdened by servitude. Any act that violated or transgressed this special unavailability, which reserved these things exclusively for the celestial gods (in which case they were properly called "sacred") or for the gods of the underworld (in which case they were simply called "religious"), was sacrilegious. And if "to consecrate" (sacrare) was the term that indicated the removal of things from the sphere of human law, "to profane" meant, conversely, to return them to the free use of men.
And it can be an uncanny and irrational experience to enter that profane space which lies just beyond the walls of the gallery. My own research is particularly interested in the ways that contemporary art objects are traded, the logistics of the art business, the storage and shipping of artworks, their care and circulation. This often finds me considering artworks in those moments that they are removed from their intended site of operation; out of the white-cube exhibition space and in the storage racks of the gallery's back room. This is also the space that inverts Benjamin's misunderstanding of Surrealism as it sees artworks transformed into art objects, which is a true profanation.[1] And it is only as objects that these works may then be handled by gloved technicians, wrapped in cushioning, and readied for transport.
That which has been ritually separated can be returned from the rite to the profane sphere. Thus one of the simplest forms of profanation occurs through contact (contagione) during the same sacrifice that effects and regulates the passage of the victim from the human to the divine sphere. One part of the victim (the entrails, or ex ta: the liver, heart, gallbladder, lungs) is reserved for the gods, while the rest can be consumed by men. The participants in the rite need only touch these organs for them to become profane and edible. There is a profane contagion, a touch that disenchants and returns to use what the sacred had separated and petrified.
Perhaps what is potentially radical about the buttons and tickets Benjamin wrote about in Dadaist works, and in the Readymade more generally, is that they not only point their own mechanical (re)production, but also possess a haptic indexicality that conjures their handling as objects prior to their consecration as artworks.
Untitled (moving objects) (2021) is an installation of provisional sculptures created from 12 moving blankets and a number of objects found in the gallery that have previously had direct contact with artworks. The blankets, wrap and gloves acknowledge the materially fragile nature of the works that have and will enter this exhibition space, their dual existences as both artwork and object, and their always potential profanation.
Footnotes 
[1] Everyday objects already exist within profane sphere, so don't require further intoxication to be perceived as such.
---

Hello to Printing
Cohen Commons Gallery
October 8 - October 21, 2021
"Hello To Printing" will be on view in the Cohen Commons gallery from October 11 - 21. The exhibition features work done by SA 2630A Introduction to Print Media and SA 3633 Print Media students. A range of techniques are explored in this exhibition, including linocuts, 1-colour etchings and 3-colour silkscreen prints.


SA 2630A Introduction to Print Media
Katie Bennett
Sofia Bernyck
Katie Boone
Hannah Boyer
Yuqing Chen
Kate Dunn
Stephanie Fattori
Morea Haloftis
He Huang
Jenna Irwin
Kenly Jacobs
Victoria Kryiakides
Jacqueline Lian
Yaqi Liang
Emma McInnes
Ulana Mysakowec
Sophia Peischl
Bridget Puhacz
Xuyan Song
Emily-Lloy Sutherland-Sebo
Mackenzy Tyndall
Abby Walters
Yishan Yuan
Zizhou Yu
SA 3633 Print Media
Maggie Charbonneau
Giulia Commisso
Meagan Dennis
Ava Gossen
Holly Granken
Savannah Hamilton-Kehle
Tina Huynh
Vision Kim
Bridget Koza
Jacqueline Lebiadowski-Parish
Conor McLaughlin
Christopher Morley
Karlee Pattenden
Liv Pattison
Cassandra Rego
Sydney Scaga
Hannah Verster
May Walpole
JoAnna Weil
Timothy Wiebe
Elina Zhou
Poster designed by Artlab Gallery intern Charlotte Cao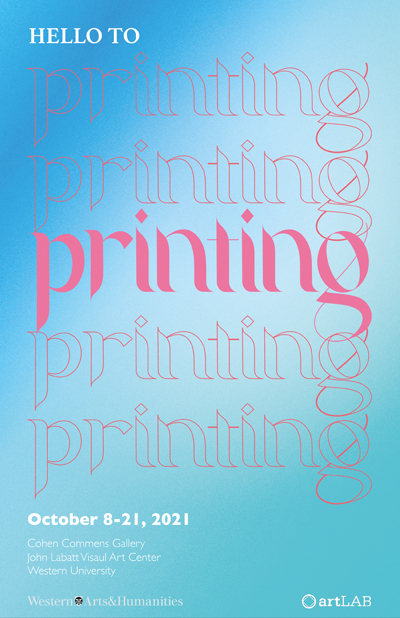 ---