Digital Features
As of  September 17th 2020, the Artlab Gallery and Cohen Commons will be operating virtually. In-person visits are not permitted at this time.
In this era of social distancing, the Artlab has established a Digital Features series to enhance its programming. Well aware of the dangers of technological fatigure, it is our hope that these features will expand on the projects carried out by our students and faculty in useful ways.

Please email Ruth Skinner artlab@uwo.ca for additional details on this and any other programming. For updates on the evolving situation please visit: https://www.uwo.ca/coronavirus/ 


Kirsty Robertson - Curating in a Time of Crisis
Our first Artlab Digital Feature is in collaboration with Professor Kirsty Robertson. On March 13th, because of the pandemic, the Visual Arts Centre was locked down. For four months, the Artlab Gallery's recent exhibition, Together We Average as Zero, remained installed in the abandoned building. Together We Average as Zero was curated by undergraduate students with Kirsty Robertson in the Museum and Curatorial Practicum. Though no one could enter the gallery, two banners reading ARE YOU READY TO SURVIVE THE NOW and ALL FUTURES ARE CONNECTED could be seen from the outside through the glass atrium. The accidental prescience of Together We Average as Zero is a reminder that pandemics may pass but the damage done to the world will continue to impact our futures.
---
Ellen Moffat - beginning again
Gertrude Stein's notion of time as a prolonged present, a continuous present, beginning again and again, and using everything resonates with the temporal distortion of COVID. The performative action of volleying a balloon into space is a gesture of staying afloat within the here-and-now-of-what-is, beginning again and again and again. Balloon soundings and sound editing by artist and current PhD candidate Ellen Moffat.
---
Harper Wellman: Caught In Between: The Monuments of Princess Diana
Harper Wellman is a recent MA graduate from our Department's Art History and Curatorial Studies program. In this Artlab digital feature, Harper talks us through his Master's Research Project on the monuments of Princess Diana. Harper introduces anti-monuments and counter monuments, and illustrates how these concepts developed into the anti-memorial, or counter memorial. He shows us how Princess Diana's memorials both enact and evade Neoclassical monument forms, and asks what monuments must accomplish following recent global protest movements that have razed outmoded markers to the ground.
---
Sam Wagter: We Were, And Then We Weren't - Developing an Art Exhibition During a Global Pandemic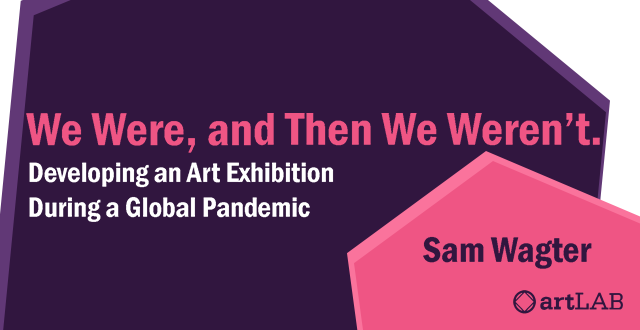 Midway through September, certain locations and services on Western's campus were forced to close to the public in the efforts of community health and safety. Among these spaces was the Artlab Gallery, which had just opened the exhibition, We Were, And Then We Weren't by fourth-year BFA Practicum Students. In this digital publication, exhibiting student and Artlab Intern Sam Wagter recounts the group's collective challenges during the COVID pandemic: creating work through the summer at a distance, organizing a public exhibition, and then having that exhibition unexpectedly shutter to the public. Wagter also offers useful strategies for cultivating creativity in our present crisis.