Digital Features
In this era of social distancing, the Artlab has established a Digital Features series to enhance its programming. Well aware of the dangers of technological fatigure, it is our hope that these features will expand on the projects carried out by our students and faculty in useful ways.

Please email Ruth Skinner at artlab@uwo.ca for additional details on this and any other programming. For updates on the evolving situation please visit: https://www.uwo.ca/coronavirus/ 


Kirsty Robertson - Curating in a Time of Crisis
Our first Artlab Digital Feature is in collaboration with Professor Kirsty Robertson. On March 13th, because of the pandemic, the Visual Arts Centre was locked down. For four months, the Artlab Gallery's recent exhibition, Together We Average as Zero, remained installed in the abandoned building. Together We Average as Zero was curated by undergraduate students with Kirsty Robertson in the Museum and Curatorial Practicum. Though no one could enter the gallery, two banners reading ARE YOU READY TO SURVIVE THE NOW and ALL FUTURES ARE CONNECTED could be seen from the outside through the glass atrium. The accidental prescience of Together We Average as Zero is a reminder that pandemics may pass but the damage done to the world will continue to impact our futures.
---
Ellen Moffat - beginning again
Gertrude Stein's notion of time as a prolonged present, a continuous present, beginning again and again, and using everything resonates with the temporal distortion of COVID. The performative action of volleying a balloon into space is a gesture of staying afloat within the here-and-now-of-what-is, beginning again and again and again. Balloon soundings and sound editing by artist and current PhD candidate Ellen Moffat.
---
Harper Wellman: Caught In Between: The Monuments of Princess Diana
Harper Wellman is a recent MA graduate from our Department's Art History and Curatorial Studies program. In this Artlab digital feature, Harper talks us through his Master's Research Project on the monuments of Princess Diana. Harper introduces anti-monuments and counter monuments, and illustrates how these concepts developed into the anti-memorial, or counter memorial. He shows us how Princess Diana's memorials both enact and evade Neoclassical monument forms, and asks what monuments must accomplish following recent global protest movements that have razed outmoded markers to the ground.
---
Sam Wagter: We Were, And Then We Weren't - Developing an Art Exhibition During a Global Pandemic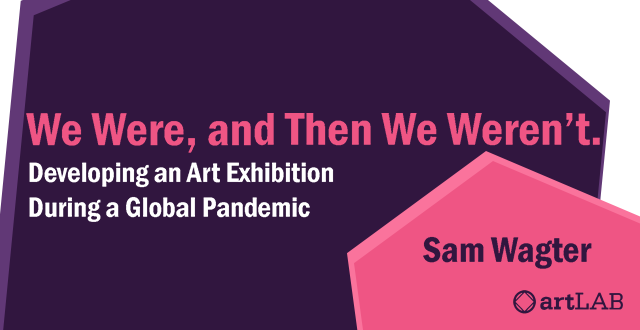 Midway through September, certain locations and services on Western's campus were forced to close to the public in the efforts of community health and safety. Among these spaces was the Artlab Gallery, which had just opened the exhibition, We Were, And Then We Weren't by fourth-year BFA Practicum Students. In this digital publication, exhibiting student and Artlab Intern Sam Wagter recounts the group's collective challenges during the COVID pandemic: creating work through the summer at a distance, organizing a public exhibition, and then having that exhibition unexpectedly shutter to the public. Wagter also offers useful strategies for cultivating creativity in our present crisis.

---
Sepideh Tajalizadeh Dashti: To Be Me
Experience artist Sepideh Tajalizadeh Dashti's MFA thesis exhibition in this virtual walkthrough. Dashti's experience as an Iranian diasporic woman is fragmented along ethnic, religious, social, political, and class lines. These fragments pose challenges to her attempts to bind with others and find solidarity based in multiculturalism and ethnicity. Dashti establishes her body as an integral material in her art practices to make the explanation of her experiences and challenges possible. She seeks to claim her body across multiple media of performance, video, and installation. Dashti focuses on traumas that underscore both personal experience and engagement with larger sociopolitical structures of the phallocentric systems that exist in both her homeland and her host countries. View the exhibition here. 
---
Everyone Here Has Something in Common
In this project, students from SA 2643: Introduction to Sculpture and Installation explore ideas of "where are you coming from?" with a focus on "your culture." Here, "culture" is interpreted both as culture in everyday life, as well as more specific historical and ethnic cultural backgrounds. Students explore cultural connections, exchanges, and crossings by using readymades and found objects to create collaborative installations. They are directed to incorporate ornaments, as ornate artefacts have circulated amongst various cultures and have been adapted/hybridized within new cultural contexts throughout history. View the exhibition here. 
Course Instructor: Soheila K. Esfahani
Teaching Assistant: Rebecca Sutherland 
---
Distance makes the heart grow weak
Distance makes the heart grow weak invited faculty, staff and graduate students to speak to how they've been experiencing the last year. It prompts participants to explore and express how isolation has shifted our focus, our research and art practices, as well as our forms of connecting with one another. The exhibition is also an opportunity for participating artists and researchers to show flexibility (and inherently, optimism) despite the high strangeness we're all currently experiencing. In this time of shared solitude—unable to walk down halls, knock on studio or office doors, and enjoy quick hellos and impromptu conversations—we'll quote Chris Kraus (quoting Søren Kierkegaard): "art involves reaching through some distance."

Organized by Dickson Bou and Ruth Skinner. 
Video walk-through of the exhibition (4:36)

Featurette on digital catalogue, Distance makes the heart go weak, with Shelley Kopp

Featurette on Philip Gurrey's 14.12.20, 2020.

Featurette on Andreas Buchwaldt's Café Baisers, 2021

Feature on "The Coves: Researching Reciprocal Rituals: A collaborative practice by Michelle Wilson, Bridget Koza, Sophie Wu, Azadeh Odlin," 2021.