Current Exhibition & Events
Johnathan Onyschuk: Bone Meal / ARTLAB
June 20 - July 4, 2019
Opening Reception: Thursday, June 20 from 5-7pm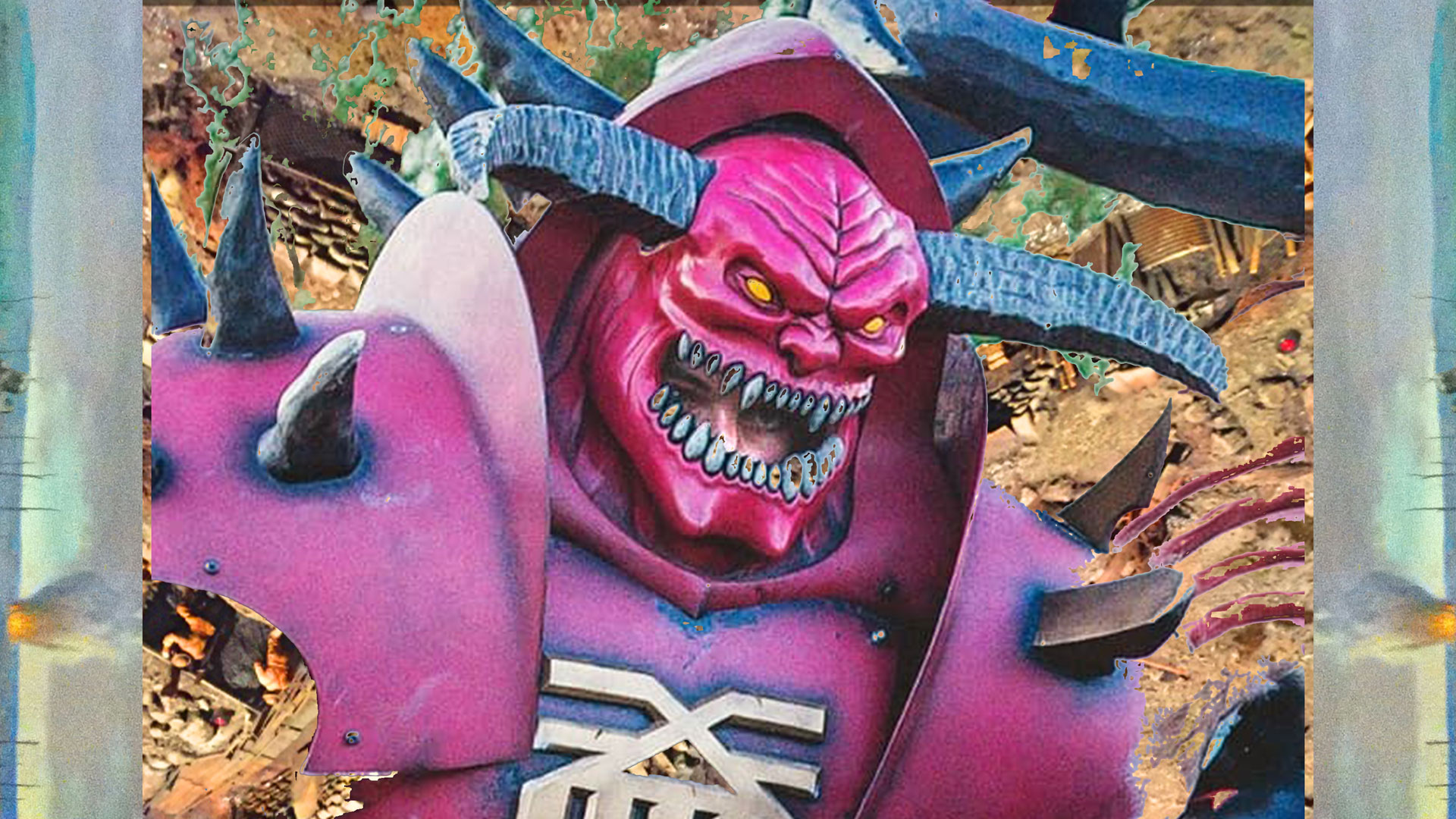 "Bone Meal" is an exhibtion of of monumental avatars, WWI junk and wooden sculpture.

In 75 A.C.E Greek biographer Plutarch wrote on the aftermath of the defeat of Tuton and Ambrones tribes in Rome, different accounts report the inhabitants of Massilia made fences round their vineyards with the bones, and that the ground, enriched by the moisture of the putrefied bodies yielded at the season a prodigious crop. Bone Meal is a multimedia installation that explores the relationships between escapist fantasy violence and real world conflicts. Virtual avatars become the calloused husk from which we enjoy the exploited violence and heroism of the past; first as tragedy, second as farce and third as larp. The exhibited works examine the entertainment value of historical trauma and it's hyper-mobility in the virtual space.

Warrior culture is the insufferable masculine hangover everyone else has to nurse and entertain. Every year a new video game or Netflix show comes out based on the "true events" of war and conflict and every year we lazily consume it like a dog eating the same food for it's whole life. I find myself trapped in this reoccurring pattern of violent consumption, this work is generated from the bits of flesh consumed while trying to gnaw myself free.
---
A Museum for Future Fossils / ARTLAB 
June 3 -14, 2019

Join us Friday, June 7 at the John Labatt Visual Arts Centre for:
1/ An artist talk by Abedar Kamgari from 3-4pm
2/ A Museum for Future Fossils' Open House from 4-6pm
3/ And a series of screenings presented by LOMAA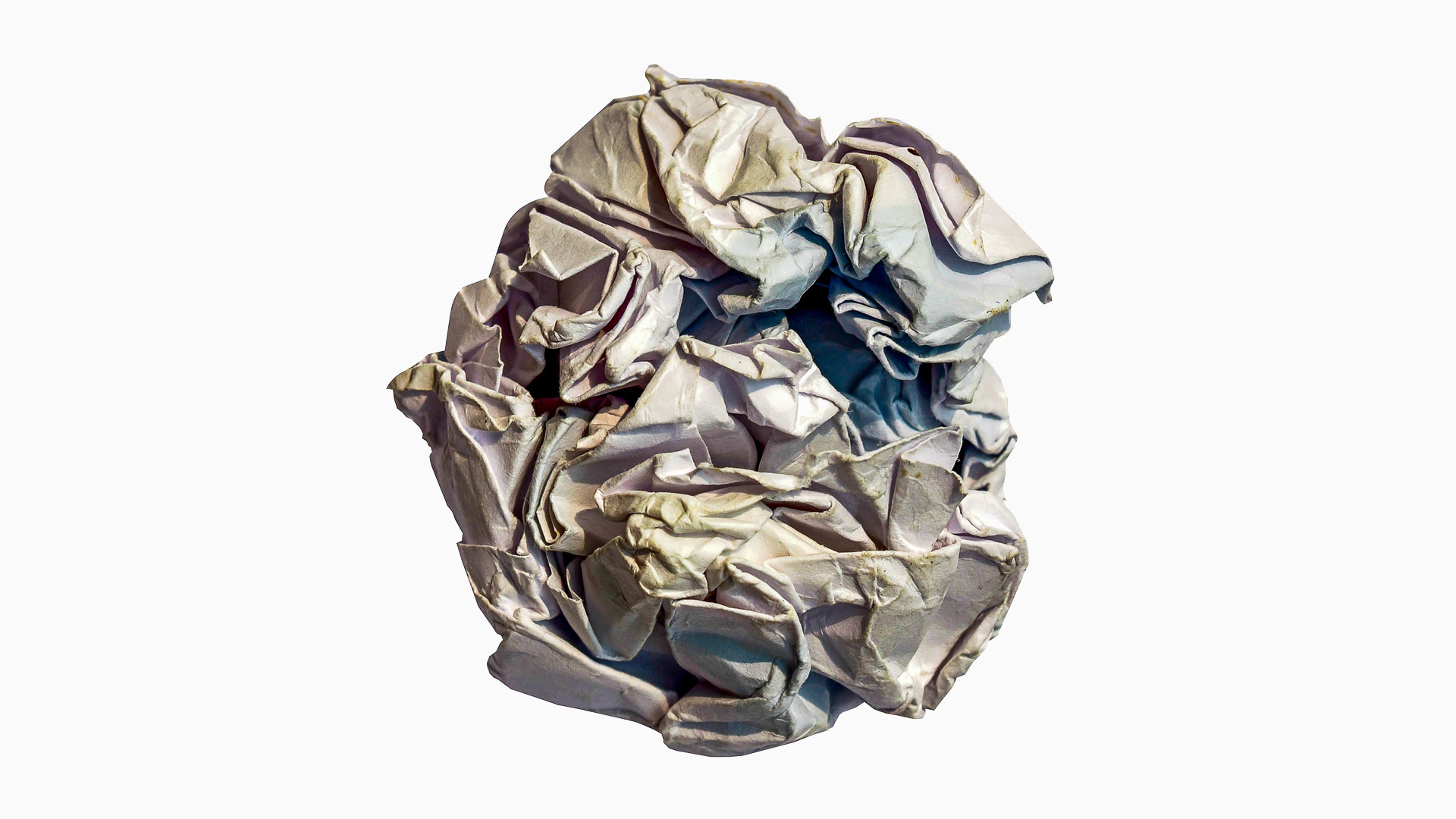 A Museum for Future Fossils is a series of events and projects, including exhibitions, a workshop, and a graduate summer school, bringing together a key group of people working on museums, contemporary art, the Anthropocene, and climate change. Since June 1, graduate students participating in the MFFF project have been using the Artlab as a laboratory and meeting place. This exhibition is a living archive of the discussions and learning taking place as they consider the transnational implications of ecological crises – and art worlds – that cross borders and Indigenous lands and waters.

www.museumforfuturefossils.com
www.facebook.com/museumforfuturefossils

***

Vanessa Dion Fletcher, Writing Landscape, One-Channel Video, 4:15 minutes, 2010

This work began in my mouth with my voice and moved down to my feet, and the earth. Writing landscape is a series of images that were created between my body and the land. The finished product consists of three parts. A series of copper plates that were marked up when I wore them on my feet walking over the land, a series of prints that were produced from the copper plates, and this video of my performance of walking. Together, these images constitute an exploration of the relationship between my identity as an indigenous woman and Turtle Island. My project took place in three locations: Toronto, Ontario; Thamesville, Ontario; and Pangnirtung, Nunavut. I chose these locations specifically for their historical and contemporary significance.

Abedar Kamgari, Finding words for the feeling (The Walk Home), Two-Channel Video, 30 minutes, 2016

In winter 2016, I created "An object with a history" which became the basis of an ongoing body of work titled "Finding words for the feeling." The series began with a site-specific performance-for-video ("The Walk Home") and later, staged performance images ("Embrace/Expel") near my home in Hamilton. "Finding words for the feeling" became a methodology for navigating my presence on familiar and unfamiliar land as a settler/immigrant, through organic site-specific and site-responsive actions. The object, when taken from one place to another, leaves a temporary trace behind. At the same time, the land leaves its trace on her– as the seemingly hard exterior slowly wears down through constant movement, until eventually she is drastically altered or expended beyond recognition.

Aislinn Thomas, MOUNTAINS USED TO BE UGLY, Video, 36 minutes 40 seconds, 2018.

Before I left for Alberta in the summer of 2018, a friend recommended a book to me: Mountain Gloom and Mountain Glory, by Marjorie Hope Nicolson. In it, Nicholson describes how for most of western cultural and intellectual history, mountains were considered to be an imperfection on the landscape. The book explores the various factors that influenced this view and the shift in thinking that took place from 1850-1900. Of course, it's now common to experience mountains as majestic and awe-inspiring, and unquestionably so. I certainly did.

This inspired a piece for the ongoing project A people's history of the sublime, titled MOUNTAINS USED TO BE UGLY. It's a video, around 36 minutes in length, of people in front of various mountain vistas in Banff. I asked each person two questions: What do you think of the mountains; how do they make you feel? and Did you know the mountains used to be ugly? (usually followed by a version of the explanation above.) Like TOTALITY the responses were varied. Many people rejected the idea that mountains could be ugly or our view of them socially constructed. It seemed that people who grew up near or had a close relationship with mountains were often unsurprised by the social history of mountains and could see their potential threat. Some people were eager to leave and seek out a bar, or the next vista, or their wedding party.

***

Participant Bios

Vanessa Dion Fletcher graduated from The School of the Art Institute of Chicago in 2016 with an MFA in performance, she has exhibited across Canada and the US, at Art Mur in Montreal, Eastern Edge Gallery Newfoundland, The Queer Arts Festival Vancouver, Satellite Art show Miami. Her work is in the Indigenous Art Centre in Gatineau, Quebec, Joan Flasch Artist Book collection, Vtape and Seneca College. In 2019 Vanessa is supported by the City of Toronto Indigenous partnerships fund to be Artist in residence at OCAD University.

Abedar Kamgari is an artist, independent curator, and arts administrator based in Hamilton and Toronto. Her research is rooted in exploring displacement in relation to the ongoing legacy of colonialism in the West. She often works site-responsively with video and performance, using embodied and relational methodologies to unpack the complexities of immigrant experience.

Aislinn Thomas is an interdisciplinary artist whose practice includes video, performance, installation and text-based work. She culls material from everyday experiences and relationships, exploring themes of vulnerability, possibility and failure. Her work has been exhibited nationally and internationally and has received several grants and awards including a Social Science and Social Sciences and Humanities Research Council of Canada Masters Scholarship, and grants from the Ontario Arts Council and the Canada Council for the Arts. Aislinn lives and works near the Grand River, on the traditional territory of the Attawandaron, Anishnaabeg, and Haudenosaunee.

***

Broad Topics: A Matrilineage of Media is an intersectional series of artist talks with additional screenings, performances, and workshops featuring regional, provincial, and national Canadian femme-spectrum media artists.

LOMAA is an emerging, enthusiastic and devoted non-profit artist-run collective that fosters collaboration, investigation and innovation by tapping into the talent and serving the needs of media artists in the London region.
www.lomaa.ca

LOMAA would like to thank Canada Council for the Arts and Ontario Arts Council for their support of this program, as well as London Arts Council for this continued backing.

www.lomaa.ca
---
Colin Dorward: Painting Has a Great Memory, but No Plan / ARTLAB 
May 9 - 24, 2019
Join us this Saturday, May 25 from 7-9pm for the closing reception of Colin Dorward's exhibition, "Painting Has a Great Memory, but No Plan."

This exhibition is presented in conjunction with Colin Dorward's doctoral dissertation, "The Medieval Genesis of a Mythology of Painting." He will be around, installing works for much of May, feel free to stop in and say hello.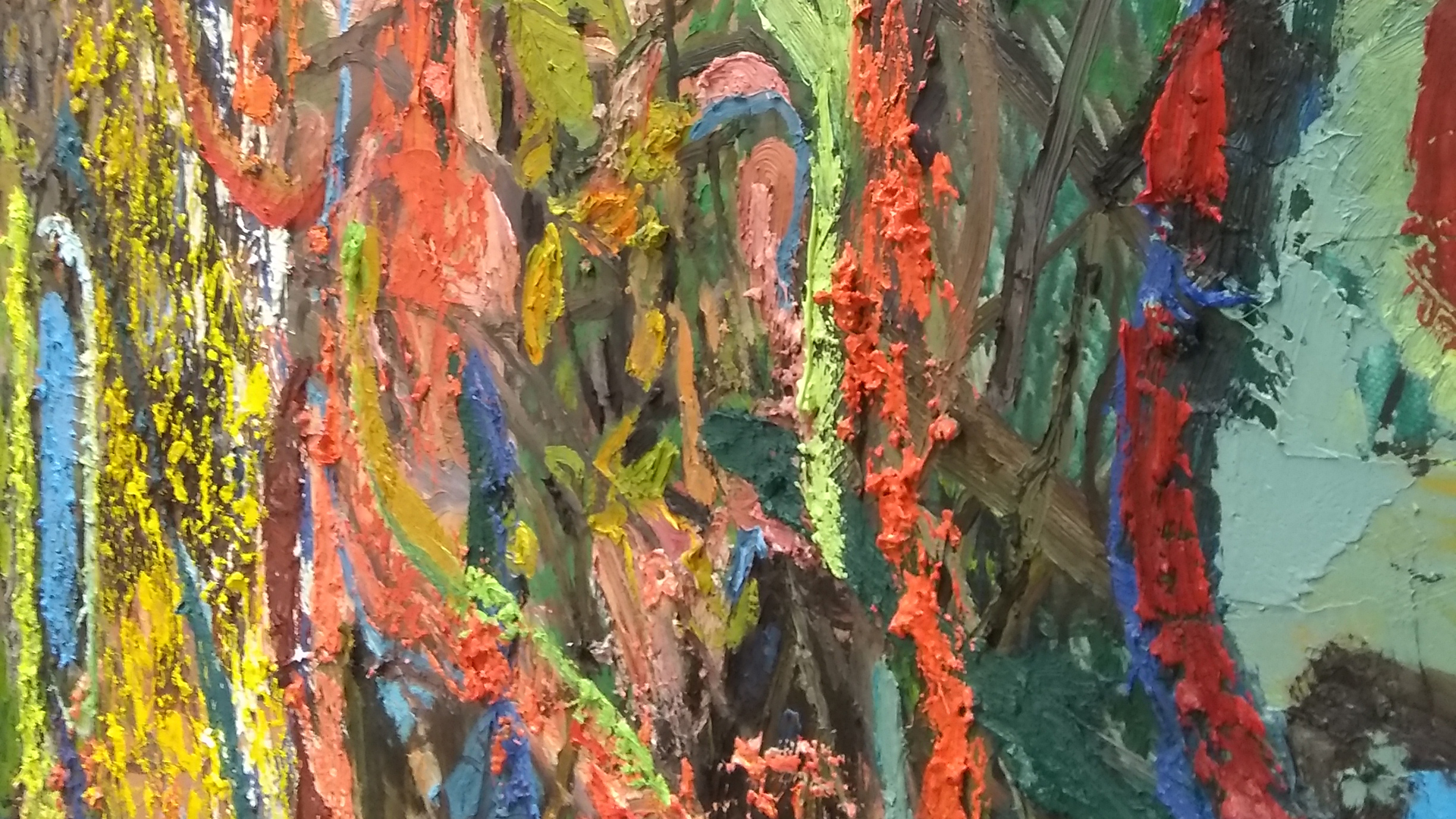 ---
Bealart Talks / EVENT
Friday, April 26 from 7-9pm
Bealart Talks is an annual event in collaboration with Western University's Department of Visual Arts and ArtLab Gallery. A group of emerging artists will be presenting short lectures on their artistic practices and motivations, with topics ranging from the inherent political qualities within art to an architectural framework of approaching practice. 

Selected artists from the Bealart Specials Program speaking during the event include:

Dylan Bodkin
Flynn Brown
Julien Darling-Funk
Bethany DeBoer
Megan Goddard
Monica Joy Peeff
Sydney Karlson
---
Have a Plastic Day! / ARTLAB 
April 12-26, 2019
Opening Reception: Friday, April 12 from 5-7pm
"Have a Plastic Day!" is an exhibition of artworks that were produced during the experimental research-creation class, "Making Art with Environmental Awareness." This class investigated issues related to plastics in the social world and in the natural environment. Students explored the history and material properties of plastics, more generally, and in the arts, more specifically. Did you know that virtually all the plastic that has ever been produced is still with us? That amount has recently been estimated to be 8.3 billion metric tons. In fact, the amount of plastic produced in one year is said to be roughly the same weight as the entire weight of humanity itself. Will we soon outweigh ourselves in plastic? Are we becoming plastic? What will our plastic future be?
Join us for the opening reception of "Have a Plastic Day!" in the ArtLab Gallery Friday, April 12 from 5-7pm. "Have a Plastic Day!" is opening in conjunction with "A Museum for Future Fossils" in the Cohen Commons and at Satellite Project space. A free bus will leave the JLVAC for Satellite at 6pm on April 12th. All are welcome.
Museum for Future Fossils / Cohen Commons
April 12-26, 2019
Opening Reception: Friday, April 12 from 5-7pm
Plastics, along with many other human-made objects, have life spans that far exceed their usefulness. Because they take so long to break down, plastics will at some point become a layer in the geologic strata that may be seen as a marker horizon of the Anthropocene (the proposed name for the geologic era defined by human impact on the world). Imagining the point at which plastics become a fossil layer depends upon speculation – this is a future that none of us currently on earth will see, and the pathways to that future are infinite. Created by second-year SASAH students, this exhibition foregrounds creative responses to objects that could be found in A Museum for Future Fossils.

A Museum for Future Fossils will be on display at Satellite Project Space from April 3-13 and Cohen Commons (JLVAC, UWO) from April 12-April 26. Please join us for a reception at both locations on April 12, 5-7pm. A free bus will leave the JLVAC for Satellite at 6pm on April 12th. All are welcome.

The SASAH exhibition is the first event in the year-long Museum for Future Fossils project. For more please visit www.museumforfuturefossils.com.
---
Honesty Hour / ARTLAB
March 22 - April 5, 2019
Opening Reception: Friday, March 22 from 6-8pm
Honesty Hour is an exhibition of recent work by Western University's Bachelor of Fine Art Practicum class. Having worked closely and collectively for years, this show is not fifteen artists' group show, but is the culmination of four years of community. The show has been planned fervidly and features dynamic work across multiple disciplines. We are excited to welcome all to experience the show on opening night, March 22, following the department's Open Studios

Featuring work by: Stephanie Amatori +Jocelyn Andress + Lindsay Athoe + Ashley Beerdat + Sofija Berger + Liam Creed + Madelon Dececco + Stefani Eleoff + Rebecca Flynn + Bailey Gillespie + Devon Lowrie + Cassidy Morris + Olivia Mossuto + Michael Thompson + Yongxin Ye
Almond Milk / COHEN COMMONS
March 22 - April 5, 2019
Opening Reception: Friday, March 22 from 6-8pm
Almond Milk is a delightfully nutty and flavourful show created by the Third Year BFA Honours Seminar Class. On Friday, March 22nd, from 6-8pm at the Cohen Commons in the John Labatt Visual Arts Centre, join our class' opening reception as we showcase our independent art pieces. If you are thirsty, come get a taste of Almond Milk!

Featuring work by: Andrea Alarcon + Seth Anderson + Irma Bajramovic + Madeline Briere + Emily Culbert + Sarah Desmarais + Nicole Feutl + Chloe Gatti + Tyler Jafelice + Reilly Knowles + Xiaowen Kou + Dason Kwok + Kaylee Larose + Max McKerlie + Claire McNamara + Olivia O'Neil + Eryn Stewart + Andrew Fraser + Ava Workman + Yanru Zhou
---
Forms of Narrative: An Exploration of Story in Text and Image / COHEN COMMONS
February 27 - March 14, 2019
Reading + Reception: Wednesday, February 27 from 5:00-7:00pm

Join us Wednesday, February 27 from 5-7pm in the Cohen Commons for a series of student readings and the opening reception for "Forms of Narrative: An Exploration of Story in Text and Image." This will be followed by keynote speaker Jaclyn Bruneau's presentation entitled "Parafiction and Other Permissible Deceptions," which begins at 6:00pm. This event is co-hosted by the Department of Visual Arts and the Department of English and Writing Studies, it's free and open to the public.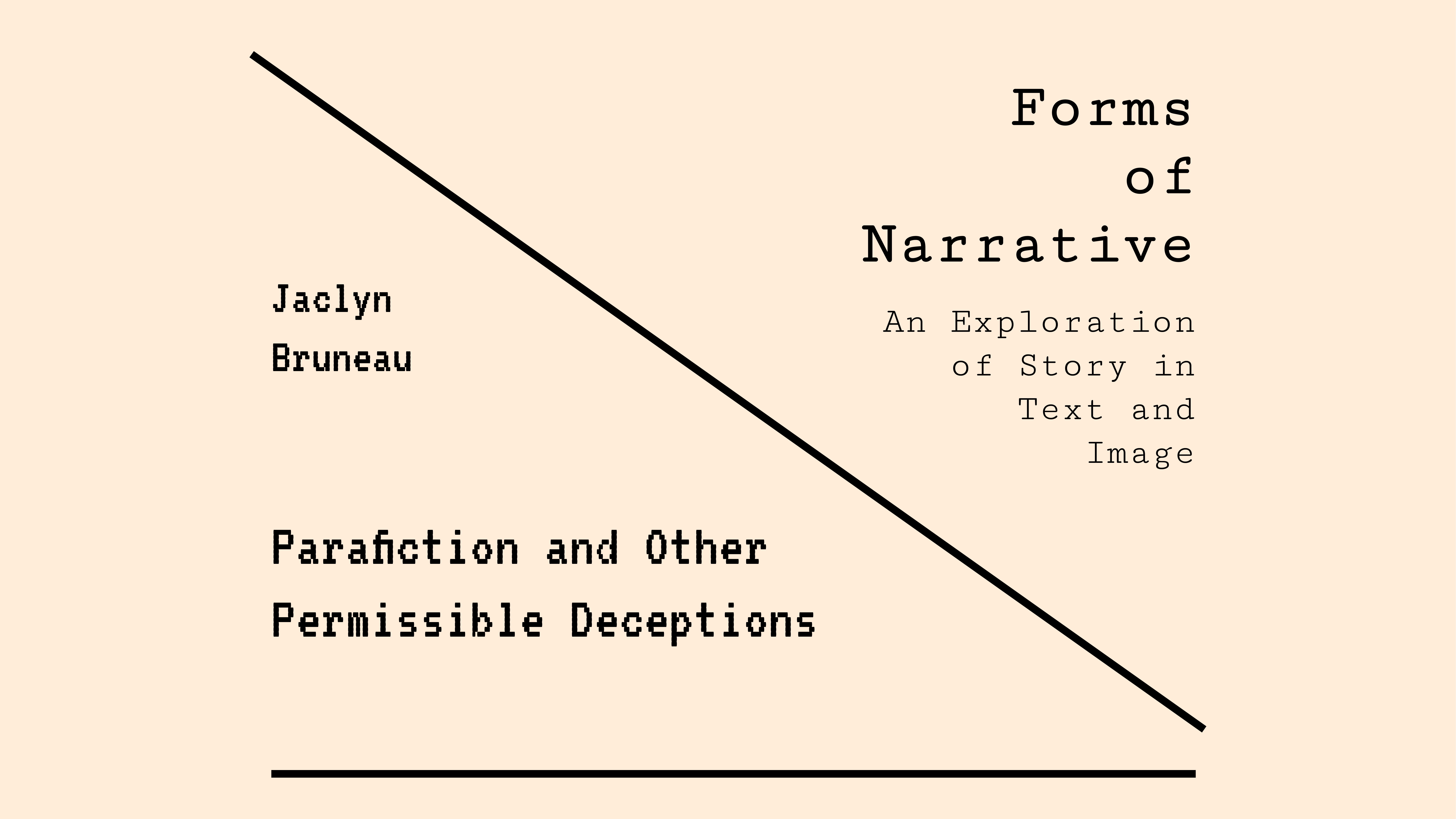 "Forms of Narrative: An Exploration of Story in Text and Image"
Professor Nino Ricci
Special Topics Course - The Creative Moment 
Narrative informs almost every field of human endeavour, from literature and the visual arts to history, law, medicine, business, and the sciences. Everywhere we look we see story: in video games, in car ads, in lab experiments, in patient histories. 'Forms of Narrative' explores, in image and text, the primacy of story and our reliance on it for the making of meaning.
Seth Anderson, Shannon Boast, Jasia Carroll-Woolery, Marisa Coulton, Natalka Duncan, Charlotte Egan, Amelia Eqbal, Madeleine Ghesquiere, Ashley Griffin, Hanbi Lee, Jessica Matthys, Carina Pagotto, Natalie Scola, Julia Sebastien, Joshua Thompson-Persaud, and Blake White

+++

"Parafiction and Other Permissible Deceptions"
Jaclyn Bruneau 

The parodist is a detectable fake whose apparent inauthenticity is key to the audience's understanding of the parodic gesture as such. By contrast, the parafictional work almost completely—if not utterly—passes as something natural, quietly entering the stream of life in order to wager its critique, with no promise that viewers will eventually uncover its masquerade. As art historian Carrie Lambert-Beatty writes, "with varying degrees of success, for various durations, and for various purposes, these fictions are experienced as fact."

Considering the maximalist qualities of today's public discourse and personae, parody has become weakened as a mode of critique, since what is extreme can scarcely be exaggerated to any effect. It's precisely at this impasse that parafiction becomes a provocative mode of critique and, at times, actual disruption. But perhaps it's not quite clean. As Lambert-Beatty notes: "One of the disturbing things about the parafictional is the split between the trap-laying artist and the specifically unwitting viewer, who thinks she is involved in one kind of experience while actually participating in another." In this presentation, Jaclyn Bruneau will take stock of a number of parafictional works of contemporary art and film, considering the relationship between the ethical quandaries of deception and the unparalleled, and often beguiling, impact of works that hinge on their undetectability as fiction.

+++

Jaclyn Bruneau is a writer, editor and organizer based in Toronto. She's the Editor of C Magazine and on the Board of Directors at Images Festival.

www.jacbruneau.net
---
Shujuan Liu: Chinese Flower and Bird Paintings / ARTLAB 
February 19-27, 2019
Closing Reception: Wednesday, February 27 from 4:00-5:00pm.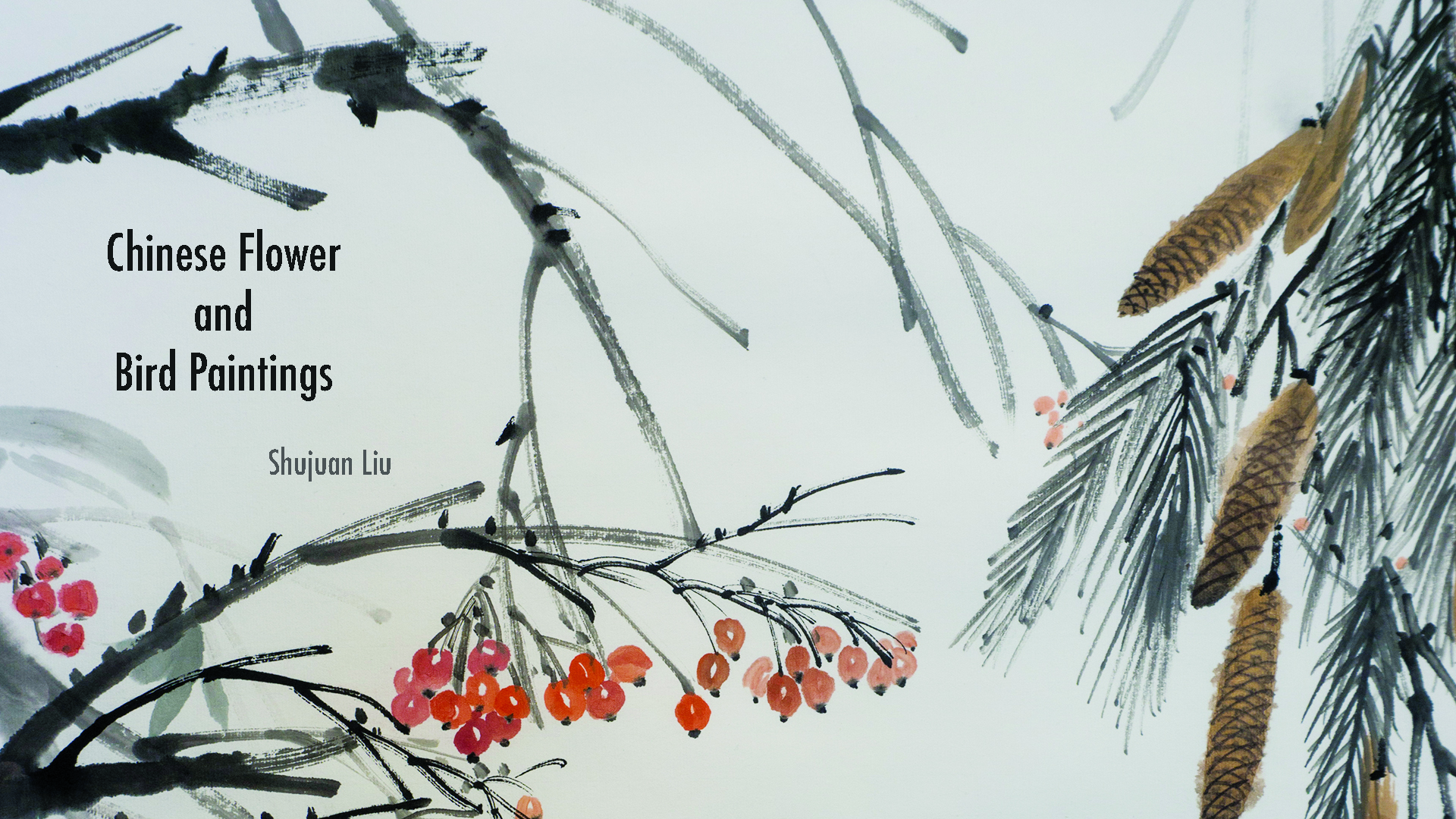 The Artlab gallery is pleased to present an exhibition of new work by visiting professor Shujuan Liu.

Shujuan Liu, is an associate professor of the School of Fine Arts and Design of Pan Tianshou, Ningbo University, China. She is now a visiting professor of Department of Visual Arts, Western University, Canada. Shujuan started to learn painting when she was 10 years old. She graduated from the Department of Fine Arts of Northeast Normal University, China and she has been teaching paintings in many years. She was also a visiting scholar in Capital Normal University, China in 2007. Her works of traditional Chinese paintings have been published in professional art journals for many times. Her works of fine brushwork characters have won honorary prizes in the International Chinese Grand Prix at Beijing. Her painting works were also exhibited in China and in Japan as well. Recently, her painting work Shuoguo Piaoxiang, won the first prize of London Chinese Community painting competition in London, Ontario, Canada 2019. 
---
selsun blue / ARTLAB
January 31 - February 14, 2019
Opening Reception: Thursday, January 31 from 5-7pm

Matt W. Brown, Kate Carder-Thompson, Jerome Conquy,
Sepideh Tajalizadeh, Yas Nikpour, George Kubresli,
Ramolen Laruan, Johnathan Onyschuk, Lydia Santia, Zhizi Wang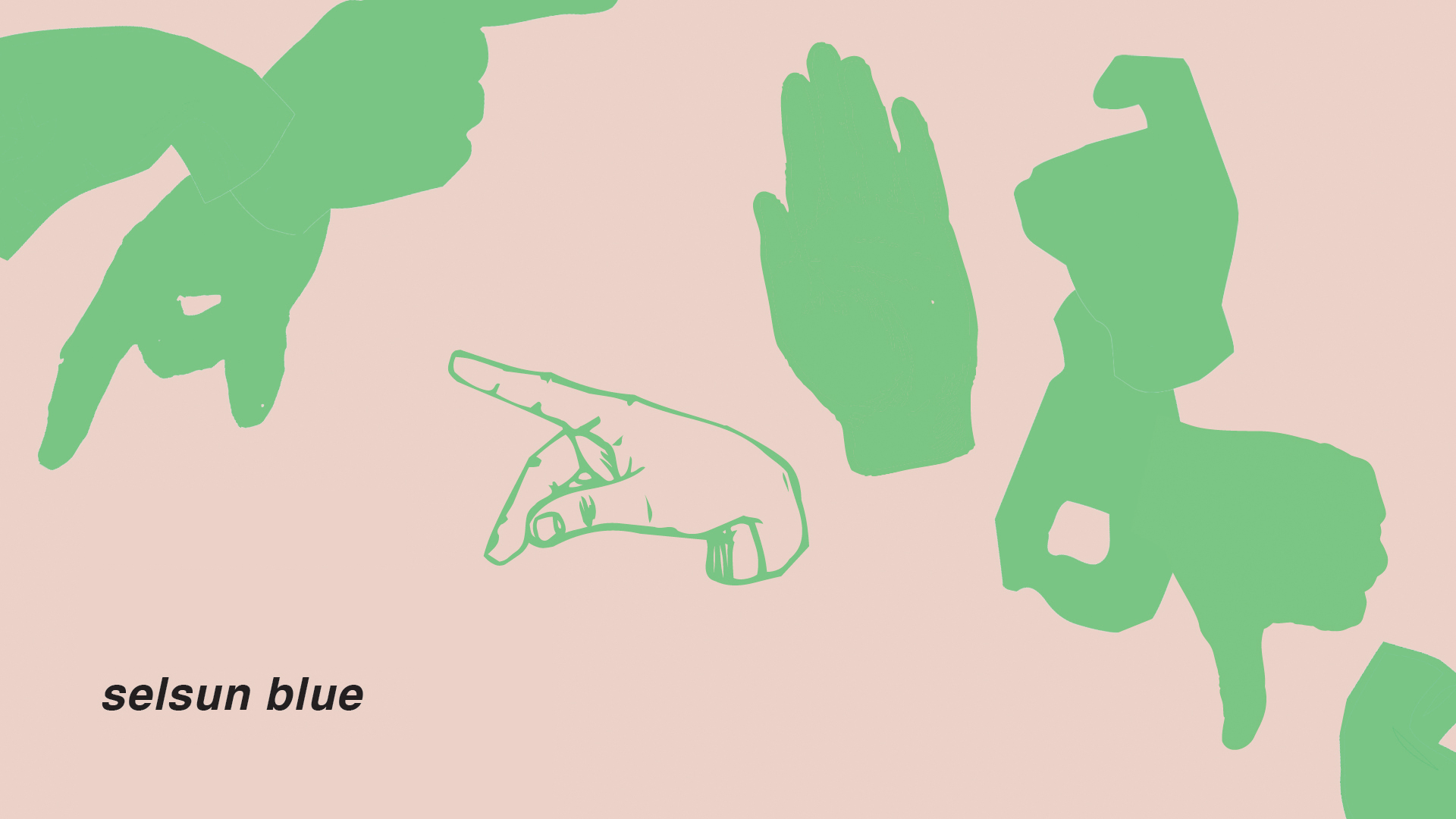 The exhibition "selsun blue" features work by current MFA students in the Department of Visual Arts at Western University. Stemming from a shared interested in the problematics of communicating with clarity, these works question the implications of our capacity to both transmit and receive information.

A mondegreen is simply the mishearing or misinterpretation of a lyric. This linguistic term was coined by Sylvia Wright in her 1954 essay, "The Death of Lady Mondegreen." In this text, Wright describes how her mother would often read to her as a child from the book Reliques of Ancient English Poetry, a compilation of popular songs from the eighteenth century, complied by Bishop Thomas Percy. Her favorite verse:

Ye Highlands and ye Lowlands,
Oh, where hae ye been?
They hae slain the Earl o' Moray,
And Lady Mondegreen.

She recalls discovering years later that the line she had always remembered as "And Lady Mondegreen," was actually, "And laid him on the green." This misunderstanding shifts the lyrics context, positioning the narrative around a singular protagonist, the Earl of Moray alone. As misinterpretations, mondegreens point towards a misalignment between auditory perception and translation[1], but often times the thing we think we hear is in some way related to our own desires; a Freudian slip, a Rorschach test. In these instances, the authors intended meaning becomes disrupted, but a more personal or unexpected one might be formed. This error in translation opens up a space were miscommunication might become a field of potentiality, pointing towards new and unexpected connotations. Further, it questions the ways in which information is transmitted, whereby the politics and efficacy of these models themselves might become part of the conversation.

Each artists explores these ideas through a number of variable avenues that might be positioned within three subtexts: "speaking to yourself," "speaking to others" and "speaking for others." "Speaking to yourself" becomes about the dialogues and mantras we repeat internally, about psychological alcoves and unconscious propositions, as well as the problematics of remembering. "Speaking to others" might include the immaterial pursuit of s&#;ances, spiritual endeavors, and the encompassing world of social media and digital landscapes. Or it might be materially driven, as in object-oriented ontology. While "speaking for others" questions the power dynamics between those who have agency and those that are subject to censorship, misrepresentation, and propaganda.

[1] Konnikova, Maria. "Excuse Me While I Kiss This Guy." In The New Yorker, December 10, 2014 <https://www.newyorker.com/science/maria-konnikova/science-misheard-lyrics-mondegreens>
---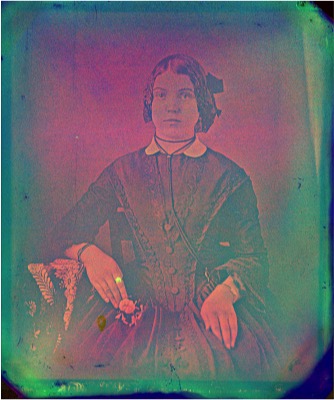 Inherent Vice / COHEN COMMONS
January 31 - February 14, 2019
Opening Reception: Thursday, January 31 from 5-7pm
Inherent vice is a term used in art conservation to describe the tendency in an object or material to deteriorate or self-destruct because of poor intrinsic characteristics, such as weak or unstable materials. Conservators must constantly work against inherent vice in order to rectify the effects of past damage while also preventing future deterioration. But, as Hanna Hölling notes, "conservation is always interpretation" and all approaches change and affect the original object.

In this exhibition, students in VAH2292 have responded to talks given by three scholars and conservators who work to preserve, repair, and restore material artefacts.
---
+ + EVENT + +
After-Art-Party with Nadsat and The Western Contemporary Music Studio
Thursday, January 31, 7-9pm

Presented by the ArtLab Gallery in partnership with Forest City Gallery's Hear Here Committee: The After-ART-Party introduces a musical happening taking place in the Artlab Gallery itself, following the opening reception of "selsun blue"
Music at 7:00 PM
Admission is Free