Current Exhibition & Events
suppose they are all put together | ArtLab Gallery
January 9-January 23, 2020
Opening Reception: Thursday, January 9 from 5-7PM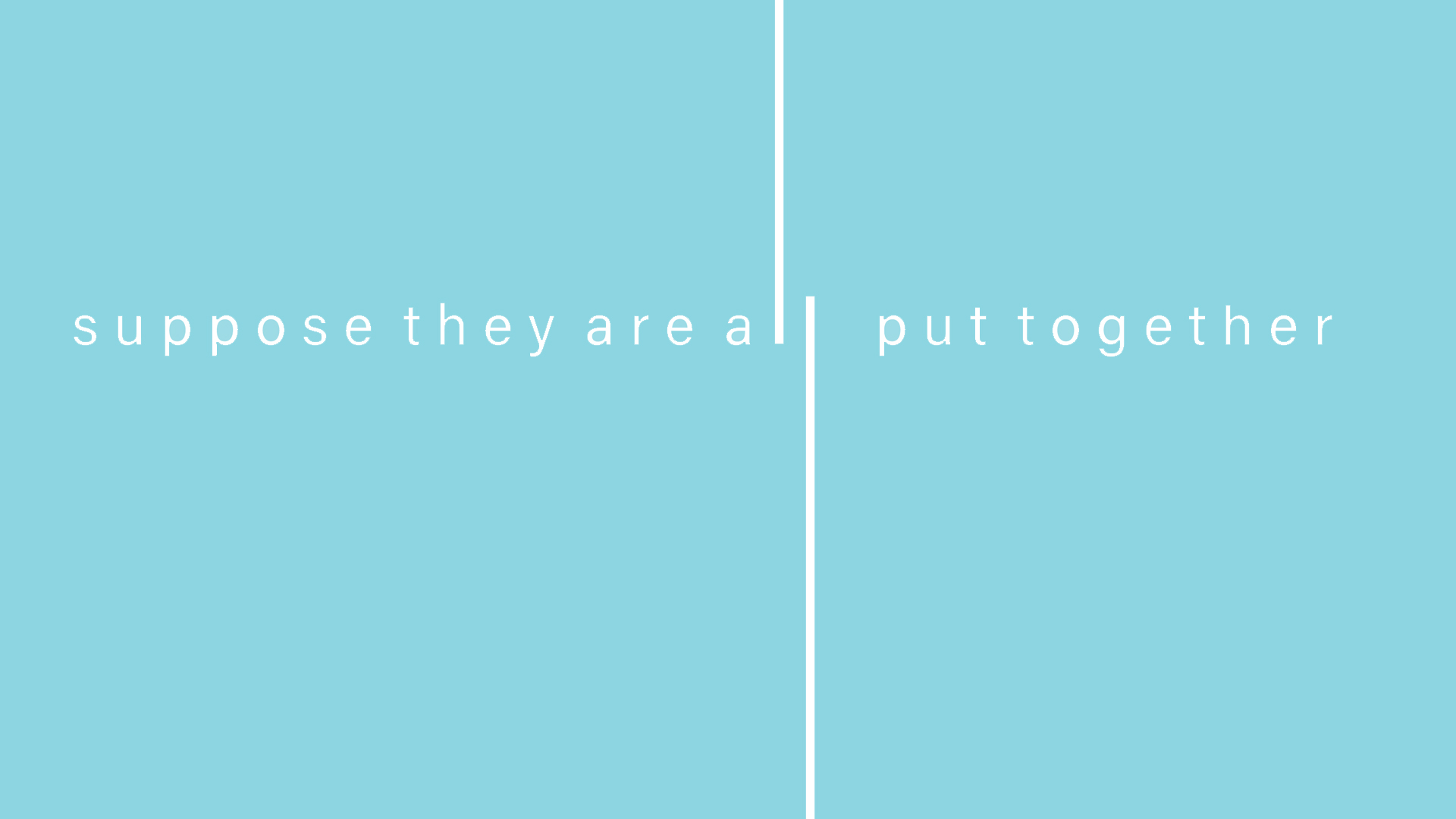 suppose they are all put together presents recent works by Aryen Hoekstra, Ellen Moffat, Eeva Siivonen, Ashley Snook, and Michelle Wilson. The artists are studio Ph.D. candidates at the Department of Visual Arts. They share an interest in speculative and experimental exploration and engage with the complexities of our interconnected relationships through a vast range of mediums, materials and methods.

Originating in the formal and conceptual language of the moving-image, Aryen Hoekstra's studio practice considers the legacy of the last century's ideological projects and their contemporary manifestations. In particular, his work investigates the way that narratives are formed and formalized around specific cultural events, objects, and artworks, aimed toward speculative inquiries regarding what futures might be manifest if these events had happened otherwise, or not at all.

Ellen Moffat's work explores sound and space, materiality, and the body. She blends structure with experimentation, foraged with constructed elements, and analog with digital processes to investigate what sound does, how it opens and what it opens to. The materiality of sound affirms our corporeal and spatial relations as embodied, felt sensation. The spatiality of sound supports relations with each other and the world around us. The capacity of sound to connect diverse sounding bodies of differentiated rhythms proposes a new symbolic space of subjective, objective and collective relations.

Eeva Siivonen's moving image work constructs and describes visual and sonic spaces in which subjects and bodies as totalities don't exist and the relationships and hierarchies between living and inanimate entities become undone and get remade. Her practice is grounded in the belief that refusing and resisting such closed definitions and categories as self and other, human and animal, interior and exterior, subjective and objective, and committing to a kind of inherent failure to gain knowledge of ourselves and others, is where ethics emerge and evolve from.

Ashley Snook's practice examines the relationships between human and nonhuman animals within the existing biosphere. She is intuitively driven to create work that engages with notions of interconnectivity and animality through the innate affinity for other living organisms, seen in the concept of biophilia especially. Within this framework, she addresses intuitive and physical connections between human and nonhuman species, including vegetal and botanical species, in order to further complicate and challenge boundaries determined by human societies.

Michelle Wilson explores the use of inter-media art as a conduit for imagining alternate political and personal realities in which non-human animals are afforded relational and differentiated rights. Collaborating with non-human actants, conservation officers, Indigenous community members, and local naturalists, Wilson's current work aims to make palpable the presence and absence of the bison, as well as their inseparability from the land and its people.
---
To Dwell, To Remember | Cohen Commons
January 9-January 23, 2020
Opening Reception: Thursday, January 9 from 5-7PM
Curated by Adi Berardini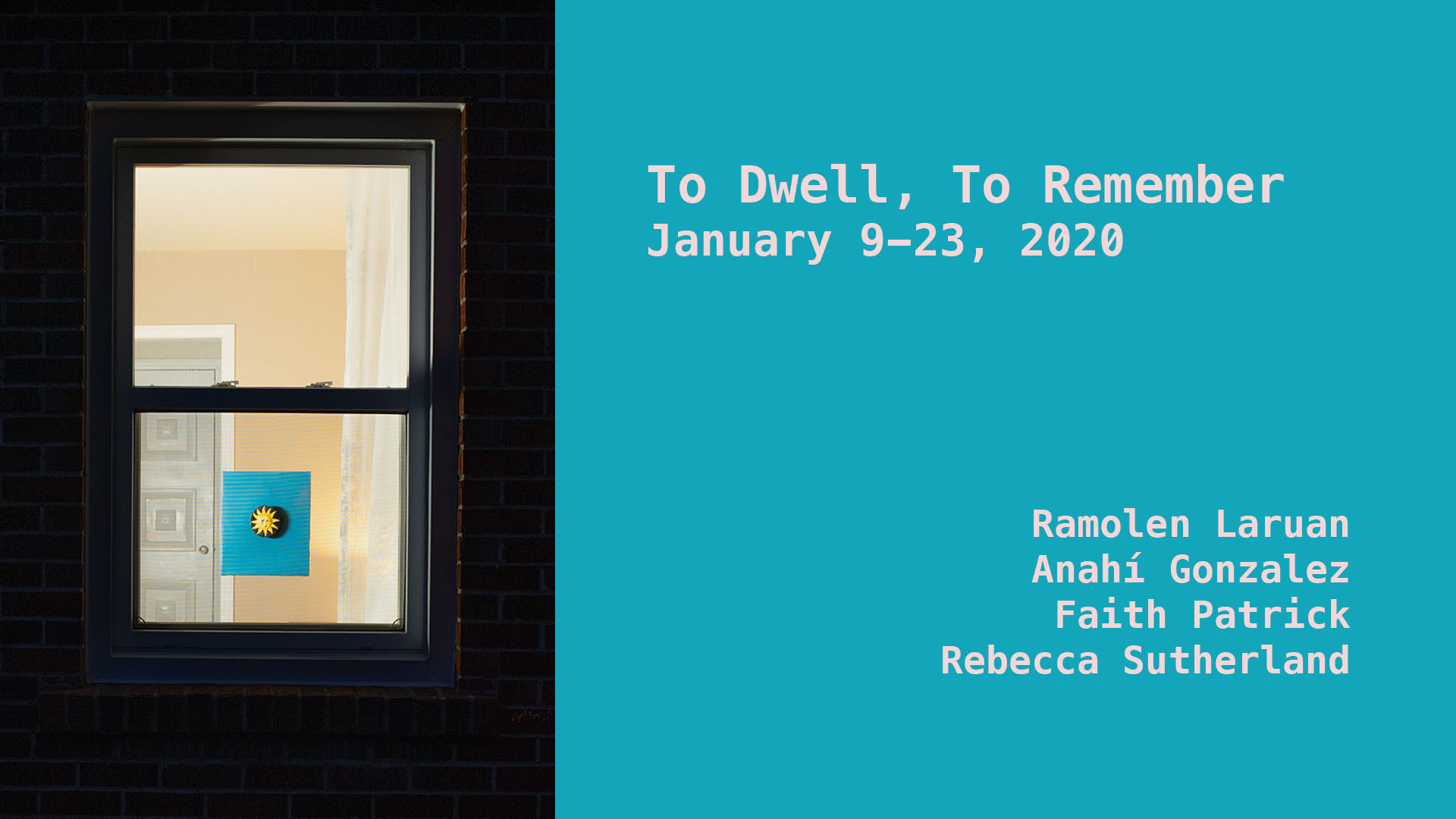 To Dwell, To Remember is an exhibition consisting of four artists and Western MFA candidates exploring notions of 'home' predominantly from a feminist perspective. How do we define what makes a home after migrating from elsewhere, whether intentionally or due to displacement? How do notions of home shift if you have lived in the same place your entire life? By addressing home with a focus on memory and perception, and subverting gender binaries and domesticity, the artists unpack what home can implicate.

Artists:
Ramolen Laruan
Anahí Gonzalez
Faith Patrick
Rebecca Sutherland

[Photograph on poster by Anahí Gonzalez, Lugarcito in My Cora, 2019.]