Current Exhibition & Events
As of  September 17th 2020, the Artlab Gallery and Cohen Commons will be operating virtually. In-person visits are not permitted at this time. Please email Ruth Skinner artlab@uwo.ca for additional details.
For updates on the evolving situation on Western campus, please visit: https://www.uwo.ca/coronavirus/ 
Everyone Here Has Something in Common

November 23 - December 3, 2020 in the Artlab Gallery

Image courtesy of Megan Goddard.

Installation art is an artistic genre that challenges the boundaries of traditional art. The history of installation art dates back to the 1960's to early 1970's, in which it provoked a reversal to the modernist sculpture's relationship with the pedestal. The pedestal disconnected the sculpture from the space or stated its indifference to it, allowing the work to possess independence from its environment. On the contrary, installation art is directed by the space in which it is constructed. Although installation may involve elements of architecture, sculpture, painting, video, photography and performance, it aspired to challenge the limitations of these art forms as well as their institutional settings. Moreover, installation art was an attempt to resist the trend of circulating art as a commodity, something that is transportable and exchangeable.
In this project, students from SA 2643: Introduction to Sculpture and Installation explore ideas of "where are you coming from?" with a focus on "your culture." Here, "culture" is interpreted both as culture in everyday life, as well as more specific historical and ethnic cultural backgrounds. Students explore cultural connections, exchanges, and crossings by using readymades and found objects to create collaborative installations. They are directed to incorporate ornaments, as ornate artefacts have circulated amongst various cultures and have been adapted/hybridized within new cultural contexts throughout history.
Course Instructor: Soheila K. Esfahani
Teaching Assistant: Rebecca Sutherland

Shannon Boast, Charlotte Cao, Cauchi Rayne, Maggie Charbonneau, Julia Fawcett, Chloe Gatti, Megan Goddard, Emma Hennessy, Chelsea Hitchen, Josette Joseph, Lauryn Kell, Madison Kelly, Wesley Macpherson, Emma McInnes, Darcy McVicar, Linjing Qian, Aly Rana, Lara Stamenkovic, Laryssa Stoetzer, Hailey Watson, JoAnna Weil, Ava Wright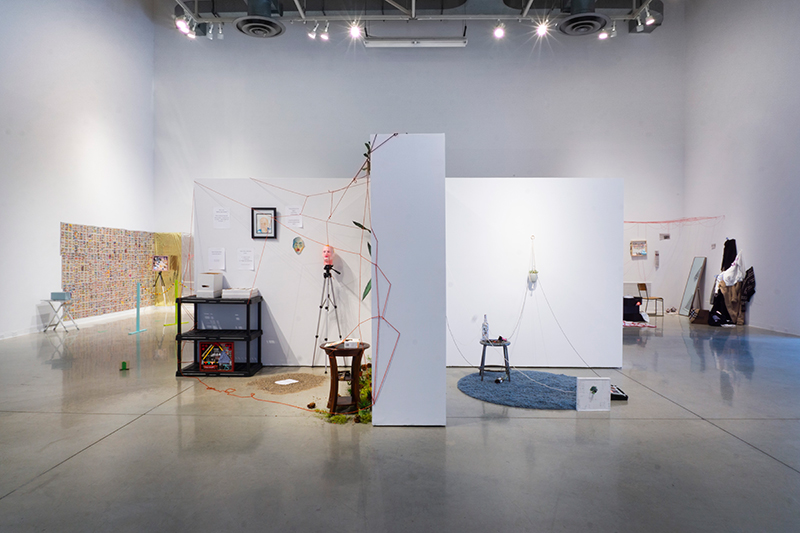 ---
...And on That Day, I Went for a Walk
A Virtual Exhibition by students in SA 2602A: Studio Seminar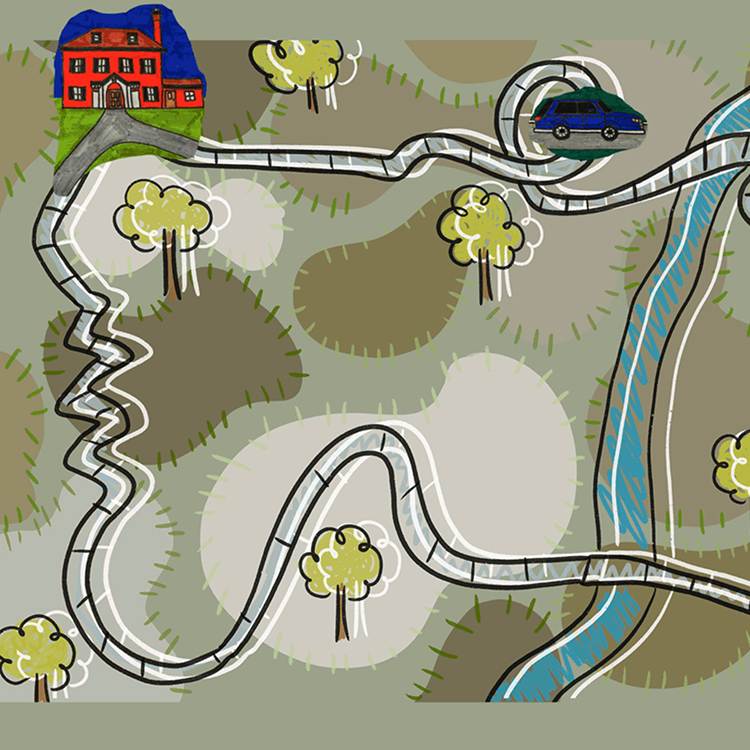 Image from "This is a Dérive," courtesy of Makenzie Marie Ermel, Megan Lynn Goddard, Clementine Leong, and Noelle Mahoney

Diverted from destinations we went for a walk. Stirred by Ólafur's Eliason's Institute of Spatial Experiments, walking alongside the ghosts of Guy Dubord and the Situationists, we set out to explore thinking doing, to let slip the screens of charts and maps, and seek the open. Some ventured in groups, some alone; some during day, some during night; some guided by curiosity, some by the deflecting directives of Dérive apps uploaded to smartphones. We brought back personal notation of our encounters to share in small groups before individually fashioning artworks in response. The pieces presented here comprise a final rounding— a yield of three collaborative digital works formed from intersecting paths.

Interactive pdf of the exhibition (best viewed on a standard monitor), or view all three works below.
Course Instructor: David Merritt
Caroline Bridget Kathleen O'Regan, Hailey Watson, Abbygale Shelley and Tyme Thompson

A video that gives insight to the absent-minded individual as they scroll through the different social settings and interactions with others across multiple social media apps during a philosophy lecture.

This is a Dérive 
Megan Goddard, Clementine Leong, Noelle Mahoney and Mackenzie Ermel
How does one create the feeling of a walk in a digital setting? This web page is built to reflect those feelings. Created from multiple experiences, this web page shows important images from these walks, as well as audio that can be interacted with.


A Little Spot in my Mind
Holly Granken, Lara Stamenkovic, Karlee Pattenden, Liv Pattison, and Isabella Springett

So much has changed in the last year that

a

llows us to do things from home- working, going to school,

a

nd going to

a

rt galleries!  Join us on

a

mini tour of our mini galleries each inspired by different things in different places,

a

ll from the comfort

a

nd safety of your own home.