Speakers' Series

Art Now! Speakers' Series Presents
Art in the Public Sphere
The Department of Visual Arts at Western University is pleased to present the Art in the Public Sphere series of speakers and exhibitions. This important series provides unique opportunities to engage with local, national, and international artists, curators, and scholars. All events hosted at Western University are free and are open to the public. The Winter 2019 series is organized by Liza Eurich as part of ongoing academic offerings at the Department of Visual Arts at Western University. 
Lectures are held at 7pm in the North Campus Building, room 117, with the exception of the Ed Pien lecture, at 7:30pm, February 7, 2019 at Museum Londo.
Download the Winter 2019 Speakers' Series Poster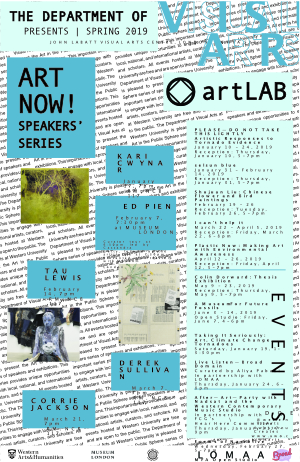 A full list of upcoming exhibitions can also be found on the Artlab Website.
---
Location & Parking
Please note that the location of the Art Now lectures has been moved to a higher capacity room in the North Campus Building (NCB-117). NCB is located just south of the John Labatt Visual Arts Centre (VAC). Metered parking is available in the parking lots between VAC & NCB, and Parking in the Visual Arts lot is FREE after 7pm. For more information or directions please see Western's Map Tool and search for "NCB".
Watch past Art Now! lectures on YouTube
Select Videos from the Speakers Series are now availible on YouTube.