Speakers' Series
Art Now! Speakers' Series
The Art Now Speakers' Series is a component of ongoing academic offerings in the Department of Visual Arts at Western University. All lectures are free and open to the public. This series is generously supported by The Faculty of Arts and Humanities. 
---
FALL 2023
JESSE JACOBS
THURSDAY, SEPTEMBER 14 / 7PM
Jesse Jacobs lives and works from his home in London, ON. Characterized by precise and detailed linework in combination with bold and simple colour palettes, his comics contain an affiliation with psychedelia, spirituality, and alternative realities. His major books By This Shall You Know Him, Safari Honeymoon, New Pets, and Crawl Space, have been translated into several languages, with the latter winning the 2018 Doug Wright Award for Best book. He has worked in animation, the video game industry, and illustration.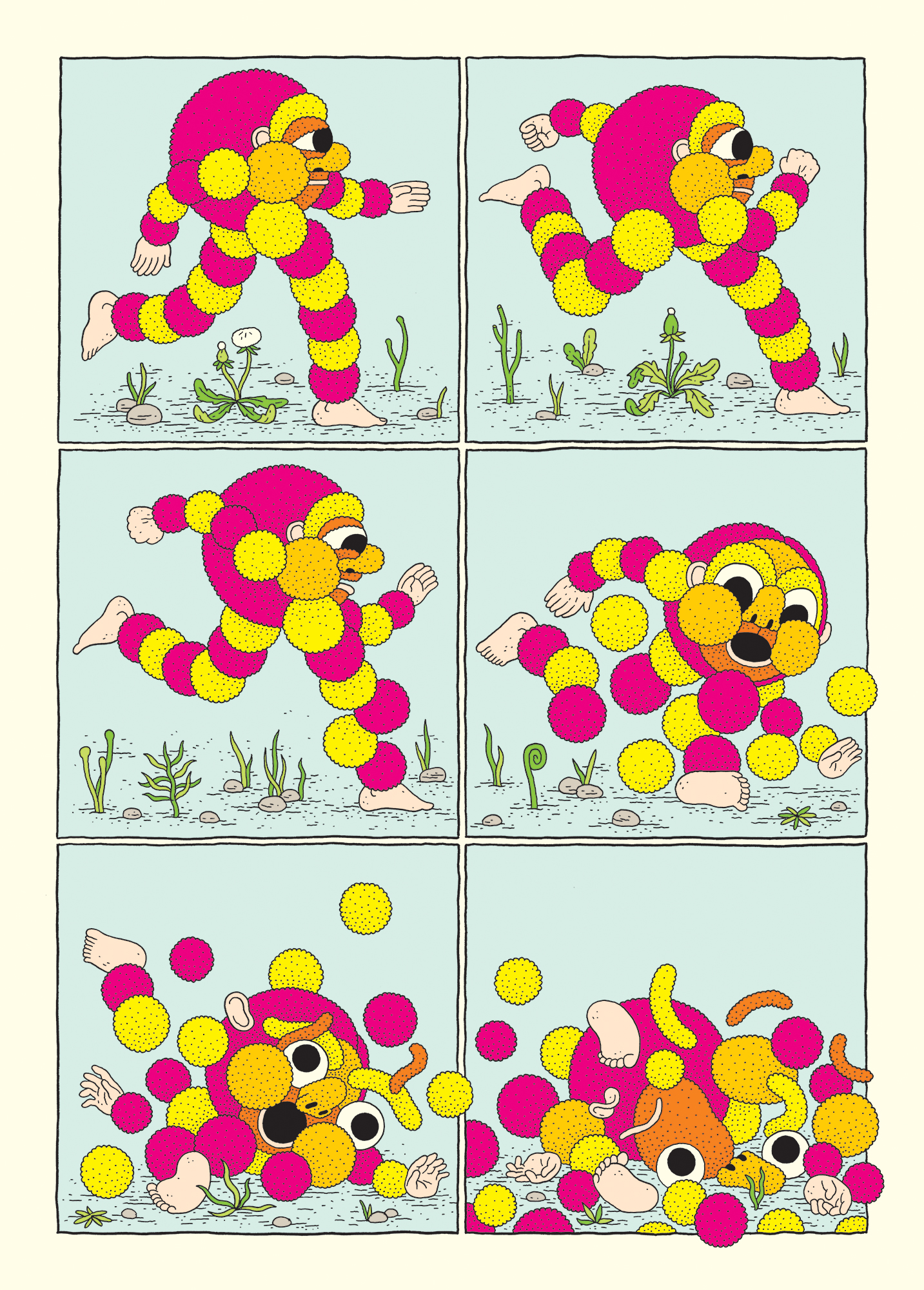 BRANDON VICKERD
THURSDAY, SEPTEMBER 21 / 7PM
Presented in partnership with McIntosh Gallery.
Registration required
Brandon Vickerd is a Hamilton based artist and Professor of Sculpture at York University, where he also serves as Chair of the Department of Visual Arts and Art History. He received his BFA from the Nova Scotia College of Art and Design (1999) and his MFA from the University of Victoria (2001).  
Purposely diverse, his studio work straddles the line between high and low culture, acting as a catalyst for critical thought and addressing the failed promise of a modernist future predicated on boundless scientific advancement. Whether through craftsmanship, the creation of spectacle, or humor, the goal of his work is to provoke the viewer into questioning the dominate myth of progress ingrained in Western world views.  
Vickerd has received numerous awards and grants from the Social Science and Humanities Research Council, the Canada Council for the Arts, the Toronto Arts Council, and the Ontario Arts Council.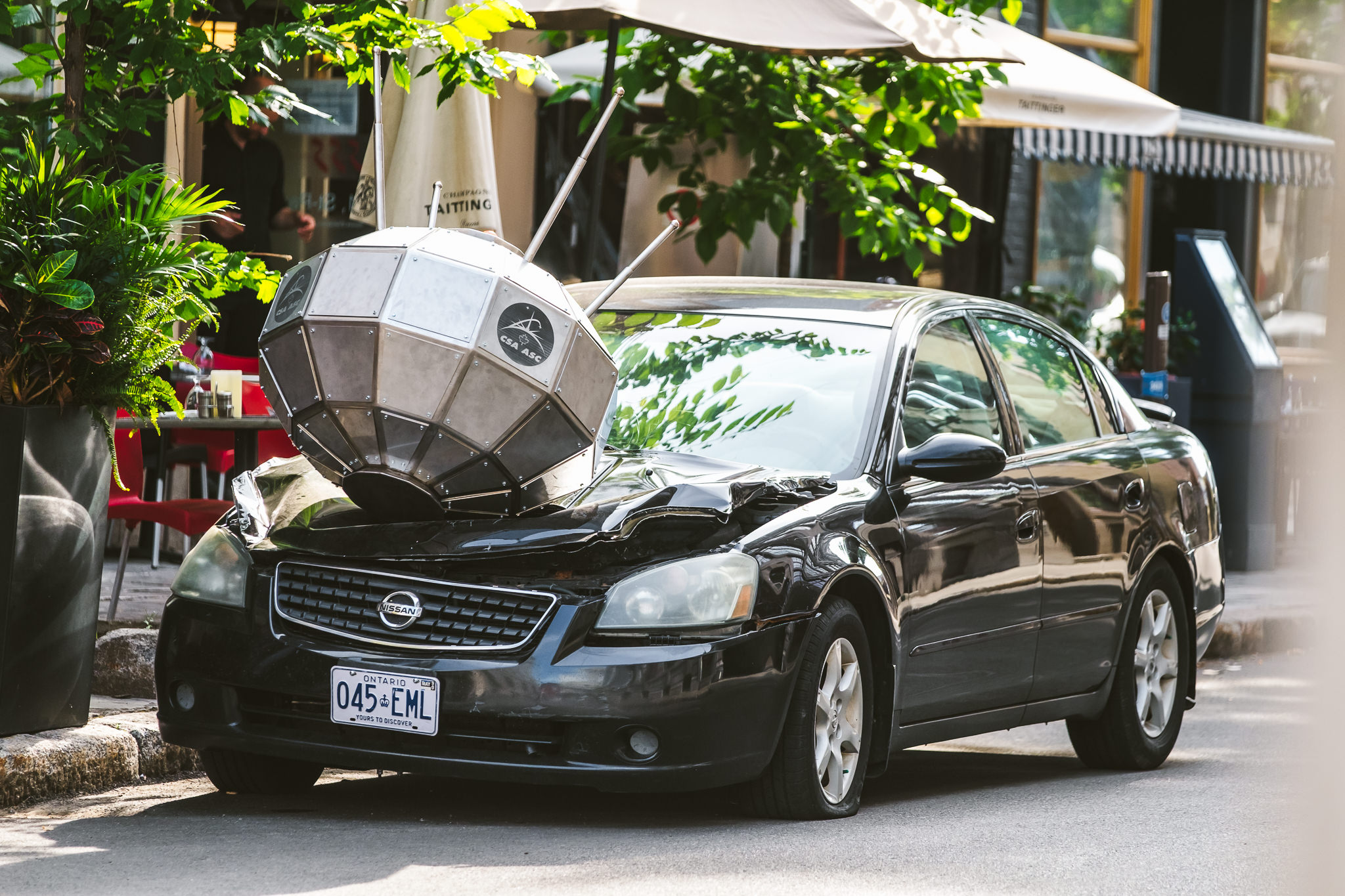 Panel Discussion: Decolonizing Space 
Bettina Forget, Peter Morin and Tania Willard, Joel Ong, Jesse Tungilik, and Camille Turner.
Moderated by McIntosh Curator Dr. Helen Gregory.
THURSDAY, SEPTEMBER 28 / 7PM
ZOOM | Registration Required
Presented in partnership with McIntosh Gallery.
LEITH MAHKEWA
THURSDAY, OCTOBER 5 / 7PM
Presented in partnership with the Forest City Gallery.
In-person | Registration Required 
ZOOM | Registration Required
"I am a beadwork artist from the Oneida Nation of the Thames in Ontario. I have been living in the Kanien'kehá:ka (Mohawk) Territory of Kahnawake (Quebec) for 38 years. After graduating from university, I focused on learning Kanien'kéha (Mohawk language) and raising my children as first-language speakers. As a new mother, my passion grew for the Haudenosaunee beadwork that often adorned the clothing of newborns and some of the older people I met in the longhouse. In 2000, I became a member of a ladies' beading circle which focuses on Kanien'kehá:ka style raised beadwork, a three-dimensional art form having its origins in the Victorian era. It is here that I became a mentee to these seasoned beadworkers."
"I created a niche unique to my Oneida/Chippewa/Hopi/Tewa family lineage. My personal style often juxtaposes the geometric shapes found in my Hopi family pottery patterns, and Haudenosaunee inspired floral designs. The complexity of both cultures and design styles, when combined and manipulated, create a one of a kind form of beadwork."
"My art makes a social statement that speaks to the current social realities of Indigenous life, whether the devastating lack of access to clean water or the effects of the Covid 19 pandemic. The beaded mask "I am protecting you from me", a piece created to acknowledge the loss of life during the early stages of the Covid 19 pandemic, uses red monochromatic beads representing the blood that flows through us and how we are interconnected to each other and our environment. I am proud to be part of the revival of raised beadwork within the Haudenosaunee Confederacy. I will continue to create pieces that highlight my cultural values and the integrity I have as a strong Onkwehón:we woman." 
ADI BERARDINI
THURSDAY, OCTOBER 12 / 7PM
Currently based in London, ON, Adi Berardini has a BFA in Cultural +Critical Practice from Emily Carr University of Art+Design (Vancouver, BC) and an MA in Art History from Western University. She is curious about how the feminine draws parallels to worth within art, for example, why folk art, highly saturated colour, and surface pattern design can hold a different place within the greater context of art. She is the founder and editor of the publication Femme Art Review, a platform for LGBTQ2S+ and women writers that aims to reflect on art in a dynamic and engaging way. By embracing diversity, Femme Art Review seeks to highlight emerging voices across Canada and internationally.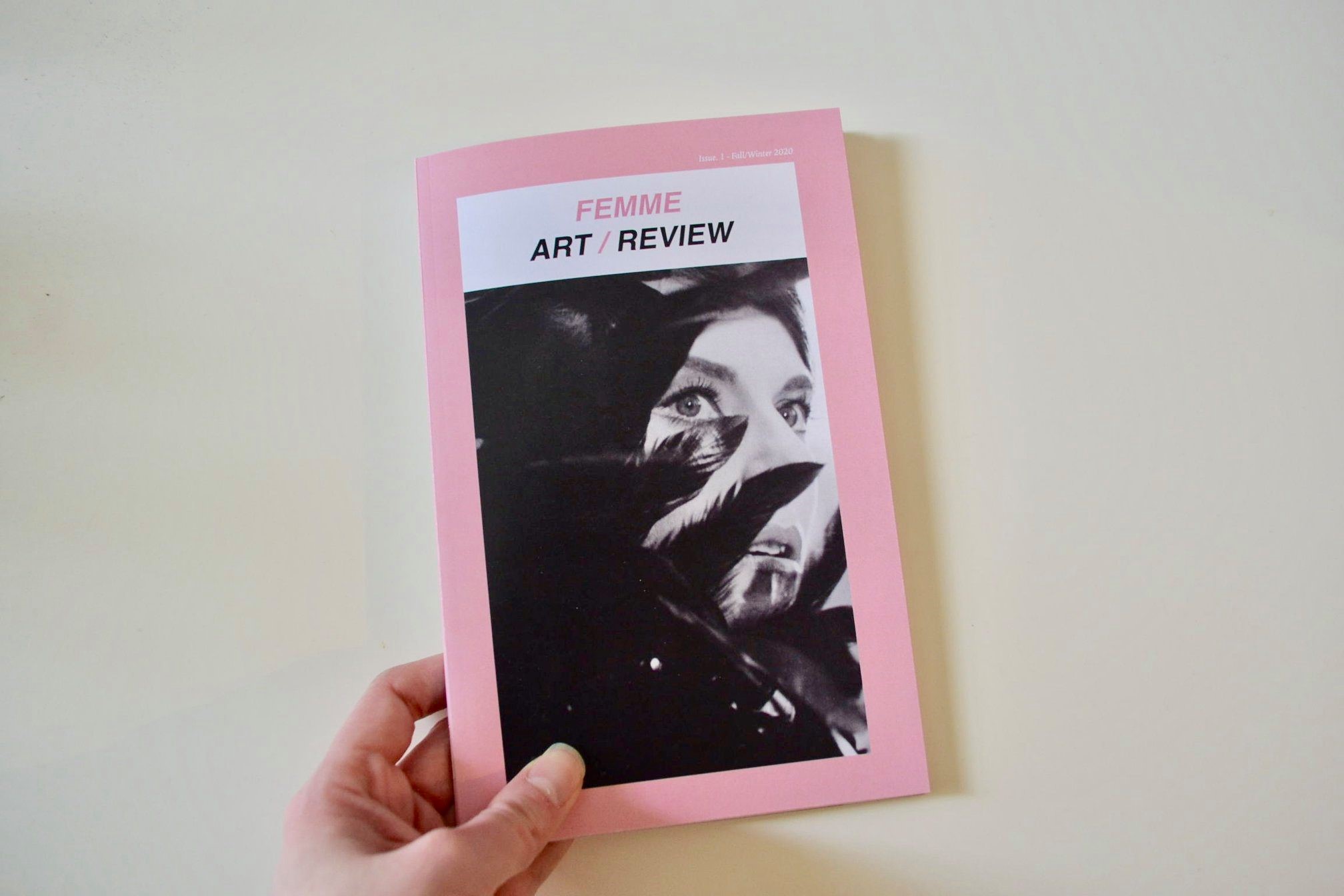 Caption: Femme Art Review, Issue 1.
LAUREN CHIPEUR
THURSDAY, OCTOBER 19 / 7PM
Presented in partnership with the Forest City Gallery.
Lauren Chipeur is an artist based in Calgary on Treaty 7 Territory. She makes sculpture and installations using ceramic processes as a way to untangle new ways to know things. Her current research investigates the chemistry and complexity of matter as a way to reflect on the parallel and opposing belief systems about our shared material realities. She has exhibited at galleries and artist-run spaces including the Southern Alberta Art Gallery (Lethbridge), Centre Clark (Montréal), Neutral Ground (Regina), FOFA Gallery (Montréal), Pushmi-Pullyu (Toronto), Embassy Gallery (Edinburgh) and Stride Gallery (Calgary). She graduated with an MFA from Concordia University in 2019 and since then spent time as an artist in residence at Medalta (Medicine Hat), the Banff Centre for Arts and Creativity, Zentrum für Ceramic (Berlin) and Guldagergaard International Ceramic Research Centre (Denmark). Her work has received support from the Conseil des arts et des lettres du Québec, Alberta Foundation for the Arts, Calgary Arts Development and Canada Council for the Arts.
Liu Shiming Foundation: Panel Disucssion
THURSDAY, OCTOBER 26 / 7PM
Presented in partnership with the Liu Shiming Foundation.
Liu Shiming (1926-2010) was a revered Chinese sculptor, whose works have made a distinct impact on the course of modern Chinese sculpture art. Born in 1926, Shiming attended the Central Academy of Fine. As early as 1950, Shiming received international recognition for his work Measuring Land, and there after, Shiming continued to make large-scale and publicly displayed sculptures. In the 1960s, Shiming resided in the countryside of Henan and Hebei provinces, where he gained a unique perspective on the working class and rural life. His time outside of the city, and closely handling folk art works in local museums, inspired Shiming to focus on everyday scenes in his works, becoming a common theme of Shiming sculptures. Today, Shiming is recognized for his ability to beautifully capture the most mundane scenes, as well as his aptitude for fusing folk traditions with modern sensibilities.
​Liu Shiming works have been displayed in prominent galleries and spaces across the globe, including exhibitions in Beijing, Washington D.C., and most notably a special exhibition in the main atrium of the Oculus in New York City. In 2018, the Central Academy of Fine Arts in Beijing founded the Liu Shiming Sculpture Museum, dedicated to researching and investigating Liu's artworks and their historical significance.


The HON. PATRICIA BOVEY, LL.D, FRSA, FCMA
THURSDAY, NOVEMBER 9 / 7PM
Presented in partnership with the Fanshawe College.
Patricia Bovey, member of the Senate of Canada (2016-2023) and the Winnipeg Art Gallery's Director Emerita, is a Winnipeg-based art historian, museologist, author and professor. She has published extensively on western Canadian art, including Western Voices in Canadian Art, (2023);  Pat Martin Bates: Balancing on a Tread, a 2015 Alberta Book Awards' recipient; and Don Proch: Masking and Mapping, a 2019 Manitoba Book Awards' finalist.
Director of the Winnipeg Art Gallery (1999-2004); the Art Gallery of Greater Victoria (1980-1999);  and founding Director/Curator of St Boniface Hospital's Buhler Gallery, (2007-2016),
she also taught Canadian Art, Curatorial Practice, Cultural Resource Management, and in the University of Winnipeg's MA Curatorial Practicum. An independent consultant, she assisted arts organizations across Canada with governance, funding and strategic planning. In the Senate she gave voice to the importance of the arts with special Senate exhibitions, programs, reports, and legislation unanimously passed by the Chamber.
Former Chair of the Board of Governors of both the University of Manitoba and Emily Carr University, she served on the National Gallery of Canada's Board of Trustees; the Board of the Canada Council for the Arts; the Withrow/Richard Federal Task Force on National and Regional Museums; the Eckhardt-Gramatté Foundation Board; and is a past chair of the Canadian Art Museum Directors Organization.
She received a University of Manitoba Honorary Doctor of Laws in 2021, and is a Fellow of both the UK's Royal Society for the Arts, and the Canadian Museums Association. Her honours include the Canada 125 Medal; the Queen's Golden Jubilee Medal; Winnipeg's Woman of Distinction for the Arts; the Canadian Museums Association Award of Distinguished Service; the Royal Canadian Academy of Arts Medal; the Association of Manitoba Museums' Inaugural Award of Merit; and the Winnipeg Arts Council Making a Difference Award.
She is a member of the Board of the Roberta Bondar Foundation and of Ghana's Pan African Heritage Museum's International Curatorial Council and is their recently appointed Special Museum Ambassador. She continues her art history writing, her work on international fraud against Canadian and Indigenous artists, and, with international organizations, creative initiatives on climate change strategies.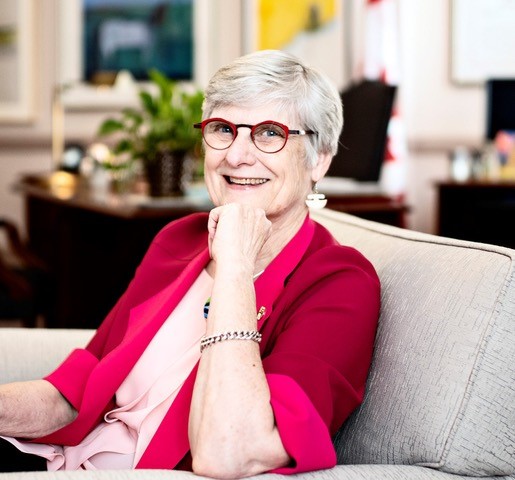 EVOND BLAKE (AKA MEDIAH)
THURSDAY, NOVEMBER 16 / 7PM
Presented in partnership with Museum London.
Evond Blake (aka MEDIAH) is a Canadian multidisciplinary artist who weaves contemporary graffiti/street art forms with painterly techniques and digital media to create large-scale, immersive cinematic environments. Heavily inspired by avionics, mechanical engineering and schematics, MEDIAH's abstract work utilises speed, motion, dynamism, and force to depict otherworldly dimensions through an abstract lens.
MEDIAH is described as 'one of the most revered graffiti artists in Canada' due to his extensive and prolific career that spans over 27 years. His work has been showcased internationally in galleries and his large-scale commissioned murals and cinematic media art projects have been nominated for awards and used as set locations in film.
With a state of the art, versatile production studio, MEDIAH's command of broadcast motion design, VFX and his established contemporary art career provides him with a diversified toolset that allows him to create powerful, unique viewing experiences.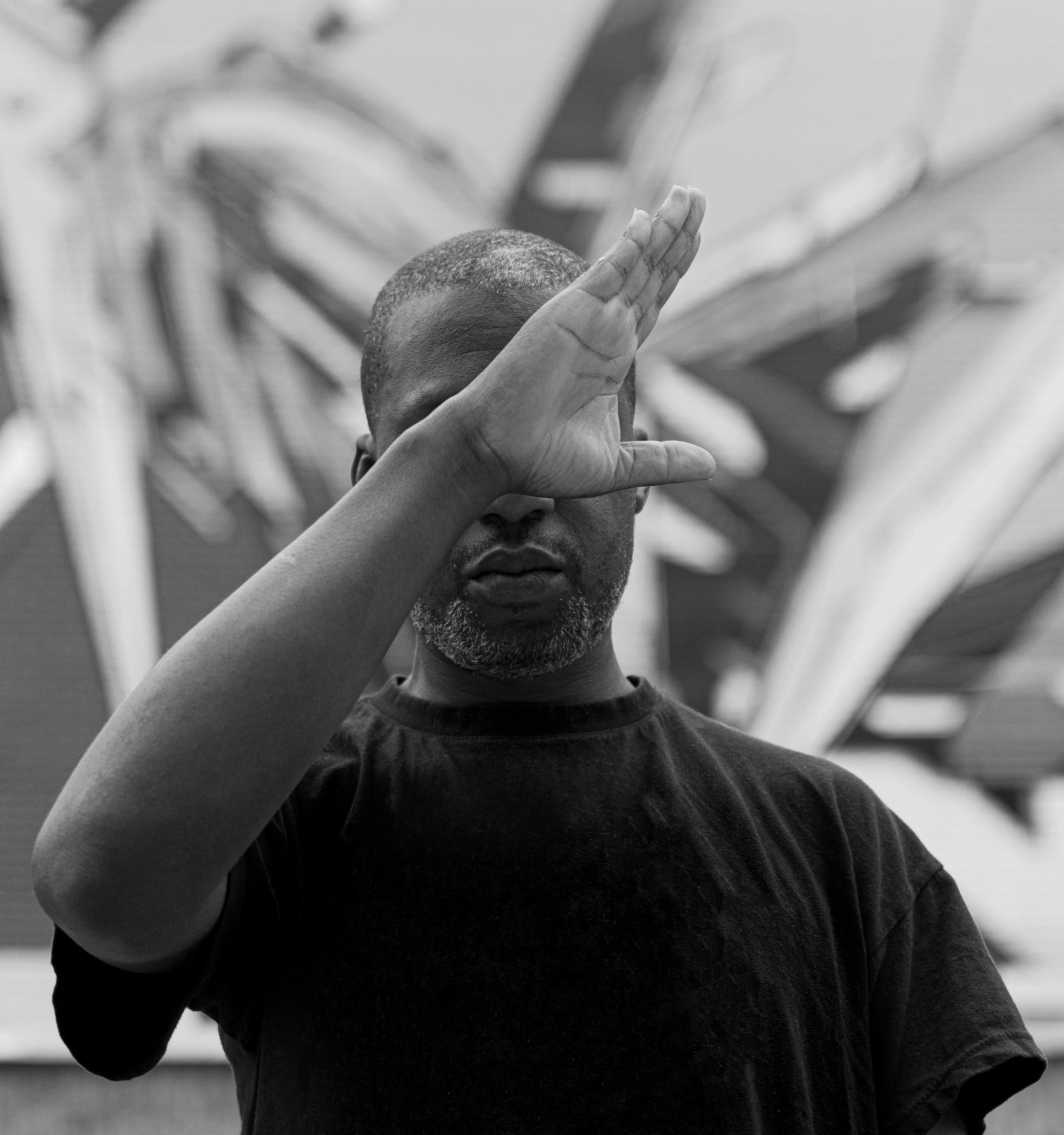 ---
WINTER 2023
MAGGIE GROAT
Thursday, January 26 / 7pm


Maggie Groat is an artist, mother, birthworker, and cultivator whose current research surrounds states of becoming, decolonial ways-of-being, how plants and gardens are portals, slowness, the utility of images, and the transformative potentials of salvaged materials during times of living through climate emergency. Her methodologies are informed by states of being in between, intuition, acts of care, site-specific responsiveness, strategies of collage, and hopeful speculation. Many of Groat's recent projects, including STSTS (Western Front, Vancouver, 2017-18), Deep Time, portals, particles and pulls (on Armory Street, Toronto, 2019-2021), and Flowers also gardens, gardens also seeds, (AKA billboard in Saskatoon, 2020) engage with public spaces and consider deep time approaches to working site specifically. Her images seek to subvert expectations of the archive, through utilizing strategies of association, collapse, fragmentation, abstraction, layering, and omission.
---
GALA PORRAS-KIM
Thursday, February 2 / 7pm EST
Register for zoom
Presented in partnership with Museum and Curatorial Studies
Gala Porras-Kim (b. 1984, Bogotá) lives and works in Los Angeles. Her work is about the social and political contexts that influence how intangible things, such as sounds, language and history, have been framed through the fields of linguistics, history and conservation. The work considers the way institutions shape inherited codes and forms and conversely, how objects can shape the contexts in which they are placed. Porras-Kim received an MFA from CalArts and an MA in Latin American Studies from UCLA. She has had solo exhibitions at Kadist, Amant Foundation, Gasworks, London, and CAMSTL.  Her work has been included in the Whitney Biennial and Ural Industrial Biennial (2019), and Gwangju and Sao Paulo Biennales (2021). She was a Fellow at the Radcliffe Institute for Advanced Study at Harvard University (2019) and the artist-in-residence at the Getty Research Institute (2020-22), She is currently a fellow at Museo delle Civiltà in Rome.

Gala Porras-Kim, Forecasting Signal, 2021. Burlap, liquid graphite, ink, ambient water, panel. Installation view, A terminal escape from the place that binds us, 2021, Commonwealth and Council, Los Angeles. Image courtesy of the artist and Commonwealth and Council. Photo: Paul Salveson
---
EMII ALRAI, SAMEER FAOROOQ AND JACQUELINE HOANG NGUYEN W/ MATTHEW KYBA
Thursday, February 09 / 7pm
Zoom registration link: https://bit.ly/3Yt9zdh
Presented in partnership with McIntosh Gallery
Join us for a virtual panel discussion featuring the artists of Stories We Tell Ourselves, moderated by exhibition curator Matthew Kyba, participating panelists will discuss their work in relation to the issues addressed in this exhibition as well as within the context of their broader studio practices.
This group exhibition conceptualized by guest curator Matthew Kyba questions how the museum's history as a colonial tool for Western pedagogy influences the stories we tell. To elucidate the unseen politics within the display systems and political agendas of cultural institutions, the four featured artists/artist duos appropriate various museological practices—collection, didactics, video, sculpture, presentation techniques and artifacts—to self-referentially question how such institutions dictate politicized stories. Stories We Tell Ourselves undermines the museum's colonial past and current pedagogy by probing how these settings shape public opinion and social understanding of different histories and contemporary conditions.
About the curator:
Matthew Kyba was born Toronto, Ontario (1991) and is the current Curator at The Ministry of Culture and Tourism in Columbus, Ohio. Recent exhibitions have been shown across Canada and the USA. He enjoys walks with his dog Rico.
Emii Alrai,
 

Passing of the Lilies

 

(detail), Jerwood Solo Presentations, Jerwood Arts, London. 2021. Photography courtesy of Anna Arca.
---
FANNY LATREILLE
Thursday, February 16 / 7pm
Fanny Latreille born and resides in the unceded territory of Tiohtià: ke / Montreal. Her interdisciplinary practice revolves around a documentary approach to the exhibition. By declining a subject in several forms, she materializes a mental aggregation by which she tries to define the cultural meaning of the image. In general, it is the culture-history-politics relationship that motivates her research-creation process. Thus, she has a marked interest in the cultural and social manifestations that take us beyond time.

In 2020, she received a MFA from Université du Québec à Montréal (UQAM). Her work was featured in solo and group exhibitions, as well as in video programming, in Canada and France, including: CEAAC (Strasbourg, FR), Galerie de l'UQAM (Montreal, QC) and Centre des arts actuels Skol(Montreal, QC). Her work has been recognized with the Omer De Serres (2012), Robert Wolfe (2013), François-Xavier-Marange (2019) excellence grants and has been supported by the Conseil des Arts et Lettres du Québec. As an cultural worker, Fanny Latreille has been involved, among other things, in the organization of the Interuniversity Meeting for Contemporary Performance (RIPA) and at the Centre CLARK, in addition to sitting on several boards of, including the magazine Le Sabord board.
---
ANGIE QUICK W/ JOEL FAFLAK
Thursday, March 16 / 7pm
Museum London


Presented in partnership with Musuem London
Angie Quick (b. 1989)  is an artist based in London, Ontario. Her practice encompasses painting as well as performance. Quick's work explores tenderness and intimacy both historically and contemporaneously.  Her recent exhibitions include the solo shows the moonlight made me do it at the McIntosh Gallery (2022),  a life of crime at the Michael Gibson Gallery (2023) and make me less evil at Museum London (2023)
Joel Faflak is Professor in the Department of English and Writing Studies at Western University and at the Centre for the Study of Theory and Criticism. Among his publishing and teaching interests are British Romantic literature, psychoanalysis and psychiatry, and film musicals. He's received the Ontario Confederation of University Faculty Association Teaching Award and the Edward G. Pleva Award for Teaching Excellence. He believes artists are heroes.
---
FALL 2022
VANESSA MALTESE
Thursday, September 22 / 7pm


Vanessa Maltese (she/they - b. 1988, Toronto, Ontario, Canada)

Multidisciplinary in breath, Maltese's practice deploys various forms of visual and audible trickery to pose questions about perception. Maltese is interested in the plasticity of the brain, and how conflicts of perception have the power to change our methods of thinking, even in common everyday experiences. Specifically, through her research on pareidolia— the psychological phenomenon in which recognizable patterns are identified in unrelated contexts— and klecksography—the process of making images from inkblots— Maltese explores the psychoanalytic connections between pattern recognition and the subconscious. The flatness of their images is meant to challenge the desire for illusion associated with the history of painting, which Maltese playfully acknowledges through the irregular frames they create.  

Maltese received a BFA from OCAD University in 2010. In 2012, Maltese was the National Winner of the RBC Canadian Painting Competition and in 2018 they attended the Glenfiddich Artist in Residence Program. Maltese has exhibited her work in solo and group exhibitions across North America, most recently at COOPER COLE, Toronto (2021); Mickey Gallery, Chicago (2020); Corbett vs Dempsey, Chicago (2019); Night Gallery, Los Angeles (2019); The Power Plant, Toronto (2018); the National Gallery Library and Archives, Ottawa (2017); Carl Louie, London ON (2017); Nicelle Beauchene Gallery, New York (2016); Greenpoint Terminal Gallery, New York (2016) and Art Museum of the University of Toronto, Toronto (2016). Maltese currently lives and works in Toronto, Ontario, Canada.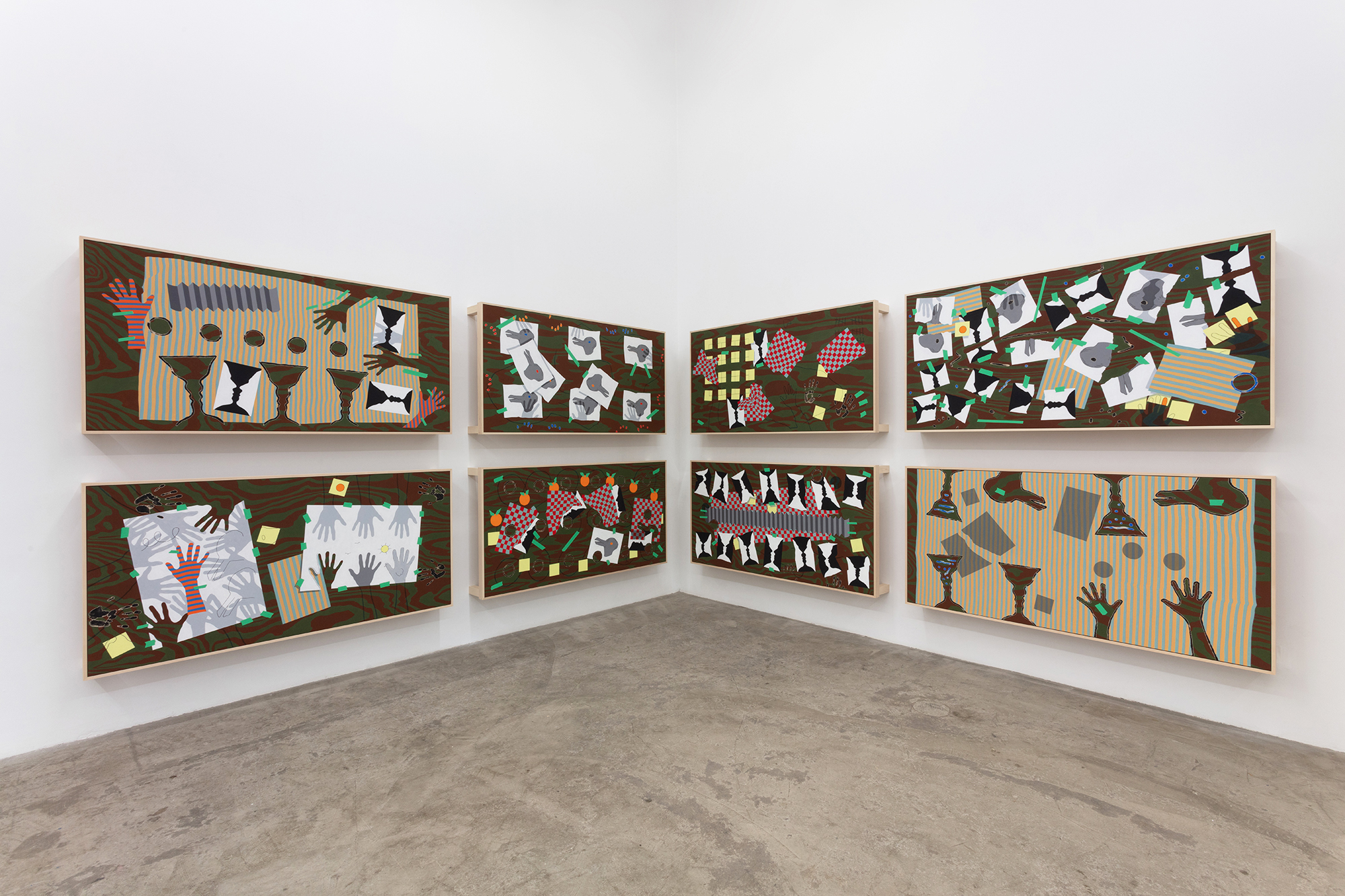 Installation view from
Fact or Fiction
, a 2021 solo exhibition held at COOPER COLE in Toronto.
BROADBENT SISTERS
Thursday, October 06 / 7pm
MUSEUM LONDON

Presented in partnership with Museum London
Rose and Joy Broadbent are multidisciplinary artists based in Toronto. For over a decade, the Broadbent Sisters have created international, award-winning work in performance, film, painting and installation. Their unfolding practice, 'Clearing Spaces,' examines meditation, telepathy, eco-feminism, and pop spirituality. Over the years, their highly intuitive work asks viewers to enter vulnerable spaces as the Sisters build a mythology of meditative ritual. This evolving series, 'Clearing Spaces', has been celebrated in The Art Gallery of Ontario, The Robert McLaughlin Gallery, The Art Gallery of Peterborough, Steven Bulger Gallery, The Reach Gallery Museum, McInstosh Gallery, Festival Du Nouveau Cinema, TRAFO Centre for Contemporary Art, Katzman Contemporary, The Drake Hotel, and as part of the Sunday Drive Art Projects. They were the Art Directors for the 2016 edition of the AGO Massive Party. The Sisters were awarded the 2017 Burtynsky Grant for 'A Telepathic Book'. They collaborated with Google in 2018 to create an interactive exhibition and art phone cases that were sold worldwide. In November of 2019, they created a meditative pod installation for Facebook. In 2021 they won awards for the Cannes World Film Festival and the Paris Cinema Awards for their performative latest short films. Joy and Rose continue to find collaboration to be a unique venue for distilling the essence of form and exploring telepathic ways of creating.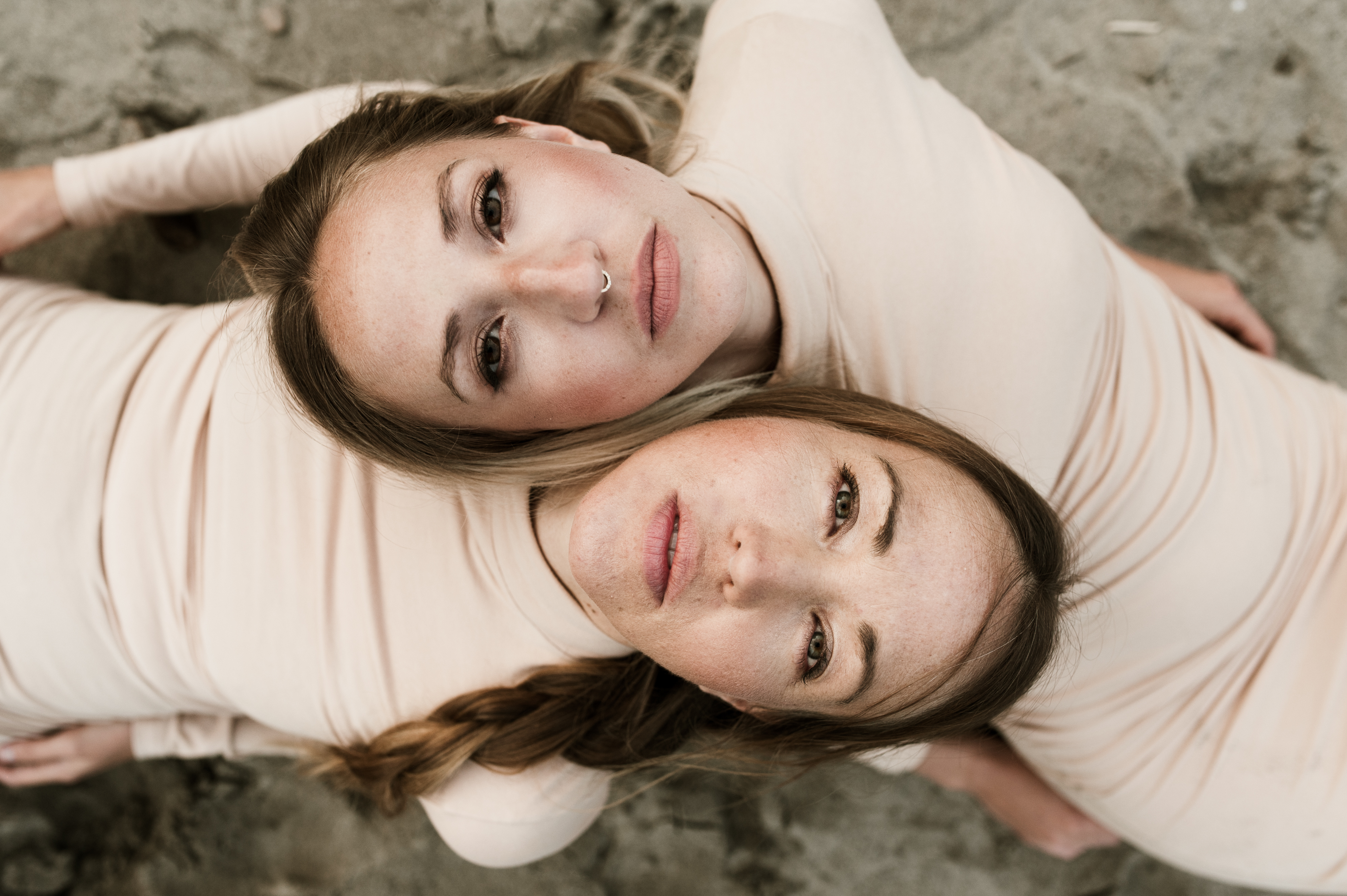 PETRINA NG
Thursday, October 13 / 7pm
Presented in partnership with Forest City Gallery 
Petrina Ng is an artist and organizer based in Tkaronto/Toronto. Her practice proposes alternative responses to redress subtle legacies of colonialism. Petrina's collaborative work as Gendai (with curator Marsya Maharani) responds to BIPOC labour conditions of arts work. Their research and practice of collective values experiments with alternative economies and radical allyship to work towards a more equitable arts sector. She is also runs Durable Good (with designer Rachel Wallace), a small publishing studio that supports artists, writers, and thinkers who work within feminist, equitable, and engaged frameworks; and newly launched Waard Ward collective that utilizes floristry as a means to embody decolonial research and newcomer community building.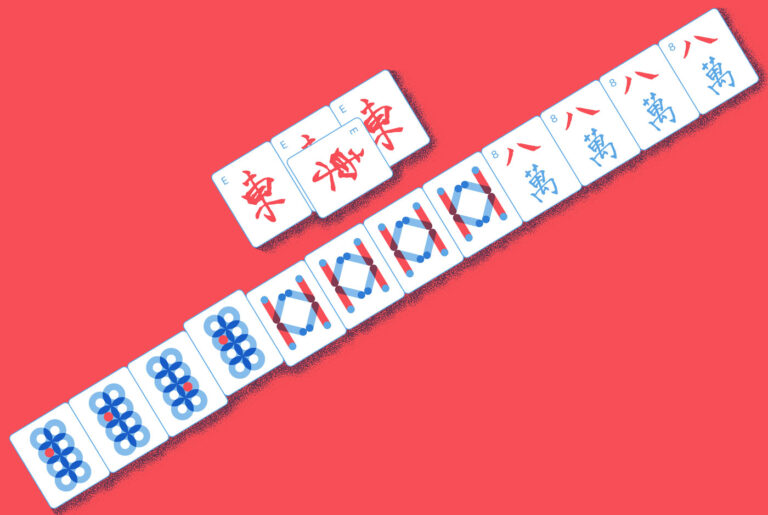 SUZANNE CARTE 
Thursday, November 10 / 7pm

Presented in partnership with MCS 4691 Waste Stream/Waste Dream
Suzanne Carte is an award-winning curator and cultural producer living in Toronto, Canada. She is the Senior Curator at the Art Gallery of Burlington, an institution at the intersection of contemporary art and craft. Previously, she was the Assistant Curator at the Art Gallery of York University (AGYU) focusing on the integration of exhibitions and public programming for over a decade. Within her independent practice, she has curated exhibitions in public spaces, artist-run centres, and commercial and public art galleries and previously, she held positions as outreach programmer for the Blackwood Gallery and the Art Gallery of Mississauga, and as professional development and public program coordinator at the Ontario Association of Art Galleries. Suzanne holds an MA in Contemporary Art History from Sotheby's Art Institute in New York and a BFA from the University of Windsor, and she was a member of the 2017 Toronto Arts Council Leaders Lab.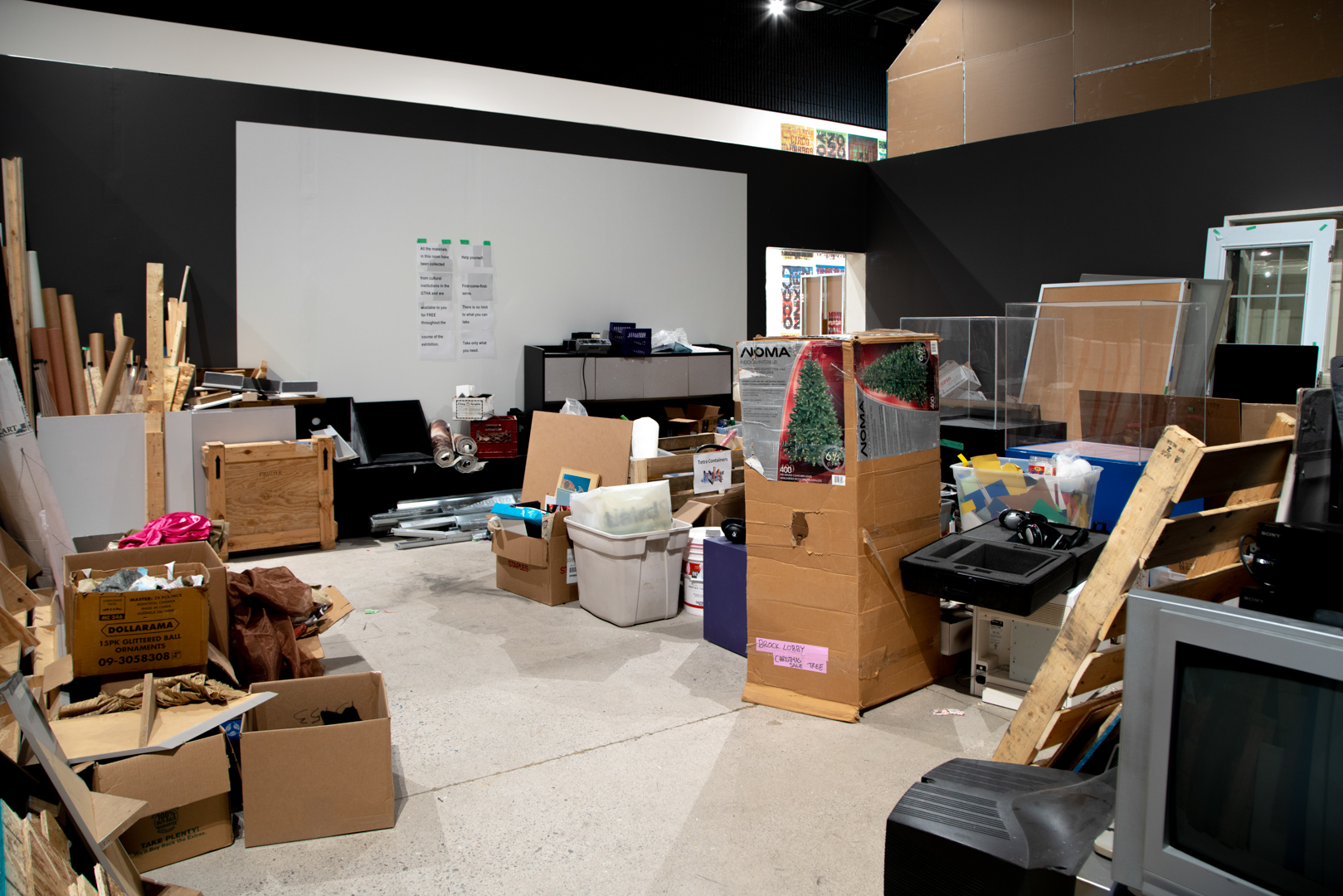 Image credit: Artist Material Fund & Division of Labour exhibition, Art Gallery of Burlington, 2020. Photo credit: Yuula Benivolski


PANEL DISCUSSION: NICHOLAS CROMBACH, EMILY JAN, PHILIPPA JONES, AND MERYL MCMASTER
Moderated by Dr Helen Gregory
Thursday, November 17 / 7pM
Zoom 
Register: https://westernuniversity.zoom.us/webinar/register/WN_TRfxPhfnQfCufv7_S1Zrxw
Presented in partnership with McIntosh Gallery
Nicholas Crombach (BFA, 2012) currently works in Kingston, Ontario. He has been awarded the Elizabeth Greenshields Foundation Award and is the recipient of grants from the Toronto Arts Council, The Ontario Arts Council, and Canada Council for the Arts. 
Emily Jan is a Chinese-American artist and writer currently based in Edmonton, AB. Her biophilic sculptures and installations combine the found with the fabricated to evoke the faraway and the fantastical. As a wanderer, naturalist, and collector of objects and stories, she is guided in her work by the spirit of exploration, kinship, and curiosity.
Philippa Jones has been living and practicing in St. John's, Newfoundland since immigrating from the United Kingdom over a decade ago. She is a mother, visual artist and Executive Director of Eastern Edge Gallery. Central to Jones' work is the exploration of constructed realities, our relationship to mortality and time, active myth making, wonder and the inquisitive mind. Jones completed a BFA and an MFA at Falmouth University (UK).
Meryl McMaster is a Canadian artist with nêhiyaw (Plains Cree), British and Dutch ancestry. Meryl McMaster earned her BFA in Photography from the Ontario College of Art and Design University (2010) and is currently based in Québec, Canada. Known for her large-format self-portraits that have a distinct performative quality, she explores questions of self through land, lineage, history, and culture, with specific reference to her mixed nêhiyaw (Plains Cree), British and Dutch ancestry.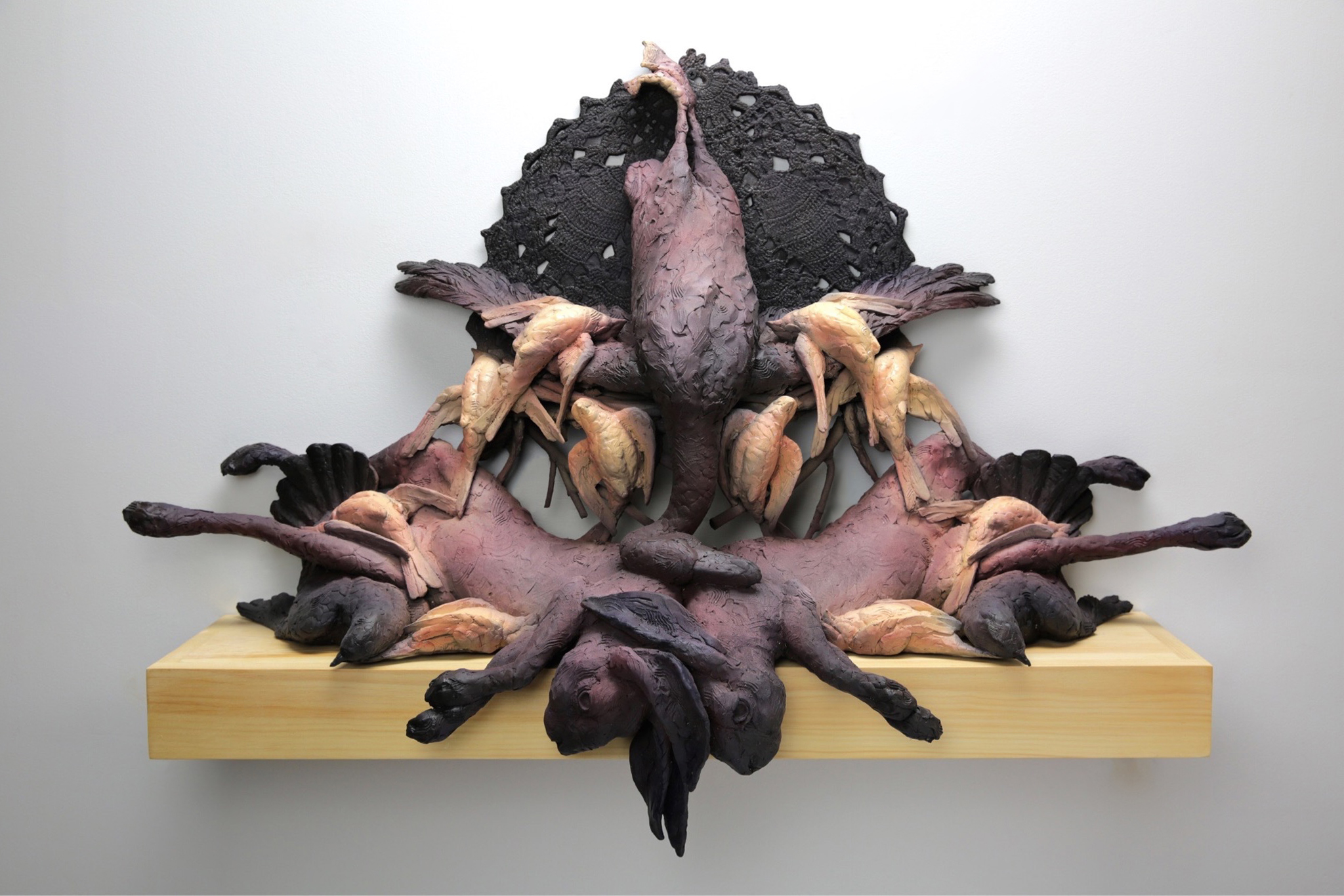 Nicholas Crombach, Nature Morte, 2016, polyurethane resin, paint. Courtesy of Art Mûr, Montreal.
---
---
SPRING 2022
Shary Boyle 
Thursday, January 20, 2022 at 7PM

Shary Boyle works across diverse media, including sculpture, drawing, installation and performance. Highly crafted and deeply imaginative, her practice is activated through collaboration and mentorship. Boyle's work considers the social history of figurines, animist mythologies, antiquated technologies and folk art forms to create a symbolic, politically charged language uniquely her own.

Shary Boyle's work is exhibited and collected internationally. She represented Canada with her project Music for Silence at the 55th Venice Biennale in 2013, and her commissioned film The Trampled Devil was featured at the 2021 Kaunas Biennial in Lithuania. Boyle is the recipient of Canada's Hnatyshyn Foundation Award, the Gershon Iskowitz Prize, and holds a 2021 Honorary Doctorate of Fine Arts from the Ontario College of Art and Design University.
Outside the Palace of Me, a major solo exhibition of new work commissioned by The Gardiner Museum in Toronto will travel to The Museum of Fine Arts, Montreal in 2022, and the Vancouver Art Gallery in 2023. An accompanying monograph was published by Art Canada Institute in Fall 2021.

---
Ahreum Lee
Thursday, January 27, 2022 at 7PM
Presented in partnership with Forest City Gallery
ZOOM -- register in advance
Recorded lecture now online

Ahreum Lee is a musician and interdisciplinary media artist from Seoul, South Korea, currently based in Tiohtià:ke (Montréal). Through a variety of media, Lee is interested in examining the feedback loop between the individual and society as it manifests through the power dynamics embedded in technology. She was a finalist for the Emerging Digital Artist Award held by EQ Bank and Trinity Square Video (Toronto) in 2019. She has exhibited and performed in Montreal at Fonderie Darling, Ada x, Leonard and Bina Ellen Art Gallery, as well as Third Shift Festival (Saint John) and Axis Lab (Chicago). Additionally, she has participated in the Emerging BAiR program at Banff Art and Creativity Centre and Impression Residency Program at Musée des beaux-arts à Montréal. 


---
 
Magdalyn Asimakis
Thursday, February 10, 2022 at 7PM
Magdalyn Asimakis is a curator and writer. Her practice explores lived experience in relation to Western display practices and methods of knowing, taking into account familial knowledge, folklore, spirituality, and generational trauma.
S
he has organized exhibitions and programs in Toronto and New York, and co-founded the roving project space and collective ma ma in 2018. Magdalyn has held curatorial positions at the Art Gallery of Ontario and Wedge Curatorial Projects, and was a Helena Rubinstein Curatorial Fellow at the Whitney Museum ISP. She is currently a PhD candidate at Queen's University and the Director of Research at Cooper Cole.
---

Thelma Rosner
Thursday, March 10, 2022 at 7PM
Presented in partnership with McIntosh Gallery

Thelma Rosner is an artist whose practice includes painting, printmaking and installation. In the 1970s, she was a part time student in the 'Fine Art' department at Western, where she was mentored by Paterson Ewen. Books have often been the stimulus for her ideas as an artist. The subjects of her work include food and culture, and the intersections of Jewish and Muslim history. More recently, her work is inspired by the personal narratives of immigrants and refugees to Canada. Perhaps this interest is a reflection of the stories told to her by her own immigrant parents and family.
She has received grants from the Canada Council for the Arts, Ontario Arts Council and the Banff Centre for the Arts. Her work is included in the collections of the Canada Council Art Bank and many public and private collections.
She has exhibited her work in Canada, the US and England.
---

Amanda Myers as part of "
From Remote Stars
"
Thursday, March 17, 2022 at 7PM
Presented in partnership with Museum London
Location: TBA
Kitaay Bizhikikwe / Amanda Myers is a London, Ontario-based visual artist and goldsmith of mixed Anishinaabe and Métis ancestry. A graduate of the George Brown College Jewelry Arts Program her art practice includes working with acrylic paint, stained glass, beads, and leather.  Her painting "They Know Better" (2017) which explores the geographies, cultures, and histories of downtown London, Ontario is on display in Museum London's new exhibition From Remote Stars: Buckminster Fuller, London, and Speculative Futures. She is currently the Director of Western University's Indigenous Student Centre. 
---
FALL 2021
Herma Stronsson
Thursday, September 16, 2021 at 7PM
MC-105B 
Herma Stronsson is a Toronto-based artist who works in photography, editions, and sculpture. They embody a transdisciplinary approach in terms of media and fabrication, as well as in their engagement with other practitioners, fabricators, and beyond. Stronsson's practice catalyzes education and experience in both science and contemporary art, using structural processes and techniques as a foundation for the creation of poetic and mercurial works.
 
---
Presented in partnership with Museum London
Moderated by Patrick Mahon
Paul Chartrand and Michelle Wilson 
Thursday, October 21, 2021 at 7PM
MC-105B 
Paul Chartrand constructs sculptural habitats populated with living agents that operate in animate assemblages. Paul finds inspiration in the blurry definitions of culture and nature; intending for his work to foster dialogue regarding this problematic dichotomy. Paul completed his undergraduate degree at the University of Guelph in 2013 and his Master of Fine Arts degree at Western University. He now lives and works along the O:se Kenhionhata:tie (Willow River in Mohawk) also known as the Grand River in Dunnville, Ontario.
Michelle Wilson is an artist and mother currently residing as an uninvited guest on Treaty Six territory in London, Ontario. In her current work, she makes palpable the presence and absence of bison and their inseparability from the land and its people. In the Euro-American archive, bison bodies have been used to convey colonial knowledge systems, and their story of survival has been used to perpetuate myths of "settler saviours". This is the legacy that Wilson, as a feminist of settler descent studying in colonial institutions, has inherited and is confronting. She is currently a Ph.D. candidate in Art and Visual Culture at Western University.
---
Presented in partnership with Forest City Gallery
Mimi Ọnụọha
Thursday, November 11, 2021 at 7PM

Register to attend online via zoom:
https://westernuniversity.zoom.us/webinar/register/WN_w7N7d8A_SO6_Ew7AJrQxng

Mimi Ọnụọha is a Nigerian-American artist and researcher whose work highlights the social relationships and power dynamics behind data collection. Her multimedia practice uses print, code, installation and video to call attention to the ways in which those in the margins are differently abstracted, represented, and missed by sociotechnical systems.



Heather Goodchild
Thursday, November 18, 2021 at 7PM
MC-105B
Heather Goodchild (Toronto) has exhibited her multidisciplinary work since 2002 across Canada and abroad. She received the Chalmers Arts Fellowship in 2019 and was recently at the Varda Artists Residence program (California) and the Skopelos Foundation for the Arts (Greece). Goodchild exhibited at the Textile Museum of Canada in 2013, was the Artist in Residence at the Art Gallery of Ontario in 2012, and in 2020 showed at The Rooms, St John's NL. She most recently exhibited as part of A Temple most August at Clint Roenisch Gallery (Toronto) and this winter will be part of Hooked by Design, a survey of contemporary hooked rugs at the Wisconsin Museum of Quilts & Fiber Arts.
---
Watch past Art Now! lectures on YouTube
Select Videos from the Speakers Series are now available on YouTube.