Upcoming Exhibitions & Events
FALL 2023
EVENT:
Western Performs!
artLAB Gallery
Presented in partnership with Don Wright Faculty of Music and SASAH
Wednesday, December 6 from 12:30-1:30pm
Students of the Vocal Repertoire with Piano Class
Instructors: Dr. Margie Bernal,
Prof. Marianna Chibotar-Rutkevich.
Anzoletta avanti la regata                                                      
Gioachino Rossini (1792-1868)
from "La regata Veneziana"
Janaki Butterworth, mezzo-soprano; Rachel Liu, piano
La Pastorella  
Patricia Wrigglesworth, soprano; Adam MacNeil, piano
O del mio amato ben                                                              
Stefano Donaudy (1879-1925)  
Diane Gorun, soprano; Maja Zbogar, piano
Lo spazzacamino                                                                     
Giuseppe Verdi (1813-1901)
Madeleine David, soprano; Hayoon Kim, piano
Brindisi 
Sage Gilliland, soprano; Eric Chan, piano
L'absence                                                                                     
Pauline Viardot (1821-1910)
Emma Heaton, mezzo-soprano; Abigail Takenaka, piano
Danse macabre                                                                 
Camille St-Saëns (1835-1921)
Felix Stueckmann, baritone; Hayoon Kim, piano
Élégie                                                                                             
Jules Massenet (1842-1912)
Robert Hutson, tenor ; Jane Son, piano
L'invitation au voyage                                                                     
Henri Duparc (1848-1933)
Eliza Celis, soprano ; Jane Son, piano
Licht und Liebe                                                                             
Franz Schubert (1797-1828)
Olivia Mc Koy, soprano; Rebecca Crane, mezzo-soprano; Rosalia Li, piano
Die Meere                                                                                  
Johannes Brahms (1833-1897)
Sarah Hua-Kam, soprano; Ocean Yi, baritone; Snow Xue Li, piano
---
EVENT:
Visual Pleasure with Dr. Jeff Preston and Erin Clark
artLAB Gallery
Presented in partnership with The Office of Equity, Diversity and Inclusion
Monday, December 11 from 2-3PM
Register to attend.

Join us for a mind-blowing evening of captivating visuals and delightful insights with Dr. Jeff Preston and aerialist Erin Clark.
Visual Pleasure is an innovative hybrid aerial dance/lecture. Facing off against Associate Professor Dr. Preston aerialist and performance artist, Erin Clark, plays with a tension between academic authority and personal experience as ways of knowing oneself —in particular when the self is marginalized and positioned in society as an object of study and novelty. Visual Pleasure is a performance that asks how people experience themselves as 'viewers' —can our gaze bring life and nourishment to that upon which we gaze? Where is the authority —in the one who draws attention, or the one who gives it?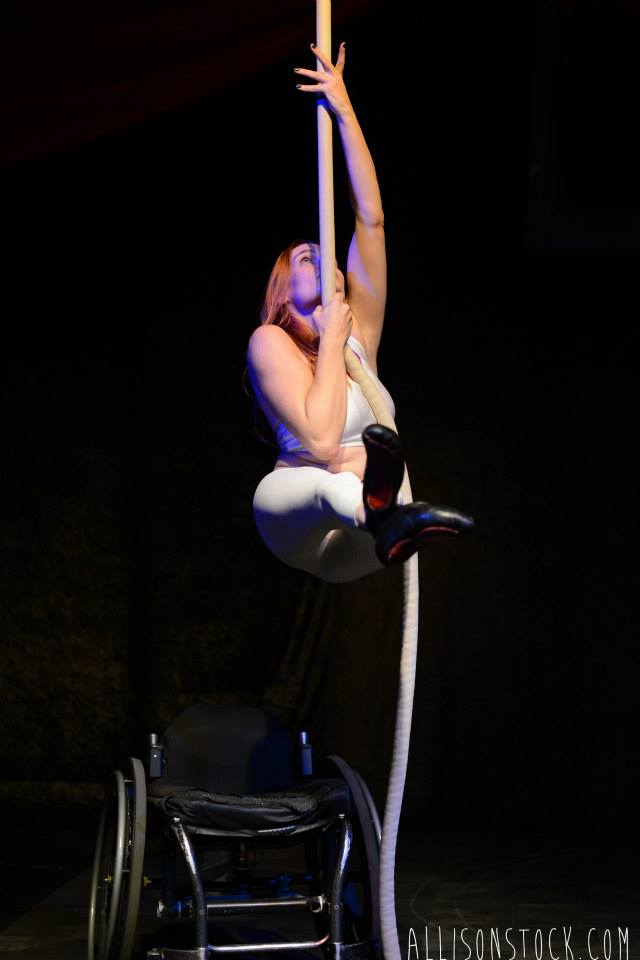 Performance artist Erin Clark is the world record holder in wheelchair parapole, gold and silver IPSF world champion and two-time gold medal winner in the Spanish National Pole Sport championships.  An aerial dancer for over a decade, Erin specializes in Aerial rope (corde lisse), aerial silks (tissu), and aerial pole. Erin co-created the aerial comedy duo Flaming Mermaid Broken Star - co-writing, choreographing and co-producing shows in New York City. Erin is the author of the NYTimes recommended memoir If You Really Love Me, Throw Me Off the Mountain (EyeCorner Press). She is currently based in London, Ontario.
Jeff Preston, Ph.D., is an associate professor and Acting Chair of Disability Studies at King's University College at Western University where he teaches classes on disability, popular culture and policy. Born with a rare neuro myopathy, Jeff is a long-time advocate and motivational speaker, giving talks across the country focused on the intersection of disability, subjectivity, biopower and culture. Jeff's first book, The Fantasy of Disability, was published in 2016 by Routledge.