Indigenous Artist-in-Residence
Program Description 
The Department of Visual Arts at Western University seeks applications from emerging to established artists for the one-year Indigenous Artist-in-Residence (IAiR) program. This program will support a First Nations, Métis, or Inuk artist in the research, creation, and production of new artistic work. The IAiR works closely with the Department of Visual Arts to undertake community engagement or other outreach activities, that could include (but are not limited to) artist talks, workshops, studio visits, collaborating with the Office of Indigenous Initiatives, and exhibiting at the ArtLab. Applications from artists with connections to, or living in, the region are particularly encouraged. Projects that incorporate distance or remote components, or other innovative virtual forms of residency, are welcome.  
The IAiR position includes access to studio space, equipment, staff support, and other resources at Western University, such as the library. It includes periodic activities that intersect with coursework and departmental events. There is an option to develop and teach a course in the Winter term during the residency should the successful candidate be interested, which would be funded separately. If required, the Department will provide support for developing the course.  
The residency is situated in the Department of Visual Arts for a period of 8 to 12 months. The stipend for this position is $50,000 (inclusive of taxes) regardless of the length of the residency and is intended to cover support materials, travel, accommodation, artist fees and costs related to the residency, although additional funds can be applied for through the Department. 
The Department of Visual Arts has particular strengths in media, photography, painting, printmaking, sound, sculpture, and installation. Department facilities include the Artlab Gallery, the Cohen Explorations Lab and Cohen Commons, the Centre for Sustainable Curating, as well as studio facilities including woodshop, sound studio, print-making studio, painting studio, dark room, and black box media lab. The Department of Visual Arts supports numerous projects committed to social and environmental justice and would welcome the successful candidate's potential input and/or collaboration in these areas. 
Local Context 

Western University is located on the traditional territories of the Anishinaabek, Haudenosaunee, Lūnaapéewak, and Neutral (Chonnonton) peoples, on lands connected to several Treaties including Treaty 6 London Township, Treaty 7 Sombra Township, Treaty 21 Longwoods and the Dish with One Spoon Covenant Wampum. This place continues to be home to diverse Indigenous Peoples who are recognized as contemporary stewards of the land and vital contributors to society. Western is committed to increasing Indigenous voices and presence across all levels of work, study and research.  
Call For Applications:
Applications are closed for 2023/2024
2023/24 Leith Mahkewa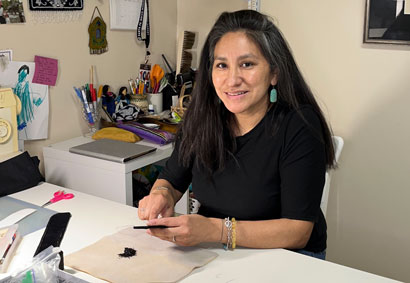 "I am a beadwork artist from the Oneida Nation of the Thames in Ontario. I have been living in the Kanien'kehá:ka (Mohawk) Territory of Kahnawake (Quebec) for 38 years. After graduating from university, I focused on learning Kanien'kéha (Mohawk language) and raising my children as first-language speakers. As a new mother, my passion grew for the Haudenosaunee beadwork that often adorned the clothing of newborns and some of the older people I met in the longhouse. In 2000, I became a member of a ladies' beading circle which focuses on Kanien'kehá:ka style raised beadwork, a three-dimensional art form having its origins in the Victorian era. It is here that I became a mentee to these seasoned beadworkers."
"I created a niche unique to my Oneida/Chippewa/Hopi/Tewa family lineage. My personal style often juxtaposes the geometric shapes found in my Hopi family pottery patterns, and Haudenosaunee inspired floral designs. The complexity of both cultures and design styles, when combined and manipulated, create a one of a kind form of beadwork."
"My art makes a social statement that speaks to the current social realities of Indigenous life, whether the devastating lack of access to clean water or the effects of the Covid 19 pandemic. The beaded mask "I am protecting you from me", a piece created to acknowledge the loss of life during the early stages of the Covid 19 pandemic, uses red monochromatic beads representing the blood that flows through us and how we are interconnected to each other and our environment. I am proud to be part of the revival of raised beadwork within the Haudenosaunee Confederacy. I will continue to create pieces that highlight my cultural values and the integrity I have as a strong Onkwehón:we woman." 
2021/22 Kelly Greene