Artlab 2019-2020
---
You Used to Be A Spaceship | Artlab Gallery
September 12-26, 2019

---
Notes From The Mess Drawer | Cohen Commons Gallery
September 12-26, 2019

---
what we might become | ArtLab Gallery
October 3-17, 2019

---
Loose | Cohen Commons Gallery
October 3-17, 2019

---
EVENT!
Like a Dream that Vanishes: Films by Barbara Sternberg
Thursday, October 4, 2019

---
EVENT!
Creating Dance
Thursday, October 24, 2019
Alumni Hall
Presented in partnership with the Don Wright Faculty of Music

---
EVENT!
Western Performs!
Wednesday, October 30, 2019
Presented in partnership with the Don Wright Faculty of Music, SASAH and Weldon Libraries.

---
As Senses Materialize, Revolution | Artlab Gallery
Thursday, November 21 - December 5
Opening Reception: Thursday, November 21 from 5-7PM

---
WINTER 2020
---
suppose they are all put together 

Artlab Gallery

Thursday, January 09 - January 23, 2020
Opening Reception: Thursday, January 09 from 5-7PM

Aryen Hoekstra, Ellen Moffat, Eeva Siivonen, Ashley Snook, and Michelle Wilson

suppose they were all put together presents recent works by Aryen Hoekstra, Ellen Moffat, Eeva Siivonen, Ashley Snook, and Michelle Wilson. The artists are studio Ph.D. candidates at the Department of Visual Arts. They share an interest in speculative and experimental exploration and engage with the complexities of our interconnected relationships through a vast range of mediums, materials and methods.

To Dwell, To Remember

Cohen Commons Gallery

Thursday, January 09 - January 23, 2020
Opening Reception: Thursday, January 09 from 5-7PM


Curated by Adi Berardini

Ramolen Laruan, Anahí Gonzalez, Faith Patrick, Rebecca Sutherland

To Dwell, To Remember is an exhibition consisting of four artists and Western MFA candidates exploring notions of 'home' predominantly from a feminist perspective. How do we define what makes a home after migrating from elsewhere, whether intentionally or due to displacement? How do notions of home shift if you have lived in the same place your entire life? By addressing home with a focus on memory and perception, and subverting gender binaries and domesticity, the artists unpack what home can implicate.

---
AJE 18
Artlab Gallery + Cohen Commons Gallery
January 30 – February 13, 2020
Opening Reception: Thursday, January 30 from 5-7PM
People's Choice Voting: 5-6PM
AJE Award Announcements: 6:30PM
Back for the 18th consecutive year, the AJE continues to be one of the most highly anticipated undergraduate exhibitions in the Visual Arts Department, Western. This diverse exhibition supports the production of new artwork made in a variety of mediums, including painting, sculpture, digital media, photography, installation, sound, and performance. Artworks are selected by a professional jury who consider originality, creativity, process and engagement as some of the criteria for inclusion in this exhibition.
---
Together We Average As Zero / Take 1

Artlab Gallery

February 27 - March 14, 2020
Opening Reception: Thursday, February 27 from 5-7PM

 This exhibition responds to a visit that the futurist R. Buckminster Fuller made to London, Ontario, in 1968. Fuller brought to London his concerns for the future, including his belief that humans were using up the earth's resources too quickly. We are all, he suggested, on "little spaceship earth," hurtling through the universe, and must work together to survive. Now, in a moment of climate crisis we ask what future(s) are we planning for today? And how can we work together to move beyond the current impasse? As Fuller said: "Most importantly we have learned that from here on it is success for all or none, for it is experimentally proven by physics that 'unity is plural and at minimum two.' You and I are inherently different and complimentary. Together we average as zero - that is, as eternity."

This exhibition was curated by students in MCS4605E as a precursor to From Remote Stars: Buckminster Fuller, London, and Speculative Futures, on view at Museum London from May 16 -August 30, 2020. A second phase of Together We Average as Zero will be viewable in the Artlab from May 14 – June 11, 2020.

Presented with support from the Department of Visual Arts and the McIntosh Gallery, Western University.

ANEW

Cohen Commons Gallery

February 27 - March 14, 2020
Opening Reception: Thursday, February 27 from 5-7PM

Curated by MA candidate Harper Wellman

Anahí Gonzáles, Kimerlyn Hawkins, Avery Lafortune, Ramolen Laruan, Rebecca Sutherland, Michelle Wilson

 "It's a poor sort of memory that only works backwards."
– Lewis Carroll

With each new year comes a chorus of resolutions, goals, and mantras of 'new year, new me." At the same time, the year 2020 invites us to look back at the past, because as the saying goes, hindsight is always 20/20. A tension lies between our desire to progress forward and nostalgia. In this spirit, ANEW invites artists to critically revisit one of their own works from a newer, and maybe wiser, perspective.

 
---
Artlab Gallery Virtual Exhibition
Showcasing Artwork from the BFA Practicum Class of 2020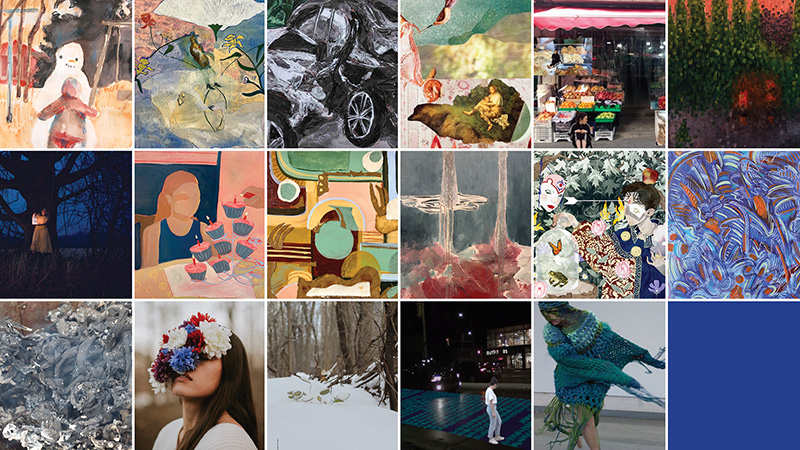 We recognize that these are unprecedented times. With that in mind, the Artlab Gallery will be celebrating the Department of Visual Arts BFA Practicum students by hosting "handle with care", as a virtual exhibition. Though not a traditional show, this platform offers the Artlab Gallery the opportunity to acknowledge the engaging and thought-provoking work undertaken by practicum students over the course of the academic year. In moving beyond the physical space of the gallery, this virtual show invites viewers to join with us and share in their achievements. A heartfelt congratulation to these students for their enduring work ethic and perseverance on this and with all of their future endeavors.
Lastly, the Artlab Gallery would like to thank the Department of Visual Arts faculty and staff for their support throughout the year and with this initiative. We would also like to thank the Faculty of Arts and Humanities, as well as Mathew Hoy, from the Department of Communications and Public Affairs for their help with this project.
---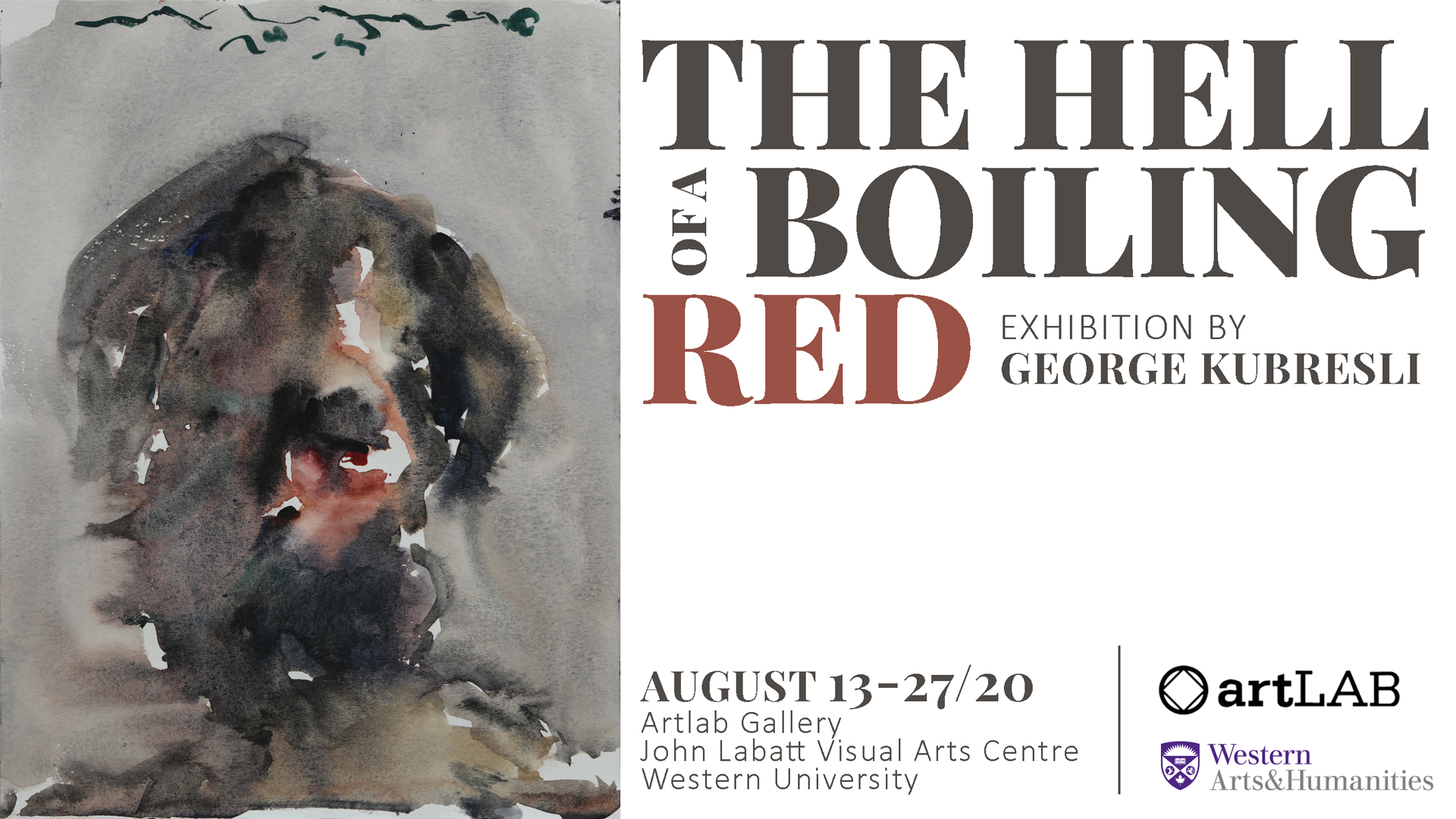 Artist George Kubresli addresses the tragedy of war—specifically the ongoing Syrian war—as his subject. Through painting, George expresses the calamity that Syrians experience, and he explores the depths of the soul to understand the enormous traumas that humans suffer in their various encounters with war. For George, the act of war shows its true form through facial expressions, which mix the inner imperfections of humans with the distortions that have formed on and in their bodies. In the view of the artist, we cannot fully see tragedy through physical form alone. To be able to witness tragedy at all, and to access a true experience of horror, we must understand what humans suffer so deeply, and link those personal sufferings with what is externalized.
The role of nature in the magnitude of this human tragedy is an underexplored aspect of the shadow of war. For George, nature plays a major role in augmenting the tragic effects that war has on those beings who live in the swamps of disaster. Outside of a war scenario, nature is perceived to interact with humans in a role that is supportive of beautifying life. In times of war, nature takes on a completely different character of extremes, so the winter and summer seasons increase the suffering of war-torn human beings. Winter does not take into account the impact on persons who have lost shelter or who are trying to seek refuge across the sea or in neighbouring countries to save their lives. Winter does not perceive those who are swallowed by marine storms and buried on beaches or at the bottom of the sea. When summer hits, high temperatures inflict sunstroke, skin diseases, meningitis and many more afflictions on refugees who are stripped of the most basic needs for living. In an encounter with war, nature often becomes the enemy as well. George has worked to reveal these aspects through colour—through divergences between cool and warm colours, through alterations and variances between hot and cold colours—and through the reactive qualities of condensed and rapid brushstrokes. His portraiture and landscape works attempt to reveal what is typically hidden.