English 2041F - Drama Production
English 2041F - Drama Production
Fall 2021
THE WITCH OF EDMONTON
by Thomas Dekker, John Ford & William Rowley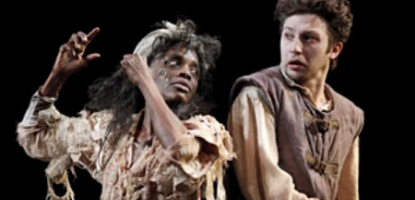 Based on the sensational April 1621 trial and execution of Elizabeth Sawyer for witchcraft, The Witch of Edmonton is a searing domestic tragedy that explores the destructive power of superstition, prejudice, and hate.
---
Join our energetic, interdisciplinary group and earn course credit!
Running since 2007, English 2041F - Drama Production draws students from all faculties together to perform, produce and even compose as a team. No prerequisites.
In this course, students participating in the Drama Production explore in theory and practice approaches to text in performance. Only students working as an actor, stage manager, assistant stage manager, lighting, set or costume designer may enrol. Fall 2021 Syllabus 

Auditions
Auditions are held prior to the course start date so that students can register and receive a course credit for their part in the production. Online auditions will be held via Zoom on June 1, 2, and 3 from 4 to 6 pm. Please prepare a short Shakespearean-style monologue. No need to memorize. To book a time slot for an audition, contact the director, Jo Devereux jdevereu@uwo.ca
Performance
Show dates, time and location TBA
Questions
For more information about the production and the course, please contact the director/instructor: Professor Jo Devereux jdevereu@uwo.ca.
---
Previous Productions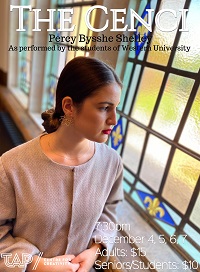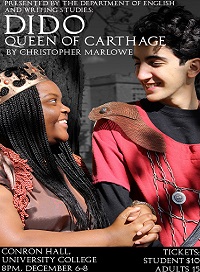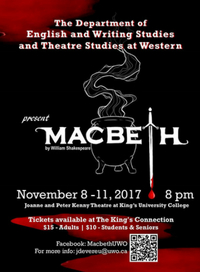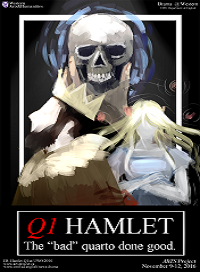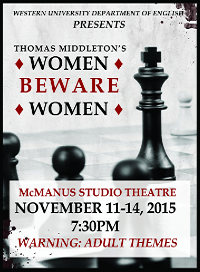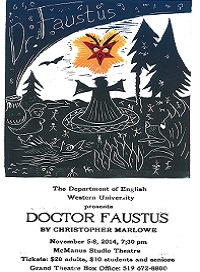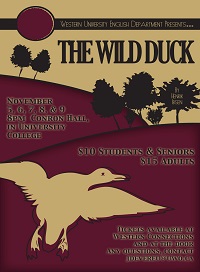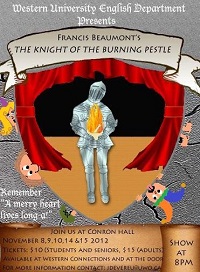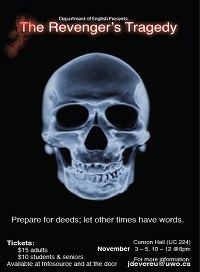 2020: The Rehearsal
2019: The Cenci 


2018: Dido, Queen of Carthage
2017: Macbeth

2016: Q1 Hamlet
2015: Women Beware Women
2014: Doctor Faustus
2013: The Wild Duck
2012:The Knight of the Burning Pestle
2011: The Revenger's Tragedy
2010: The Country Wife

2009: The Bear, The Proposal, Uncle Vanya
2008: Hamlet
2007: She Stoops to Conquer
2006: Mrs. Warren's Profession
2005: Arcadia
2003: The Rehearsal
---