English 2041F - Fall Theatre Production
English 2041F - Fall Theatre Production
The Cenci is Percy Bysshe Shelley's 1819 play about Beatrice Cenci (1577-1599), a young noblewoman condemned to death for her part in the murder of her violent father, Francesco Cenci. Abused and held prisoner by her father in the Castle of Petrella, Beatrice gains the help of her stepmother, her brother, and a friend, and together they plot to assassinate the vicious Count Cenci. Shelley's play still resonates today, not only for its powerful depiction of Beatrice Cenci, but for its exploration of the tragic repercussions of violence against women.
DATE: December 4 - 7, 2019
TIME: All shows start at 7:30 pm
LOCATION: TAP Centre for Creativity
TICKETS: Adults $15 | Seniors/Students $10
Click here to buy tickets at TAP
---
Auditions (now closed)
Join our energetic, talented and interdisciplinary group!
Running since 2007, the Fall Theatre Production course draws students from all faculties together to perform, produce and even compose as a team.
Auditions and Crew Sign-Ups are held in March of each year for the Fall Theatre Production so that interested students may register in English 2041F for the Fall 2019 course offering and thus get credit for their role in the production.
Performances will run in November or December 2019 in Conron Hall, University College. No summer rehearsals!
For more information about the production and the course, please contact the director/instructor: Professor Jo Devereux jdevereu@uwo.ca.
---
About
In this course, students participating in the Fall Theatre Production explore in theory and practice approaches to text in performance. Only students working as an actor, director, stage manager, assistant stage manager, lighting, set or costume designer may enrol. Permission of the Chair of Undergraduate Studies required to enrol. Syllabus 

---
Previous Productions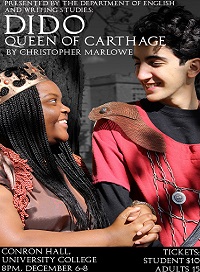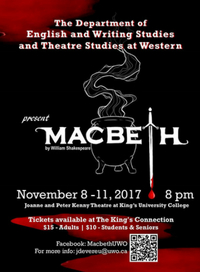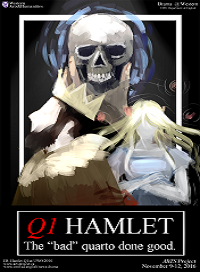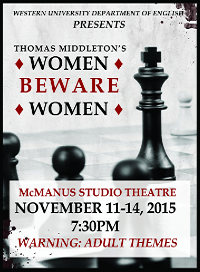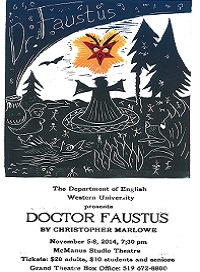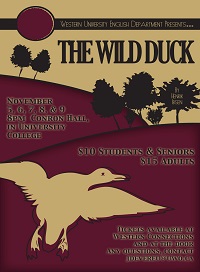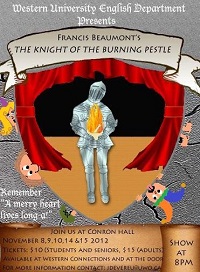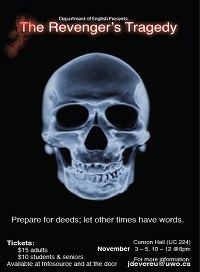 2018: Dido, Queen of Carthage
2017: Macbeth
2016: Q1 Hamlet
2015: Women Beware Women
2014: Doctor Faustus
2013: The Wild Duck
2012:The Knight of the Burning Pestle
2011: The Revenger's Tragedy
2010: The Country Wife
2009: The Bear, The Proposal, Uncle Vanya
2008: Hamlet
2007: She Stoops to Conquer
2006: Mrs. Warren's Profession
2005: Arcadia
2003: The Rehearsal
---