Summer Shakespeare Auditions
CASTING AND CREW CALL EXTENDED (JUNE 11 & 12)

for




Western University's Summer Shakespeare 2021


Cymbeline, King of Britain
Seeking cast and crew for a modern-dress version of Shakespeare's historical romance that brings to the foreground the necessity of environmental stewardship.
Production/Rehearsals: Live end-of-August outdoor or Zoom production/rehearsals depending on pandemic situation.
Casting: Select one of the monologues in the links below and perform it during a live zoom audition on Monday, May 24 or Tuesday, May 25 (20 minute slots available from 4-8 pm) or pre-record your audition and submit a video file to the director, George Ramos, at rramos@fanshawec.ca (full body, limited movement; mp4 file or google drive link). No need to memorize.
Click on this Audition/Crew Sign-up link to sign up for a zoom audition time slot and provide your contact info. If you submit a pre-recorded audition clip, you also need to sign-up through the Audition/Crew Sign-up link. All auditionees should also click on this online Audition/Crew Form link and fill out the form. Zoom links will be emailed.
Pre-recorded Audition Clip Submission Deadline: Tuesday, May 25, 11:59 pm
Audition Monologue Links: Imogen Monologue 1, Imogen Monologue 2, Giacomo Monologue, Shakespearean Acting Guide
Please study as much of the monologue background, commentary, significant scans, word definitions, elisions, and contractions included in each monologue link as possible. Also, study as much of the Shakespearean Acting Guide (link above) as you can. You may also perform/include any 1.5 - 3 minute monologue from a Shakespeare or Early Modern English play of your choice, as long as you also do one of the required Cymbeline monologues above.
Crew: Seeking Assistant Director, Stage Manager, Production Designer (set and costumes), Marketing and Communications Officer. Sign up by clicking the Audition/Crew Sign-up link. Also click on this online Audition/Crew Form link and fill out the form.
Experience: No previous experience necessary. Beginners, Western students from all faculties, and non-Western/ Fanshawe students are all welcome! This is a non-paid, voluntary activity.
Inquiries: George Ramos rramos@fanshawec.ca 
---
About Cymbeline in the Anthropocene
This year, the 40th running of Western Shakespeare, will be part of a global initiative, Cymbeline in the Anthropocene. This project includes performances of Shakespeare's Cymbeline by the Theatre Department of La Trobe University (Melbourne, Australia); The Marjanishvili Theatre (Tbilisi, Georgia); Stanislavsky Theater (Karaganda, Kazakhstan); Lit Moon Theatre Company (Santa Barbara, CA, USA); The Willow Globe (Powys, Wales); Montana Shakespeare in the Parks (Bozeman, MT, USA); and Shakespeare in Yosemite (Yosemite National Park, CA, USA).
> More about this global eco-dramaturgy initiative
---
 Previous Summer Shakespeare Productions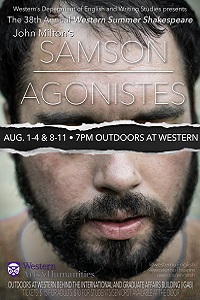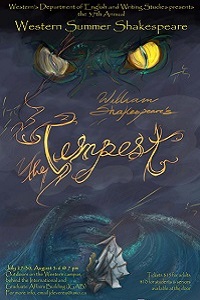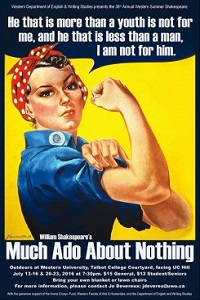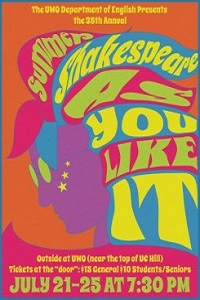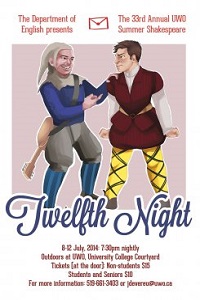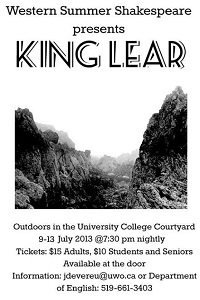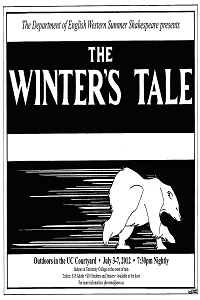 2020: Pandemic Julius Caesar
2019: Twelfth Night
2018: Samson Agonistes
2017: The Tempest
2016: Much Ado About Nothing
2015: As You Like It
2014: Twelfth Night
2013: King Lear
2012: The Winter's Tale


2011: Antony and Cleopatra
2010: The Merchant of Venice
2009: The Taming of the Shrew
2008: A Midsummer Night's Dream
2007: Measure for Measure
2006: The Winter's Tale
2005: Twelfth Night
2003: Henry V
2002: As You Like It


2001: Romeo and Juliet
2000: Richard III
1999: Measure for Measure
1996: Twelfth Night
1995: As You Like It
1990: As You Like It
1983: As You Like It
1982: Twelfth Night
1981: A Midsummer Night's Dream