Summer Shakespeare at Western presents
Performances on Friday, August 27 and Saturday, August 28 will be held indoors and fully masked due to weather (heat and rain).
This year, the 41st running of Western's Summer Shakespeare will be part of a global initiative, Cymbeline in the Anthropocene. This modern-dress version of Shakespeare's historical romance brings to the foreground the necessity of environmental stewardship, creating a performance perfect for a summer evening.
Dates: Thursday, August 26 - Saturday, August 28, 2021
Time: 7:00 pm
Tickets: $15 for adults | $10 for students & seniors (available at the door)
Location: Western University, behind IGAB (International & Graduate Affairs Building), Room 1R40
Inquiries: George Ramos rramos2@uwo.ca
Follow: @westernuEnglish
---
About Cymbeline in the Anthropocene
This project includes performances of Shakespeare's Cymbeline by the Theatre Department of La Trobe University (Melbourne, Australia); The Marjanishvili Theatre (Tbilisi, Georgia); Stanislavsky Theater (Karaganda, Kazakhstan); Lit Moon Theatre Company (Santa Barbara, CA, USA); The Willow Globe (Powys, Wales); Montana Shakespeare in the Parks (Bozeman, MT, USA); and Shakespeare in Yosemite (Yosemite National Park, CA, USA).
> More about this global eco-dramaturgy initiative
---
 Previous Summer Shakespeare Productions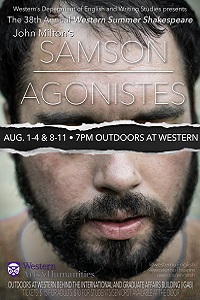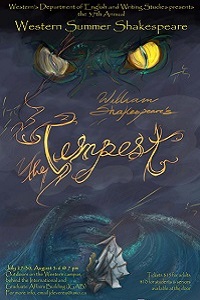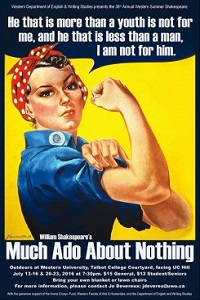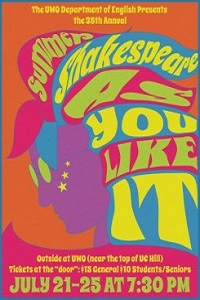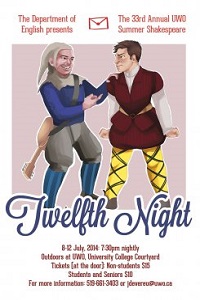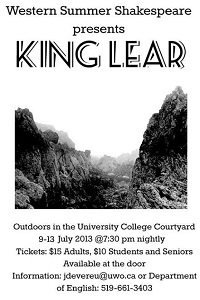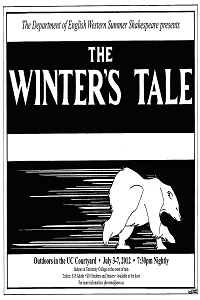 2020: Pandemic Julius Caesar
2019: Twelfth Night
2018: Samson Agonistes
2017: The Tempest
2016: Much Ado About Nothing
2015: As You Like It
2014: Twelfth Night
2013: King Lear
2012: The Winter's Tale


2011: Antony and Cleopatra
2010: The Merchant of Venice
2009: The Taming of the Shrew
2008: A Midsummer Night's Dream
2007: Measure for Measure
2006: The Winter's Tale
2005: Twelfth Night
2003: Henry V
2002: As You Like It


2001: Romeo and Juliet
2000: Richard III
1999: Measure for Measure
1996: Twelfth Night
1995: As You Like It
1990: As You Like It
1983: As You Like It
1982: Twelfth Night
1981: A Midsummer Night's Dream