2019 Call for Directors & Stage Manager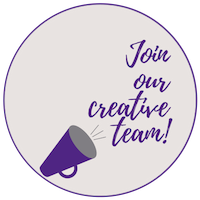 39th Annual Summer Shakespeare at Western
After a successful production of John Milton's Samson Agonistes in 2018, Western Summer Shakespeare is again seeking a Director (Student or Community Member), a Student Assistant Director, and a Stage Manager for this year's production.
Western Summer Shakespeare is a longstanding tradition in the London community. It is outdoor theatre, staged on campus at Western University.
The first Western Summer Shakespeare performance took place on 4 August 1981, making it the longest running campus, or indeed outdoor, Summer Shakespeare in Canada (longer than the Dream in High Park by two years!).
Our productions run typically for five to ten nights, usually during July.
Auditions are scheduled in March-April (before classes end), and the show is rehearsed at Western in May-July.
Western Summer Shakespeare welcomes participation from students, staff, and friends of Western University, Fanshawe College, and from within the wider London community.
Western Summer Shakespeare is committed to providing students, whether from Western, Fanshawe, or other institutions, with the opportunity to play major roles on and off the stage. In casting the show, priority should be given to students, though all members of the community are welcome to audition and a diverse cast is welcome.
---
Creative Team Application:
All applications must include your name, phone number, email address and the following information:
Please specify for which position you are applying:

Director
Assistant Director
Stage Manager

Please attach a resume outlining your Theatre experience. This can include Theatre, Musical Theatre, Opera, Dance, University or College Courses, relevant extra-curricular activities, sound production and audio, etc.
Describe any non-theatre related leadership experience you have.
Directors: please propose a Shakespeare play for outdoor performance.

Explain what interests you about this play and why you think it suitable for outdoor performance.
Describe the interpretive approach you plan to adopt.
Explain how you will work with a student Assistant Director in a mentorship role during the rehearsal period and the run of the show.

Please make note of any other time commitments you will have during the summer (i.e. jobs, extra-curricular activities, etc.).
Apply to:
Please submit your completed application to Producer, Professor Jo Devereux jdevereu@uwo.ca. If you have any other questions about this application please don't hesitate to ask!
---
Deadlines:
DIRECTOR: Monday, February 4, 2019 at 5:00pm
ASSISTANT DIRECTOR and STAGE MANAGER: Monday, February 11, 2019 at 5:00pm
---
 Previous Summer Shakespeare Productions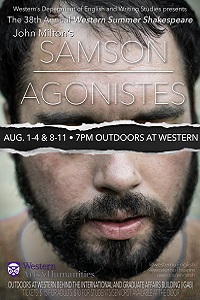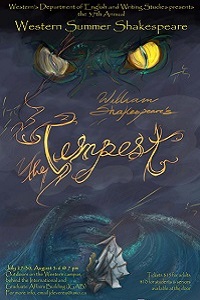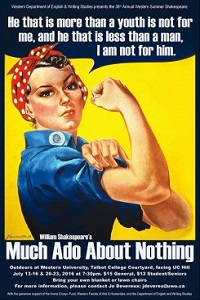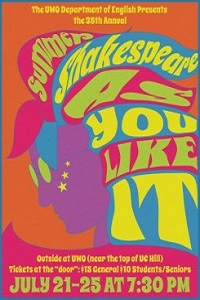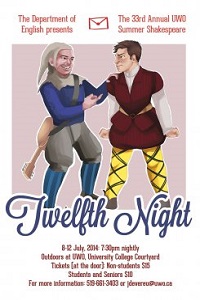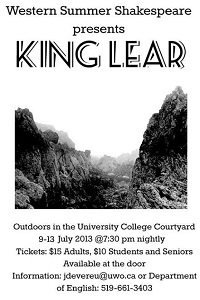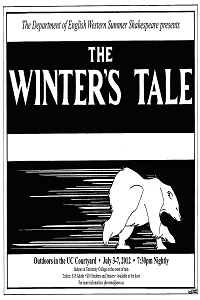 2018: Samson Agonistes
2017: The Tempest
2016: Much Ado About Nothing
2015: As You Like It
2014: Twelfth Night
2013: King Lear
2012: The Winter's Tale
2011: Antony and Cleopatra
2010: The Merchant of Venice
2009: The Taming of the Shrew
2008: A Midsummer Night's Dream
2007: Measure for Measure
2006: The Winter's Tale
2005: Twelfth Night
2003: Henry V
2002: As You Like It
2001: Romeo and Juliet
2000: Richard III
1999: Measure for Measure
1996: Twelfth Night
1995: As You Like It
1990: As You Like It
1983: As You Like It
1982: Twelfth Night
1981: A Midsummer Night's Dream