Student Writer-in-Residence
Former Student Writers-in-Residence >
2022-23 Student Writer-in-Residence: Matthew Dawkins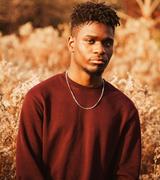 Matthew Dawkins is a Jamaican award-winning author and poet whose works on Wattpad have amassed nearly half a million reads. His work focuses on subjects from his personal experience such as adolescence, love, loss, culture, and mental health. Matthew is currently a student in the Department of English and Writing Studies and The School for Advanced Studies in Arts and Humanities. When he's not writing, Matthew can often be found re-watching the Harry Potter series on Netflix for the millionth time and procrastinating on his assignments. Until We Break is his debut novel set for release in Fall 2022. Matthew's work has been published in Symposium and Semi-colon.
Office Hours
Please feel welcome to visit me during my office hours to talk about all your creative writing questions. I can provide constructive feedback on prose, poetry, or drama, guide you to other great creative writing resources, chat about publishing opportunities, or even just answer any questions you might have about writing! I'm also a huge proponent of casual chats so don't be shy, come talk to me!
My regularly-scheduled office hours for the winter 2023 semester are:
Fridays: 12:00 - 2:00 pm
*Please note that if you have queries about academic assignments, the Writing Support Centre will be better equipped to help you.
---
About Western's Student Writer-in-Residence
This innovative program – unique in North America – was developed in 2013 by the University Students' Council and the Department of English and Writing Studies. The mandate of the program is to provide support for an accomplished undergraduate writer while allowing other students to benefit from the writer's creativity, expertise, and organizational skills. The SWIR fosters exchange among aspiring student writers and contributes to the culture of creativity across campus, within the London area, and across literary genres, media, and technologies.
The Call for Applications is posted in March and the selection process is usually completed by April of each academic year for the following year.