Student Writer-in-Residence
Former Student Writers-in-Residence >
2023-24 Student Writer-in-Residence: Gray Brogden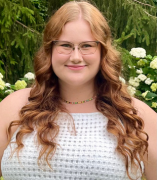 Fourth-year Honours Specialization in Creative Writing and English Language and Literature and SASAH student Gray Brogden is a passionate writer, poet, and performer. As president of Penned by Western, Gray is a pillar of the creative writing community at Western and in the greater London area. She has hosted many open mics, taught countless writing workshops, and competed in various poetry slams. Her work has been published in a wide variety of publications, including Symposium, Semicolon, Spotlight, Iconoclast, and SNAPS, and she was the 2023 recipient of both the Lillian Kroll Prize in Creative Writing and the Marguerite R. Dow Canadian Heritage Writing Award. When she's not writing, Gray can be found obsessively reading, rewatching old action films, or working on jigsaw puzzles. You can find her work on Instagram @graybrogden_poems.
Office Hours
Gray's office hours for the fall semester are on Thursdays from 12-2 pm. Please email her at studentwriterinresidence@westernusc.ca to book an appointment.
---
About Western's Student Writer-in-Residence
This innovative program – unique in North America – was developed in 2013 by the University Students' Council and the Department of English and Writing Studies. The mandate of the program is to provide support for an accomplished undergraduate writer while allowing other students to benefit from the writer's creativity, expertise, and organizational skills. The SWIR fosters exchange among aspiring student writers and contributes to the culture of creativity across campus, within the London area, and across literary genres, media, and technologies.
The Call for Applications is posted in March and the selection process is usually completed by April of each academic year for the following year.