Student Writer-in-Residence
Former Student Writers-in-Residence >
2021-22 Student Writer-in-Residence: Ashley Li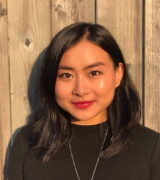 Ashley Li is in her fourth year of an Honours Specialization in Neuroscience with a Minor in Psychology. She is the Co-Founder of Spoken Word Society, and has seen her writing published in Living Hyphen, Fresh Ink and Symposium. Her work is primarily in prose poetry and short fiction, and she is drawn to narratives that capture a glimpse into everyday lives.
Beyond her creative writing pursuits, Ashley is heavily involved with peer mentorship and student leadership on campus, as well as her volunteer work with the Canadian Mental Health Association. She is passionate about exploring the powerful benefits that creative writing can have for healing and mental wellness.
Utilizing her background in science, Ashley hopes to champion an inclusive and interdisciplinary approach to creative writing as this year's Student Writer-in-Residence.
Office Hours
Tuesdays 1:30–3:30 pm | University College Room 4415
Ashley will hold weekly office hours to offer consultation and feedback to writers of all experience levels from the Western community. If you have any questions or would like to set up an appointment, please contact Ashley at studentwriterinresidence@westernusc.ca. Alternate meeting times can be arranged upon request.
It is recommended that you email the writing sample you wish to receive feedback on at least 7 days in advance of your appointment to allow Ashley ample time to prepare detailed feedback. However, if you are only requesting general feedback, no notice is needed and walk-ins are welcome!
Please note that Western University requires that all members of our community – including students, staff, and faculty – as well as all visitors who plan to be on campus this fall will be required to demonstrate proof of vaccination. Additionally, all persons are required to wear 3-layer non-medical masks inside all campus buildings. These requirements apply to appointments with the Student Writer-in-Residence. Ashley is also happy to offer appointments via Zoom for those who would prefer that method due to COVID-19.
Electronic Submission Guidelines
Writing samples may be emailed as a Microsoft Word document or Google Drive link to studentwriterinresidence@westernusc.ca. Please limit your sample to roughly 10 pages double-spaced unless previously discussed with Ashley. Longer samples are accepted but require additional notice to ensure the quality of feedback. Writing at all stages of development are welcome. Feel free to include questions or topics that you would like to discuss in your email or writing document.
---
About Western's Student Writer-in-Residence
This innovative program – unique in North America – was developed in 2013 by the University Students' Council and the Department of English and Writing Studies. The mandate of the program is to provide support for an accomplished undergraduate writer while allowing other students to benefit from the writer's creativity, expertise, and organizational skills. The SWIR fosters exchange among aspiring student writers and contributes to the culture of creativity across campus, within the London area, and across literary genres, media, and technologies.
The Call for Applications is posted in March and the selection process is usually completed by April of each academic year for the following year.