Current News & Events
Past News & Events >
Please note that all academic job postings are now posted only on the Human Resources website and all applications must be submitted online here. 
April 25, 2023 | London Free Press
Professor Tom Cull and Western volunteers use unique method to restore Medway Creek bank
Western students and faculty members and staff from the Upper Thames River Conservation Authority add live sandbar willow stakes and native wetland shrubs to the banks of Medway Creek behind Westminster College on Western University's campus.
---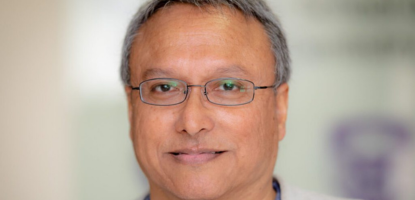 April 20, 2023 | Western News
Professor Joseph Nigel 2022-23 recipient of the Angela Armitt Award for Excellence in Teaching by Part-Time Faculty
Prof. Nigel Joseph, a long-time lecturer in Western's Faculty of Arts and Humanities as well as at King's University College, "represents everything that is best about an education in the arts and humanities," one nominator writes. His "breadth of knowledge, keen insight, compassion and profound commitment to justice and equity" see him routinely described by his students as "phenomenal".
---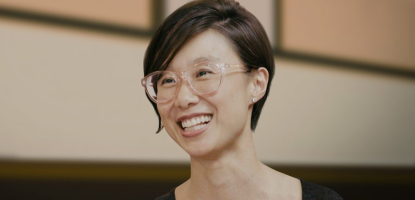 March 27, 2023 | Western News
Lily Cho named vice-provost and associate vice-president (international)
A scholar of cultural studies and postcolonial literature and member of our department from 2004-2010, Lily Cho has been appointed as Western's incoming Vice-Provost & Associate Vice-President (International) effective July 1. Welcome back, Lily!
---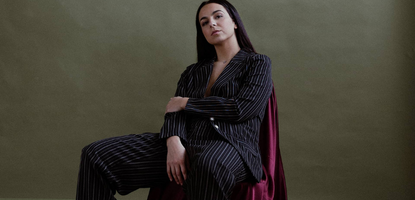 February 2, 2023 | Western News
From English essay to EP: Western student Ariana Fig celebrates new release
English Major inspired to submit song after taking  Alice Munro Chair in Creativity course.
---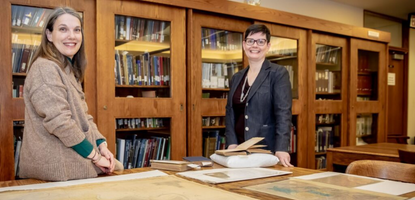 February 1, 2023 | Western News
Professors Miranda Green-Barteet and Alyssa MacLean mapping the stories of formerly enslaved Black Londoners
Interactive website to document histories of individuals who fled slavery in the U.S. and settled in the Forest City.
---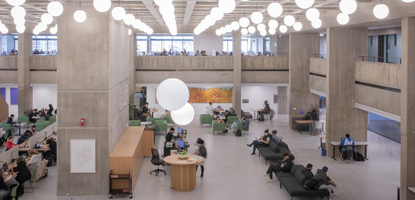 January 23, 2023 | Western News
Weldon Library celebrates revitalized look with grand reopening
The reception will include readings from Western's writers-in-residence, January Rogers and Matthew Dawkins, as well as former library staff and poet, John Tyndall.
---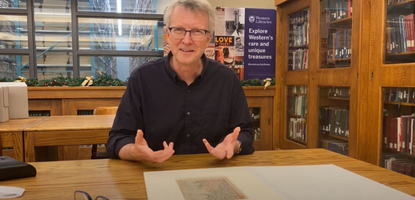 January 12, 2023 | Western News
Page from first book printed in England now housed at Western
Leaf from first edition of Chaucer's Canterbury Tales, published on Caxton's printing press in 1476 offers students a 'hands-on' experience.
---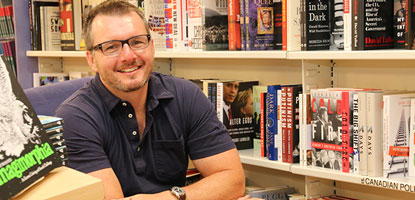 January 4, 2023 | Western News
Writing Studies Professor Tom Cull honoured for outstanding contributions to the City of London
Professor Cull served as London's poet laureate from 2016 to 2018. Cull has been honoured for his work with the environment. Since 2012, he has been the director of Antler River Rally, a grassroots environmental group he co-founded with his partner and their son.
---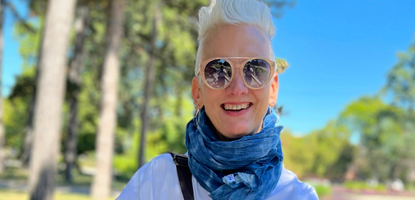 December 19, 2022 | Journalisten
Fashion Writing instructor Claudia Manley thinks all journalists should know something about fashion
Manley addresses the stigmas in fashion writing in her new textbook "Fashion Writing: A Primer" which will be published by Routledge this winter.
---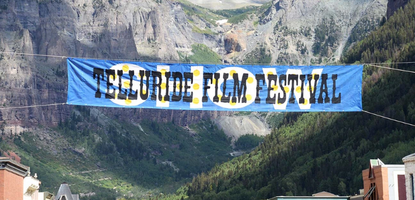 December 13, 2022 | Film Studies
Sarah Alexia Arksey-Njegovan selected for Telluride Student Symposium
Congratulations to Western student Sarah Alexia Arksey-Njegovan, one of fifty undergraduate and graduate students selected to participate in the Telluride Student Symposium at the 49th Annual Telluride Film Festival in the Colorado Rockies (Telluride, Colorado, Sept. 2-5 2022). The Telluride Student Symposium is a selective program open to 50 currently-enrolled undergraduate and graduate students from around the globe. Although there is an official application, the primary requirement for all applicants is a love of film. All participants in the Symposium receive a Student Festival pass and a modest travel stipend. The Telluride Film Festival's Student Symposium looks for a diverse cross-section of the college and university students - undergraduate and graduate students; film and non-film majors; and geographical and cultural diversity. Students selected view approximately a dozen film programs over four days and attend exclusive symposia with filmmakers, producers, actors, and writers. Sarah is pursuing a Major in Psychology and a Minor in Creative Writing at Western. She has taken courses in Screenwriting, Film History and Film Appreciation at Western, Vancouver Acting School and Athabasca. In 2020 Sarah published an essay she wrote in Film 3335F Contemporary German Cinema in KINO: Western Undergraduate Research Journal.
---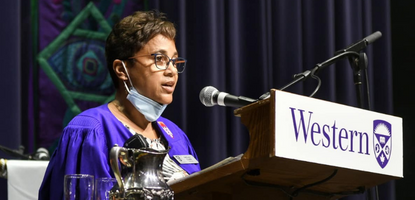 November 25, 2022 | Faculty of Arts & Humanities
Shelley Clark, Administrative Assistant resigns as Chief Usher after 201 Western Convocation ceremonies
Shelley started ushering in 1990 during her time at the Faculty of Education. She continued the role when she moved to Arts & Humanities and became Chief Usher in July 2010. "It has been a role I enjoyed doing over the years," Shelley states, "and I made many friends with fellow volunteer ushers. We all worked together to make each ceremony special for our graduates and guests who attended." Thank you for your service, Shelley!
---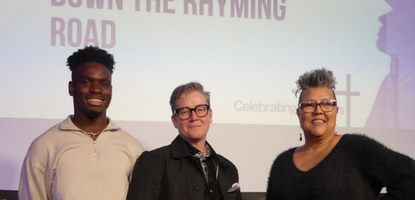 November 24, 2022 | Western News
Western's Writer-in-Residence program celebrates 50th anniversary
Canada's oldest literary residency has played host to 53 writers of different backgrounds, styles and genres, including poets, culinary writers, playwrights, and essayists, from famed literary minds like Alice Munro to vital and new voices like Alicia Elliot and Zalika Reid-Benta.
---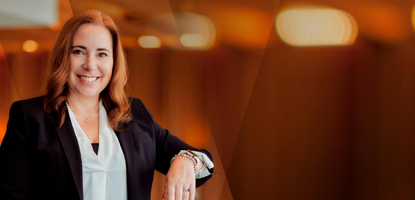 November 11, 2022 | Western News
English alumna on Most Powerful Women list
Jody Becker, BA'96, Chief strategy officer, executive vice-president, infrastructure services and technology at EllisDon Group, is one of 12 Western alumni to receive a 2022 Canada's Most Powerful Women award.
---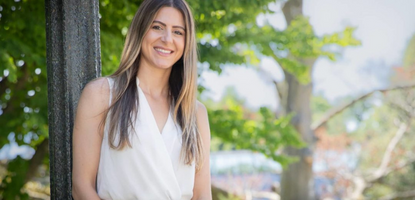 October 6, 2022 | Western News
Fulbright student award recipient furthers 'instapoet' research at Duke
Tanja Grubnic, PhD Candidate, is spending nine months at Duke University in North Carolina on a research placement funded by a Fulbright student award.
---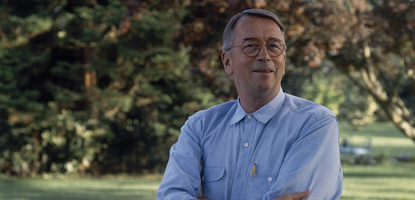 September 28, 2022 | Western News
English grad bequeaths $10M in scholarships
William (Bill) Hodgins, BA'54, bequeathed $10 million to Western to support scholarships in the Faculty of Arts and Humanities. His donation will fund more than 16 scholarships each year, in perpetuity.
---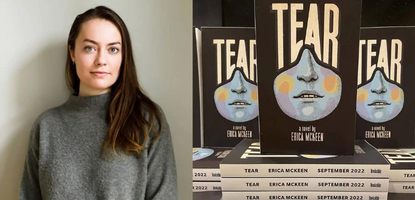 September 26, 2022 | Western News
English grad Erica McKeen, MA'20, returns to campus for the Creative Writers Speaker Series
McKeen will retrace the steps she walked as a student, as well as those she imagined for the protagonist as she reads from her debut novel Tear. Presented by Writing 2520A: Write Now! – Writers on Writing, everyone is invited on Wednesday, Sept. 28, and every week following, as different writers read from their work and talk about their craft.
---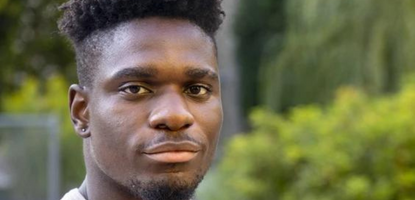 August 29, 2022 | London Free Press
Student Writer-in-Residence aims to rally Western wordsmiths
Even before he could read in his homeland of Jamaica, author and poet Matthew Dawkins remembers immersing himself in stories, demanding they be read to him over and over again.
---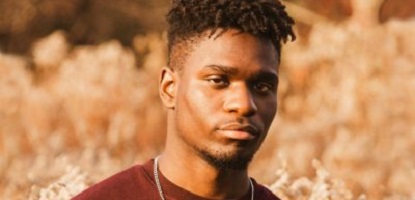 August 22, 2022 | Western News
Student Writer-in-Residence looks to unite Western's creative community
An author and poet, Matthew Dawkins' debut novel is set for release this fall.
---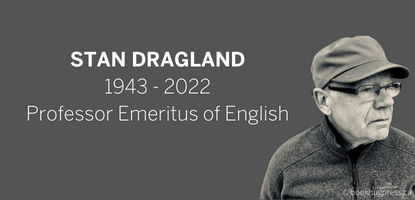 August 5, 2022 | Faculty of Arts & Humanities
In Memoriam: Professor Emeritus Stan Dragland
We are deeply saddened to learn of the passing of Professor Emeritus Stan Dragland, who taught for 29 years in the Department of English at Western. An icon in Canadian Literature, Professor Dragland was long admired as a dedicated educator, a literary critic, editor, poet, novelist, and community-builder.
---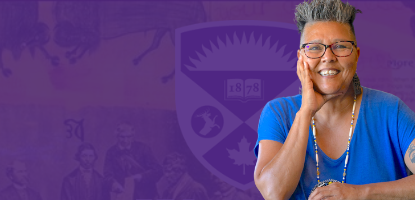 July 26, 2022 | Western News
Award-winning poet joins Western as new Writer-in-Residence
January Roger's expertise from print poetry to performance poetry, to radio, theatre and new media is reflective of English and Writing Studies' evolving identity as a home to multiple programs in literature, theatre, performance, and film. Moreover, January's connection to her home community of Six Nations of the Grand River is key to our vision of nurturing our relationships with local Indigenous nations and learning from brilliant Indigenous artists across this region.
---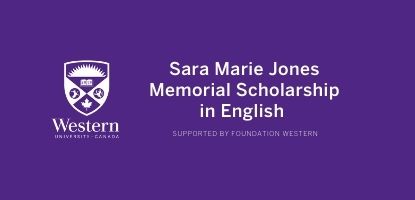 July 13, 2022 | Graduate Studies
2021-22 Sara Marie Jones Memorial Scholarship in English
The Sara Marie Jones Scholarship selection committee is delighted to award this year's prize to Andrew Pudlak for his essay, "'Spirals of Power and Pleasure': Modes of Resistance in The History of Sexuality." The essay is a thoughtful and nuanced exploration of Foucault's understanding of power and the strategies he proposes for resisting it that productively places his work in conversation with Butler and Derrida. The committee was impressed by the clarity with which the essay unpacked the core concepts of The History of Sexuality while situating it in relation to both Foucault's earlier work and his commentators, and by the maturity and precision of the prose.

The Graduate Studies Office would like to thank those students who submitted an essay for the competition, as well as the members of the adjudication committee, Drs Aaron Schneider, Mary Helen McMurran, and Alison Lee, for their enthusiasm and dedication to our students, and for their work on this competition.