Current News & Events
Please note that all academic job postings are now posted only on the Human Resources website and all applications must be submitted online here.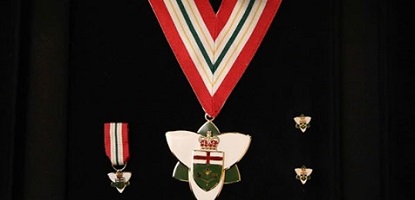 March 2, 2020 | Western News
Dr. Zane Cohen among Order of Ontario honourees
Hearty congratulations to Dr. Zane Cohen, who has been named to the Order of Ontario. Dr. Cohen, along with Mr. B. Franklin Shostack, continues to make the Lillian Kroll Prize in Creative Writing available each year, in memory of the late Lillian Kroll. The Lillian Kroll Prize award was first presented in 1990.
---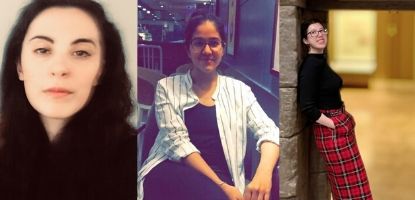 March 1, 2020 | Forest City Open Mic for Poetry
Former poetry students share their poetry
Congratulations to Sueda Cam, Akshi Chadha, and Caitlyn Dubé who will be featured at the Forest City Open Mic for Poetry on March 10th, 7pm at Mykonos Restaurant in London. Come and be inspired by fabulous young talent as recommended by their poetry prof and unforgettable London poet Kathryn Mockler.
---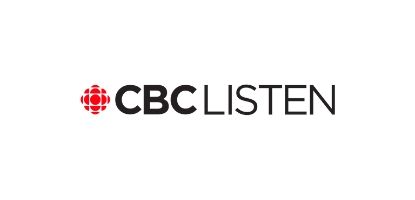 February 26, 2020 | CBC
Black writers and the Great Lakes region
Professor Alyssa MacLean discusses "Black Thought in the Great Lakes Region, 1790-1890", an exhibit she and her grad students organized at Western Libraries - Western University for Black History Month. Listen to the interview and check out the exhibit through April.
---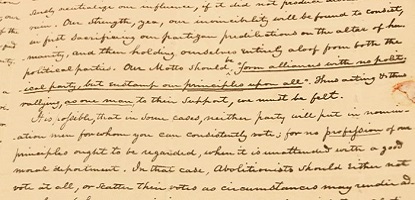 February 3, 2020 | Western News
Black history's Great Lakes connections on display
Under the supervision of professor Alyssa MacLean, English and Writing Studies graduate students prepared an exhibit at The D.B. Weldon Library highlighting published writings by African-American and African-Canadian authors with a connection to the Great Lakes region on both sides of the border. Part of the Western Library Archives and Special Collections, the writings range from newspapers and pamphlets to autobiographies and biographical novels written from about 1790-1890. Students used them to highlight transnational conversations that took place during that time.
---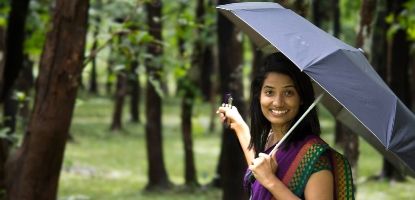 January 28, 2020 | Graduate Studies
Sheetala Bhat, winner of the International Federation for Theatre Research's Helsinki Prize
Congratulations to Sheetala for her winning essay "In-Between Love: Performance of Intimate Love as Making of Counterpublics in Mandeep Raikhy's Queen-size"! "The prize is awarded on the basis of academic merit and strives to promote the exchange and networking of new scholars in developing regions, and to encourage research in the field of theatre in their countries." In addition to the honour, Sheetala's expenses are paid for a trip to Galway, Ireland for the IFTR annual conference.
---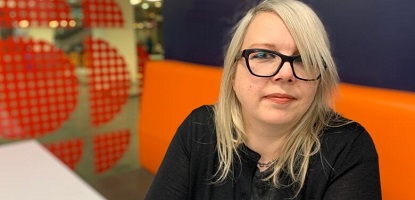 January 21, 2020 | CBC
Have feelings about climate change? Write about it!
Creative writing professor Kathryn Mockler is working with a team of editors to compile an ongoing publication on climate change-inspired poetry, prose and artwork for an anthology she hopes will build community and spark action. You can also listen to her interview on Afternoon Drive with Chris del Torre here. 
---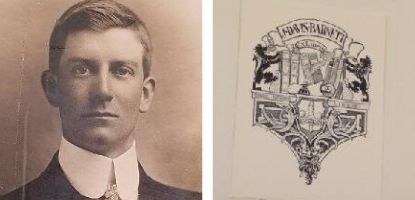 January 17, 2020 | CBC
Barnett collection subject of WEMS presentation
The Barnett collection, which was donated to Western more than 100 years ago by John Davis Barnett, was the subject of the Western Early Modern Society (WEMS) presentations by Scott Schofield (Huron) "Rare Editions and Unique Copies: Untold Stories from the Barnett Shakespeare Collection" and Ian Rae (King's) "What Good Are All those Books: Barnett as City-builder and Public Intellectual", and Blake Robertson, "Princes, Prayers, and Politics 'too much presented': the function of pencil markings in Fletcher and Massinger's Sir John Van Olden Barnavelt."
---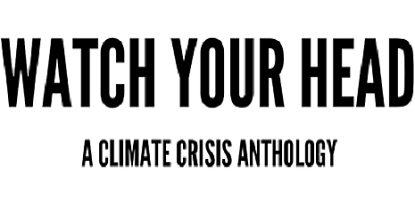 January 9, 2020 | Western News
Poetry anthology looks to inspire climate action
Edited by English Professor Kathryn Mockler, a new online poetry and prose anthology has dedicated itself to confronting the climate crisis. In mid-2020, Coach House Books plans to publish the works, collectively called Watch Your Head, with all proceeds donated to climate justice and Indigenous groups.
---
December 23, 2019 | CBC
'From syrup to source': a poem about winter light to mark the solstice
Pujita Verma, Mississauga's Youth Poet Laureate and student enrolled in "Renewing Your Poetic License: Introduction to Writing Poetry" (Writing 2220F), reads a poem about light, stars and the solstice on CBC's Metro Morning.
---
December 19, 2019 | Canadaland
Is The Agony Of Twitter Worth It For Young Journalists?
Student Writer-in-Residence Gabrielle Drolet talks with CANADALAND about how journalists engage with Twitter.
---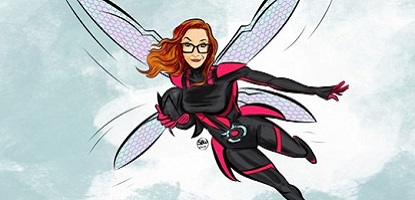 November 18, 2019 | Western News
Alumna puts sting back in classic Marvel character
Since graduating from Western a decade ago with a BA in English Language & Literature and Film Studies, [Sam] Maggs has written an ever-growing number of books, comics, and video games featuring some of the biggest names in pop culture including Captain Marvel, Spider-Man and Captain Kirk.
---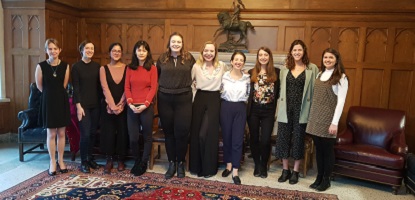 November 15, 2019 | Undergraduate Studies
Fall 2019 Scholarship Recipients
We were delighted to recognize the academic achievements of our outstanding students during our annual Undergraduate Awards Reception. Congratulations to all of our award winners!
---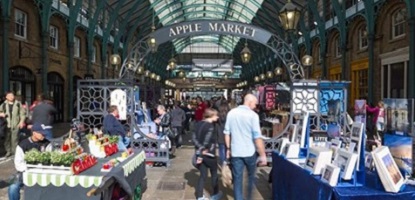 November 13, 2019 | Western News
Writing 2219F Word Travels: Introduction to Travel Writing encourages student 'travel' across London
Professor Melanie Chambers wanted to create an assignment that encouraged students to break through 'The Western Bubble' and explore a wider London in hopes that the students would find some surprising discoveries after much research and exploration.
---
November 8, 2019 | Theatre Studies
Professor Kidnie highlights why students enroll in Theatre Studies 3900G - Destination Theatre
"I think the inherent value of an intercultural experience is that it develops personal qualities such as empathy and compassion. Going on a trip like [Destination Theatre] is demonstrable evidence that you're someone who is willing to engage with other people, other communities on their own terms - and not only that, but you're a person who's willing to take a bit of a risk to do it."
---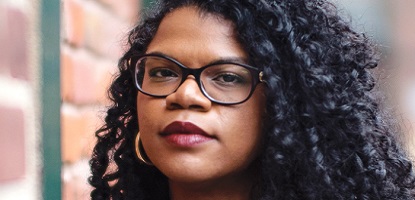 November 11, 2019 | Western News
English alumna's memoir explores race, city and self
Eternity Martis, BA'14 (English Language and Literature/Women's Studies), will release her debut memoir, 'They Said This Would Be Fun,' next spring. The book that captures her difficulty of navigating white spaces as a woman of colour.
---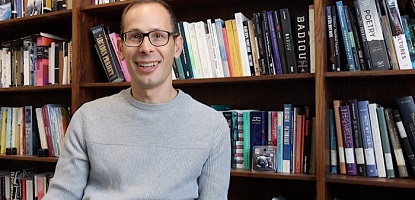 October 28, 2019 | Western News
Western leads celebration of Whitman legacy
English professor Josh Schuster will help celebrate American poet Walt Whitman's 200th birthday, as part of the annual Words: London's Literary and Creative Arts Festival, taking place Nov. 1-3 at Museum London. Schuster is delivering a public lecture, Legacies of Walt Whitman's Summer on Nov 2.
---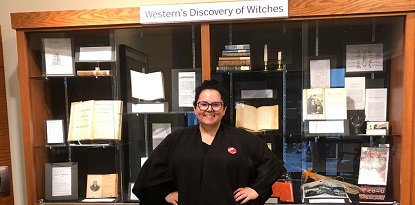 October 25, 2019 | Graduate Studies
Discovery of Witches
With assistance from Western's librarians and archivists, Caroline Diezyn, PhD Candidate, has curated an exhibit on books from Western's archives about witchcraft. Stop in at Weldon Library to see the exhibit to get into the spooky spirit!
---
October 21, 2019 | Western News
Shakespeare course fuelled fire for Executive Director of the Stratford Shakespeare Festival
When Anita Gaffney, BA'90 (English Language and Literature), MBA'02 was enrolled in an undergraduate Shakespeare course in which she didn't get the grades she aspired to -- it became an obsession with her to work hard and face the challenges of the Shakespeare texts, providing a formative experience for her in her journey towards her current position.
---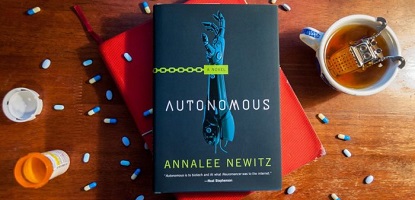 September 30, 2019 | Western News
Journey into the 'Dark'
Take a journey into the not-so-distant past and future, along with a 'Dark' present that wrestles with both, when English and Writing Studies professor Chris Keep takes his turn on Read. Watch. Listen.
---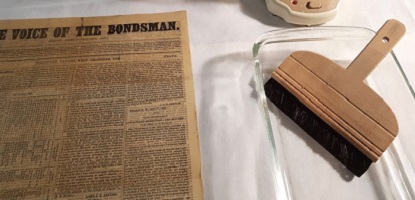 August 21, 2019 | Western News
Western rediscovers, revives long-lost abolitionist newspaper
English professor Alyssa MacLean, a specialist in countercultural political movements of the 19th Century, said the paper's preservation and rediscovery is remarkable. More coverage >>
---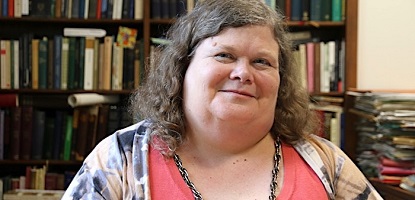 August 19, 2019 | Western News
University's role at heart of new course
Starting January 2020, English and Writing Studies Professor Jane Toswell will teach This University, a new online/in-class course intended to be an academic look at what universities are – and are not – against the backdrop of Western.
---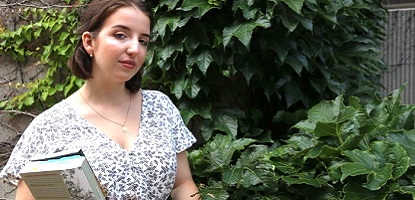 July 30, 2019 | Western News
Poetry, journalism mix for Student Writer-in-Residence
Gabrielle Drolet, a fourth-year English and Writing Studies student, is Western's 2019-2020 Student Writer-in-Residence.
---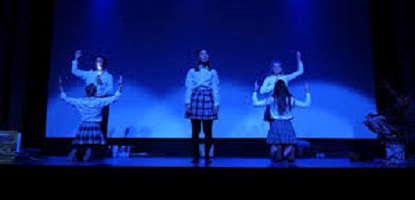 July 29, 2019 | CBC
Camille Intson BA'19, wins Best in Fringe
Intson - recent grad, former Student Writer-in-Residence, and playwright, director and producer of WE ALL GOT LOST - wins Best in Fringe, the award for the most attended show at the festival. The show walked away with three awards in total, including Best New Play and Best in Venue.
---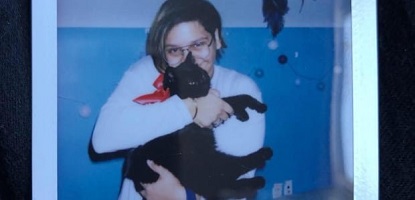 July 23, 2019 | CBC
English student finds sense of belonging
Kriti Mehra, an LGBTQ+ student who moved from Mumbai to London to study in Western English and Writing Studies says that finding their own community was different in 'a nice way' when they came to Western. They were happy to find people who they could talk to who could relate to their experiences.
---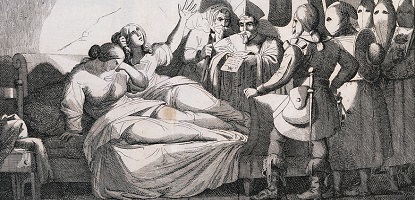 July 12, 2019 | Keats-Shelley Association of America
The Cenci 2019
To mark the bicentenary of Percy Bysshe Shelley's drama, The Cenci, the Keats-Shelley Association of America interviewed Professors Monika Lee and Jo Devereux. This production will be staged by students in our popular undergraduate course English 2041F (Fall Theatre Production) from December 4-7, 2019.
---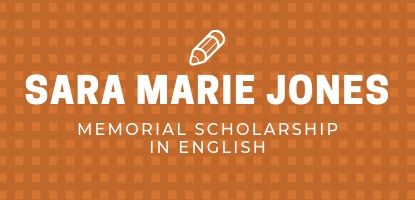 July 12, 2019 | English Graduate Studies
Sara Marie Jones Memorial Scholarship
Congratulations to Melanie Byron, winner of the Sara Marie Jones Memorial Scholarship for her essay "'Now that's medicine': Disability and Healing in The Marrow Thieves". The committee received submissions from five students, and awarded the prize to this essay for "its strong, original argument, expressive quality, and argumentative clarity." The committee read the submitted essays without knowledge of their authorship.
The Sara Marie Jones Memorial Scholarship in English valued at $500, is awarded annually to a PhD student in the first year of the doctoral program for an essay submitted to the competition. This scholarship honours the memory of Sara Marie Jones, who was a graduate student pursuing research in English at Western. It was made possible by generous donations from Sara's family and friends, and occurs through the good offices of Foundation Western.

The Graduate Studies Office would like to thank the members of the adjudication committee, Drs MJ Kidnie, Jamie Johnston, and Kim Solga, for their enthusiasm and dedication to our students, and for their work on this competition.