Current News & Events
Past News & Events >
Please note that all academic job postings are now posted only on the Human Resources website and all applications must be submitted online here.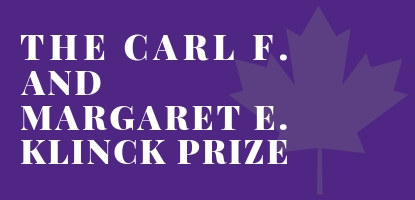 May 24, 2022 | Graduate Studies
Carl F. and Margaret E. Klinck Prize
The Committee on Graduate Studies has awarded the 2021-22 Klinck Prize to Sheetala Bhat for her thesis-in-progress, "Love Worlds: Decolonization through the Performance of Love in India and in Indigenous Theatre in Canada." 
Sheetala's supervisor, Dr. Kim Solga, writes that Sheetala "is poised to break out as a major figure in theatre and performance research with the completion of her dissertation, a document offering a comparative focus on Turtle Island and South Asian political performance." The committee believe that Sheetala's work will make an excellent contribution to scholarship in Canadian Literature and that it is very deserving of the Klinck Prize. Congratulations, Sheetala!

---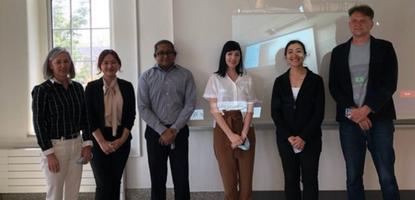 May 10, 2022 | Graduate Studies
2022 McIntosh Prize Competition Winner
Melanie Byron, "'Taking the words out of their mouths': Disabling Rhetoric in Wilkie Collins' Heart and Science". Congratulations!
We would like to thank all of the speakers for their outstanding presentations, as well as the members of the adjudication committee.

---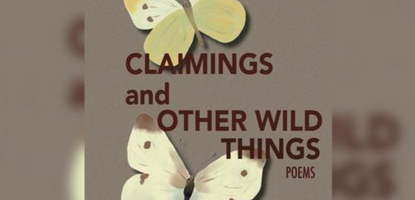 April 23, 2022 | Sudbury.com
Award-winning Creative Writing and English Language and Literature alum publishes book of poetry "Claimings and Other Wild Things" 
Noelle Schmidt, BA'19, is a disabled, queer, non-binary poet. They graduated from Western University, having received the Alfred R. Poynt Award in Poetry, the Margeurite R. Dow Canadian Heritage Award, and the Western Gold Medal.
---
April 19, 2022 | Byrdie
Slow Fashion Will Shift Your Relationship with Clothes
Claudia Manley, a writing studies professor and author of Fashion Writing: A Primer, forthcoming from Routledge in 2022, explains how slow fashion will shift your relationship with clothes.
---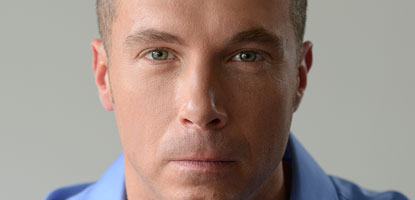 April 19, 2022 | London Free Press
Inside the mind of an elite cold case detective
Writing Studies professor and former London police detective Michael Arntfield outlines the history of cold case squads in Canada and the US, and lays out the steps to understanding and solving crime in his new book, How to Solve a Cold Case.
---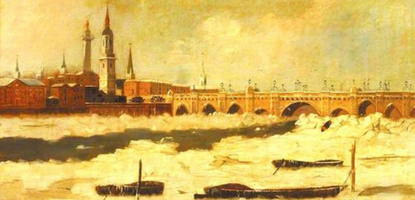 April 12, 2022 | Western News
Western researchers first to map effects of England's 'little ice age'
Dr. Madeline Bassnett and the Weather Extremes database team pulled the details of the Little Ice Age into the present by scouring historical narratives and documenting the extreme weather and meteorological events as part of Bassnett's SSHRC-funded project, Weather Networks: Climate Change and Community in England's Little Ice Age.
---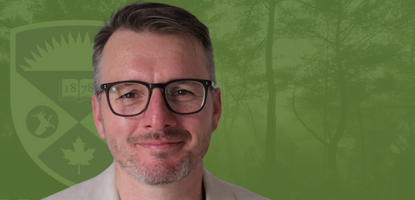 April 5, 2022 | Faculty of Arts & Humanities
Professor Tom Cull honoured with the 2022 Faculty of Arts & Humanities Teaching Excellence Award (part-time)
Professor Cull teaches courses in English and Writing Studies, including the first year Writer's Studio and seminar courses in Creative Writing, and he is perhaps best known for his course on Nature Writing (where students "write about nature, in nature.") He is an activist, urban environmentalist, and the former Poet Laureate, City of London – a background that he enthusiastically shares with his students as he helps them navigate the currents of language that exist within and beyond our community. Tom's success as a teacher and mentor is also apparent in the successes of his students, who have gone on to find success in publishing as well as in the everyday joy of exact, evocative expression.
---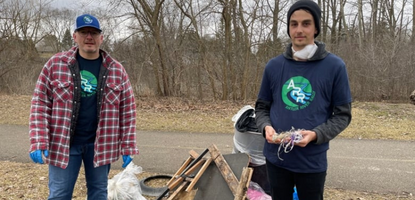 April 4, 2022 | CBC London
Tom Cull, an assistant professor of Writing Studies, leads the clean-up group for the Antler River Rally during the Annual Thames River Clean Up
Antler River Rally is a volunteer group that organizes monthly clean-ups of the Deshkan Ziibi/Thames River within the city of London. Tom started this in 2011 to organize London citizens for river cleanups and began incorporating the events with Western's Orientation Week in 2018.
---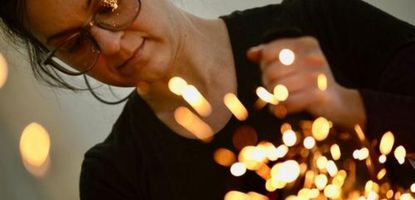 March 15, 2022 | Globe and Mail
Non-traditional jobs attract more women
Melanie Chambers, travel journalist, editor and instructor for some of our popular Writing Studies courses (WORD TRAVELS, FOOD WRITING and FROM HEADLINE TO DEADLINE) explores the advancement of women in the trades.
---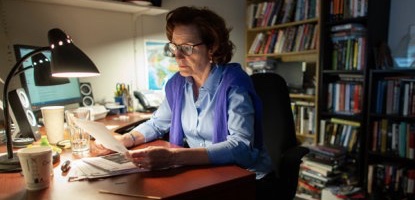 February 25, 2022 | Western Alumni
Carol Off, BA'81 (English Language and Literature), LLD'17, gives her last broadcast for CBC As It Happens
In a mere 90 minutes each weekday, the host of CBC Radio One's As It Happens switches gears repeatedly and seamlessly. Every guest – be it a world leader, an innovative researcher or an ordinary person in extraordinary circumstances – is provided space for their story to resonate with listeners.
---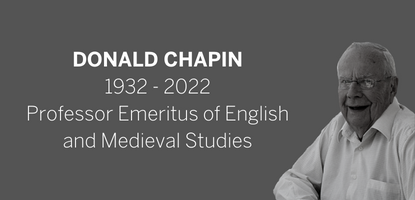 January 16, 2022 | English Studies
In Memoriam: Professor Emeritus Donald Chapin
We mourn the loss of our colleague Don Chapin, who taught medieval literature for many years and served as Associate Dean of Graduate Studies. Our condolences to his family, students, and friends.
---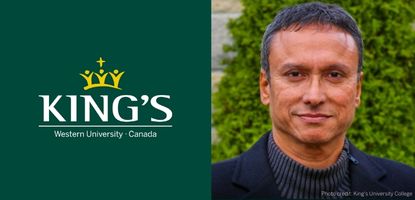 November 26, 2021 | King's University College
Dr. Nigel Joseph, recipient of the 2021 Award for Teaching Excellence at King's University College
Warmest congratulations to Dr. Nigel Joseph. We are delighted for him and glad that he teaches here in our department at Western as well!
---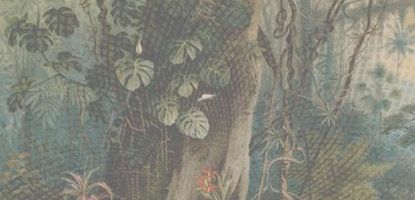 November 25, 2021 | Western News
David Huebert, English PhD '19, publishes short story collection
When David Huebert came to Western, he immersed himself in learning more about life in 'Chemical Valley,' the name attached to the towering oil refineries surrounding the City of Sarnia. It is also the title of his second short story collection.
---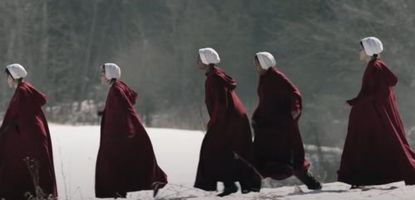 November 23, 2021 | The Conversation
Professors Green-Barteet and MacLean examine how Hulu's 'The Handmaid's Tale' casts Canada as a racial utopia
Their research examines representations of race in speculative fiction and of Canada in U.S. literature, leading them to notice how Hulu's series represents race and national difference.
---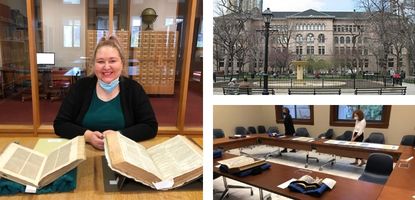 October 15, 2021 | Graduate Studies
Alexandra Lukawski, PhD candidate in English, recalls experience at Newberry Library Center
Alexandra spent a day at the Newberry Library in Chicago while attending the "Word and Image in Print and Digital Archives" workshop. 
She reported that the participants were from all different disciplines and universities, and it was enriching to be able to learn in a new environment, with people who had fresh ideas and perspectives. The course instructors were very informative, and the group discussions allowed the material to become tangible and relate to each of our own personal research goals. Being able to work with the unique and rare books the library houses in their beautiful building was an added bonus!
---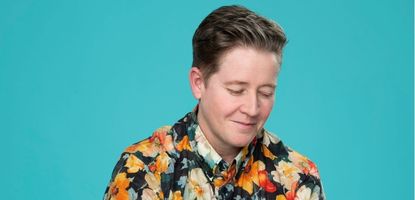 October 7, 2021 | Faculty of Arts & Humanities
Ivan Coyote to remain Alice Munro Chair in Creativity until July 2023
"I'm sincerely honoured and thrilled to have one more year to continue to craft and cement my vision for the Alice Munro Chair in Creativity: to bring my passion and love for writing and all forms of storytelling to our campus, and to use the power of story, and the human connections it fosters and feeds, to build a conduit between students and classrooms and a lifelong reverence and respect for all that creativity brings into our lives." -- Ivan Coyote
---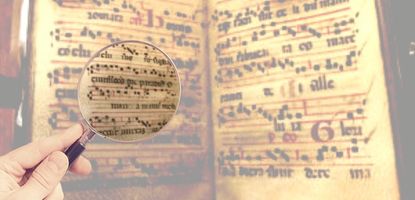 September 16, 2021 | Western News
Toswell spies pocket-sized antiphoner from the 1400s
Library archivists at Western recently unboxed a one-of-a-kind volume of sacred vocal music first used in churches in southern Spain in 1600 during the bishopric of Don Francisco de Reynoso, bishop of Cordova. Unboxed at the same time was a pocket-sized chant book from the 1400s - a chance find by medieval scholar and English professor Jane Toswell, who spotted it as part of an online estate auction.
---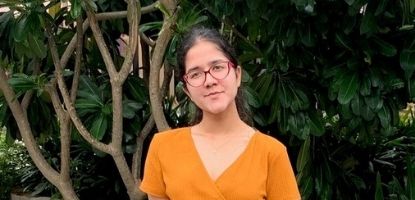 September 15, 2021 | Global Undergraduate Awards
Akshi Chadha, BA'21 Regional Award Winner
Congratulations to Akshi Chadha, Honours Specialization in Creative Writing and English Language and Literature graduate, for winning the 2021 Global Undergraduate Award in Literature for the Canada & USA region for a revised version of her essay originally submitted to English 3342G - Personhood in the Eighteenth Century: Black Lives.
---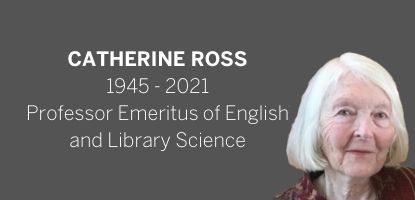 September 11, 2021 | English Studies
In Memoriam: Professor Emeritus Catherine Ross
We are saddened to hear of the passing of Professor Emeritus Catherine Ross, a Fellow of the Royal Society of Canada, a member of our department and Dean of FIMS from 2002-2007. Her research focused on the experience of readers, on reference services, and on Canadian literature, particularly the works of Alice Munro. In addition to her scholarly publications, she was the author of four children's books.
---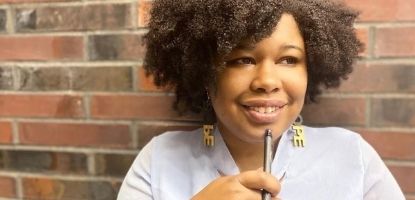 September 2, 2021 | Western News
Award-winning author Zalika Reid-Benta 2021-22 Writer-in-Residence
As Western's Writer-in-Residence, Zalika wants to do what she can to support writers in feeling confident in themselves as writers, and encourage conversations about what's on and off the page.
---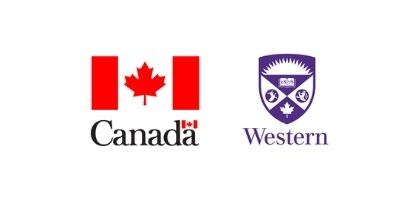 August 30, 2021 | Social Science and Humanities Research Council
Professors MacLean and McMurran awarded SSHRC Explore Grant
Alyssa MacLean and Mary Helen McMurran have been awarded a SSHRC Explore Grant for their project, Tracing Black Lives in Print, 1780-1880. Their project fund research in Western Libraries' special collections to discover, catalog, and research Black voices and agency in print culture during the abolitionist era. Collections including the foundational John Davis Barnett Collection and the archives of Fred Landon relating to Black refugees in Southwestern Ontario contain scores of works by Black writers and works in traditionally devalued ephemeral forms such as newspapers and letters most frequently used by Black communities. With the aid of research assistants, they will aim to make these works more accessible for scholars, students and to share the collections with the public.
---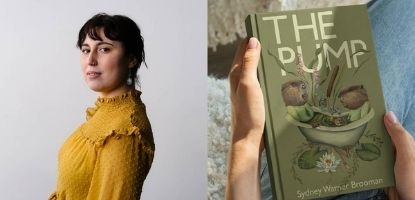 August 26, 2021 | Western News
Short-fiction collection penned at Western
Former Student Writer-in-Residence Sydney Warner Brooman, BA'18 weaves tales of a small town, heartsick humans and carnivorous beavers in their soon-to-be-released debut short fiction collection, The Pump.
---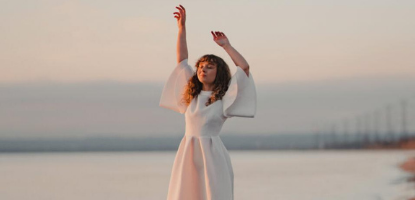 August 17, 2021 | Indie88
Camille Intson, BA'19 (English and Theatre) releases EP on streaming services
Toronto-based alternative-folk artist Camie premiered her intimate new EP, troubadour, on Indie88 which can also be found on streaming services.
---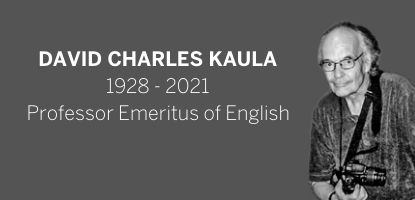 August 14, 2021 | Globe and Mail
In Memoriam: Professor Emeritus David Kaula
We are saddened to hear of the passing of Professor Emeritus David Kaula, a Shakespearean scholar, author and member of our department until he retired in 1988.
---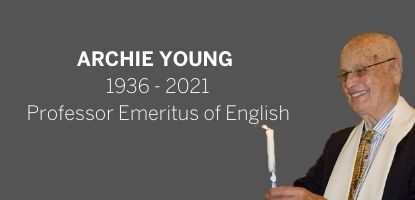 August 5, 2021 | English Studies
In Memoriam: Professor Emeritus Archie Young
We are saddened to hear of the passing of Professor Emeritus Archie Young, a scholar of More and Erasmus and longtime member of our department. Condolences to his wife Mary and to all who knew and studied with him.
Archie Young spent his childhood in Saskatchewan and Alberta. At the age of 14 he moved with his family to Ontario where he completed his schooling, first at East York Collegiate, then at Victoria College in the University of Toronto. He graduated in 1959 and married Mary Lige in 1960. In 1961, before joining the U, of .T graduate programme in English, he taught for one year at the University of Guelph. In 1964 he joined the Department of English at York University's Glendon Campus where he remained until he received a Canada Council Research grant that allowed him to pursue work on his thesis at the British Museum in London. In the fall of 1968 he joined the English Department at Western University. While a member of the Department he published articles and reviews on Shakespeare (Airmont Press), St. Augustine (Harvard Theological Review) Thomas More, St. Germain and Desiderius Erasmus (Moreana). One of these, an article on the theory of conscience in More and Luther, was later reprinted in a collection of important articles on the renaissance and reformation. During his academic career he served on the Faculty Association, first as a member of its executive, then as its president; and in the community he served as a founder and first president of the South London Community Association. Upon retiring in 2002, his retirement years were spent reading, writing, and taking up the study of Chinese literature and culture.
---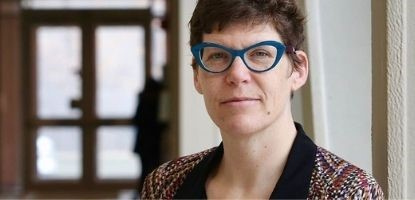 July 21, 2021 | Western News
Professor Solga begins Teaching Fellowship
Innovations in Interdisciplinary Pedagogy, Within and Beyond Arts and Humanities.
---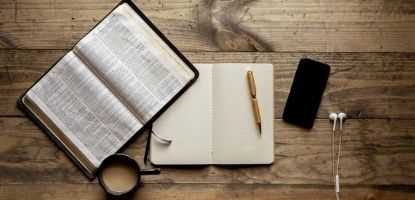 June 29, 2021 | Western News
Creative writing meets science
With her diverse perspective and leadership skills, Neuroscience and Psychology student Ashley Li, hopes to connect creative writers from different faculties as this year's Student Writer-in-Residence.
---