Writer-in-Residence
2020 Writer-in-Residence: Jane Urquhart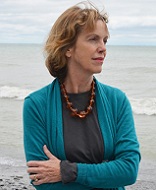 Jane Urquhart was born in the far north of Ontario. She is the author of eight internationally acclaimed novels, among them The Whirlpool, which received Le prix du meilleur livre étranger in France; Away, winner of the Trillium Award, The Underpainter, winner of the Governor General's Award and a finalist for The Orange Prize in the UK, and The Stone Carvers, which was a finalist for The Giller Prize and the Governor General's Award, and for Britain's Booker Prize. She is the author of a collection of short fiction, and four books of poetry, and she has also written a biography of Lucy Maud Montgomery, and was editor of the most recent Penguin Book of Canadian Short Stories. Her work, which is published in many countries, has been translated into numerous foreign languages. Urquhart has received the Marian Engel Award and the Harbourfront Festival Prize. She is a Chevalier dans l'Ordre des Arts et des Lettres in France, and is an Officer of the Order of Canada. In 2016 she published A Number of Things; Stories of Canada told through 50 Objects, which was commissioned by publisher HarperCollins to celebrate Canada's sesquicentennial.
Urquhart has received several honorary doctorates from Canadian universities, including the University of Toronto, University of Western Ontario, and the Royal Military College. She has served on the Board of PEN Canada and on the Advisory Board for the Restoration of the Vimy Memorial, and on several international prize juries including that of the International Dublin IMPAC Award, the Giller Prize, The Governor Generals Award Fiction Jury, the American International Neustadt Award, and the Kerry Group Irish Novel of the year Award. She has also been writer-in-residence at University of Toronto, University of Guelph, University of Ottawa, Memorial University of Newfoundland, and was appointed 2017-2018 Craig Dobbin Chair of Canadian Studies at University College Dublin Ireland. She has taught creative writing at each of these institutions and is an adjunct professor in the School of Creative Writing at the University of Toronto.
Her most recent novel, The Night Stages, was released in 2015 by Farrar Straus Giroux in the USA, McClelland and Stewart in Canada, and Oneworld in the UK, and in translation elsewhere.
Jane Urquhart lives in Northumberland County, Ontario, with her husband, artist Tony Urquhart, and in the past three decades she has spent a portion of each year in Ireland.
Office Hours
Jane will join us at Western in the Winter term of 2020. Her office hours will be posted then.
About Western's Writer-in-Residence
The WiR program is co-sponsored by the James A. and Marjorie Spenceley Fund, the Department of English and Writing Studies, the London Public Library and the Faculty of Arts & Humanities.