Writer-in-Residence
2023-24 Writer-in-Residence: Téa Mutonji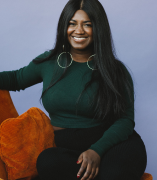 Born in Congo-Kinshasa, Téa Mutonji's work focuses primarily on friendship, womanhood, race and sexuality. Her essay, "The Price of Being Pretty," was nominated for a digital publishing award in the category of best essays. Her short stories "Property of Neil" and "The photographer's Wife" were awarded the Writers' Trust McClelland & Stewart Journey Prize (2023). She holds a degree in Media Studies and minors in English Literature and Creative Writing from the University of Toronto Scarborough. Her debut collection of short stories, Shut Up You're Pretty is the first title from Vivek Shraya imprint, VS. Books. It was featured on several end-of-the-year lists, including The Globe 100: Books that shaped (2019), The Walrus Best Books (2019) and the Quill & Quire Books of The Year (2019) to name a few. Shut up You're Pretty was shortlisted for the Atwood Gibson Writers' Trust Fiction Prize (2019) and won the Edmund White Debut Fiction Award (2020) and the Trillium Book Award (2020). Téa is the nonfiction editor of Feel Ways: An anthology of Scarborough Writing, forthcoming from Mawenzi House this spring. She is the recipient of the Jill Davis fellowship in Fiction at New York University, where she's an MFA candidate.
Office Hours
Fall 2023 Office Hours (Tuesdays, beginning September 12th)
10 am - 1 pm at Western University
3 pm - 6 pm at Central Library, 251 Dundas Street, London, ON
To book an in-person meeting with Téa to discuss your creative projects, please email Vivian Foglton at vivian.foglton@uwo.ca. Please submit your work via email one week in advance of the appointment.
Submission Guidelines 
Poetry:
5 pages, single-spaced
Prose (fiction or nonfiction): 
10 pages double-spaced
** 12 pt font, Word Doc
---
About Western's Writer-in-Residence
The Writer-in-Residence Program is sponsored by the James A. and Marjorie Spenceley Fund, the Department of English and Writing Studies, the Faculty of Arts and Humanities, and London Public Library.