Writer-in-Residence
2021-22 Writer-in-Residence: Zalika Reid-Benta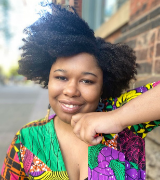 Zalika Reid-Benta is a Toronto-based writer whose debut story collection, Frying Plantain, won the Danuta Gleed Literary Award and the Rakuten Kobo Emerging Writer Prize for Literary Fiction. Frying Plantain was longlisted for the Scotiabank Giller Prize, and it was shortlisted for the Toronto Book Award, the White Pine Award, and the Trillium Book Award. Zalika received an M.F.A. in fiction from Columbia University, was a John Gardner Fiction Fellow at the Bread Loaf Writers' Conference, and is an alumnus of the Banff Centre Writing Studio. Currently, Reid-Benta is writing a magical realist novel inspired by Jamaican folklore. The main character is a young Black woman having a quarter-life crisis, while adventuring through the streets of Toronto. It will be published by Penguin Canada in 2023. Zalika was recently awarded a Canada Council for the Arts grant to support the writing of her new novel project, River Mumma, during her residency at Western.
Office Hours
Thursdays 11:00 am-2:00 pm
Zalika will hold weekly office hours to offer consultation and feedback to both experienced and novice creative writers from the University and the London community. For more information, or to request an appointment, please contact Vivian Foglton.
Please note that Western University requires that all members of our community – including students, staff, and faculty – who plan to be on campus this fall will be required to demonstrate proof of vaccination. Additionally, all persons are required to wear 3-layer non-medical masks inside all campus buildings. These requirements apply to appointments with the Writer-in-Residence.
For those who are booking an appointment with Zalika, please submit the writing sample you wish to receive feedback on at least 7 days in advance of your appointment by sending it as a Microsoft Word attachment to Vivian Foglton.
Electronic Submission Guidelines
10 pages, double-spaced, 12 point font in either Times New Roman or Arial. Standard 1 inch margins. If the formatting is not adhered to, please note the document will be reformatted to fit these specifications and only 10 pages will be read unless otherwise agreed upon. Please also provide questions or items you would like to discuss with Zalika along with your writing sample (they will not count toward your 10 page limit).
---
About Western's Writer-in-Residence
The WiR program is co-sponsored by the James A. and Marjorie Spenceley Fund, the Department of English and Writing Studies, the Faculty of Arts & Humanities, Indigenous Reads Initiative at Western and Huron University College.