Writer-in-Residence
2022-23 Writer-in-Residence: January Rogers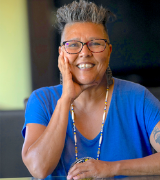 January Rogers is a Mohawk/Tuscarora writer from Six Nations of the Grand River. She was born in Vancouver, British Columbia in 1963 and raised in southern Ontario. January traveled throughout 2017-2019 doing back-to-back residencies in Vancouver, Santa Fe and Edmonton. January lives on Six Nations territory of the Grand River where she owns and operates Ojistoh Publishing and Productions. January works in page poetry, spoken word performance poetry, video poetry and recorded poetry with music. She is a radio broadcaster, documentary producer and media and sound artist.
Her literary titles include: Splitting the Heart, Ekstasis Editions 2007; Red Erotic, Ojistah Publishing 2010; Unearthed, Leaf Press, 2011; Peace in Duress, Talonbooks 2014; Totem Poles and Railroads, ARP Books, 2016, As Long As the Sun Shines (English edition), Bookland Press, 2018, with a Mohawk language edition released in 2019 and French translation released in 2021. Ego of a Nation is January's 7th poetry title which she independently produced on the Ojistoh Publishing label in 2020.
January has produced and written gallery and broadcast media with 2Ro Media since 2015. She won the American Indian Film Festival BEST MUSIC VIDEO 2020 for "Ego of a Nation" and the imagineNATIVE Media BEST EXPERIMENTAL SOUND PRIZE 2021 for her sound piece, "The Struggle Within." She wrote and produced a comedy audio pilot titled NDNS on the Airwaves and, in May 2022, she released a 10-episode webseries she wrote of the same name.
>> Meet January Rogers 

Office Hours
January is available for one-on-one consultations to discuss creative projects with members of the Western and greater London communities. She will be on campus on Wednesdays each week until early April 2023.
Her office hours are from 10:00 am - 1:00 pm in University College at Western.
Email January to schedule an appointment at jroger83@uwo.ca.
---
About Western's Writer-in-Residence
The Writer-in-Residence is co-sponsored by the James A. and Marjorie Spenceley Fund, the Department of English and Writing Studies, the Faculty of Arts and Humanities, the School for Advanced Studies in Arts and Humanities at Western, the Department of English, French, and Writing at King's University College and London Public Library.