Writer-in-Residence
2018-19 Writer-in-Residence: Cherie Dimaline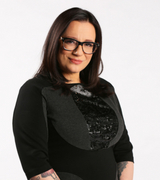 Ms. Dimaline is a Toronto-based writer of the Georgian Bay Métis Nation; her young adult novel The Marrow Thieves (2017), a work that The Globe and Mail called "a legitimate must-read" that is "as beautifully written as it is shocking and painful." Dimaline's novel speaks vividly to present day injustices through a dystopian future, and was awarded a Governor General's Award for English-language children's literature, as well as the prestigious Kirkus Prize (US $50,000) in the young adult literature category.
"I wanted to reach non-Indigenous readers at an age where the book could change their view of Indigenous people. We're often seen as either this primitive society or this trauma narrative. Those are two very specific, isolated pieces of who we are, who we can be or who we have been. I wanted them to see an ongoing Indigenous identity. I set it in the future so that those barriers of guilt weren't thrown up, and instead they can say, 'Well, this can't happen. We need to make sure it doesn't happen.'" (Cherie Dimaline, CBC Books, 30 January, 2018)
"Talking to my grandmother about words and language, she explained that words were like cups that held the feelings and relationship of a thing. Writing this scene was like putting empty teacups in the rain and listening to them being filled up." (Cherie Dimaline on the last scene of The Marrow Thieves, CBC Books, 2 February, 2018)
The Marrow Thieves has also been nominated in the young adult category for a Sunburst Award, an annual prize recognizing the best in Canadian Literature of the Fantastic.

Ms. Dimaline's first novel, Red Rooms (2007) won the Anskohk Aboriginal Literature Festival, and she was named Emerging Artist of the Year at the Ontario Premier's Awards for Excellence in Arts in 2014. She is also the author of two recent books, the novel The Girl Who Grew a Galaxy (2013) and a collection of short stories entitled A Gentle Habit (2015). She is the founding editor of Muskrat Magazine, an online indigenous publication focusing on sovereignty, culture and the celebration of community excellence, and served as the first indigenous writer-in-residence for the Toronto Public Library in 2014-2015. Ms. Dimaline is well-known for her eagerness to work with young writers, and for her abiding interest in "community," which is, she has said, "where my stories come from and . . . also where my responsibilities lie."
Office Hours
Cherie Dimaline will be available this fall (2018) for one-on-one consultations, beginning in October. She'll also be available 5 hours per week for online consultation. Please email Vivian Foglton for more information.

Submissions for one-on-one, and online, consultations is up to 10 pages of written work. Please also include a synopsis of the project and a very short history of your writing ie. publishing credits, genre(s) you are working in, favorite writers/writers most like your own work. Submissions should be received at least 10 days prior to appointment times. Note: turnaround time for feedback for the online submissions will be approximately two weeks.
Ms. Dimaline will also be available for appointments at selected dates and times at the Central Library of the London Public Library. Please visit the London Public Library for more information about her availability.
About Western's Writer-in-Residence
The WiR program is co-sponsored by the James A. and Marjorie Spenceley Fund, the Department of English and Writing Studies, the London Public Library and the Faculty of Arts & Humanities.