Graduate Studies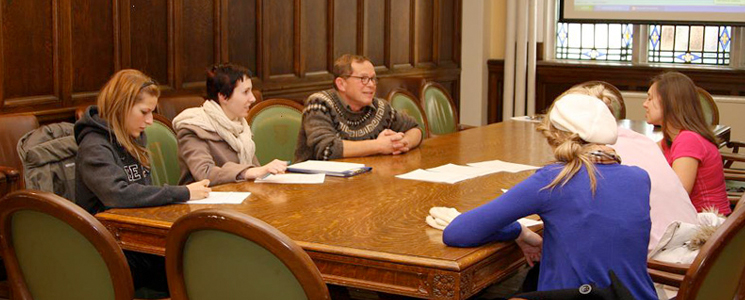 The Department of English and Writing Studies at Western offers two graduate degrees, a master's and a doctoral degree in English. Our MA in English is a one-year program that emphasizes the deep study of literature and culture and the development of research, writing, and analytical skills. Our PhD in English is a four-year program that trains select graduate students to be scholars, teachers, and researchers. With these skills, our PhD graduates are prepared to embark on careers in both academic and alt-ac positions, from higher-education administration, research and consultancy, and beyond. 
Find out more about our:
You may also be interested in the Collaborative Program with the Centre for Transitional Justice and Post-Conflict Resolution: The Collaborative Graduate Program in Transitional Justice brings together experts from across the Western community whose teaching and research focuses on issues including reconciliation, criminal accountability, post-colonial legacies, legal reconstruction, the environment, human rights, economic justice, healing circles, democratization, and more.  For additional information, please visit the TJ Centre Program.


We invite you to explore our website. For information about graduate study in the Department of English and Writing Studies, please contact the Chair of Graduate Studies, Dr James Purkis (jpurkis@uwo.ca) or the Graduate Coordinator, Ms Leanne Trask (leanne.trask@uwo.ca).
For information about professional training and career resources, please contact the Graduate Placement and Development Coordinator, Dr. Pauline Wakeham (pwakeham@uwo.ca).