Ivan Coyote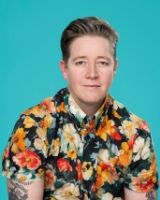 Alice Munro Chair in Creativity
Writer and Storyteller
University College 2414
519-661-2111 ext. 85790
icoyote@uwo.ca
Ivan Coyote is a writer and storyteller. Born and raised in Whitehorse, Yukon, they are the author of twelve books, the creator of four films, six stage shows, and three albums that combine storytelling with music. Coyote's books have won the ReLit Award, been named a Stonewall Honour Book, been longlisted for Canada Reads, and been shortlisted for the Hilary Weston Prize for non-fiction. In 2017 Ivan was given an honorary Doctor of Laws from Simon Fraser University for their writing and activism. They have toured public schools solo around the world for 17 years now, using the power of a personal story to fight bullying and make schools safer for students, staff and parents. In 2019 Ivan marked 25 years on the road as an international touring storyteller and musician, and released their twelfth book, Rebent Sinner, with Arsenal Pulp Press. Coyote's stories grapple with the complex and intensely personal topics of gender identity, family, class, and queer liberation, but always with a generous heart, and a quick wit. Ivan's stories manage to handle both the hilarious and the historical with reverence and compassion, and remind us all of our own fallible and imperfect humanity, while at the same time inspiring us to change the world. Ivan was awarded the Freedom to Read Award for 2020 by the Writer's Union of Canada, in recognition of work that is passionately supportive of the freedom to read and free expression.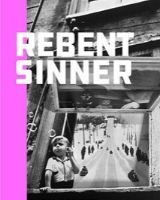 In Rebent Sinner, one of North America's pre-eminent storytellers and performers takes on the intimate and the personal as well as the political in beguiling and revealing stories about what it means for them to be trans and non-binary today. At a time in their life when they must carry the burden of heartbreaking history, while combatting those who would deny their very existence, these stories span thirty years of tackling TERFS, legislators, and bathroom police. But there is delight and pleasure and triumph to be found here, too, as Ivan pays homage to personal heroes while gently guiding younger trans folk to seek joy and find their family as well. Rebent Sinner is the work of an accomplished artist whose plain truths about their experience will astound readers with their utter, breathtaking humanity.  
"The work is a charming and nuanced contribution to the genre; the writing has a springy, playful quality that is highly sensory. The prose throughout is thick with grief and tenderness...a salve for a tired heart."
-- Jackie Mlotek, Quill and Quire
"From pronoun choice and queer visibility to gendered spaces like bathrooms, Coyote showcases the complexity of everyday experience...On all these topics, the expression is careful, deeply considered and suffused with compassion."
-- Bret Josef Grubisic, Vancouver Sun
"There is a courageous vulnerability in Coyote's writing, in which they offer up their own stories in the hope of fostering connections and overcoming prejudice...The book is hilarious, heart-breaking, uplifting. It is, in other words, profoundly human."
-- Michelle Deines, Understorey Magazine
"Coyote ought to be recognized as one of Canada's great humorists, although often the stories are the laughing-through-tears variety. A lot of grit and a lot of heart."
-- Jade Colbert, Globe and Mail
More Ivan Coyote 
Website: www.ivancoyote.com
Facebook: https://www.facebook.com/ivanecoyote
Twitter: https://twitter.com/ivancoyote
Instagram: https://www.instagram.com/ivancoyote/?hl=en
---
About the Alice Munro Chair in Creativity
Alice Munro is counted among Western University's most extraordinary alumni. Her first connection to Western's Department of English and Writing Studies came while she was an undergraduate pursuing an English major. In 1976, the University recognized Munro's literary achievements with an honorary degree, the only such honour she has ever accepted. In October 2013, Munro was awarded the Nobel Prize in Literature.
The Alice Munro Chair in Creativity will:
• Lead the creative culture of the Faculty of Arts and Humanities, serving as a mentor and a model;
• Participate in graduate and/or undergraduate teaching;
• Focus on the production of creative work, alongside a study of creativity;
• Assume a leadership role between the University and the local creative community;
• Allow the University to enhance and expand the Writer-in-Residence program;
• Provide the University with access to a world of writing and artistic creation beyond Canada, allowing the University to attract international authors and artists as speakers and collaborators;
• Present the annual Alice Munro Lecture on Creativity.