Miranda Green-Barteet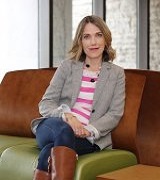 Assistant Professor
PhD, Texas A&M University, 2009
MA, University of Connecticut, 2000
BA, College of Charleston, 1998


University College 4428
519-661-2111 ext. 84661
mgreenb6@uwo.ca
 Fall/Winter 2019-20 Office Hours: tba

 Click to view CV.
Research Interests/Specializations:
19th-century American literature; women writers; African-American writers; young adult literature; gender theory; visual rhetoric; education narratives; autobiographies; memoir writing; race theory
My research focuses on examples of resistance and empowerment in 19th-century American literature written by women, specifically African American women. Specifically, I consider the ways women writing in this period manipulate public and private spaces as a way to resist societal and familial norms and to empower themselves. I have secondary interests in gender theory, spatial theory, and contemporary Young Adult literature. I am at work on a manuscript tentatively titled "Creating, Negotiating, Transforming Space: Interstitial Spaces in Works by 19th-Century American Women Writers." The project examine the representation of architectural and metaphoric spaces in works by Harriet Wilson, Harriet Jacobs, Elizabeth Keckley, Elizabeth Stuart Phelps, Kate Chopin, and Edith Wharton.  I focus on what I term interstitial spaces: spaces that are neither wholly public nor private. Architects often identify thresholds and stairways as interstitial spaces.  Such spaces are transitional sites connecting public and private spaces. In works by these authors, I contend that such spaces figure prominently and are sites in which the writers and their female characters resist private, familial restrictions or public social conventions.  Interstitial sites become border spaces that enable women writers to negotiate and challenge the conventions associated with public and private spaces in 19th-century America.    
I am also at work on a collection of edited essays entitled "Raced Bodies, Erased Lives: Race in Young Adult Dystopian and Science Fiction." The collection, which is co-edited by Meghan Gilbert-Hickey of St. John's University, considers the ambiguity with which race and characters of color are often represented in these genres. It is such ambiguity that enables readers to avoid discussing the racial injustices and race-based inequities that exist in our own society. Such ambiguous treatments of race not only tacitly suggest that race is no longer an issue worthy of discussion, but also privileges and normalizes whiteness. Thus, we see in these texts both the artistic impulse to create complex, racially diverse landscapes and, troubling, the simultaneous use of ambiguity to promote the imbalanced status quo.
Teaching:
WRIT2202: Rhetorical Strategy in the Digital Age; WRIT 2111: Intro to Professional Writing