AJE 13: Call for Submissions | Artlab Gallery
AJE 13: Call for Submissions | Artlab Gallery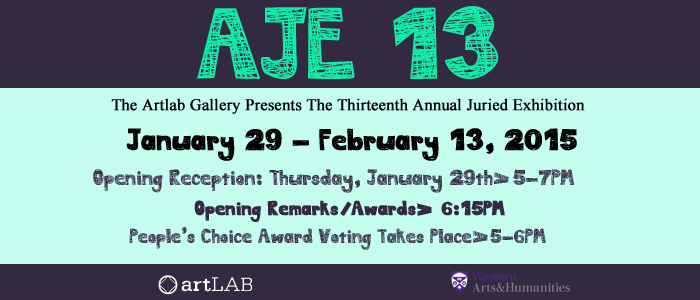 Open to all undergraduate students currently registered in a Visual Arts program (Studio or Art History), the AJE will exhibit a diverse selection of artworks in various mediums. Students may enter a maximum of two new works. Recent works should have been completed no later than September 2015.
Students can install their art work in the halls of the VA Department as of
Monday, January 19th .
Wall areas are not to be reserved in advance. Wall space is available on a first come, first serve basis.
The last day to install your work(s) in the designated hall areas is
Wednesday, January 21, 2015 > 4PM.
All work installed in the hallway MUST be accompanied by a submission form which is available at the Artlab reception desk.
More details will be available at the reception desk of the ArtLab Gallery on January 19th.
Please note that all submission forms must be returned to the Artlab reception desk and given to the gallery attendant
For additional information please contact:
Susan Edelstein
Gallery Director | Artlab Gallery
artlab@uwo.ca
(519) 661-2111 x85855
John Labatt Visual Arts Centre
University of Western Ontario
Perth Drive, N6A 5B