Fall Preview Day - VAC Building Tours & Art Displays
Fall Preview Day - VAC Building Tours & Art Displays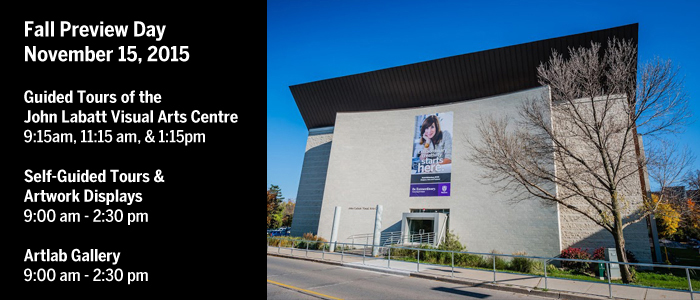 Join us at the John Labatt Visual Arts Centre for Artwork displays, a tour of our studio spaces & the Artlab Gallery!
Visual Arts displays and self-guided tours
9 a.m. – 2:30 p.m.
Guided tours of the John Labatt Visual Arts Centre
9:15 a.m. – 10 a.m. or
11:15 a.m. – 12 p.m. or
1:15 p.m. – 2 p.m.
The Faculty of Arts & Humanities is pleased to host prospective students and their families for a day of stimulating and informative presentations and displays. You are cordially invited to visit us to meet professors, staff and students from the departments of Classical Studies, English and Writing Studies, Film Studies, French Studies, Modern Languages and Literatures, Philosophy, Visual Arts, and Women's Studies and Feminist Research. In addition, there will be representatives from the Linguistics Program, the Academic Counselling office and the Arts & Humanities Students' Council. Please plan to attend our welcome and overview presentation and complete your day at Western with a visit to the John Labatt Visual Arts Centre, home to an extensive gallery space for student exhibits. We look forward to meeting you and will be ready to answer all of your questions about courses and programs.
Learn More:
Full Schedule of Academic Programs & Presentations