Surface Tension | Artlab Gallery
Surface Tension | Artlab Gallery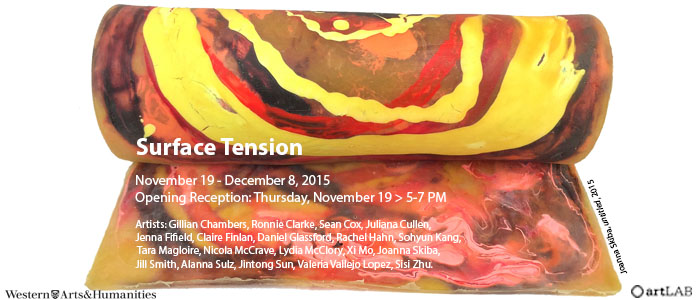 The Artlab Gallery is pleased to present Surface Tension, a large painting exhibition with new works by 19 students in Professor Sky Glablush's third year Advanced Painting class. 
"The question which provides the parameters for this exhibition is "what is painting?" Each student has been investigating the literal, physical properties of what makes up the surface and structure of painting. Is it canvas? Is it flat? If we start from these assumptions and work towards a pictorial construction, why? This project seeks to break down the dichotomy of subject matter versus form. And rather than simply revelling in the physical processes of paint and surface, each student has been posing the problem of communicating ideas through the specific material language freighted as it is, of paint and surface." - Professor Sky Glabush

PARTICIPATING ARTISTS:
Gillian Chambers, Ronnie Clarke, Sean Cox, Juliana Cullen, Jenna Fifield, Claire Finlan, Daniel Glassford, Rachel Hahn, Sohyun Kang, Tara Magloire, Nicola McCrave, Lydia McClory, Xi Mo, Joanna Skiba, Jill Smith, Alanna Sulz, Jintong Sun, Valeria Vallejo Lopez, Sisi Zhu.
On view in the Artlab Gallery, November 19 - December 8, 2015.
Join us for the opening reception, Thursday, November 19th 2015.