Pressed for Time | Concourse Gallery
Pressed for Time | Concourse Gallery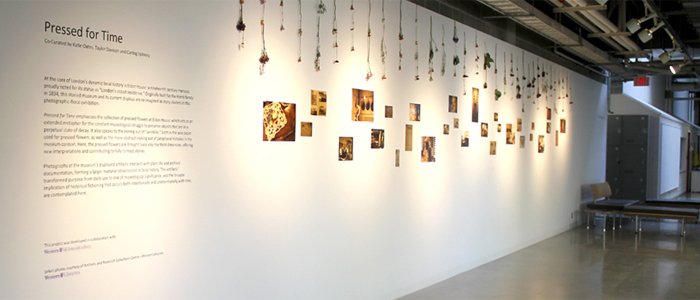 Pressed for Time
Exhibition: October 21 - November 6, 2015

Pressed for Time is an exhibition featuring contemporary work by the (9582A, Contemporary Art and the Archive) class.
At the core of London's dynamic local history is Eldon House: a nineteenth century mansion proudly noted for its status as "London's oldest residence." Originally built for the Harris family in 1834, this storied museum and its current displays are reimagined as story clusters in this photographic floral exhibition.
Pressed for Time emphasizes the collection of pressed flowers at Eldon House, which acts as an extended metaphor for the constant museological struggle to preserve objects that are in a perpetual state of decay. It also speaks to the ironing out of "wrinkles," both in the wax paper used for pressed flowers, as well as the more abstract ironing out of peripheral histories in the museum context. Here, the pressed flowers are brought back into the third dimension, perhaps offering new interpretations and contributing to fully formed stories. Photographs of the museum's displayed artifacts intersect with plant life and archival documentation, forming a larger metanarrative rooted in local history. The artifacts' transformed purpose from daily use to one of museological significance and the broader implication of historical fictioning that occurs both intentionally and unintentionally with time are contemplated here. This project was developed in collaboration with McIntosh Gallery and Western Libraries.
Co-currated by: Katie Oates, Taylor Davison and Carling Spinney
Concourse Gallery, Cohen Commons
John Labatt Visual Arts Centre, 
Western University      
Admission is Free
Contact: Carling Marie Spinney for more information.