Millefeuille and Flipper, by Christof Migone | Bookcase Micro-Museum and Library
Millefeuille and Flipper, by Christof Migone | Bookcase Micro-Museum and Library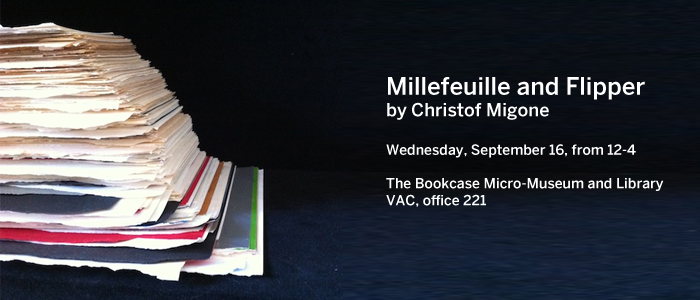 On Wednesday, September 16, from 12-4, The Bookcase will open for the 2015-16 year, with a brand new exhibition and fundraiser. Please come by to borrow books, see the exhibition, or to buy a book ($1-5 donation).* All are welcome. 
Millefeuille is a pile of one thousand blank pages torn from books in Migone's library. Millefeuille in French literally means one thousand sheets, leaves or pages. It is also the name for a type of pastry. Migone writes, "Some books have no blank pages, quite a few have one in the front and one in the back, some have several. I rip all of the ones I find. On each page I write the title and author of the book it is torn from, then assemble the layers and serve this pastry to all the bibliophiles." Millefeuille (2006) will be on display in the Bookcase while a second edition, Millefeuille 2 (2013) is showing at QueenSpecific in Toronto. 
Flipper A (2007) is an audio flipbook of 99 books starting with the letter 'A' culled from the Paul D. Fleck Library and Archives of the Banff Center for the Arts. The recordings are left largely unaltered. The flipping action is miked closely in order to transpose physical materiality to the sonic realm. Each book's weight, size, binding affects how a book will flip and consequently how a book sounds.
The Bookcase is a micro-museum and library found in the Visual Arts Department at Western University, JLVAC, office 221. It is open Wednesdays 12-4, by chance or by appointment.
* Did you know that the Bookcase micro-museum and library pays micro-fees to all exhibitors and artists? All monies collected at the fundraiser will go towards another year of programming.
More information at: 
www.bookcasemicmuseum.wordpress.com