We are offering digital programming across all our departments throughout the summer: Campus Recreation, Sport Western, Sport, and Spirit & Connection. From live in-person fitness classes every day, webinars on various sports topics, announcements about new recruits and award dinners, to pre-recorded active living and informational videos, we hope you will check out our offerings and join us this summer for some Mustangs active-living and community connections. 
For more information, see our July digital offerings below, or visit us at https://westernmustangs.ca/sports/2020/5/20/mustangs-sport-recreation-digital-summer-series.aspx
We're putting out LIVE fitness content regularly through Instagram and Zoom. Follow us to stay up-to-date on everything we have going on, and check our website for updates!
Sports and Recreation wants our Mustangs to be able to stay active, so our Western Campus Recreation fitness is going LIVE on Instagram @Western_Rec every day starting March 25, with some of your favourite classes. For more information visit www.uwo.ca/campusrec 
One of the best things you can do is keep active, if possible. Class days and times are subject to change without notice.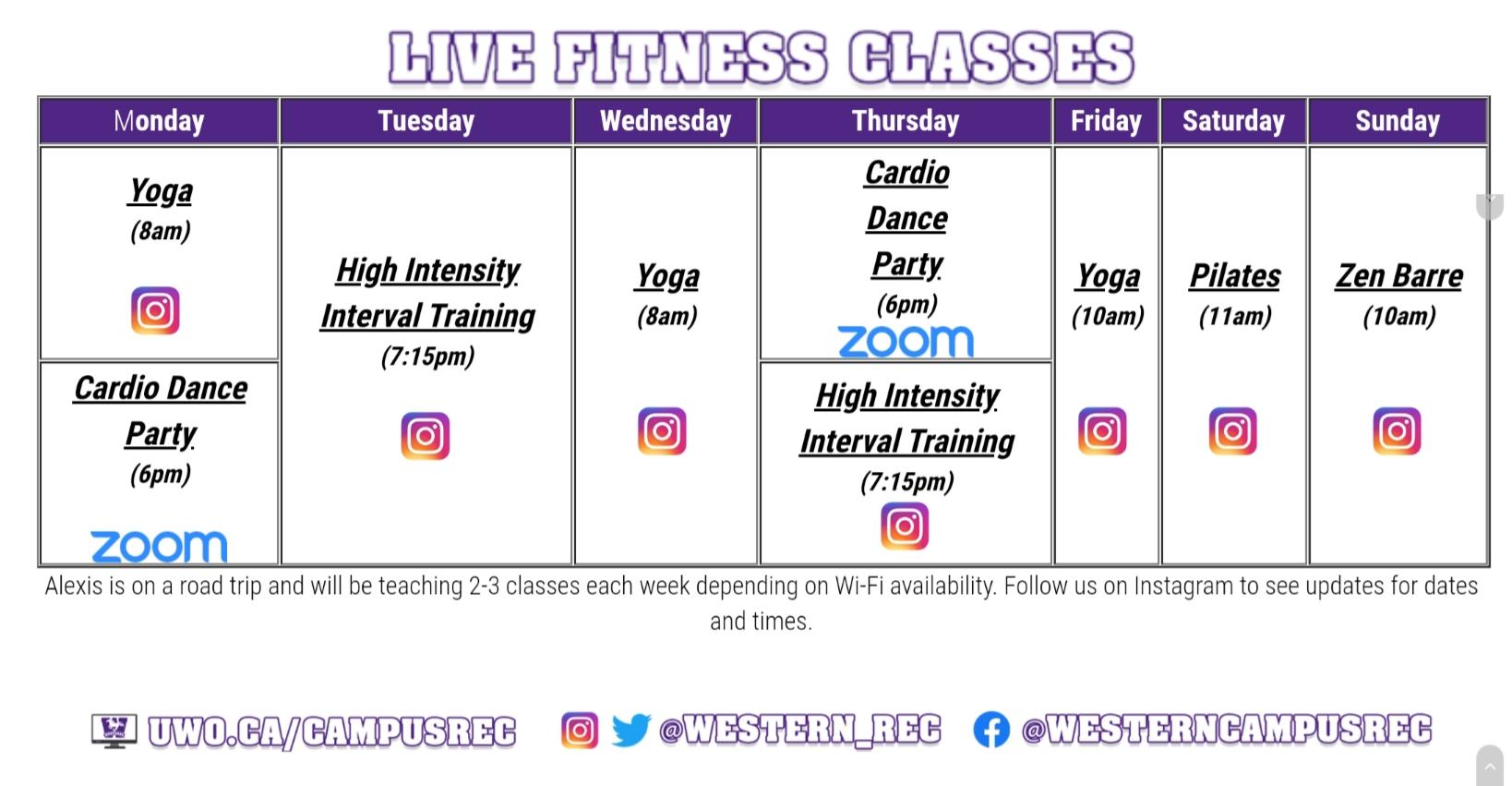 Mondays and Thursdays our Cardio Dance class will be offered Live on ZOOM. Individuals must pre-register for these FREE classes and will receive a password to enter. Register in advance?
Mondays: https://westernuniversity.zoom.us/meeting/register/tJIkc-2hqjgsHNwdZr34dQ0iCAPdwk5_8wA8%20
Thursdays NEW LINK:
Note: Please ensure you are exercising safely. If you are new to exercise, it is a good idea to complete this link: http://eparmedx.com/wp-content/uploads/2013/03/PARQPlus2019ImageVersion2.pdf
As well, Harvard Medical School has published an article on 10 tips for exercising safely: https://www.health.harvard.edu/healthbeat/10-tips-for-exercising-safely
Want to watch on a larger screen PC screen for Instagram Live? You now can! Check out this article for more information: https://www.itechguides.com/how-to-watch-instagram-live-on-pc/
Live classes are best streamed through Instagram Live on your mobile device @Western_Rec. If you wish to try to view it on a desktop, here is some information about how it may be possible: https://www.makeuseof.com/tag/instagram-live-videos-browser/
Sport Western Digital Camps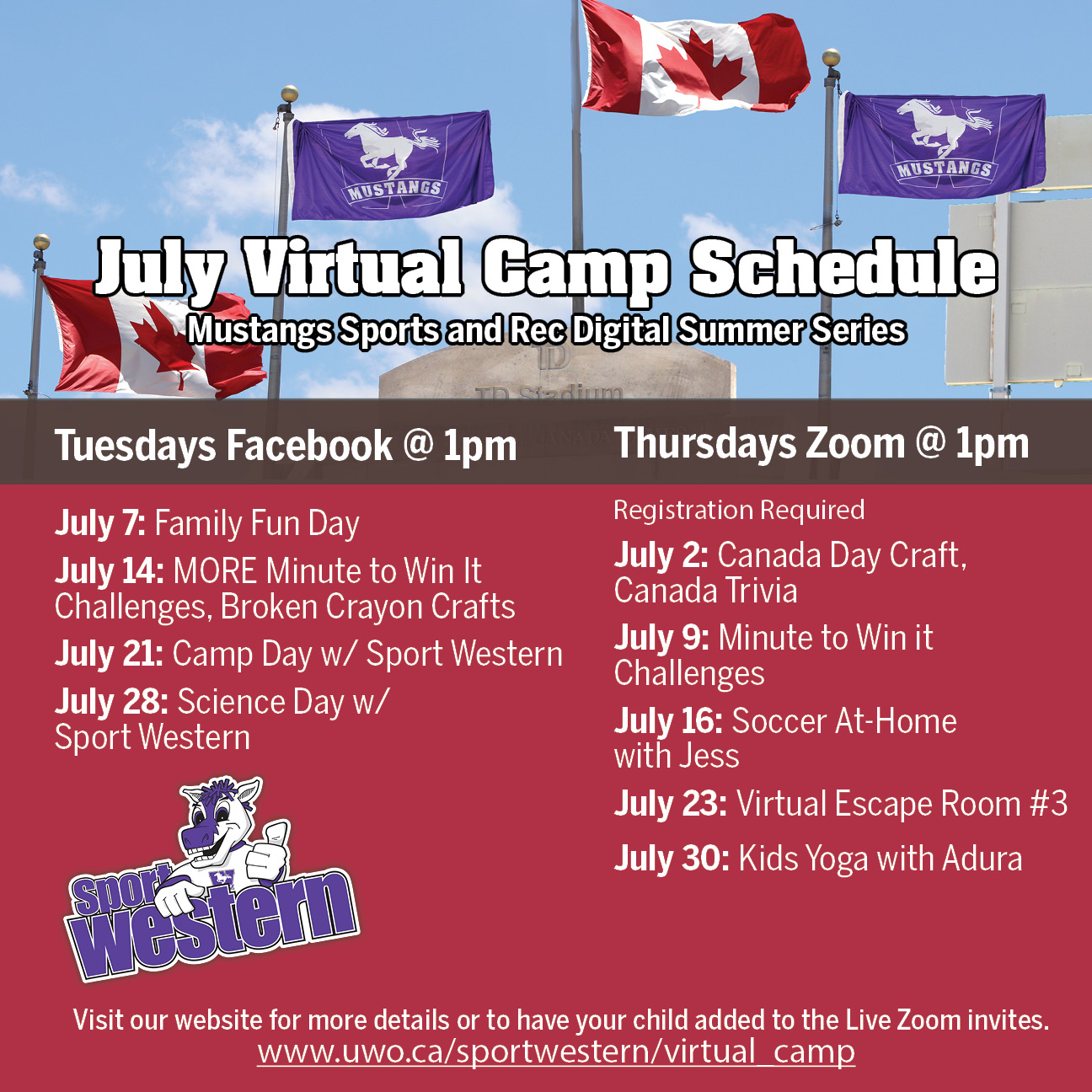 Campus Rec Reachouts Video Series 


Sport Recruit Announcements
---
Watch for registration for future E-Sports tournaments in June!
Western Mustangs E-Sports Multi-day Online Tournaments
Enter E-Sports!!! 
This is an unprecedented time for campus intramurals across the country. We're always committed to providing intramural activities any way we know how, and we're pursuing online gaming as a means to continue programming and keep participants engaged through this difficult time. Who couldn't use a good distraction?
Visit www.uwo.ca/campusrec for more information
---
---
Weekly FREE Online Fitness Class Schedule - text format
Sunday - Zen Barre – 10AM 
Monday - Yoga – 8AM; Cardio Dance – 6PM (Zoom, registration required)
Tuesday - High Intensity Interval Training – 7:15PM;
Wednesday - Yoga – 8AM; 
Thursday - Cardio Dance – 6PM (Zoom, registration required); High Intensity Interval Training – 7:15PM
Friday - Yoga – 10AM; 
Saturday - Pilates – 10AM
Watch for one of our instructors, Alexis, doing impromptu classes throughout the week. Watch our Instagram account for more details. Videos will also be available to view after the live class.
One of the best things you can do is keep active, if possible.
---