Art & the City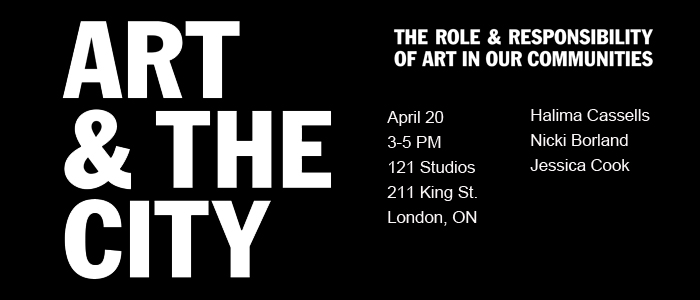 Art and the City: the Role and Responsibility of Art in Our Communities

April 20, 2017
3pm -5pm
121 Studios - 211 King Street, London, ON, Canada

Art and the City will focus on public engagement, outreach programs, and community development strategies in the arts. Some questions to be considered by the panel participants include: what specifically are the arts doing for your communities, and how can art and its institutions instigate concrete positive changes in communities, or potentially even foster the rebuilding of communities? To further complicate these questions we might also ask, what responsibility the arts have, if any, to the community? And what are the socio-economic complications and challenges involved when we use the arts as a tool for community (re)building? What is the responsibility of art institutions (if any) to affect social change? And what are the ethics involved in the engagement between art institutions and the local community? The goal of this event is to explore multiple perspectives on community building in the arts.

This professional panel of guest speakers includes practicing artists and cultural workers from here in London, Windsor, and Detroit. Focusing on engaging and revitalizing communities through the arts, this panel will pull from a variety of disciplines and approaches to address the fundamental and practical questions about the impact, role and responsibility of the arts our communities. The ultimate aim of this event is to foster a lively and inclusive arts dialogue between different Departments at Western University and the London community.

Speakers:

Halima Cassells - What is the artist's role in the rebuilding of a city?

Bio:
Detroit-based artist/ community advocate Halima Cassells occupies a myriad of roles that are unified by a devotion to fostering community inter-connectivity. In practice she designs spaces for authentic engagement, and collaborative artistic expression, as well as projects that engender new economy practices. She works as an independent artist and assumes roles at Oakland Avenue Artists Coalition, O.N.E. Mile project, Incite Focus Fab Lab, Center for Community Based Enterprise, and the Free Market of Detroit.


Nicki Borland - "Over the past year working at LondonFuse (and four years prior volunteering), we've always tried to connect the local community through the arts. Aside from visual art itself, additional media like photography, video, and writing have been the pillars of progress when bringing Londoners closer to the city they live in.

Further to that, focus will be placed on our print publication, Short Fuse. I would like to discuss how this new venture allowed us to reach an even broader audience through traditional, offline media, in an increasingly online world.

Such an endeavour has opened our eyes to an entirely new method of connecting our community with writers, illustrators, photographers, artists, and leaders in the local art world. It has been very interesting to see the overwhelmingly positive engagement and response this method has received. It's one we will continue to explore in order to promote arts, culture, and community in London, Ontario."

Bio:
Nicki Borland is a born and raised Londoner, a Western grad, and a lifelong supporter of the arts. She has been heavily involved in the community for many years, something that largely lead to a graduate thesis on art and urban regeneration in London, Ontario. Currently, Nicki is the Program Director at LondonFuse and works every day to make the Forest City the best it can be through creativity, innovation, and engagement.


Jessica Cook – "As a First Nations artist living in Windsor, I will be talking about the projects I have worked on, and am presently working on. Additionally, I will discuss my role as an educator at the Art Gallery of Windsor and how I have been invited to participate in past events and presently how I engage with the Art Gallery, our local community members, elementary, secondary and post-secondary schools, educators and parents.

Bio:

Education and Public Programs Coordinator at the Art Gallery of Windsor.
OCT, graduated from the University of Windsor with an Honours Bachelor of Fine Art and a Bachelor of Education and is presently working towards her Master of Education at the University of Windsor, where she is a Graduate Assistant for Dr. Anthony Ezeife. Jessica has been working in multi-media/computer graphic design for over twenty years and works in combination with traditional fine arts, photography and contemporary mediums to create custom works of art or promotional and marketing materials for online, print, film & television for companies such as, the Can-Am Indian Friendship Centre, the Greater Essex County District Public School, the University of Windsor, Kickstand Entertainment, Mach2Films, and NAFTC Studio. Jessica is also a Production Designer who has worked on films with Peerless Productions, The Dot Film Company, Magic Door Films, the Peabody Bridge Company and as an Associate Producer with Black Coal Films. Jessica is also the Education and Public Programs Coordinator at the Art Gallery of Windsor, where she enjoys outreach initiatives with local communities and group art projects.
Art and the City has been organized by Jessica Cappuccitti as part of the adapted project-based stream of her Ph.D. in Art and Visual Culture at Western University. Her current research considers the City of Detroit as a case study for analyzing the complex role that artists and art institutions are playing in the potential re-growth and revitalization of the city. 

Special thanks to:

The Faculty of Arts and Humanities
The Departments of:
Visual Arts
English and Writing Studies
French Studies
Philosophy
Women's Studies
Western University's Centre for Theory & Criticism
The School for Advanced Studies in the Arts and Humanities
121 Studios