Cold Front | McIntosh Gallery
Cold Front | McIntosh Gallery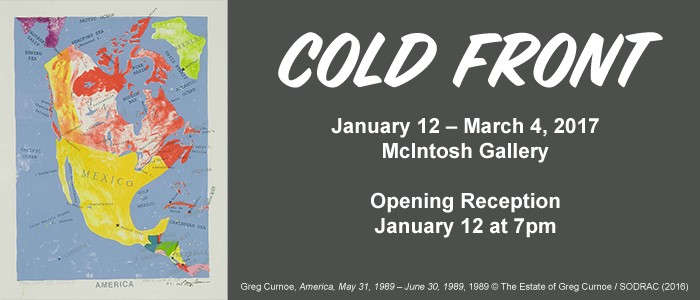 Cold Front | McIntosh Gallery
January 12 – March 4, 2017 
Opening Reception: Thursday, January 12, 2017 at 7:00 PM
This exhibition features six artists –Tom Benner, John Boyle, Jack Chambers, Greg Curnoe, Jamelie Hassan, and Tony Urquhart – who worked in London, Ontario during the Cold War (1947-91). In this period of heightened political tension, capitalist and communist countries battled to shape global economic development and modernization according to their respective ideals.
Cold Front looks at the varied ways in which these regional artists navigated the anxieties of the international Cold War.
In the lithograph America, May 31, 1989–June 30, 1989, 1989, Greg Curnoe takes a satirical approach to Yankee imperialism by asking the viewer to consider a map of North America in which the United States has been removed, leaving only Canada and Mexico.
In what is arguably his most overtly political film, Jack Chambers' Hybrid, 1966, contrasts images of flowers from a found horticultural film and footage from the Vietnam War.
Tony Urquhart painted Calm, 1962, at McIntosh Gallery while artist-in-residence just before the Cuban Missile Crisis. Though apparently static–the calm before the storm–a massive brown cloud suggests the slow-rolling motion of a nuclear explosion. Urquhart conveys a veil of uncertainty symbolic of the ominous atmosphere of the 1960s.

Cold Front is guest curated by art history graduate students in the Department of Visual Arts: Beatriz Asfora, Brad Morosan, Kelsey Perreault, Caroline Rabideau, Mackenzie Sinclair, and Ruth Skinner, with Professor Sarah Bassnett and McIntosh Gallery Curator Catherine Elliot Shaw.
Acknowledgements
Cold Front is part of Western's Canada 150 programming in celebration of Canada's sesquicentennial. Western's Canada 150 committee comprises staff, faculty and students and is co-chaired by Professor Jerry White, Department of Sociology, and Marcia Steyaert, Communications & Public Affairs. McIntosh Gallery gratefully acknowledges the financial support of Western's Canada 150 Committee, which has made this exhibition and related programs possible.
Related Programs
Opening Reception with curators and exhibiting artists in attendance
Thursday, January 12th, at 7:00 PM
Curator-led exhibition tour with Kelsey Perreault
Friday, January 27th at 12:30 PM