Art Beyond Itself: Mountain & Rivers Without End | Conference
Art Beyond Itself: Mountain & Rivers Without End | Conference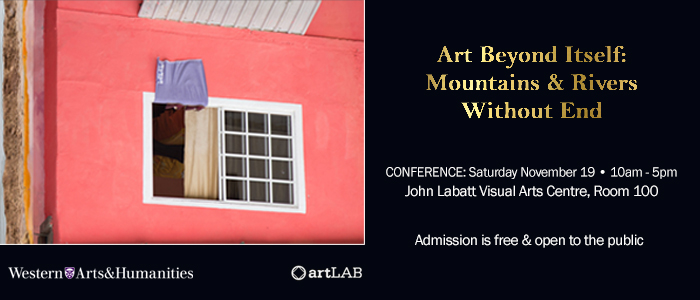 Saturday, November 19, 2016
John Labatt Visual Arts Centre (VAC)
Room: 100
Mountains & Rivers Without End (MRWE) is an interdisciplinary group project involving artists and scholars from Canada and Ecuador. The initial segment of MRWE consisted of a residency in the Ecuadorean towns of Portovelo and Zaruma during the summer of 2015; its goal was to give members of our group of collaborating artists and researchers first-hand experience of the history and lingering effects of gold mining on the social, economic, and environmental fabric of the region surrounding these two towns. During their stay in Ecuador, members of MRWE had the opportunity to meet with residents of Portovelo and Zaruma, including the mayor of Portovelo and members of the town council, local historians, artists, writers, teachers, and many others, to engage in brief interactions involving day-to-day experience. The participants in MRWE, in turn, presented talks, free and open to the public, in several different venues in Portovelo and Zaruma, about their particular artworks or areas of expertise. The outcome of this process was a series of artworks and texts that were exhibited in Ecuador (in Cuenca in February 2016, and in Quito in June 2016) and that are being brought together once again for this exhibition.
Alongside the exhibition, a conference, Art Beyond Itself: Mountains & Rivers without End, on Saturday, November 19 from 10AM - 5PM in room 100, JLVAC, will seek to extend the discussions around the exhibition's focus by including another scholar from Ecuador, Andrea Carrión, and scholars from Western University: Cody Barteet, Amanda Grzyb, and Kelly Jazvac, as well as Dianne Pearce from Oakville Galleries.
The exhibition and conference are co organized by Ulises Unda, Andrés Villar and Patrick Mahon.