For Love & Money: How to Turn Your Fine Arts Degree into a Paycheque
Guest Speaker Joanne Latimer - For Love & Money: How to Turn Your Fine Arts Degree into a Paycheque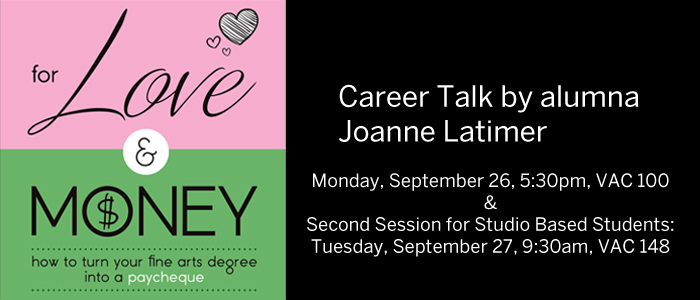 Join us Monday September 26th at 5:30 p.m. > VAC 100  for a free Career Talk by Joanne Latimer. (Honours B.A. Art History/History - Western University)
Her presentation, "For Love & Money: How to Turn Your Fine Arts Degree into a Paycheque" is two hours long, and is packed with practical tips and ideas about how to land a job with a Fine Arts degree, with particular emphasis on Art History (and Studio Art).  Joanne Latimer, who writes regularly for The Globe and Mail, The New York Times, and a variety of other arts-related publications, has been active in a range of domains, and is extremely savvy.  Her presentation will permit students at both the undergraduate and graduate levels to gain insight into the real-world application of their Fine Arts degrees. 
This FREE event is generously sponsored by the Faculty of Arts and Humanities, and all are welcome.
---
Second Session for Studio Students
Join us Tuesday, September 27th at 9:30 a.m. > VAC 148
This year Joanne will offer a second special seminar that is geared specifically towards STUDIO students. Latimer will cover topics that include the writing of artist's statements and how to represent your art work successfully to diverse audiences on Tuesday September 27th at 9:30 a.m. in Rm. 148.