MFA Thesis Exhibition | Juanita Lee Garcia: El Paradise | DNA Artspace
MFA Thesis Exhibition | Juanita Lee Garcia: El Paradise | DNA Artspace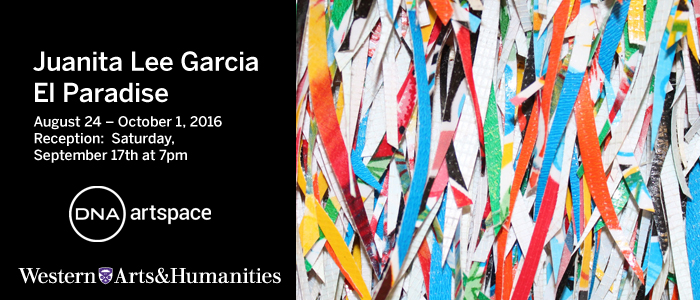 August 24 – October 1, 2016
Reception: Saturday, September 17 from 7-10PM
Juanita Lee Garcia's studio-based research stems from a deep-rooted interest in the consumption of culture. During her MFA candidacy at Western she has undertaken a material exploration of a vinyl product, a tablecloth material, and launched a conceptual exploration of its use as décor to emphasize what she refers to as the 'Latin Feel.' Although her studio-based research is not specifically autobiographical, there is a clear influence on her practice and interests that are rooted in her experience as a Latin American immigrant who has lived in Canada and the United States. In her process she employs strategies of repetition and repurposing to conceptually and materially investigate the potential and limits of ethnic décor through the aforementioned tablecloth as presented through consumer culture. 
Her artistic practice shifts between sculptural and conceptual work that mines simple gestures such as slicing, inserting, folding, or layering to build new and abstract forms that are at once comforting yet unfamiliar. Through her work, Lee Garcia is interested in exploring the history and potential of materials and the images imprinted onto them; the image and materials cultural and social association; and aesthetic 'feel' generated in relation to the public, private, and consumer spaces. She is particularly interested in the visual consumption of cultural identity - specifically that of the Latino. Other fundamental notions in her work include the durational labour in the act of making, the mediation and processes that contribute to the visual rhythm of repeated gestures and forms, excess, multiplicity, craft, and other complex ideas such as those of taste and class. 
Juanita Lee-Garcia holds a BFAH with a Major in Printmaking and Minor in Art History from Queen's University. She is currently a Master of Fine Arts candidate at Western University. 
DNA Artspace
Summer Hours of Operation
Wednesday - Saturday 12 to 5 pm
or by appointment
Location
123 Dundas St
London, ON
N6A 1E8