Western University Open Studios and Graduate Symposium
Western University Open Studios and Graduate Symposium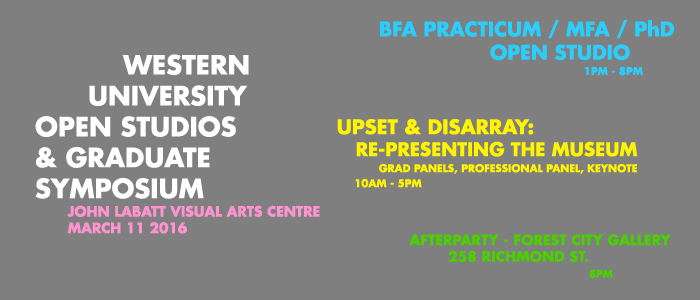 Friday, March 11th, 2016

John Labatt Visual Arts Centre, Western University, London, Ontario.

Western University Arts & Humanities and the Department of Visual Arts invite you to attend the 2016 BFA/MFA/PhD Open Studios and Graduate Symposium.

Last year's Open Studios was a HUGE success, and this year we want to make it even better. To do so we've planned to show a ton of great art by a ton of talented artists in the BFA Practicum, MFA, and Studio PhD programs! This year's Open Studios (1-8pm) will run in conjunction with the 2016 Visual Arts Graduate Symposium, Upset & Disarray: Re-Presenting the Museum (10am-5pm).

Mindful of the stakes at play in the museum's role as cultural conduit, Upset and Disarrayinvestigates diverse and challenging strategies that promote innovation rather than stagnation, fluidity rather than austerity. This symposium collects timely graduate presentations that address a range of topics, reconfiguring relations between the institutional, the curatorial, and the cultural. An afternoon professional panel of guest speakers and a Keynote speaker will be announced shortly.

Keynote: TBA. Follow our Facebook page for updates.https://www.facebook.com/events/204551149893633/
Professional Panel: Srimoyee Mitra and Josh Thorpe. Further panelists TBA
Graduate Presenters: Taylor Davison, Genevieve Flavelle, Keely McCavitt, Samantha Noseworthy, Katie Oates, and Carling Spinney.
Schedules
 10am - 5pm: Art History Graduate Symposium:
⚡ 10:00 - 12:30: Graduate Panels
⚡ 2:00 - 3:30: Professional Panel
⚡ 3:30 - 5:00 Keynote

Our professional panel is comprised of Lisa Daniels (Curator and Director of the Judith & Norman Alix Art Gallery), Sophie Quick (PhD candidate at Western University, Board Member at Forest City Gallery, founding member of Good Sport), and artist and writer Josh Thorpe (Dan Graham Pavilions: A Guide; A dog at sea; The Unexpected). Our professional panel will be from 2:00-3:45, followed by our keynote at 4:00.

Curator and writer Srimoyee Mitra is the keynote speaker for the Art History Graduate Symposium. She is currently the Curator of Contemporary Art, Art Gallery of Windsor. Her most recent exhibition is Wafaa Bilal: 168: 01 on view at the AGW until April 10, 2016 in Windsor, Ontario. She has worked as the Art Writer for publications in India such as Time Out Mumbai and Art India Magazine. From 2008-2011 she was the Programming Co-ordinator of SAVAC (South Asian Visual Arts Centre) in Toronto. In 2015, she edited a multi-authored book, Border Cultures, co-published by the Art Gallery of Windsor and Black Dog Publishin



1pm - 8pm: MFA, PhD, and BFA Practicum Open Studios

5pm: Dinner in Concourse Gallery
6pm: Searching for Grey Owl, Performance by Michael Farnan
7pm: Robotic Expressionism, a screening of film works by Tom Sherman co-presented by Artlab Gallery, LOMAA, and VibraFusionLab
8pm: Afterparty at Forest City Gallery (258 Richmond St)

Refreshments, lunch and light dinner provided.



Bus from Toronto

Live in Toronto and want to attend? We will be running a FREE COACH BUS from Toronto to London and back, scheduled as follows:
11:00am: Depart Mercer Union (1286 Bloor Street West)
8:00pm: Depart Visual Arts Centre for Toronto
Please RSVP for the bus with your full name: westernopenstudios@gmail.com
---

The Department of Visual Arts Graduate Conference and Open Studio organizers gratefully acknowledge the assistance of the The Faculty of Arts and Humanities, The McIntosh Gallery, Forest City Gallery, LOMAA, Vibrafusion lab, and Curry's Art Store.

Watch the Video From last year's Open Studios