Call for Submissions : AJE 14 | Artlab Gallery
Call for Submissions : AJE 14 | Artlab Gallery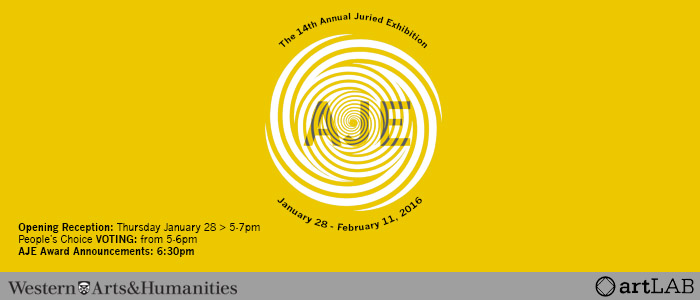 AJE - Annual Juried Exhibition
January 28 – February 11, 2016
OPENING Reception: Thursday January 28 >5-7pm
People's Choice VOTING: from 5 - 6pm 
AJE Award Announcements: 6:30pm
Back for the 14th year in a row, this highly anticipated exhibition features a diverse selection of artworks by Undergraduate students in the Visual Arts Department. This exhibition supports the production of new artwork made in a variety of mediums which include painting, sculpture, media, photography, installation and performance. Works in this large group exhibition are selected by a professional jury who consider originality, creativity, process and engagement as some of the criteria for inclusion in this exhibit.
CALL FOR SUBMISSIONS
Open to all undergraduate students currently registered in a Visual Arts program (Studio or Art History), the AJE will exhibit a diverse selection of artworks in various mediums. Students may enter a maximum of two NEW works, i.e. works completed no later than fall semester. All submissions will be considered by a professional jury. Awards will be presented for works that exemplify originality, creativity, and viewer engagement. 
Installation can take place as of Monday, January 18th. Wall areas are not to be reserved in advance. Wall space is available on a first come, first serve basis. The last day to install your work(s) in the designated hall areas is Wednesday, January 20, 2016 > 4PM
All work installed in the hallway MUST be accompanied by a submission form which is available at the ArtLab reception desk. Works installed without a corresponding submission sheet will not be considered by the jury. Submission forms will be available at the reception desk of the ArtLab on January 18. 

* Please note that all submission forms must be recorded by the ArtLab Gallery