Zines Exhibition at D.B. Weldon Library
Zines Exhibition at D.B. Weldon Library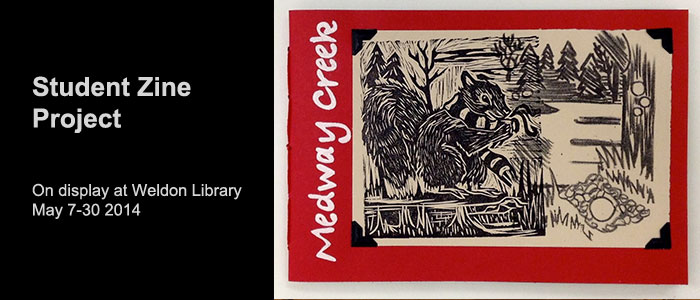 A zine (/ˈziːn/ zeen; an abbreviation of fanzine, or magazine) is a small circulation self-published work of original or appropriated texts and images usually reproduced via photocopier or printmaking. Zines on the themes of 'the park' and 'seasons' created by 2nd, 3rd and 4th year print media students of the Visual Arts Department are currently on view at the Weldon Library until May 30.
This project is part of ongoing academic offerings at Western University and were produced in conjunction the following courses:
Class: VAS3330
Instructor: Patrick Mahon
TA: Gabriella Solti
Technician: Rene Vanderbrink
Class: VAS2236A/B
Instructor: Tricia Johnson
TA: Lynette de Montreuil
Technician: Rene Vanderbrink
For more information on this exhibition, or Printmaking courses being offered, please contact the Department of Visual Arts.
Department of Visual Arts
John Labatt Visual Arts Centre Room 200
Western University
London, ON, Canada, N6A 5B7
t. 519.661.3440 (83440) f. 519.661.2020