Gabriella Solti: SISYPHUS IS HAPPY - Artlab Gallery
Gabriella Solti: SISYPHUS IS HAPPY - Artlab Gallery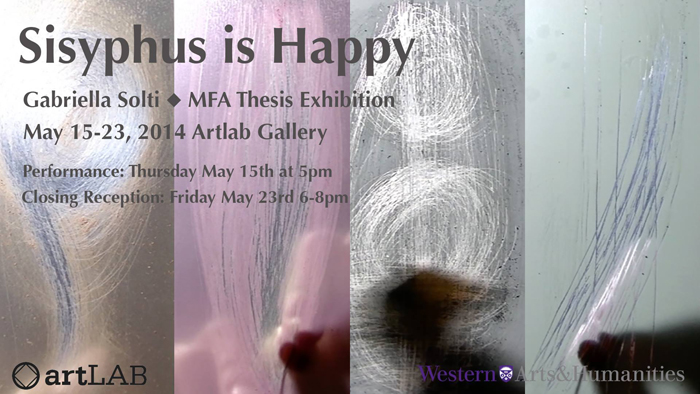 Gabriella Solti, Illuminations $5 (2014) video rear-projection on diamond lapping film, 4 min., looped.

Gabriella Solti: Sisyphus Is Happy
May 15 - 23, 2014
Performance: Thursday, May 15th > 5 PM
Closing Reception: Friday, May 23rd > 6- 8 PM
Gabriella Solti's art practice is rooted in vigorous physical labour, and consequentially involves fatigue and pain, from which creative action is born. She uses sandpaper and sanding cords as drawing tools applied to hard-to-erase sandpapers (microabrasives / microfinishing film) as surfaces for mark making (marks are created by sanding one of the sandpapers with the other by hand) that speak of both the material qualities of the medium as well as artistic labour. Solti works at her sanding task until utmost fatigue sets in, which often presents itself as pain in the hand, palm or arm, such that the aesthetics of the art objects come from not picture making decisions but from decisions the artist makes by recognizing the limitations of her body. In the last two years, based on these performative gestures, Gabriella Solti has created a body of work that includes objects, video, rear-projection into lapping film, artist books, writing and performance. For her, it is not pre-conceived ideas that lead to a pre-determined meaning and aesthetics as a fixed goal. Instead, it is the process itself that takes precedent and gives the work its integrity and the intrinsic value of her labour as an artist.
Gabriella Solti holds a BFA from Emily Carr University, Vancouver and is currently a master of fine arts candidate within the Department of Visual Arts at Western University. She has exhibited in Italy, Germany, US, Japan, UK and Canada, most recently in the MLC Gallery in Toronto. Her artist books/prints are in museums and special collection libraries across Canada and Europe.
SISYPHUS IS HAPPY, Solti's MFA thesis exhibition, has been organized by the Artlab Gallery, Department of Visual Arts, Western University.
Artlab Gallery
Department of Visual Arts

John Labatt Visual Arts Centre
Perth Drive, London, Ontario, Canada
For more information please contact: Susan Edelstein, Gallery Director sedelst@uwo.ca 
Web: http://uwo.ca/visarts/artlab/index.html
Email: artlab@uwo.ca
Facebook: : www.facebook.com/artLabGallery.WesternU
Twitter: https://twitter.com/artLAB_gallery
Gallery Hours: Monday to Friday > 12-5PM
The Gallery will be closed Monday May 19th, Victoria Day.