Recycling Material Culture - UC Gallery
Recycling Material Culture: Obsolete and Out of Date - UC Gallery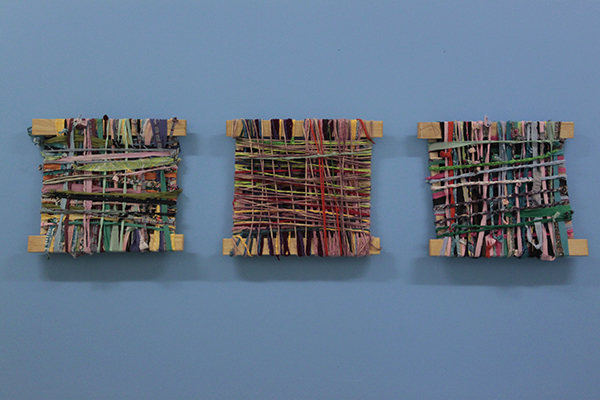 UC Gallery is pleased to present the work of local artist René Vandenbrink who received a BFA in studio from the Department of Visual Arts, Western University in 2010.
The study of obsolete objects and out of date processes has been an important part of René Vandenbrink's art practice. Her concerns with the loss of traditional modes of art making became prominent in 2007 after attending the "World Washi Summit" in Toronto.
"Washi is a style of paper making originating in Japan… commonly made by using fibers from the bark of the gampi tree, the mitsumata shrub (Edgeworthia chrysantha), the paper mulberry… or by using bamboo, hemp, rice, and wheat. Washi comes from wa meaning Japanese and shi meaning paper, and the term is used to describe paper made by hand in the traditional manner." 1
In Wrapped Series, René Vandenbrink combines her long time interest in culturally rich traditions involving the handmade with her desire to save, recycle and breathe new life into unwanted objects. When asked about her process, Vandenbrink explained, "Living in a city where tools, furniture and everyday ephemera are frequently discarded, it is difficult to pass by these objects without wanting to save them from their forever home in a local landfill."
Works from the Studio Wall Segment Series is loosely based on drawings of cellular structures. The material foundation for this body of work is taken from one large discarded sheet of Shibori cloth, a hand dyed, cotton fabric. The term Shibori comes from the Japanese verb Shiboru, meaning to wring, squeeze, or press, a technique used to create designs in dyed fabric. Combining layers of lithographic ink, pigment and dye to the surface of the Shibori fabric, Vandenbrink employed various repetitive mark-making techniques, including monoprinting, block printing, batik and hand drawing to embellish the surface of the canvas. A final gesture of hand embroidery using hand dyed threads completed the mixed media works.
---
1) Hughes, Sukey (1978). Washi: the world of Japanese paper. Tokyo: Kodansha International
Organized by Artlab Gallery, Department of Visual Arts
, John Labatt Visual Arts Centre, Western University, London, Ontario. For more information please contact: Susan Edelstein, Artlab Gallery Director, sedelst@uwo.ca