Visual Arts Open Studios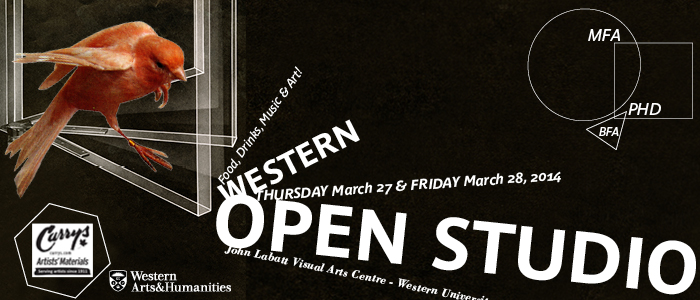 Western University Arts & Humanities and the Visual Arts Department is proud to present:
the 2014 MFA/PhD Open Studios
Thursday March 27 & Friday March 28, 2014
John Labatt Visual Arts Centre,
Western University
London, Ontario
The Open Studios event features the ART NOW! Speaker Series artist talk by 2013 Sobey Art Award Recipient Duane Linklater, the INSIGHT: Visual Arts Forum with research presentations by MA's, non-studio PhD's, and Studio Faculty Members, and the exhibition "What Plants Crave" at the ArtLab gallery, by graduating BFA Practicum Students, who also have their studio open to the public.
The event runs as follows:
Thursday, March 27th:
5pm: Open Studios
7pm: Artist Talk by Duane Linklater
8:30pm: Open Studios
9:30pm: After Party Drinks/Food/Music DrDJPhD
"What Plants Crave" @ ArtLab until 11:30pm
Friday, March 28th:
1pm: Open Studios
3pm: Insight: Visual Arts Forum
5:30pm - 7pm: Open Studios
FREE PARKING on Thursday Night in Lot Y.
Live Entertainment, Food, Cash Bar, Good Art, Good Times.
John Labatt Visual Arts Centre. Perth Drive, Western University, London, Ontario.
Campus map and parking: http://www.uwo.ca/parking/map.html 
Sponsored by Curry's Art Store
https://www.currys.com/ 
RSVP on Facebook: https://www.facebook.com/events/598034950279727/ 
MFA
Sheri Czekus
Barbara Hobot
Jennifer Martin
Lynette de Montreuil
Tegan Moore
Amanda Oppedisano
Jared Peters
Michael Pszczonak
Niloufar Salimi
Gabriella Solti
Matt Tarini
Diana Yoo

PhD
Michael Farnan
Mark Kasumovic
Dave Kemp
Maryse Lariviere
Colin Miner
Stephen Mueller
Rehab Nazal
Kate Tarini

BFA Practicum
Grace Braniff
Scott Chalmers 
Yulia Lobacheva 
Mackenzie Ludlow 
Esmaa Mohamoud 
Julian Romano
Katie Ross
Jennifer Scott
Quinn Smallboy 
Rachel St. Pierre
Amber Helene St. Thomas
Kendra Streilein