Artist Talk with Kate Tarini | PhD Candidate, Visual Arts
Artist Talk with Kate Tarini | PhD Candidate, Visual Arts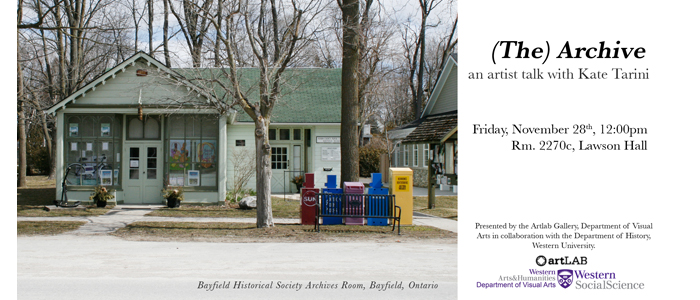 The exhibition (The) Archive is part of a larger investigation into the influence of digital technology on the physical archive. As the production of information changes with advances in technology, the relationship between it and its producers and users is also changing. This documentary project seeks to record archives in Ontario, which still contain significant physical holdings, and to explore issues concerning the power of material objects in the creation of knowledge and history.  With change, the meaning and power of the physical archive comes into question, especially as more information is being mediated and stored through new technologies. These new forms challenge the existence of the archive in its traditional physical form, particularly the archives that are small or located in more rural areas.
 
This collection of images preserves various archival sites in their present form. The work encourages viewers to consider the importance of architecture as archive, and the creation of public understanding to question the role of the documentarian or artist in the construction of its meaning.
Presented by the Artlab Gallery, in collaboration with the Department of History, Western University.