Art Now! Presents: Nihilist Spasm Band | Artlab Gallery
Art Now! Presents: Nihilist Spasm Band | Artlab Gallery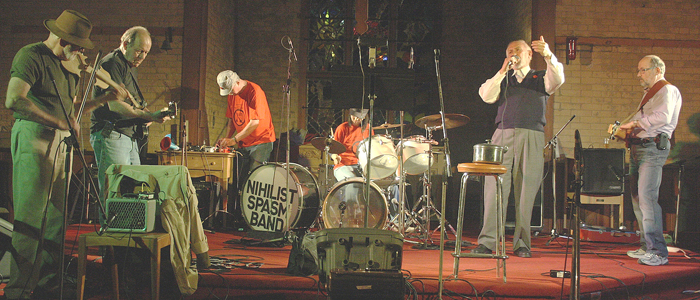 The Nihilist Spasm Band was founded in 1965 in London, Ontario. The fact that they are still playing is a testament to their endurance and perseverance. Their idiosyncratic approach to music, pushing its boundaries resolutely into noise, is the result of fearless improvisations they perform with their innovative instrument designs. They are a sight to behold and a sound out of bound.
Thursday, November 20, 2014 > 7:00PM > Artlab Gallery
In conjunction with the opening reception of the Yes/No Exhibition in the Artlab Gallery.
---
This event is part of Art Now!, a course offered by the Department of Visual Arts at Western University. The course focuses on current contemporary art production, both locally, nationally and internationally. The Fall 2014 Series is organized by Christof Migone.


All Artist Talks & Events are FREE and OPEN to the Public!
See the full list of our upcoming visiting artists: 2014 Fall Speakers' Series