Art Now! Speakers' Series: Nandita Biswas Mellamphy
Art Now! Speakers' Series: Nandita Biswas Mellamphy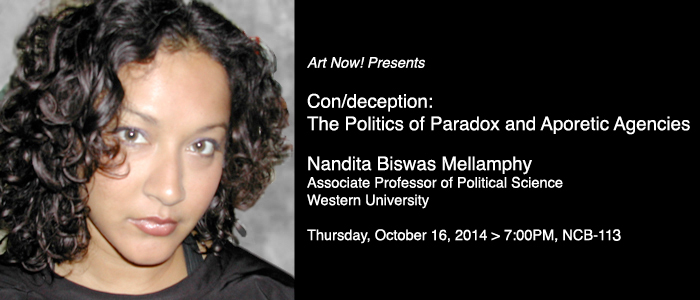 Con/deception: The Politics of Paradox and Aporetic Agencies
Nandita Biswas Mellamphy
Nandita Biswas Mellamphy, is Associate Professor of Political Science (Western), Fellow of the Center for Transformative Media (The New School, New York NY), and Co-Founder & Co-Director of Nietzsche Workshop @ Western (NWW). Dr. Biswas Mellamphy is the author of The Three Stigmata of Friedrich Nietzsche: Political Physiology in the Age of Nihilism (Palgrave Macmillan, 2011), co-editor of The Digital Dionysus: Nietzsche and the Network-Centric Condition (forthcoming from Punctum Books), and has published in periodicals/anthologies such as Deleuze Studies; Foucault Studies; Design Ecologes; Ozone: Journal of Object-Oriented Ontologies; Collapse: Journal of Philosophical Research & Development; Nietzsche as Political Philosopher; Nietzsche & Political Thought; Leper Creativity: The Cyclonopedia Symposium; and most recently M.I.T. Press's The Imaginary App.
Thursday, October 16, 2014 > 7:00PM > NCB-113
Please note that the location of the Art Now lectures has been moved to a higher capacity room in the North Campus Building (NCB-113)
---
This Artist talk is part of Art Now!, a course offered by the Department of Visual Arts at Western University. The course focuses on current contemporary art production, both locally, nationally and internationally. The Fall 2014 Series is organized by Christof Migone.


All Artist Talks are FREE and OPEN to the Public!
See the full list of our upcoming visiting artists: 2014 Fall Speakers' Series