Aja Rose Bond & Gabriel Saloman
Aja Rose Bond & Gabriel Saloman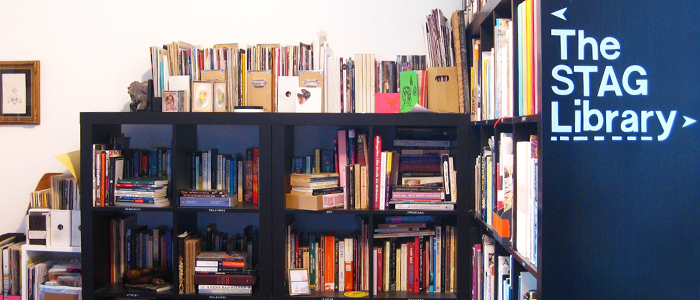 Aja Rose Bond & Gabriel Saloman
Vancouver based Artists, collaborators, artists, activists on projects such as the STAG Library, the Lower Mainland Painting Co., and the Her Jazz Noise Collective.
Gabriel Saloman is a Vancouver based artist working in sound, text, visual and time-based practices. He has participated in numerous collaborative projects including Red76, the STAG Library and the Lower Mainland Painting Co. As a musician he has performed internationally as both a soloist and one half of the group Yellow Swans, and currently composes music for contemporary dance.

Aja Rose Bond is an intermedia artist with background in music, craft and fashion respectively, drawing from the deep influence of D.I.Y. punk, feminisms and magick. She explores the interplay of the public and the private through collaborations, collective organizing, solo-projects and a variety of mediums including sound, performance, installation, textile sculpture, drawing, collage and social practice.
In their work together and in collaboration with others, artists Aja Rose Bond and Gabriel Saloman explore the radical rupture of art and everyday life. Using art as a framework for engagement, Bond and Saloman open up formerly private and non-aesthetic domains such as work, activism, home-making and community organizing to being experienced as sites of creative, sensual and affective experience.
Thursday, October 2, 2014 > 7:00PM > NCB-117
---
This Artist talk is part of Art Now!, a course offered by the Department of Visual Arts at Western University. The course focuses on current contemporary art production, both locally, nationally and internationally. The Fall 2014 Series is organized by Christof Migone.


All Artist Talks are FREE and OPEN to the Public!
See the full list of our upcoming visiting artists: 2014 Fall Speakers' Series