Art Now! Speakers' Series: Erin Sexton
Art Now! Speakers' Series: Erin Sexton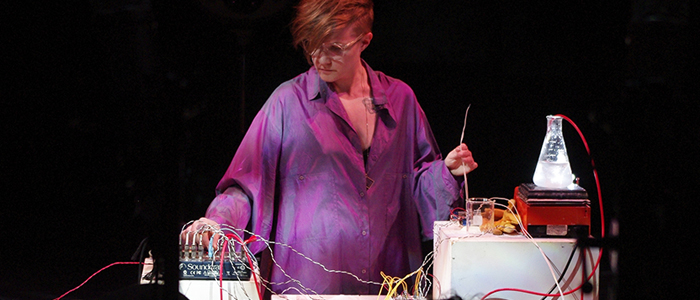 photo credit: Stefan Rose.
Erin Sexton
Thursday, September 18, 2014 > 7:00PM > NCB-117
Montreal based Artist with Respondent: Professor Felix Lee, Department of Chemistry, Western University.
Between ritual and experiment, phase space (2014) is an audio/visual performance wherein Sexton tries to create multi-dimensional resonance, embodying the different states of matter and energy through sound. Physical processes are amplified, salt solutions mixed, and dry ice sublimated. A network of tactile electronics is interfaced with the chemistry of electrolysis, using the solutions as signal processors while transforming their molecular structure. Each element is explored with microscope video, merged with stroboscopic symmetries of the future crystals that will form. Intervening minimally, Sexton tunes and combines simple analog audio circuits, which allow for emergent sonic phenomena, immediate and raw. An array of sensors helps to create complex feedback patterns, also involving my own body in the circuit. Fragile and chaotic, Sexton hopes to accidentally create a metaphysical microphone, receiving transmissions from the electromagnetic beyond. These ephemeral phenomena are embedded within matter, their signals modifying the base structure of the salt solution, which is then left to crystallize.
Erin Sexton (b. 1982) is a Canadian artist working in sound, performance, and installation. Based in Montreal, she builds electronics, grows crystals, amplifies architecture, and sonifies the æther.  After receiving her BFA (Concordia, 2006) she became well known in experimental music, released several albums (
Horizon
, encodages, 2011), and was featured on multiple compilations (
Anthology of Noise + Electronic Music
, subrosa, 2013). She continues to improvise collaboratively and present her audio/visual performances internationally. Sexton's installation 
Crystalline Domain
 was exhibited in Montreal's BIAN (Biennial International d'Art Numérique) in 2014, supported by a grant from the Canada Council for the Arts. She is represented by Perte de Signal (CA), and also gives workshops on electrochemical sound improvisation.  
http://erinsexton.com
---
This Artist talk is part of Art Now!, a course offered by the Department of Visual Arts at Western University. The course focuses on current contemporary art production, both locally, nationally and internationally. The Fall 2014 Series is organized by Christof Migone.


All Artist Talks are FREE and OPEN to the Public!
See the full list of our upcoming visiting artists: 2014 Fall Speakers' Series