Art Now! Speakers' Series: Louise Déry
Art Now! Speakers' Series: Louise Déry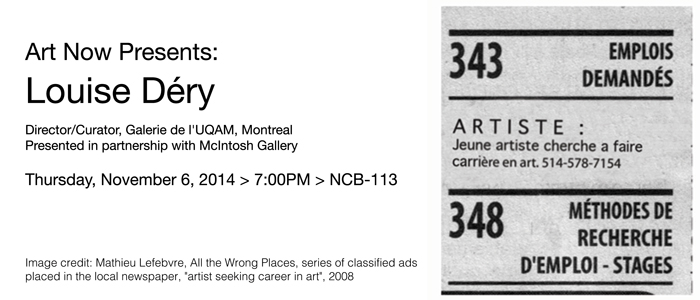 Louise Déry
Director/Curator, Galerie de l'UQAM, Montreal
Presented in partnership with McIntosh Gallery
Louise Déry will discuss the link between the emerging artist and the curator in the artistic development and in the establishment of career opportunities.
Louise Déry holds a PhD in art history and has been the director of the Galerie de l'UQAM (Université du Québec à Montréal) since 1997. She has realized many projects featuring young artists including David Altmejd, Shary Boyle, Manon De Pauw, Raphaëlle de Groot and Aude Moreau among others. She has curated and toured exhibitions including: Metamorphosis (2008), AKBank Sanat, Istanbul; David Altmejd: The Index (2007), 52nd Venice Biennale; and Solo Snow. Works by Michael Snow, Le Fresnoy, France and AKBank Sanat, Istanbul (2011-2012), etc. In 2011, she was the first recipient of the annual tribute from the Contemporary Art Galleries Association (AGAC) for her outstanding contribution to the visual arts community. Déry has received the first Hnatyshyn Foundation award for curatorial excellence (2007).
Thursday, November 6, 2014 > 7:00PM > NCB-113
---
This Artist talk is part of Art Now!, a course offered by the Department of Visual Arts at Western University. The course focuses on current contemporary art production, both locally, nationally and internationally. The Fall 2014 Series is organized by Christof Migone.


All Artist Talks are FREE and OPEN to the Public!
See the full list of our upcoming visiting artists: 2014 Fall Speakers' Series