The Times: Graphic Art as Conscious Response | Concourse Gallery
The Times: Graphic Art as Conscious Response | Concourse Gallery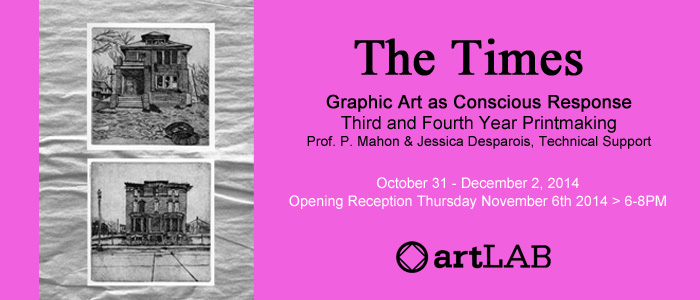 The Times
October 31 – December 2, 2014
Graphic Art as a Conscious Response.
3rd & 4th year Printmaking.


"A recent international exhibition of print media art in the landmark Philagrafika project (Philadelphia, 2010), was entitled, The Graphic Unconscious. It was an important exhibition that demonstrated the persistence and ubiquity of print- based contemporary art. Despite the vigour of that project, its title served as a counterpoint to notions of graphic art production as socially conscious and responsive practice. The Third and Fourth Year Printmaking students of 2013-14 were challenged to reinstate the accountability to which contemporary printmaking may be held, undertaking a project called "Just Sayin': Prints as Signs in Our Time." In their works they wrestle with questions regarding reproduceability, adaptability, and sustainability. The exhibition is therefore a report on their creative investigations, and a demonstration of their conscious engagements as artists and citizens."
Participating Students:
Randi Aiken
Lauren Anderson
Sophie Bisnaire
Delaney Brown
Tabitha Chan
Megan Crosbie
Aaron Culbert
Taylor Davison
Brenda Fuhrman
Ella Gonzales
Paige Habicht
Rachel Hahn
Dominique Hamilton
Kristen Kirk
Heather Maccrone
Gosia Martyniak-Bielicka
Rowan McCormick
Jaime Ofner
Alexis Perlman
Sabrina Persaud
Helga Ruppe
Stefan Simonovic
Victoria Slight
Anella Tang
Concourse Gallery | Artlab Gallery
JL Visual Arts Centre
Western University