Back and Forth and Forward Again
Word Hoard Publication Launch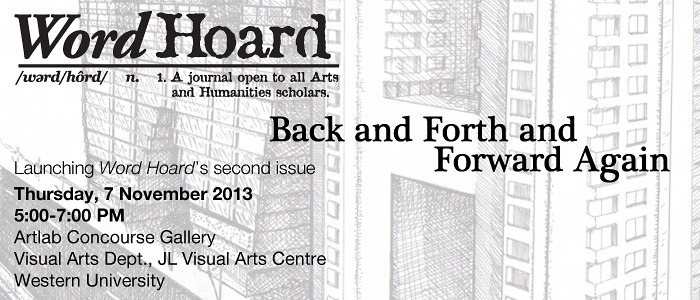 Back and Forth and Forward Again
Thursday, 7 November 2013
5:00-7:00 PM
Concourse Gallery,
Department of Visual Arts
Western University

Join us in launching Word Hoard's second issue "The Unrecyclable," an event organized in collaboration with the Artlab Gallery, Department of Visual Arts, Western University. The evening showcases speakers whose work centers on the politics and practices of unrecyclability in public space. 

Also featured is an installation by multi-media artist David Bobier. He is currently partnering with the Inclusive Media and Design Centre at Ryerson University in researching vibrotactile technology. As Founder/Director of VibraFusionLab, London, ON he follows a holistic approach to creating vibratory 'compositions' and investigating broader sensory applications and emotionality in art making. This installation employs a Vibrotactile prototype developed at Ryerson and the Soundbeam system to consider the combination of sound and vibration as a language of creation and exploration.
Word Hoard is an interdisciplinary journal of the Arts and Humanities, which exists to publish the work of graduate students working at Western University, across Canada and beyond, and is affiliated with the Graduate English Society at Western. Using a uniquely dialogic editorial model through which content editors respond to published articles with essays, interviews and other forms of responsive tissue, Word Hoard's aim is to create a space for public conversation among the disciplines.