WindEEE Dome Mural Project: Cityscape with Weather
WindEEE Dome Mural Project: Cityscape with Weather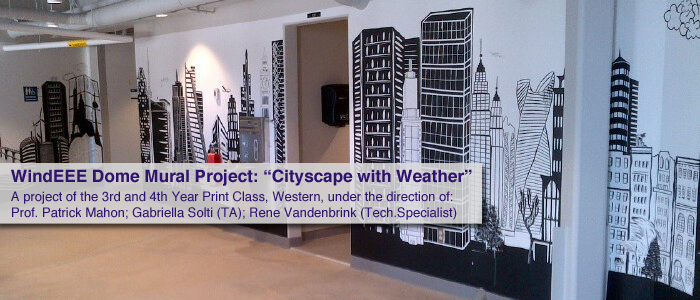 A Digitally-generated Linocut Mural produced Specifically for Western's New WindEEE Research Dome located Veteran's Memorial Parkway and the Hwy.401, London.
A project of the 3rd and 4th Year Print Class, Western, under the direction of: Prof. Patrick Mahon; Gabriella Solti (TA); Rene Vandenbrink (Tech.Specialist)
Digital Design: Liza Eurich Printing and Installation: Tony Why
The Third and Forth Year printmaking class at Western was invited by the lead researcher, Dr. Horia Hangan, of Western's new WindEEE Dome for wind/hurricane testing, to produce a cityscape mural for the entrance to the facility. The work is meant to reference the type of research of the Dome is dedicated to: the effect of hurricane winds on tall structures in urban environments. To prepare to make the work, students observed the collection of model buildings, bridges and other architectural forms at the Boundary Layer Wind Tunnel at Western, and also did independent research on related structures, as well as on images of solar panels, wind turbines etc. – and on representations of "wind" in art. After making drawings of these subjects, each student produced several small-scale linocut images in black and white. Once printed, the images were scanned by designer, Liza Eurich, and painstakingly assembled as a continuous mural that displays a startling variety of architecture, urban space and weather. The eventual design was digitally printed on vinyl-coated paper and installed by Tony Why, of Why Design. The entire mural, which is designed to accommodate doorways and existing features at the entrance to the building, is approximately 7' x 40'.