VASA Student Art Sale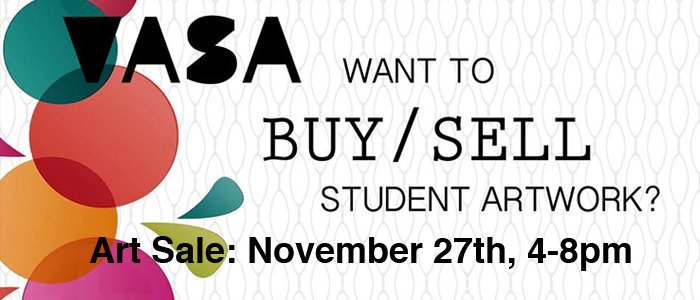 VASA's annual art sale is happening Wednesday November 27th from 4:00 to 8:00pm on the main floor of the VAC. This is a one night only event that is an awesome opportunity to both buy student artwork. All of the proceeds go directly to the artist.
CASH & CARRY ONLY.
ATMs are availible in the NCB next door and at The Grad Club.
INFO FOR VA STUDENTS:
If you are interested in selling your work a booth will be set up from 8:30 till 4:00 to assist you in the installing process. The space is on a first come, first serve basis. VASA will provide cards to display your title, medium and price of the work you will be selling. If the work does not sell, a member of VASA will be collecting and holding them for a span of one week. If you do not pick up your money after the event you also have a week to do so.
Contact Rachel St. Pierre, rstpier8@uwo.ca, for more details.