Split Film Filament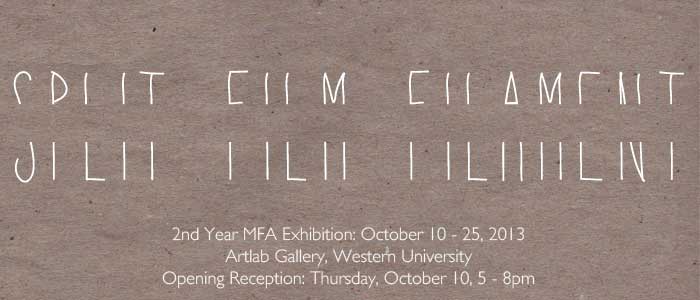 Split Film Filament
Second Year MFA Exhibition
October 10 - 25, 2013
Opening Reception: Thursday, October 10, 5 - 8 pm
Artlab Gallery, Western University 
Jennifer Martin
Jared Peters
Gabriella Solti
Barbara Hobot
Amanda Oppedisano
Tegan Moore
The Artlab Gallery is pleased to present Split Film Filament. This exhibition brings together recent work by Western University's second year Master of Fine Arts students. Between sweat, knots, labour, air, projection, and gravity, the exhibition offers a common trajectory comprised of distinct lines of investigation.
Split Film Filament acts as the half-way mark for the students' MFA candidacy – representing a year's worth of intensive research, making, and critique. Paintings, sculptures, film, works on paper, and architectural interventions foreground the connections and feelers which animate the group's current context.
An exhibition text written by MA candidate, Nicole Borland, will be available as a take-away accompanying the show.
Gallery Hours:
Monday - Friday 12 noon - 6 pm
Thursday 12 noon - 8 pm