Dr. Cam Tsujita
Paleontology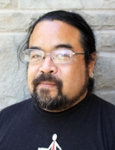 Assistant Professor
Ph.D. McMaster University, 1995
Office: BGS 1064
Lab: BGS 1006
Phone: 519-661-2111 ext. 86740
Fax: 519-661-3198
Email: ctsujita@uwo.ca
Research Interests
Taphonomic (post-mortem) processes and fossil preservation; Paleoecology of Paleozoic and Mesozoic invertebrate communities; Event stratigraphy; Molluscan paleobiology (with a focus on ammonoids); Geomicrobiology (as pertaining to fossil preservation); Sedimentology and stratigraphy of mudrocks; Geoscience education; Geoscience outreach; Earth Sciences and popular culture.
Selected Publications
Tarbuck, E.J., Lutgens, F.K., Tsujita, C.J., and Hicock, S.R., 2012,  Earth: An Introduction to Physical Geology,  Third Canadian Edition.  Toronto. Pearson Education Canada. 553 pp.
Brett, C.E., Kirchner B.T., Tsujita, C.J., and Dattilo, B.F., 2008. Depositional dynamics recorded in mixed siliciclastic-carbonate marine successions: insights from the Upper Ordovician Kope Formation of Ohio and Kentucky, USA.  In B. Pratt and C. Holmden (Eds.). Dynamics of Eperic Seas.  Geological Association of Canada Special Paper 48, p. 201-245.
Dattilo, B.F., Brett, C.E., Tsujita, C.J., and Fairhurst, R., 2008.Sediment supply versus storm winnowing in the development of muddy and shelly interbeds from the Upper Ordovician of the Cincinnati Region, USA, Canadian Journal of Earth Sciences, v. 45, 243-265.
Bartholemew, A.J. Brett, C.E., DeSantis, M., Baird, G.C., and Tsujita, C.J., 2006. Sequence stratigraphy at the border of the Michigan Basin: correlations with New York and implications for sea-level change and paleogeography.  Northeastern Geology and Environmental Sciences, v. 28, 2-33.
Brett, C.E., Allison, P.A., Tsujita, C.J., Soldani, D., and Moffatt, H., 2006. Sedimentology, taphonomy and paleoecology of meter-scale cycles from the Upper Ordovician of Ontario.  Palaios, v. 21, 530-547.
Landman, N.H., Tsujita, C.J., Cobban, W.A., Larson, N.L., and Tanabe, K., 2006. Jaws of Late Cretaceous placenticeratid ammonites: how preservation affects the interpretation of morphology.  Novitates, # 3500, 1-48.
Tsujita, C.J., Brett, C.E., Topor, M., and Topor, J., 2006. Evidence of high-frequency storm disturbance in the Middle Devonian Arkona Shale, southwestern Ontario.  Journal of Taphonomy, v. 4, 49-67.
Tsujita, C.J., 2003. Smothered scampi: taphonomy of lobsters in the Upper Cretaceous Bearpaw Formation, southern Alberta, Journal of Taphonomy, v. 1, 187-206.
Tsujita, C.J., 2001. Were limpets or mosasaurs responsible for the perforations in the ammonite Placenticeras? Palaeogeography, Palaeoclimatology, Palaeoecology, v. 169, 245-270.
Tsujita, C.J., 2001. The significance of multiple causes and coincidence in the geological record: from clam clusters to Cretaceous catastrophe.  Canadian Journal of Earth Sciences, v. 38, 271-292.
Courses 
I have always had an intense enthusiasm for all Sciences and a corresponding desire to share my interests with others in creative ways. My genuine love for Science has compelled me to encourage others, particularly younger members of society, to explore the wonders of science that have enriched my own life through undergraduate teaching and outreach. Although I am involved in research, teaching and outreach have always been front-and-centre in my academic activities at Western.
Earth Sciences 1022A/B: Earth Rocks!
Earth Sciences 1081A/B: Resources, Environment & Sustainability in a Material Society
Earth Sciences 1083F: Life on Planet Earth
Earth Sciences 1089G: Earth, Art & Culture
Earth Sciences 2200A: Plate Tectonic Theory, Environments and Products
Current Students
Future Students