Dr. Katsu Goda
Earthquake, Tsunami, Risk Assessment, Catastrophe Modeling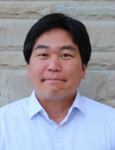 Associate Professor & Canada Research Chair in Multi-Hazard Risk Assessment
Office: BGS 1076
Phone: 519-661-2111 x. 83189
Fax: 519-661-3198
Email: kgoda2@uwo.ca


Research Interests
Dr. Goda's research is focused on catastrophic earthquake-related multi-hazard risk management from economic and societal viewpoints. His research interests are broad and multidisciplinary, and cover a wide range of academic fields, including engineering seismology, earthquake engineering, tsunami engineering, financial risk analysis, and decision-making under uncertainty.
Some examples of his research interests are:
Probabilistic seismic hazard and risk analysis
Ground motion prediction model
Strong motion simulation (stochastic finite-fault modeling)
Performance-based earthquake engineering (including nonlinear dynamic analysis of structures)
Lifecycle cost analysis of a building (including the effects of decision maker's risk attitudes)
Effectiveness of seismic risk mitigation techniques (tuned mass dampers and seismic isolation)
Seismic loss estimation of spatially distributed structures
Financial seismic risk analysis (e.g. insurance and catastrophe bonds)
Seismic risk management and decision-making
Tsunami hazard and risk modeling and analysis
Multi-hazards risk assessment due to mega-thrust subduction earthquakes
For more detailed information please check my ResearchGate webpage (https://www.researchgate.net/profile/Katsuichiro_Goda).
Selected publications
Goda, K., and De Risi, R. (2018). Multi-hazard loss estimation for shaking and tsunami using stochastic rupture sources. International Journal of Disaster Risk Reduction, 28, 539-554 (doi: 10.1016/j.ijdrr.2018.01.002).

Muhammad, A., Goda, K., Alexander, N. A., Kongko, W., and Muhari, A. (2017). Tsunami evacuation plans for future megathrust earthquakes in Padang, Indonesia considering stochastic earthquake scenarios. Natural Hazards and Earth System Sciences, 17(12), 2245-2270 (doi: 10.5194/nhess-17-2245-2017).

Goda, K., Petrone, C., De Risi, R., and Rossetto, T. (2017). Stochastic coupled simulation of strong motion and tsunami for the 2011 Tohoku, Japan earthquake. Stochastic Environmental Research and Risk Assessment, 31(9), 2337-2355 (doi: 10.1007/s00477-016-1352-1).

Goda, K. (2017). Probabilistic characterization of seismic deformation due to tectonic fault movements. Soil Dynamics and Earthquake Engineering, 100, 316-329 (doi: 10.1016/j.soildyn.2017.05.039).

Goda, K., Gibson, E. D., Smith, H. R., Biggs, J., and Hodge, M. (2016). Seismic risk assessment of urban and rural settlements around Lake Malawi. Frontiers in Built Environment, 2(30), (doi: 10.3389/fbuil.2016.00030).

Goda, K., Yasuda, T., Mori, N., and Maruyama, T. (2016). New scaling relationships of earthquake source parameters for stochastic tsunami simulation. Coastal Engineering Journal, 58(3), 1650010 (doi: 10.1142/S0578563416500108).

Goda, K., Kiyota, T., Pokhrel, R. M., Chiaro, G., Katagiri, T., Sharma, K., and Wilkinson, S. (2015). The 2015 Gorkha Nepal earthquake: insights from earthquake damage survey. Frontiers in Built Environment, 1(8) (doi: 10.3389/fbuil.2015.00008).

Goda, K., and Tesfamariam, S. (2015). Multi-variate seismic demand modelling using copulas: application to non-ductile reinforced concrete frame in Victoria, Canada. Structural Safety, 56(1), 39-51 (doi: 10.1016/j.strusafe.2015.05.004).

Goda, K., Yasuda, T., Mori, N., and Mai, P. M. (2015). Variability of tsunami inundation footprints considering stochastic scenarios based on a single rupture model: application to the 2011 Tohoku earthquake. Journal of Geophysical Research: Oceans, 120(6), 4552-4575 (doi: 10.1002/2014JC010626).

Goda, K., Kurahashi, S., Ghofrani, H., Atkinson, G. M., and Irikura, K. (2015). Nonlinear response potential of real versus simulated ground motions for the 11th March 2011 Great East Japan earthquake. Earthquake Spectra, 31(3), 1711-1734 (doi: 10.1193/071213EQS201M).

Goda, K., Mai, P. M., Yasuda, T., and Mori, N. (2014). Sensitivity of tsunami wave profiles and inundation simulations to earthquake slip and fault geometry for the 2011 Tohoku earthquake. Earth, Planets and Space, 66, 105 (doi: 10.1186/1880-5981-66-105).

Goda, K. (2013). Basis risk of earthquake catastrophe bond trigger using scenario-based versus station-intensity-based approaches: a case study for south-western British Columbia. Earthquake Spectra, 29(3), 757-775 (doi: 10.1193/1.4000164).

Goda, K. (2012). Nonlinear response potential of mainshock-aftershock sequences from Japanese earthquakes. Bulletin of the Seismological Society of America, 102(5), 2139-2156 (doi: 10.1785/012011032).

Goda, K. (2011). Inter-event variability of spatial correlation of peak ground motions and response spectra. Bulletin of the Seismological Society of America, 101(4), 2522-2531 (doi: 10.1785/0120110092).
Courses
ES 2222B: Data Analysis and Signal Processing in Earth Sciences  
Future Students
Dr. Goda is not currently accepting any more student applications for Sept 2022