Dr. Jisuo Jin
Paleontology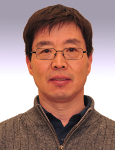 Professor
Ph.D. University of Saskatchewan, 1988
Office: BGS 0180
Lab: BGS 1005
Phone: (519) 661-2111 x.84061
Fax: (519) 661-3198
Email: jjin@uwo.ca
Research Interests
Ordovician-Silurian brachiopod taxonomy and diversity patterns through time;
Origin, radiation, mass extinction, and recovery of brachiopod faunas in the epicontinental seas of North America during the Ordovician and Silurian periods;
Paleoecolgy and environmental control on the evolution of brachiopod communities and fauna;
Comparative study of Ordovician-Silurian brachiopod faunas of North America and South China - applications to global biodiversity patterns and paleobiogeography.
Selected Publications
Gushulak, C. and Jin, J. 2017 (published online July 16, 2017). Post-extinction recovery and diversification of reef-dwelling brachiopod communities: Examples from the lower Silurian of Hudson Bay Basin, Canada. Palaeogeography, Palaeoclimatology, Palaeoecology, v. 485, 605–621.
Sproat, C. and Jin, J. 2017 (published online August 24, 2017). Paleobiogeography of the Late Ordovician brachiopod fauna during a major marine transgression and initial colonization of the epicontinental seas in Laurentia. Palaeogeography, Palaeoclimatology, Palaeoecology, 487, 105–117.
Copper, J. and Jin, J. 2017 (published online September 12, 2017). Early athyride brachiopod evolution through the Ordovician-Silurian mass extinction and recovery, Anticosti Island, eastern Canada. Journal of Paleontology., v. 91(6), 1123–1147.
Jin, J. and Harper, D.A.T. 2015. Occurrences of the cool-water dalmanelloid brachiopod Heterorthina in the Upper Ordovician of North America. Papers in Palaeontology, 1(3), 237–253.
Jin, J., Harper, D.A.T., Cocks, L.R.M., McCausland, P.J.A., Rasmussen, C.M.Ø. and Sheehan, P.M. 2013. Precisely locating the Ordovician equator in Laurentia. Geology, 41, 107–110. [Highlighted in Editors' Choice, Science, 2012, 338, p. 1397]
Courses 
Earth Sciences 2265A: Paleobiology and Paleoecology
Earth Sciences 2266B: Dinosaur & Vertebrate Evolution
Earth Sciences 4461B: Advanced Paleontology
Earth Sciences 9532B: Ancient Ecosystems
Future Students
Projects available in biodiversity change of benthic faunas in response to greenhouse-icehouse environmental fluctuations during the Late Ordovician and Early Silurian, North America. Research opportunities are available at either the M.Sc. or Ph.D. level.