TELUS Health EAP
News
LifeWorks acquired by TELUS. Read more
Dedicated phone number to better serve Western employees: 
       1-855-597-2105
Read more

---
Access EAP services 24/7/365
Call:1-855-597-2105 anytime - no account setup required.
Login (registered users)
---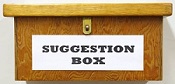 Your Employee (and family) Assistance Program
Western's Employee Assistance Program (EAP) is provided by TELUS Health (formerly LifeWorks). It can help you to optimize your current well-being, or support you as you take the first step toward change.

At no cost to you, confidential EAP services are available to all Western employees and to immediate family members.
Help is available by phone anytime, or by video or online chat. In-person counselling is also available - masks are required.
You are also encouraged to register to access the LifeWorks website and app. There you can take advantage of tools, podcasts and other resources.
Read brochures about topics/services that may help you with specific issues:
Counselling       Legal       Financial       Nutrition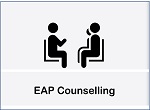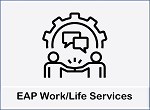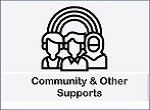 How to Access EAP
You may contact TELUS Health by phone anytime at 1-855-597-2105. No registration is required to access help by phone. Call volume to EAP tends to be highest on Mondays and on weekdays from 11 a.m. to 3 p.m. When wait times are longer you will be offered a call-back option.
Register for TELUS Health Online and App Services
You can also access supports, services and helpful information online through the TELUS Health app or website. Registration is required;
Eligible employees receive an invitation email (subject is "Join Western University on LifeWorks") and personal code to allow signup.
On the TELUS Health Sign Up and login webpage, select Sign Up.
You can download the mobile app from the Apple App Store or the Google Play Store and select Sign Up or scan the QR code.
No invitation code? On TELUS Health Sign Up page look for the link "I can't find my invitation code". A code will be re-sent to your @uwo.ca account.
Privacy Policy: On registration, you will be asked to accept the TELUS Health Privacy Policy that is applicable to all their services, including many that are not used by Western. Read some frequently asked questions about the TELUS Health Privacy Policy.
Online access is also available to eligible family members. You may invite family members to set up their own online access by signing in to your account to extend an invitation.

On the TELUS Health One website, select Login > select Profile > select Family > and then Invite Family Members.
From the TELUS Health app - Login > select More > Invite Family
LifeWorks to TELUS Health
In January 2023 LifeWorks was acquired by TELUS Health. All materials are being re-branded to TELUS Health, however you may see references to legacy names and systems, including LifeWorks and Morneau Shepell. 
All services can be accessed by calling 1-855-597-2105, by visiting the TELUS Health One website or through the TELUS Health One App. If you have questions, please contact Employee Wellbeing.
---
If you require Human Resources forms, documents or other information in an alternative format, please use ASK HR to contact Human Resources.
---
Published on  and maintained in Cascade CMS.