Western Pride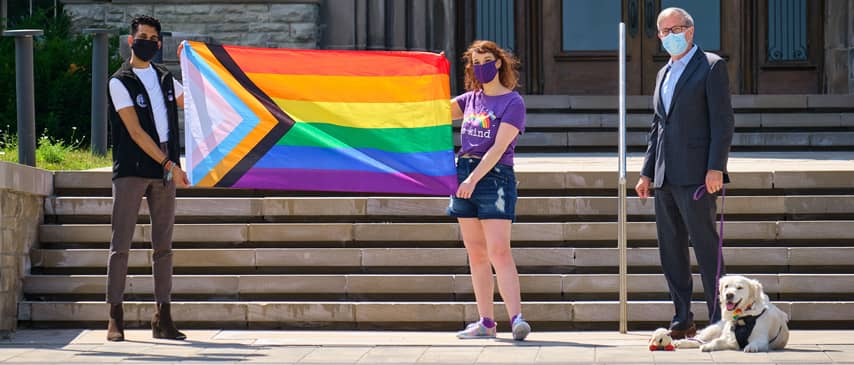 Show Your Pride
This year's Pride activities will be held on campus and virtually, alongside the London Pride Festival scheduled from July 14-24, 2022.
Featured Events
July 6 from 11 – 2:00 p.m.
Join us on July 6 at concrete beach for an afternoon of celebrating our 2SLGBTQ+ community through music, dance and light refreshments. Out at the Beach features special guest DJ Marisa Grant! Registration is not required.
---
July 8 from 12 – 1:30 p.m.
Dr. Andrew B. Campbell from Western Black History Month Speaker Series returns to Western for this virtual workshop to share reflections of Black 2SLGBTQ+ identity in Canada. This presentation will draw attention to the continued resistance needed in your organization where 2SLGBTQIA+ members of our community may remain "invisible" due to a myriad of reasons.  In this workshop we examine the ways we must work at ensuring 2SLGBTQIA+ members are seen and heard. Registration is required.
---
Supporting LGBTQ+ People Within Faith Communities  (Virtual)
July 12 from 12 – 2:00 p.m.
The Office of Equity, Diversity and Inclusion is pleased to invite Dr. Brian Carwana, Executive Director of Encounter World Religions, to facilitate a discussion with local faith leaders Pastor Sandie Thomas, Rabbi Seth Goran and Imam Abd Alfatah Twakkal.
These leaders will discuss how their communities of faith support members of the LGBTQ+ and help them feel included and valued. Registration is required.
Resources
Celebrate Western Pride this year by downloading and printing out our window sign! If you'd like to customize the colours on the flag, we've even made a special black and white version that you can colour yourself!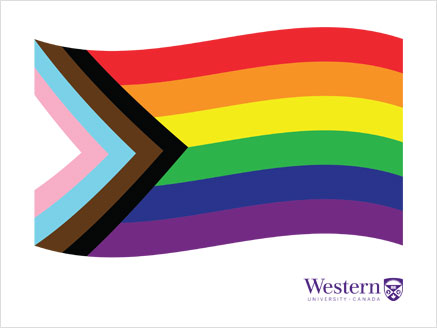 Get in the spirit!
To get you in the Pride mood please browse and download photos and video from the London Pride Parade held in July 2019
Your active and visible support can make a difference.
Visit Digital Student Experience for resources for LGBT2Q+ and questioning students, connections to communities that support gender and sexual diversity, and how to be an ally on campus.
We take pride in the establishment of our library in 1997 as an official UWO research site, the first of its kind at a Canadian university. The UWO Research Facility for Gay and Lesbian Studies is the umbrella under which the Hudler Archives and the Pride Library first began. The Pride Library is a space where sexual diversity is celebrated and advocated in the spirit of the annual 2SLGBTQ+ Pride marches across Canada and throughout the world.
Located in Western University's D.B. Weldon Library, The Pride Library welcomes all.
---
LifeWorks Employee Assistance Program offers counselling support and educational resources for our 2SLGBTQ+ community and allies. Here you can find ways to learn about and celebrate Pride during the pandemic or explore Toolkits on Diversity, Equity & Inclusion by logging in to LifeWorks.