Search Western University
Quick Links:
Western Pride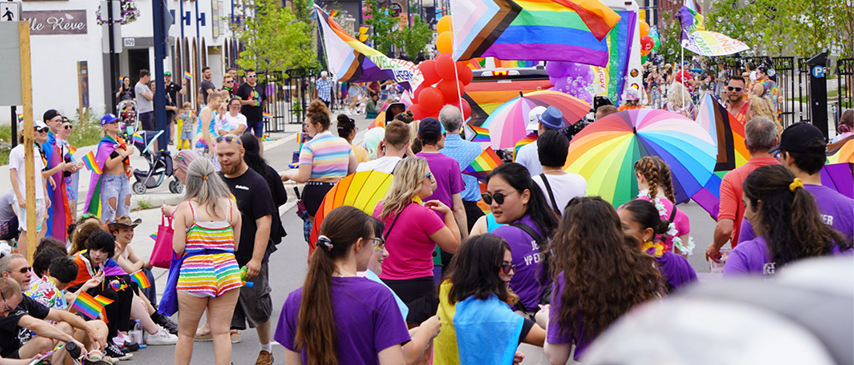 Show Your Pride
This year's Pride activities will be held on campus and virtually, alongside the  London Pride Festival scheduled from July 13-23, 2023.
Featured Events
---
October 17, from 11:30 a.m. to 2:30 p.m.
Join us on Tuesday, October 17, 11:30 a.m. to 2:30 p.m. at UCC Concrete Beach to honor and celebrate the 2SLGBTQIA+ community and allies, at Western's Inaugural Fall Pride Parade. The parade will take place around campus and conclude with a delightful afternoon filled with music, dancing, and refreshing treats. Witness a special flag-raising ceremony, speeches and drag performances from local talent. This event is open to everyone! We extend this warm invitation to participate in showcasing the incredible diversity and intersectionality of our campus community. This extraordinary day is one of many efforts to highlight continued support for Pride at Western. No registration required.

If you have any questions, please contact nlong9@uwo.ca
Event link: Westerns Inaugural Fall Pride Parade - Western University
---
October 4, 1 p.m. to 9 p.m.
Location: The Mercato at Brescia University College
Join us for a presentation and talk that will amplify dialogue on gender, 2SLGBTQ+ Advocacy/Support and race equity in leadership! Join student alumni and leaders as they welcome Dr. ABC on this important talk during EDID awareness week! Registration is required.
Registration link: EDID Awareness Week: Gender, 2SLGBTQ+ in Leadership and Race Equity Tickets, Wed, 4 Oct 2023 at 7:00 PM | Eventbrite
---
October 16, 7 p.m. to 8 p.m.
Location: The Wave, UCC
The Gender-Based Violence Prevention Education Team is proud to announce our next ReSHAPE Event! This event is open to students, staff, faculty and alumni! Please share with your networks.
Learn about the 2SLGBTQIA+ community and inclusive sex-ed through a fun interactive trivia & gameshow! Participants will learn about 2SLGBTQIA+ history and language, relationships, queer & trans pleasure, and more! Light refreshments & appetizers will be served!
Registration: Pride Show & Tell with Eva Bloom
---
October 23, 7 p.m.
Location: The Grab Club
Join the SOGS Pride Commission for another installment of its Pride-themed trivia night at the Grad Club! Test your knowledge on all things 2SLGBTQIA+ -- history, popular culture, sex, health, and more! Safe sex positive prizes and Grad Club gift certificates for winning teams. Come with a group or alone. Folks who indicate they are flying solo will be grouped (if desired) to encourage making new queer and ally connections! (Registration isn't required but just helps us plan better/send email reminders!)
Registration: https://forms.gle/G8dkE485YW8UowyV6
---
Join the SOGS Pride Commissioner (Hanna Barnett) and the Commission for a series of FREE film screenings this Fall 2023 Term on the last Tuesday of the month! Bring your own snacks and drinks. Friends and family are welcome to attend!

FILM SCREENINGS:

BUT I'M A CHEERLEADER (1999) - Tuesday, September 26 at 7 p.m. in UCC 56

CLUE(1985) - Tuesday, October 24 at 7 p.m. in UCC 5

THE BIRDCAGE (1996) - Tuesday, November 28 at 7 p.m. in UCC 56

HAIRSPRAY (1988) - Tuesday, December 19 in ROOM TBA
To register please visit: SOGS Pride Movie Nights (google.com)
---
Fall 2023 dates:
September 20, October 30, November 27

MONTHLY RAINBOW COFFEE CLUB
at the Grad Club. 9 a.m. to 10 a.m.
Last Monday of each month.
Join the SOGS Pride Commission for a monthly queer drop-in coffee club where LGBTQIA+ grad students can connect, make new friends, and drink free coffee. Better together.
To register please visit: RAINBOW COFFEE CLUB - registration form (google.com)
---
Resources
---
Celebrate Western Pride this year by displaying a window sign! If you'd like to customize the colours on the flag, we've even made a special black and white version that you can colour yourself!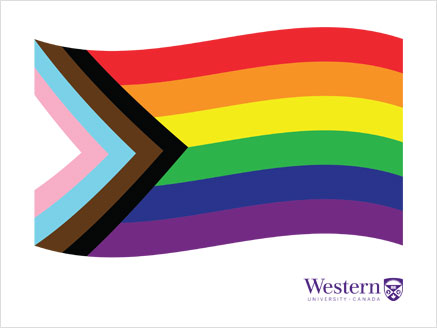 Get in the spirit!
---
To get you in the Pride mood please browse and download photos and video from the London Pride Parade held in July 2019
Your active and visible support can make a difference.
Visit Wellness & Well-being for resources for LGBT2QIA+ and questioning students, connections to communities that support gender and sexual diversity, and how to be an ally on campus.
We take pride in the establishment of our library in 1997 as an official Western University research site, the first of its kind at a Canadian university. The Western University Research Facility for Gay and Lesbian Studies is the umbrella under which the Hudler Archives and the Pride Library first began. The Pride Library is a space where sexual diversity is celebrated and advocated in the spirit of the annual 2SLGBTQ+ Pride marches across Canada and throughout the world.
Located in Western University's D.B. Weldon  Library ,  The  Pride  Library  welcomes all.  The Pride library is currently closed, and we are working to reopen this space soon. Please note, resources and collect ions are still avail a ble through Western's Library catalogue .    
---
LifeWorks Employee Assistance Program offers counselling support and educational resources for our 2SLGBTQIA+ community and allies. Here you can find ways to learn about and celebrate Pride during the pandemic or explore Toolkits on Diversity, Equity & Inclusion by logging in to LifeWorks.
---
Beyond Western, there are a number of supports available for members of the 2SLGBTQIA+ community. A full list of resources can be found here.